Introduction
Dust and water resistant design (IPX45), 2 high performance 40mm full-range loudspeakers, 108mm long round radiator, CLASS G dual charge pump power amplifier, output power up to 10W, Bluetooth 4.2, low power consumption, True Wireless Stereo (TWS) support, built-in HD noise-cancelling mic, 2200mAh lithium battery for 10 hours non-stop playback, MP3 / APE / WAV / WMA / FLAC support through microSD card, compact and portable… Yup, that's all the features of MiFa A10 Bluetooth Speaker. Does it sound great? Read this review to know more…
Special Thanks
This review is possible thanks to below companies. Be sure to check them out…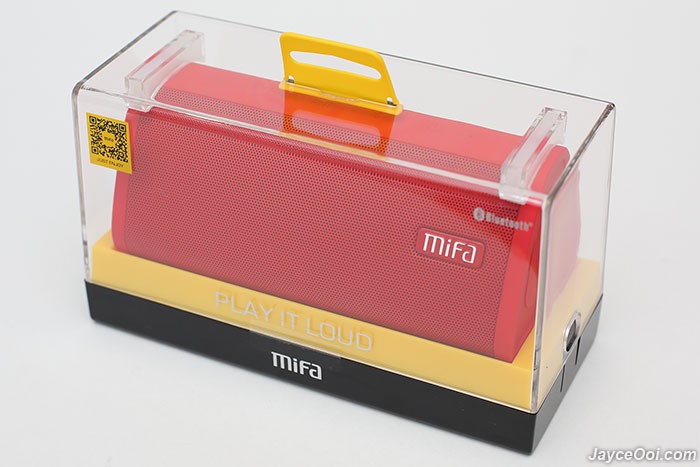 Package Content & Design
MiFa A10 comes in a classy packaging as you can see. Perfect to gift others as present too. Once opened, you can find the Bluetooth speaker itself. And following by 3.5mm audio cable, USB power cable, detachable strap, user manual and warranty card (in English and Chinese).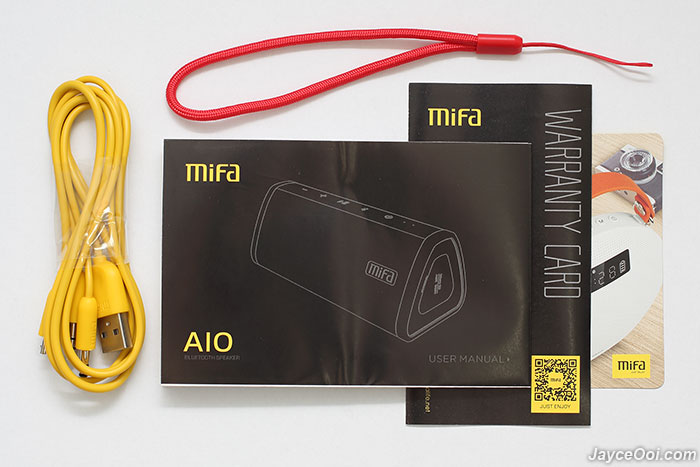 Build quality is top-notch with sturdy plastic frame. Its matte coated housing gives the rubberize feel when touch by the way. And has 2 metal speaker grills on front and back. All the buttons are located on top. And AUX, micro USB ports and micro SD slot are covered on the right. Lanyard slot for strap on the left. Finally, 4 silicon sucker type anti-skid pads at the bottom to provide stability. As usual, do check out below photos for details. By the way, it comes with lot of colour choices – red, blue, black, camo and grafitti.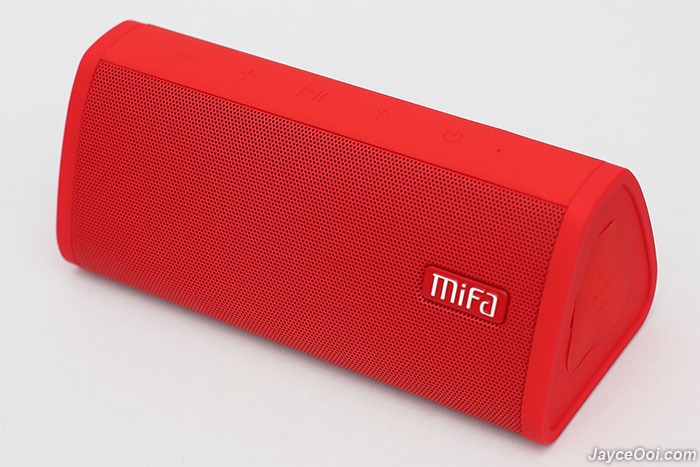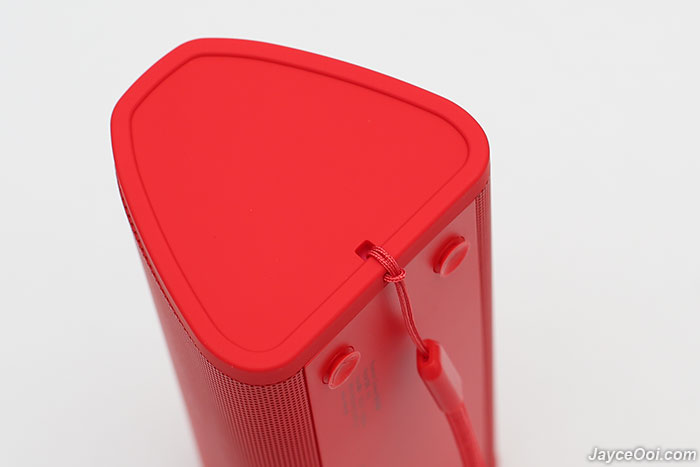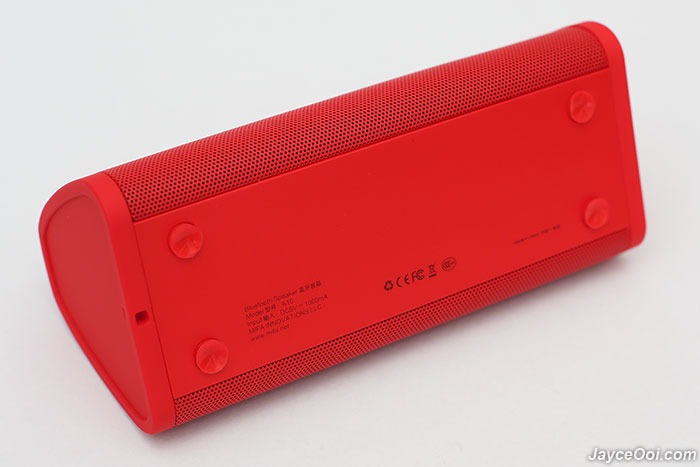 Performance Result
MiFa A10 has outstanding Bluetooth range. Easily passed the 10m Bluetooth range in straight sight line with no obstacle test. And up to 8m+ with obstacles like walls. Furthermore, it has virtually no lag between video and audio. That's great to watch movie, TV series and play games on mobile devices like smartphone and tablet. As for True Wireless Stereo function, no test about it as I don't have another one to test. No idea about TWS performance. Lastly, there is AUX in port for non-Bluetooth devices.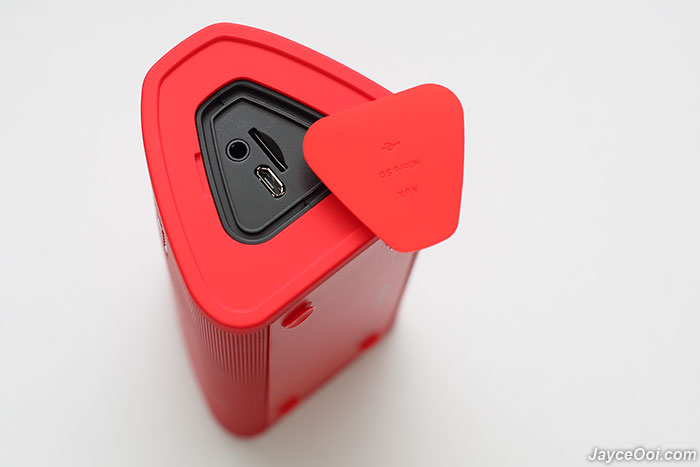 13 hours non-stop music playback on 2200mAh battery. Yup, that's the test done with on average room sound level. As usual, battery life will be shorter when play louder. And requires around 2.5 hours for self fully charged. By the way, there is battery life indicator on both iOS and Android devices. That's great to know when to charge it.
MiFa A10 supports lot of music file types like MP3, APE, WAV, WMA and FLAC. Most built-in player supports MP3 only. However, A10 does a great job by including FLAC format that I love as well. Speakerphone is supported for conference call in a small group. You can use it as hand free mode. Phone call quality is great. Other can hear my voice loud and clear. Same apply to myself too. As usual, closer to microphone == clearer voice.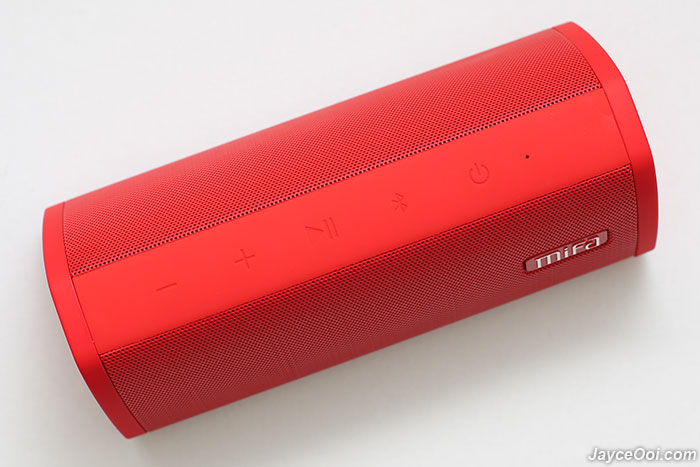 Smooth and slightly warm sound signature is what you will get from MiFa A10. Highs are smooth and no harsh at all. No sparkly bright treble that I like though. Mids are decent with clear and organic vocals. Thanks to warm sound signature. As for bass, it is performing good too for a compact Bluetooth speaker. You can feel the bass bumping here and there but don't expect subwoofer kind effect.
Advantages
Smooth toward warm sound signature
Ultra wide Bluetooth range
Great battery life
Built-in player & speakerphone
IPX45 water resistant
Lightweight & portable
Limitations
Conclusion
Love smooth and slightly warm sound? Be sure to check out MiFa A10 Bluetooth Speaker. Enjoy outstanding wireless range and built-in player with lot of music format support. Don't forget IPX45 water resistant too. More information can be found at MiFa Website. Get yours at Amazon or Lazada.