I don't set PIN, password or pattern to unlock my Android smartphone. I find it troublesome and take time to do so. Yes, I want the fastest way to unlock with just a single click. Thankfully, Huawei Honor 5X gives me the fastest way to unlock phone yet still able to protect it from unknown users accessing it. Honor 5X fingerprint scanner is the star today. And it is there just to unlock the phone, right? Wrong!!! It has much more functions and usability. Read on to discover all of them…
Honor 5X uses the second generation FPC rim-free touch metallic fingerprint sensor that offers better performance, greater accuracy and a faster unlocking time with just 0.5 second. Besides, it also employs self-learning capability that enhances scanning accuracy and effectiveness. It is fast and easy to register fingerprint. Yup, you can do so in just six steps. And you can store up to 5 sets of fingerprints. Use them to unlock screen or perform other useful tasks.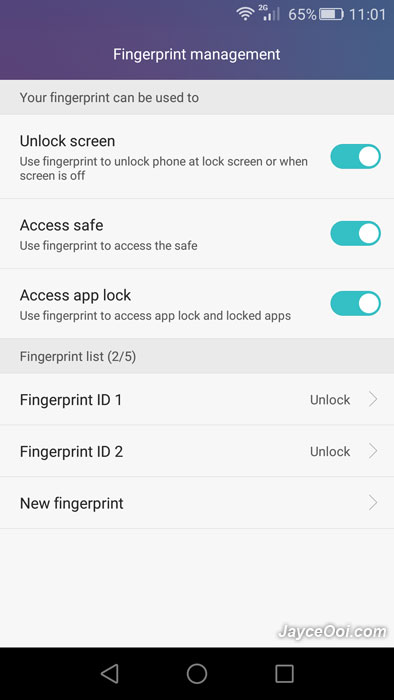 Humans have unique fingerprint for each one of us. It is hard / impossible to find another person that have same fingerprint as yours. If they cannot unlock your phone with brute force by using PIN, password or pattern. Fingerprint is even impossible to do so then. Below screenshot is what you will get when unidentified fingerprint is being used. And occurs once in a while when Honor 5X can't recognize my fingerprint. Yes, it is not 100% perfect (no one is) but rest assures that it works most of the time.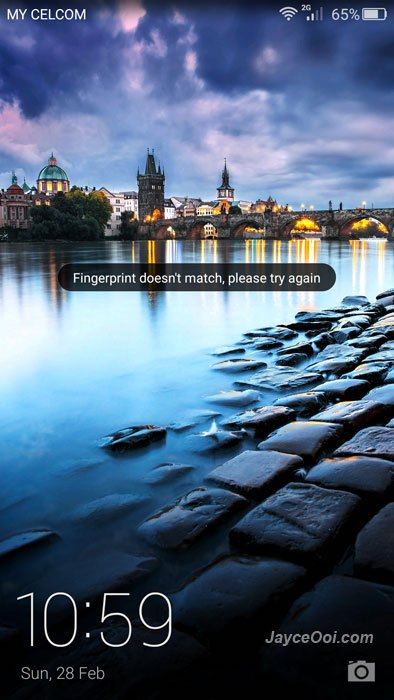 Screen unlock is not the only function of Honor 5X fingerprint scanner. You can use it as quick launch button to bring up your favourite application with just 1 click when your screen is locked. Or call your favourite contact too. It is useful to use it as emergency call contact as well. No need to find the contact manually. Besides quick launch ability, you can use touch and slide gesture to bring out more tasks. You can use it to take photo / video by touch and hold the fingerprint. It is very useful when taking selfie. Yup, you can use index finger to reach fingerprint sensor easily and still able to hold the phone steadily to take the best selfie. Or use it to bring you back to home screen. Answer call and stop alarm as well. In addition, by touching the fingerprint sensor can bring you back to previous action. Slide up fingerprint sensor can show your recent applications. Or slide down to display notification panel. Double-tap to clear and slide up to close it. These shortcuts surely are useful and changed my way to use smartphone.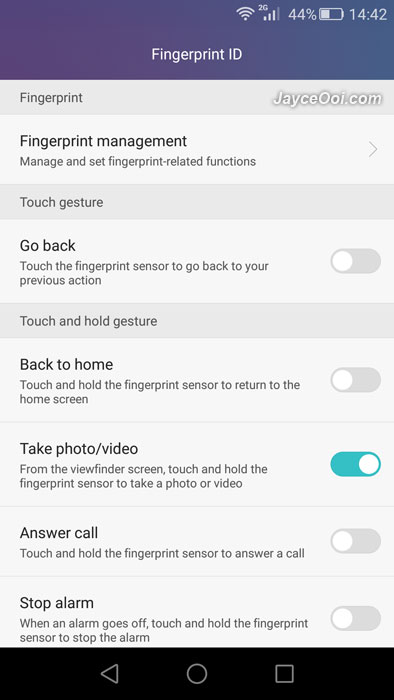 That's not all. You can also use fingerprint sensor to replace password in App lock function at Phone Manager. What is App lock? It is a feature that will prompt you for password when launch application that being locked. As you can see from below screenshot, I locked Clash of Clans and other games. I don't want my 3 years to play with it (Yes, he sold my pirate flag and love to buy shield with gems).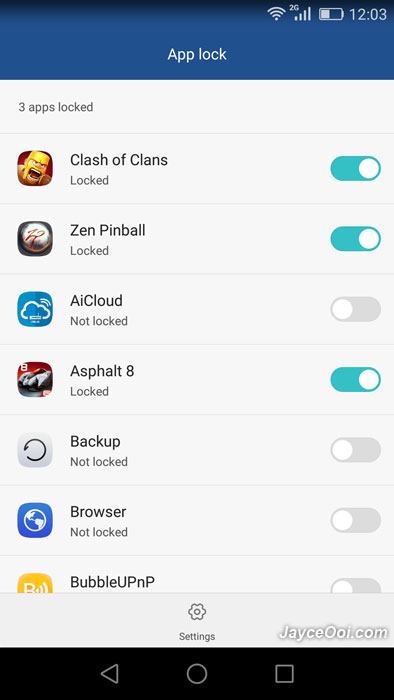 Another one is the safe in Files application. Keep all your important photo, video or documents. Only the person with password can access it (or your fingerprint).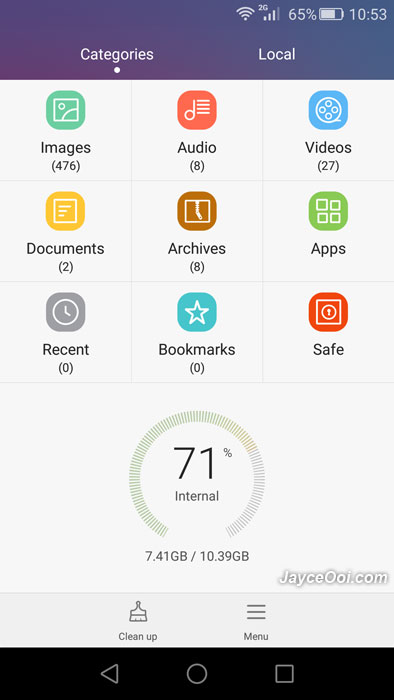 Last but not least, privacy protection in Security also enjoys the benefit of fingerprint sensor. I believe most of the stuffs that require password / PIN can utilize fingerprint sensor to replace them. Yes, no password input is needed when fingerprint sensor is here. It's faster and simpler than password input, right?
Continue on Useful & User Friendly EMUI 3.1 of Honor 5X