Introduction
It's not 100% safe to keep photos, videos and important data at decktop PC / mobile devices only. Always make a backup to external portable hard drive to avoid ransomware virus. Transcend StoreJet 25H3 is one of the external storage that you can trust on. It is loaded with military-grade shock resistance with advanced 3-stage shock protection system. Comes with superior performance with USB 3.1 Gen 1 and advanced internal hard drive suspension system. Back with 3 years warranty as well. Sound great? Read this review to know more…
Special Thanks
This review is possible thanks to below companies. Be sure to check them out too…
Transcend for this 1TB Transcend StoreJet 25H3 Portable Hard Drive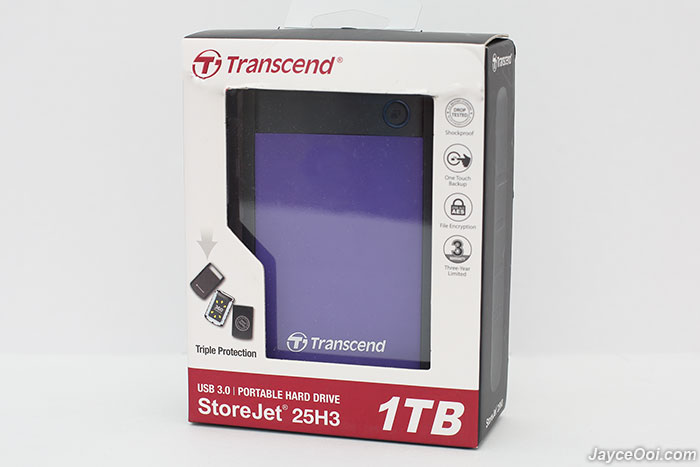 Package Content & Design
Transcend StoreJet 25H3 comes well protected as usual. Once taken out StoreJet 25H3, you can find microUSB 3.0 to USB-A cable, quick start guide, warranty card (both in multiple languages) and Transcend product brochures in the package. By the way, StoreJet 25H3 comes with purple and navy blue colours. Pick the one that suit you.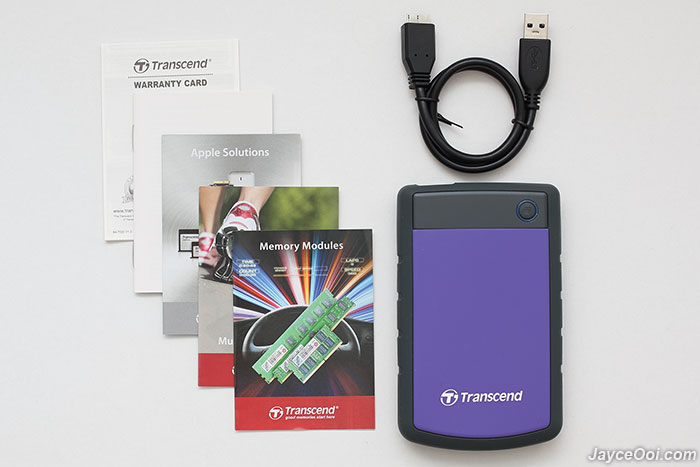 Build quality is outstanding thanks to durable anti-shock rubber outer case. The silicone shell is slip-resistant and provide strong grip to hold. Inside the case, there is sturdy plastic housing that protect the hard drive. Adds another one – internal hard drive suspension system to achieve advanced 3-stage shock protection system. That's make StoreJet 25H3 meets military-grade shock resistance – MIL-STD-810G standard.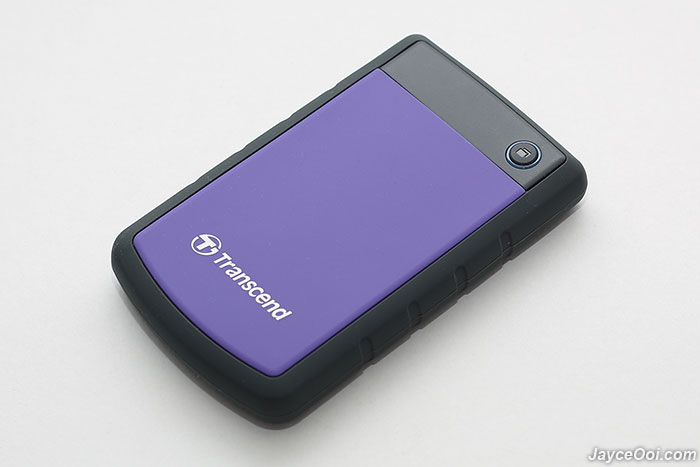 Besides providing protection, it is also stylish in outlook. Rubber outer case covers all areas of the HDD.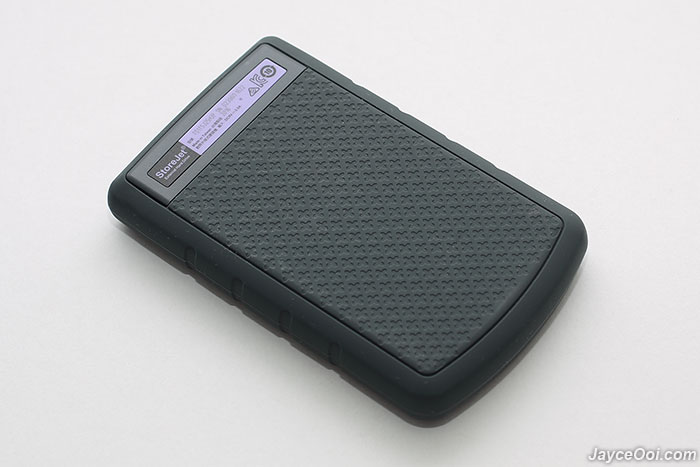 Yup, that's the One Touch Auto-Backup button (with blue LED light indicator) and microUSB 3.0 port. Note – Transcend Elite data management software is required in order for that function to work. 256-bit AES file and folder encryption are supported through that application as well.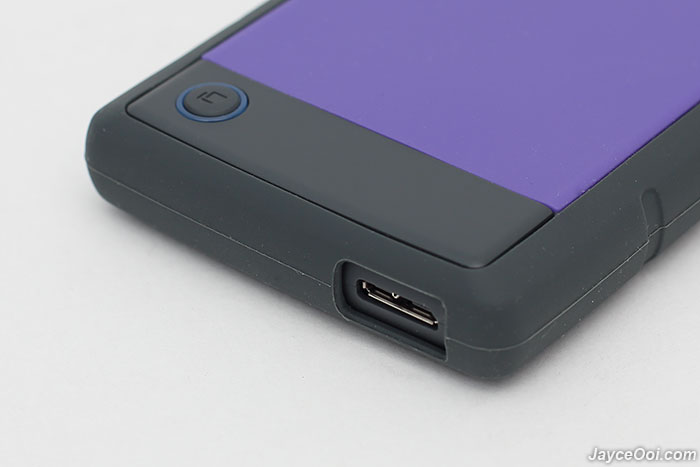 Software
You can start using Transcend StoreJet 25H3 without any software installation. Plug and play is supported on latest Microsoft Windows 10 and platforms. To get more out of it, there are Transcend Elite, StoreJet ToolBox and RecoveRx for you and me. They are pre-installed on the drive. Latest version can be downloaded from Transcend Website too. Transcend Elite helps users manage data and increase productivity. Keep important files organized, protected, and up-to-date. Backup and restore all important data with ease. Cloud storage like Dropbox and Google Drive are supported too.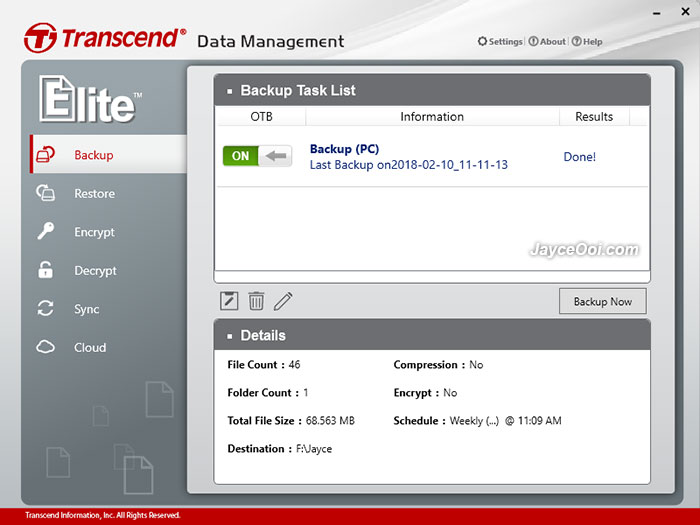 Performance Result
As you already know about StoreJet 25H3 advanced 3-stage shock protection system, here is the file transfer performance from popular synthetic benchmark software. Latest CrystalDiskMark 6.0.0 is being used here. StoreJet 25H3 is getting 120 MB/s for read and 118 MB/s for write on sequence Q32T1 test. That's the result from this 1TB 2.5″ SATA HDD model. There are other larger sizes like 2TB, 3TB and 4TB as well.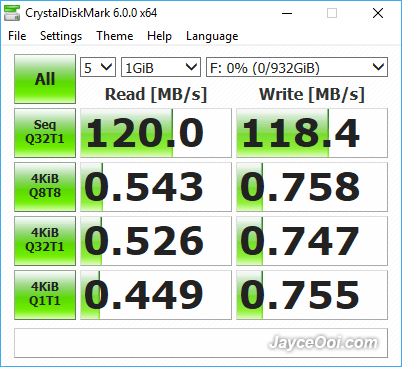 Again, ATTO Disk benchmark confirms the drive performance at around 120 MB/s for both reading and writing.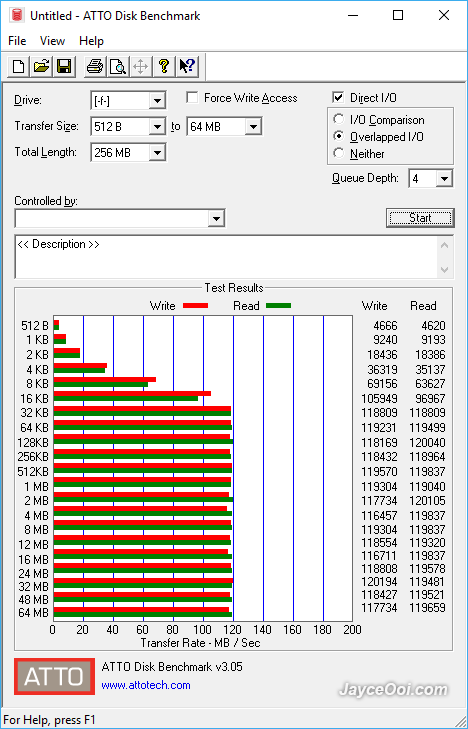 No AS SSD Benchmark this round as that's for SSD only. Therefore, do refer to HD Tune Pro gives you the idea on how the drive is performing when more and more disk space is used up. Performance is always better when the drive is new and slower when lot of files are there. This is perfectly normal for HDD. Disk defragmentation helps to improve performance. Be sure to run it from time to time. Do take note…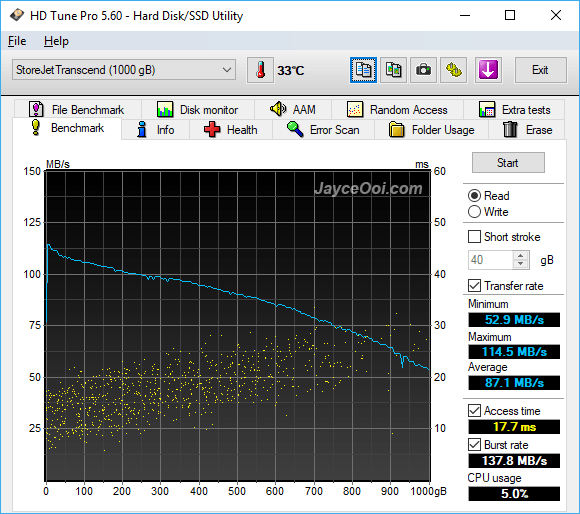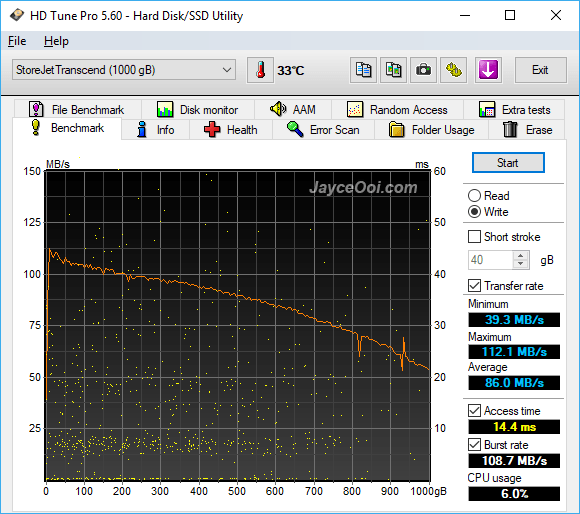 Finally, Anvil's Storage Utilities consists everything that you need to know from response time to IOPS. And it also provide the system information that been used for this benchmark. If you have only one choice of benchmark tool to use, this is the one that you need.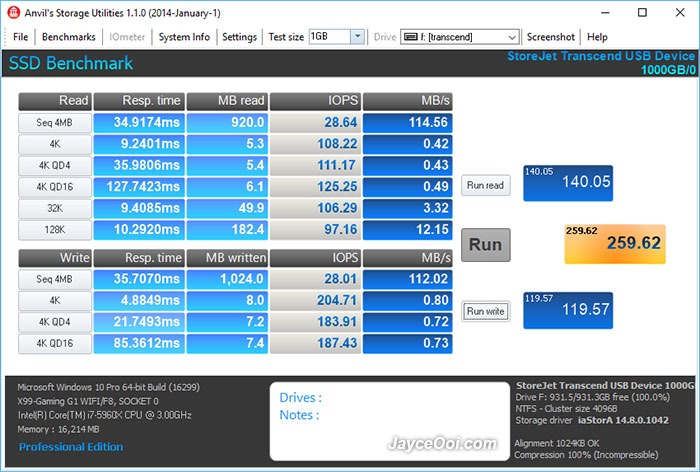 Besides using Transcend StoreJet 25H3 as portable hard drive, you can also attach it to wireless router as USB HDD. 120 MB/s performance is more than enough for LAN connection transfer rate at 110 MB/s max. No external power source is required unlike desktop storage.
Advantages
Solid performance
Military-grade shock resistance
Excellent build quality
256-bit AES encryption
3 years warranty
Limitations
Conclusion
1TB Transcend StoreJet 25H3 is a solid portable hard drive no doubt. Comes with solid performance and military-grade shock protection. Back with worry-free 3 years warranty too. Interested? More information can be found at Transcend Website. Do buy yours at Amazon or Lazada.