Essential for Travel/Office/Home
One charger solves all the troubles. No need to bring multiple charging adapters when travelling; No worries about the large size of the traditional multi-port charger, which is not convenient for carrying. Work easily, no longer need to equip each device with a different charger, make the desktop clean and tidy, and no longer worry about the cluttered power cord and the insufficient socket. Designed for your ideal life, spend a good time with your family, no longer dispute about who will charge first…
The Lightest & Smallest 4-Port (GaN) Charger 65W
Equipped with 4 ports, the 65W GaN PD Charger has ergonomic design and saves up to 50% space for you. Only 0.29 pounds, half the weight of a roll of toilet paper.
Combination of 3 USB-C & 1 USB Port
With the popularity, high frequency use and more and more devices supported the Type-C, adhering of the design concept of All in One, we put 3 USB-C(Type-C) and USB-A ports in this little cube charger.
Charge Smart with Efficient
Say goodbye to various chargers; Charge 50% within 30 min for iPhone X, the UGREEN 65W GaN PD Charger features fast charge for iPhone, iPad Pro 2020, Nintendo Switch Lite and AirPods at the same time. Intelligent power management delivers optimal charging power to fast charge your devices.
Designed for Apple Fans
Only one charger to meet all i-devices for Apple Fans; The 65W charger can charge MacBook Air 2020, iPad Pro, iPhone 11 Pro, AirPods Pro and iWatch etc.
One for All
The UGREEEN charger is able to charge almost every kinds of digital devices, and it supports nearly all Fast Charging Protocols, making sure your devices are charged with 3-times better efficiently. One charger for your work and casual life.
Revolutionary GaN Tech
To achieve all above, we applied the latest GaN semiconductor material to the charger, which allows power components to work under higher voltage and more frequent switches, hence to boost up the charging efficiency with even smaller design.
More Functions in a smaller products
The GaN technology makes it possible to fast-charge 4 devices, meeting multiple needs of all family members. Only half the size of porker. The best choice to replace the bulky laptop wall charger; Ideal for creators, designers, students or all consumers who use multiple electronic devices
A Great Fit for Worldwide
The foldable charger fits all Britain, US and EU standards, making it available in every corner of the world. It also supports voltage from 110V to 240V even in its foldable design. For specialists around the world, UGREEN GaN Fast Charger can meet all your needs.
Sophisticated Design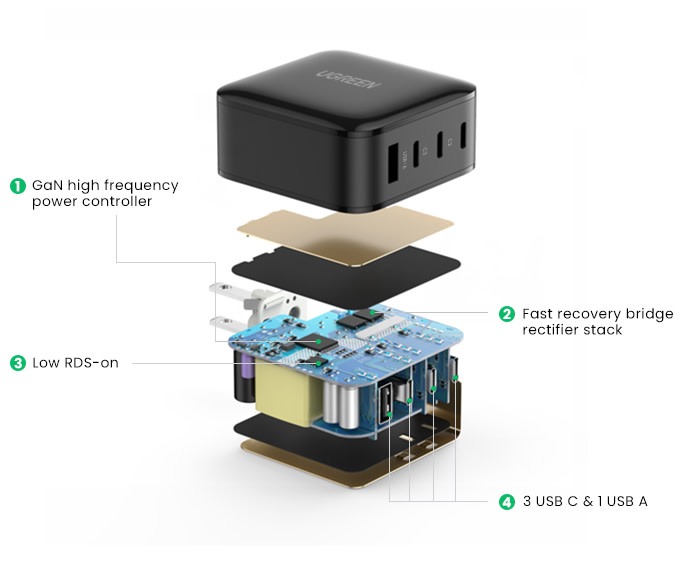 Wait no more and get your UGREEN all-in-one 4-Port 65W GaN fast charger at Indiegogo with huge discount now.