Introduction
WeTek is well-known of their Android TV Boxes with 4K UHD Netflix support. Check out their very first gaming controller – WeTek Gamepad. It is compatible with both Windows and Android. Features precise asymmetrical 360° analog sticks, Bluetooth technology and it's USB rechargeable. How does it perform on Windows PC and Android games? Let's find out…
Special Thanks
This review is possible thanks to below companies. Be sure to check them out…
WeTek for this WeTek Gamepad gaming controller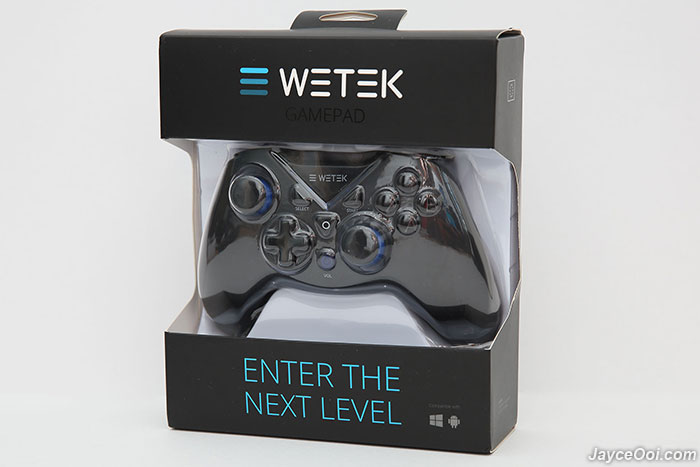 Package Content & Design
WeTek Gamepad comes in a simple yet stylish packaging. You can see it in a glance. Once take out, you can find quick start guide and micro USB cable there. That's all. No CD driver as WeTek Gamepad is plug and play supported.
WeTek Gamepad built quality is top notch. Sturdy plastic is being used as housing. It is not too heavy nor light in weight. Perfect in my opinion unlike my other game controllers which are on the heavy side. As for control layout, it follows Microsoft Xbox 360 controller design which is great. Of course, that's depend each person preferences on XBOX 360 or PS4 controller layout style.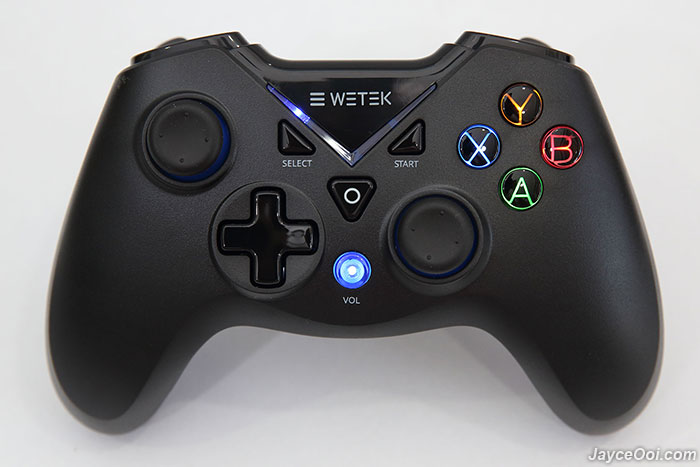 The dual analog sticks, D-pad and A, B, X, Y buttons are well placed. Easily reach with your thumbs. Same apply to the R1/L1 and L2/R2 triggers too. By the way, top of the analog sticks have soft rubber feel. Provide better grip and nice to touch. Besides normal back, start and home buttons, WeTek Gamepad has additional volume button. Yes, you can control sound volume with it on Android OS which is a nice touch.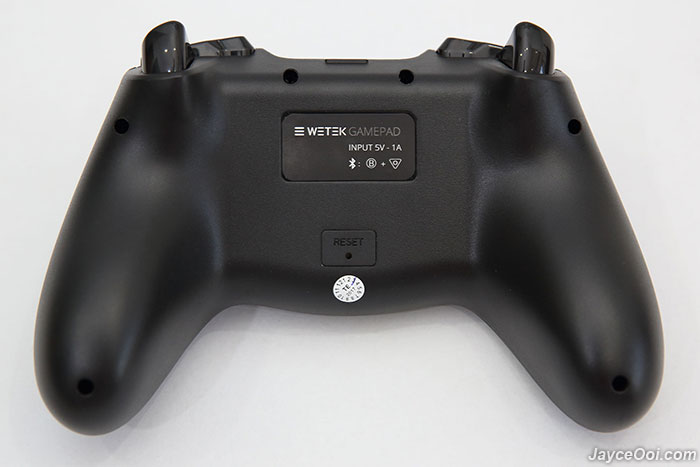 There is a reset button at the back for just in case. Personally, I did not use it yet. It is working perfectly here.
Performance Result
Bluetooth range is very important for wireless game controller. No body want to get disconnected while playing intensive games, right? WeTek Gamepad does an outstanding job in this department. It easily exceeds the standard 10m Bluetooth range in straight sight line with no obstacle. In fact, it manages to get pass 20m in my test. Rest assures that it can cover your big living room with TV and sofa at each corner. Smartphone and tablet that close to you is piece of cake for WeTek Gamepad. For your information, Bluetooth is supported on Android only and Windows PC needs to use USB cable. No additional driver is needed for Windows as system will install that for you. WeTek Gamepad is identified as Xbox 360 Controller in Windows. That's great as most Windows games can only work with Xbox 360 Controller nowadays.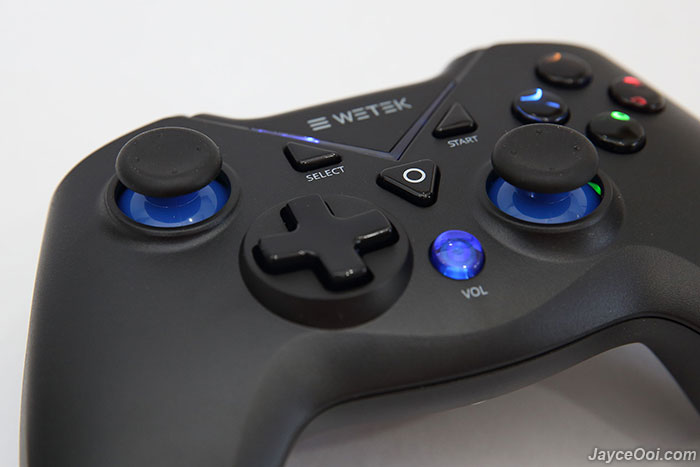 Let's talk about the control and ergonomic. WeTek Gamepad is nice to hold and play for long hours thanks to its ergonomic design. The weight is perfect for children – not too heavy. As for responsiveness and accuracy, WeTek Gamepad passes with flying colours as well. The real 360° asymmetrical analog sticks provide precise movement and direction. Working well on FPS games that I play for sure. 8-way D-Pad is great for retro arcade games too. Furthermore, all the buttons are fast and responsive. Yes, lag is missing in the dictionary here. If the games turn bad, that's your own fault. Don't blame the gamepad. Oh, before I forget, force feedback (vibration) is supported. Surely improve gaming experience with that.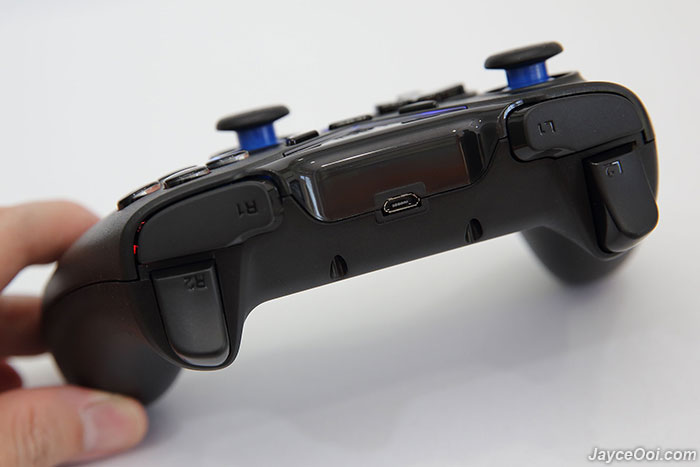 I lost count on the battery life performance. I just know that WeTek Gamepad still keep on going after long hour of playing. Based on specs, it has Li-battery 3.7V 600mAh that can last for 10 hours non-stop gameplay. Just use the provided micro USB cable to charge when battery depleted. That's it.
Advantages
Windows & Android support
Responsive and accurate
Outstanding wireless range
Long battery life
Ergonomic yet stylish
Excellent build quality
Limitations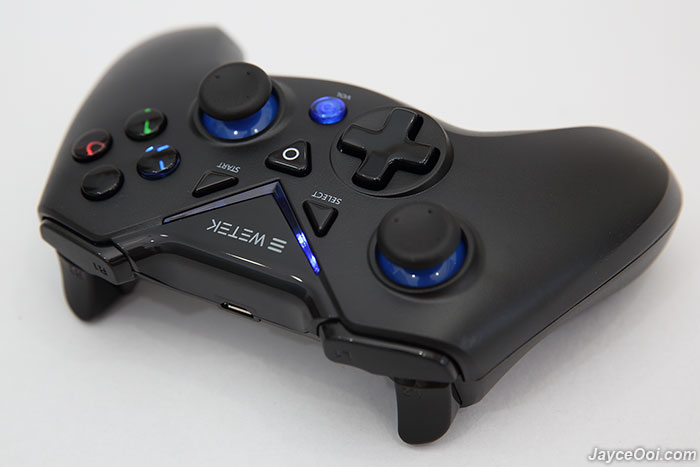 Conclusion
Looking for a game controller for both Android and Windows lately? Be sure to check out WeTek Gamepad. It's my daily game controller now. Enjoy fast, responsive and accurate feedback. Perfect for your long hour of gameplay. Interested? Head to WeTek Website for more information. And get yours there or at Amazon.