Introduction
10 times faster than a 7200RPM hard drive? That's what Kingston SSDNow UV400 SSD claims. It is powered by a four-channel Marvell controller for incredible speeds and higher performance compared to a mechanical hard drive. Furthermore, it is built using Flash memory so it's shock and vibration-resistant and less likely to fail than HDD. And available in multiple capacities, from 120GB to 960GB. Does SSDNow UV400 really able to perform 10x faster than HDD? Let's find out…
Features
10 times faster than a 7200RPM hard drive
More reliable and durable than a hard drive
Available as a bundle kit for easy installation
Multiple capacities to meet your needs
Packaging and Design
My 480GB is a stand-alone drive and comes in a simple packaging. There is SSD only inside. All the information are located at the package itself. By the way, there is also bundle kit version that includes everything needed to install the SSD in your existing system, including a USB enclosure to transfer data, a 2″–3.5″ adapter to mount in a desktop environment, a SATA data cable and a coupon for an Acronis data migration software download.
SSDNow UV400 build quality is top notch thanks to all metal housing. And lighter than common 2.5″ HDD which is a plus for notebook or other mobile device. There is a big Kingston Logo in front and some SDD details at the back. And the standard SATA interface of course.
Specifications
Form factor: 2.5″
Interface: SATA Rev. 3.0 (6Gb/s) – with backwards compatibility to SATA Rev. 2.0 (3Gb/s)
Capacities: 120GB, 240GB, 480GB, 960GB
Controller: Marvell 88SS1074
NAND: TLC
Data Transfer (ATTO): up to 550MB/s Read and 500MB/s Write
Maximum Random 4k Read/Write (IOMETER): up to 90,000 IOPS and 35,000 IOPS
Power Consumption: 0.672W Idle / 0.693W Avg / 0.59W (MAX) Read / 2.515W (MAX) Write
Storage temperature: -40°C~85°C
Operating temperature: 0°C~70°C
Dimensions: 100.0mm x 69.9mm x 7.0mm
Weight: 57 g
Vibration operating: 2.17G Peak (7–800Hz)
Vibration non-operating: 20G Peak (10–2000Hz)
Life expectancy: 1 million hours MTBF
Warranty/support: limited 3-year warranty with free technical support
Total Bytes Written (TBW): 200TB
Software
You can start to use Kingston SSDNow UV400 SSD right after plugged into your PC or notebook. No software or driver installation is required. However, you can download Kingston SSD Manager and use it to monitor and manage the SDD. Here are some of the features – monitor drive health, status & disk usage, update drive firmware and securely erase data.
Performance Results
SSD shock and vibration-resistant are perfect for notebook and other mobile computing devices. Mechanical HDD will stop function or files might get corrupted if keep on spinning when there is shock. SSD does not have this kind of issue at all. You can continue to use your laptop while walking around here and there. Furthermore, it has much faster access time. You can really see the different when trying to read / write multiple files at once. Better applications loading time too. Another one is boot up time. Yes, your Windows PC can boot up within 30 seconds (or even faster) on SSD. And TRIM function is working fine so you will get the same performance over time.
CrystalDiskMark is my primary benchmark tool for storage devices on Windows. 480GB Kingston SSDNow UV400 SSD performs very well on sequential Q32T1 test with 556 MB/s read and 527 MB/s write. And 310 MB/s read and 261 MB/s write on 4K Q32T1 test. That's really fast. You won't get this kind of result on normal HDD for sure. This is where SSD outperform HDD and make whole system runs a lot faster then.
ATTO Disk Benchmark is getting the same result for both read and write tests like CrystalDiskMark. Slightly above Kingston own test here.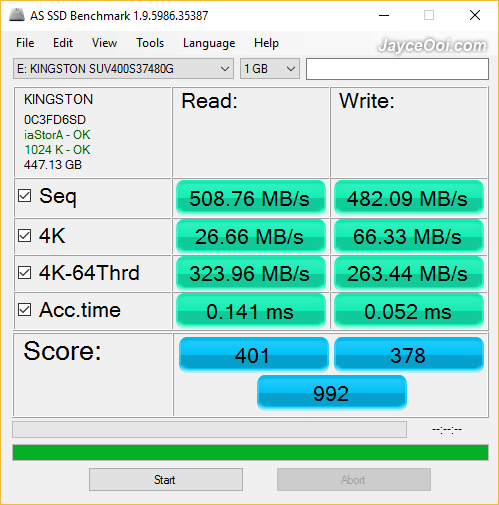 AS SSD Benchmark results is pretty much align with the other two. In addition, you get to know SSD access time in this benchmark. Yes, it is 0.05 ms (0.14 ms for read) only compare to 14 ms that you usually get from HDD. You do the math and tell me how much faster it is…
IOPS result for read is a bit shy from 90000 as specs but writing one is almost double which is good.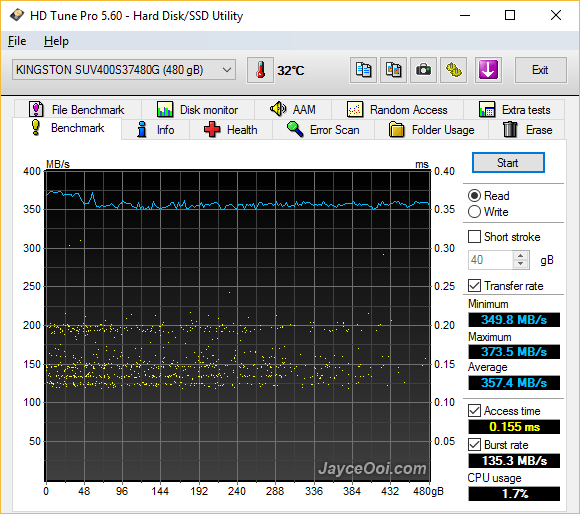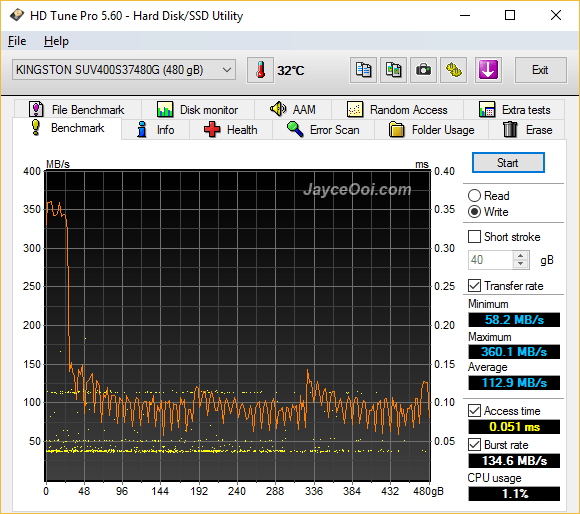 HD Tune Pro gives a very interesting results. Reading speed is hovering at 357 MB/s. However, writing speed dropped from 360 MB/s and at 100 MB/s from 24GB onward to 480GB. What is going on here? You will get this kind of result when the SSD caching write buffer is full. Based on my tests, cache is running out after transferring more than 10GB of data. Therefore, you will still getting maximum writing speed with file size smaller than 10GB. And won't notice it on daily usage unless you always copy large size of files.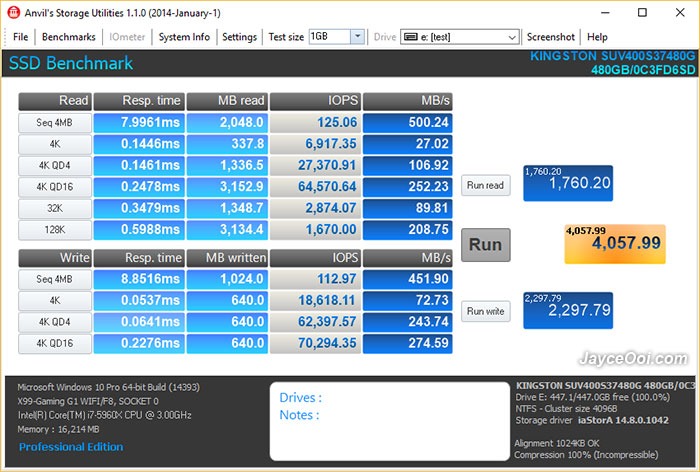 Anvil's Storage Utilities consists everything that you need to know from response time to IOPS. And it also provide the system information that been used for this benchmark. Yup, I am using Intel Core i7-5960X Processor Extreme Edition, Gigabyte GA-X99-Gaming G1 WIFI with 16GB of RAM and running Windows 10 Pro 64-bit.
Kingston SSDNow UV400 SSD is more than 10X faster than 7200RPM hard drive in PCMark 8 storage bandwidth test. My 3TB HDD scores 11.20MB/s only while SSDNow UV400 is getting 172.53MB/s. And the whole benchmark duration is 1 hour+ compare to 3 hours+ on HDD. Can you imagine how much time you can save by using SSD?
Advantages
Up to 550MB/s read & 500MB/s write
Shock & vibration-resistant
Excellent build quality
3 years warranty
Limitations
Slow large file writing when cache is filled
Conclusion
480GB Kingston SSDNow UV400 SSD surely 10X faster than 7200RPM hard drive. Value in price yet packed with high performance. Suitable as hard drive replacement for both notebook and PC. And start to enjoy better and faster speed from now on. More information can be found at Kingston Website. And buy yours at Amazon.