Introduction
Hey guys, check out my ballpoint pen for iPad. Yes, Adonit Jot Dash Stylus is the one. It is just like normal ballpoint pen but make for touch screen devices like smartphone and tablet. Yup, it works on multiple platforms like Android, iOS and Windows as long as the display has capacitive touch support. Jot Dash's 1.9mm tip creates a more natural, pen­like stroke than normal rubber tip stylus which has dragging issue and wear out over time. Is this the perfect stylus for smartphone and tablet for taking notes and sketching? Let's find out…
Features
Just a Click Away: Open any note taking or sketching app and begin without the need to connect.
Fine Point Penmanship: The powered 1.9 mm tip creates a more natural, pen-like stroke than a rubber tip stylus.
Pocket Protected Design: Clip and carry Dash's thin, balanced, aluminum body with confidence.
Sketch, write, highlight: A fine point stylus opens up all kinds of possibilities on your smart device.
Recharge your Rewrites: Click Dash on for up to 14 hours of continuous use. Click Dash off and charge within 45 minutes.
iPad, iPhone, Android: Jot Dash works on all iOS and Android touch screens.
Package Content & Design
There are Adonit Jot Dash Stylus and USB charger in the box. USB charger? Yes, it is a battery powered digital stylus therefore USB charger is there for you to charge it. Basically, Jot Dash is like traditional ballpoint pen. The weight and feel are just right. Not too heavy or light thanks to balanced and solid aluminum body. And it is 8.5mm in diameter. This gives the feel like I am holding a regular pen. The tip is only 1.9mm to provide the precise stroke. There is power indicator on the body (green when power on and red when power off). And the power button is located on top of the stylus just like normal retractable ballpoint pen. Nice one. Finally, the carrying clip will ease carry around while sitting securely in the pocket. By the way, there are two colour options to choose from – charcoal and silver.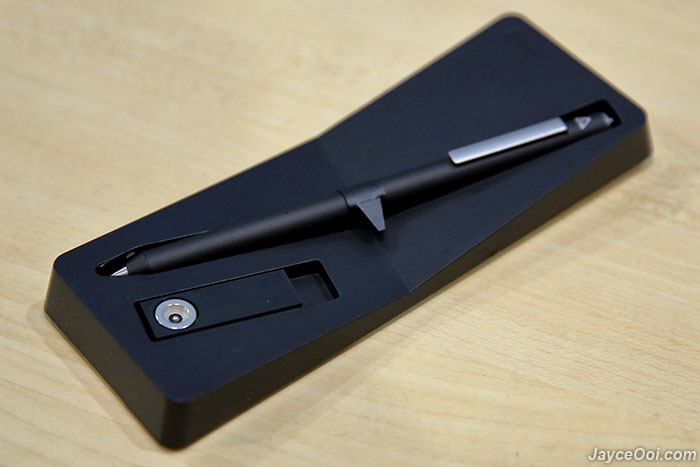 Specifications
Tip: 1.9mm
Length: 141mm
Diameter: 8.5mm
Weight: 12g
Compatibility: All iOS and Android devices
Battery Life: In use: 14 hours, Auto Sleep: 15 minutes, Charging time: 45 minutes
Warranty: 1 Year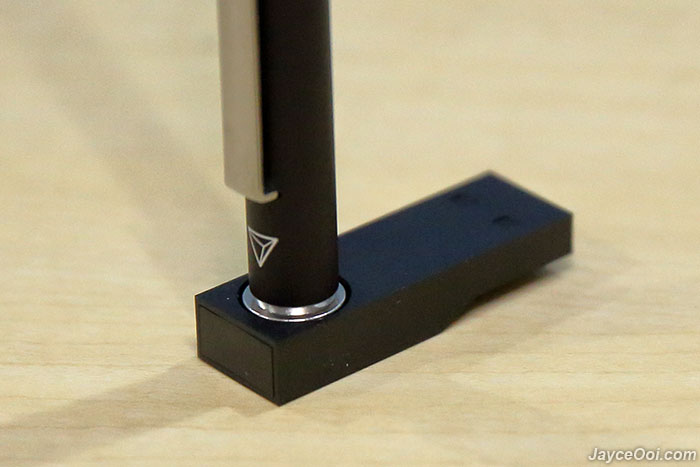 Performance Result
Jot Dash works great on all my Android and iOS devices like iPhone 4, iPad 3, Nexus 7 (2013), Galaxy S4 and more… It does not require any special software support and work on every capacitive touchscreen devices. Yes, all your existing applications for sketching, note taking and drawing will work just fine with it. And you get much more precise accuracy with fine point 1.9mm tip. That's great. Yes, you gain the ability to write with a finer tip rather than your finger. Smaller, tighter writing and more precise sketching are what you will get in the end.
Jot Dash is ready to use instantly after switched on. And it works even you are wearing glove too. I lost count of its working hour but it took me several days to deplete its battery. Thanks to automatically shut off after 15 minutes of inactivity feature. No worry, it will be more than enough for your daily use even you use it non-stop from morning until night. And it took around 45 minutes to fully charge if really ran out of battery in the middle of work. Just take a coffee break and continue, right?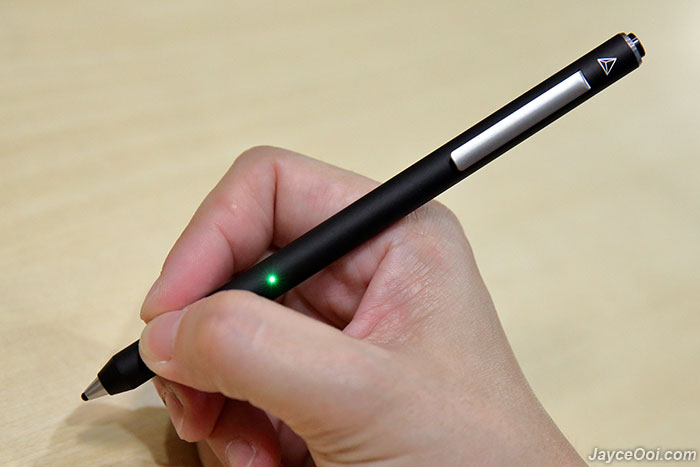 Jot Dash glides smoothly on iPad and Galaxy S4 that I use. I can write and draw as fast as I want. No dragging issue at all. Working fine on screen protector that I use. And there is no noticeable lag on Galaxy S4. A little bit on my aged iPad 3 with iOS 8.3 but that's not Jot Dash fault (iOS 8 slows iPad 3 down on everything). Jot Dash handles offset very well too. I can get it to draw on the position that I want precisely. Well done, Adonit. Besides taking note and drawing, I do use it to play games too. Guess what? It is working great too and very useful to avoid your fingertip from getting hurt on long hour of playing. Do check out below video for Jot Dash real world performance.
Any complaint? The tip is composite polymer plastic and makes a slight tapping sound on glass touch screen. You will need some time to adapt to the sounds. No big deal, right?
Advantages
Work like a regular pen
1.9mm fine point tip
Long hour of usage
Fast charging
Sturdy build quality
Support all capacitive touch screens
Limitations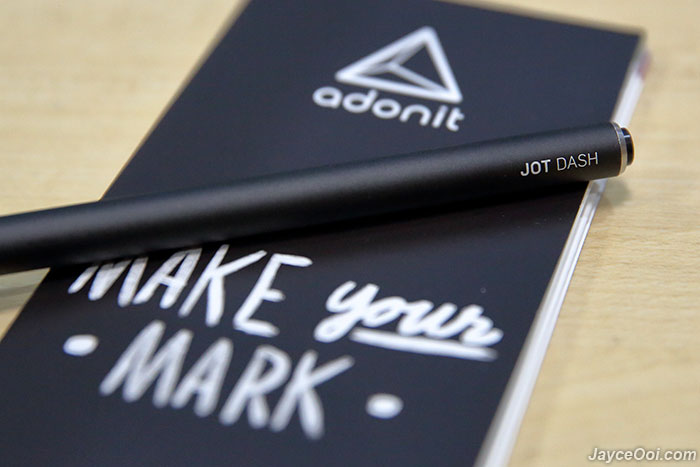 Conclusion
Looking for a stylus for taking note and quick sketching? Look no further, Adonit Jot Dash is the one you need. Work like a regular pen and no special applications are required. Enjoy the precise fine point on your smartphone and tablet. Do visit Adonit website for more information. And buy yours there too.