Introduction
Want to turn your existing smartphone into a bomb Galaxy Note? You can do so with Adonit latest Bluetooth stylus – Snap. It was engineered to be incredibly thin and magnetically attaches to your smartphone for easy access on-the-go. And it is using 1.9mm Pixelpoint tip for unparalleled mobile precision. Furthermore, you can use it as Bluetooth remote shutter to capture photos. Sound great? Read this review to find out more…
Features
Made for mobile – snap attaches to your smartphone for easy access on-the-go.
Snap photos – connect snap with Bluetooth to take photos and selfies with the press of a button.
Fine point – the 1.9mm tip provides unparalleled mobile precision for natural writing and drawing
Portability – snap was engineered incredibly thin, making it a breeze to transport.
Power up – charge snap with any USB port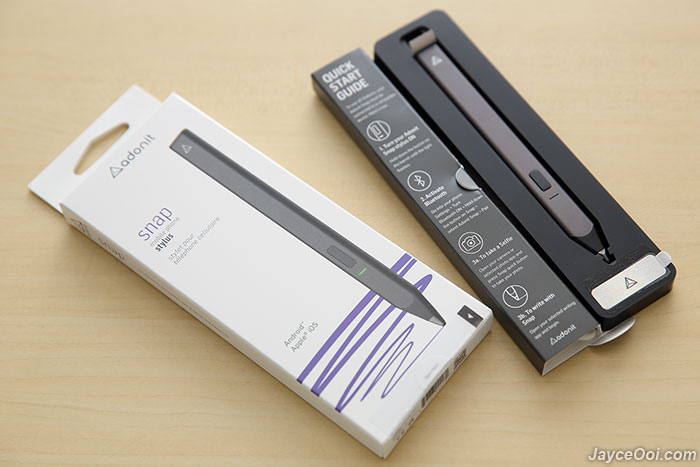 Package Content & Design
There are Adonit Snap, small metal plate with adhesive, micro USB cable and quick start guide. The guide comes in 7 languages to teach you how to use it as the remote shutter. As for build quality, it is excellent thanks to anodized aluminum barrel with stainless steel details. Yup, durable yet stylish. Furthermore, it is really thin and still comfortable to hold it. And does not add much weight to your smartphone when attached. For your information, there is a strong magnet at the middle the Snap. Therefore, you can attach it to smartphone with metal back cover directly even without the small metal plate. No worry about the Snap from dropping here.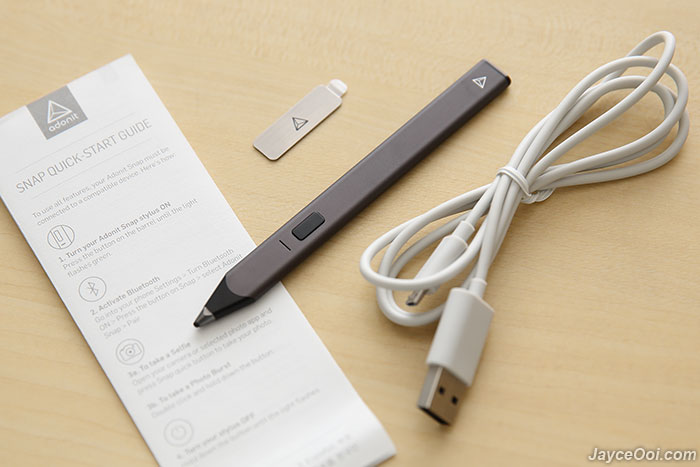 Adonit Snap adopts 1.9mm Pixelpoint tip. The power / shutter button can be reached easily with thumb. No worry, you need to hold power button for few seconds to power down it. Furthermore, you need some force to press it too. No accidentally turn off Snap while writing here. And the bright LED light indicator is just below the button. There is a micro USB port on top for charging. Lastly, there are 3 colour options to choose from – black, white and rose gold.
Specifications
Tip: 1.9mm
Length: 12.1 cm
Diameter: 4.3mm
Weight: 9.3 g
Performance Result
The very first question that comes to my mind… Will Adonit Snap stays attached to my smartphone firmly? In short, yes. You get the best result by attach it to metal back cover (or plate) directly. I still manage to get it attached to my smartphone with casing (metal plate inside the case). Of course, the magnetic force is not as strong as direct contact. But still getting the job done here.
It is really easy to pair Snap to smartphone through Bluetooth. And the Bluetooth range is great. Exceeds 10m Bluetooth range in straight sight line with no obstacle. Yes, you can take selfie and wefie easily with the help of the Snap's shutter button. Attach your smartphone to tripod and it will bring your photography experience to another level. By the way, you can take burst photos with double click and hold down the shutter button too. However, it is available on iOS devices only.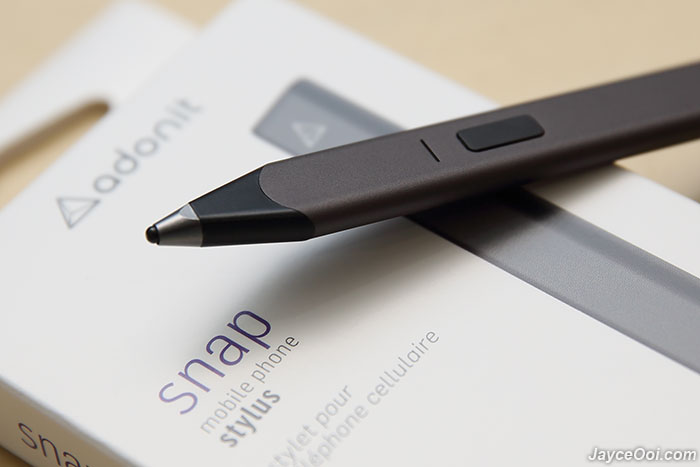 Adonit Snap can last for several days on casual usage. This is possible thanks to automatically shut off after inactivity feature. Yup, a great power saving here. Personally, I did not use it non-stop but based on specs it should last for 7 hours on continuous usage. And the LED light indicator will start to flash red twice when power is low. Flash 3 times when totally ran out of power. As for charging, it took around 1 hour to fully charge here.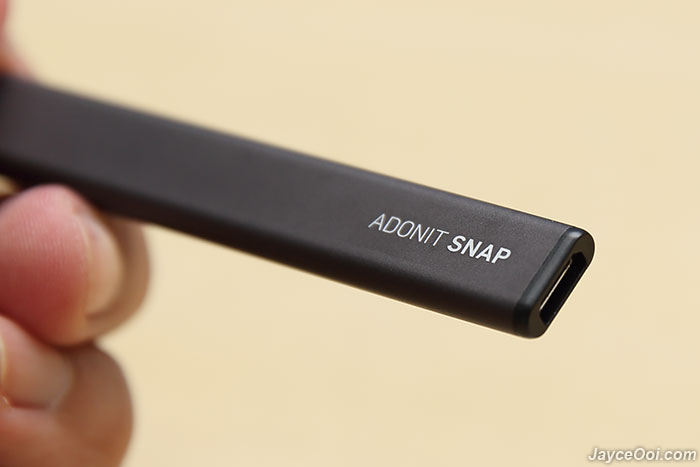 Adonit Snap works on every capacitive touchscreen devices with no special software is required. Yup, all your existing applications for sketching, note taking and drawing will work just fine with it. Since it is a battery powered stylus, you can use it while wearing glove. And working fine on screen protector that I use. Handles offset fairly well too. Therefore, I can draw on the position that I want precisely. Glides smoothly on my devices by the way. And does not have the loud tapping sound on glass like previous generation Pixelpoint tip. Furthermore, its lightweight makes it easier to hold and write. Alright, do check out below video for all Snap's features and abilities…
Advantages
1.9mm fine point tip
Attach to smartphone
Bluetooth remote shutter
Fast charging
Excellent build quality
Support all capacitive touch screens
Limitations
Burst photos mode not working on Android
Conclusion
Adonit Snap is an amazing thin Bluetooth stylus for writing, photography and even gaming. Easy to carry when magnetically attached to your smartphone. Workable on all capacitive touch screens without additional software needed. And enjoy the precise fine point on all your devices. Interested? Head to Adonit Website for more information. And buy yours at Amazon.