Introduction
Want a sturdy, ultra portable media player that boasting the latest 4K/UHD video codecs and certified high quality audio? Check out WeTek Hub Android TV Box that I have with me now. It is the smallest WeTek device yet. Powered by advanced Amlogic S905 processor to provide glorious 4K Ultra HD content using the powerful H.265 codec technology. And have 1GB of RAM and 8GB of storage. Loaded with lot of connectivity like Bluetooth 4.0, 802.11 B/G/N/AC and Gigabit Ethernet. In addition, WeTek Hub can be connected to your 5.1 home cinema system too. And their own WeControl app lets you to control WeTek Hub with your smartphone and tablet, taking advantage of extra functionalities such as keyboard and touchpad. Sound good? Read on to find out more…
Features
Compact case, unlimited power
Powered by Android
All around quality
WeControl app
Sounds like reality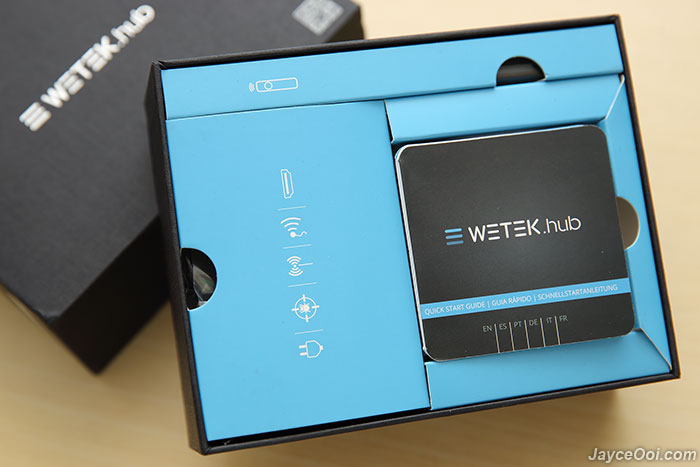 Package Content
WeTek Hub comes in a gift box alike packaging. Yup, perfect to give others as a present too. Wow, WeTek Hub is really small. You can see everything is nicely packed in the box. And lot of stuffs there. You can find the Hub itself. Then remote control, HDMI cable, RS232, IR extender, 2 sticker, update nail, antenna and power adapter. WeTek does a great job for including lot of accessories here. You get multiple plugs to ease travel around the globe. Yes, the power adapter comes with US plug by default. You can select EU 2 pins, UK 3 pins and Australia type I plug as well. 3M stickers for you to attach the Hub and IR extender any place you prefer (eg. Hub behind TV). Lastly, RS232 cable for debugging and pin for firmware upgrade.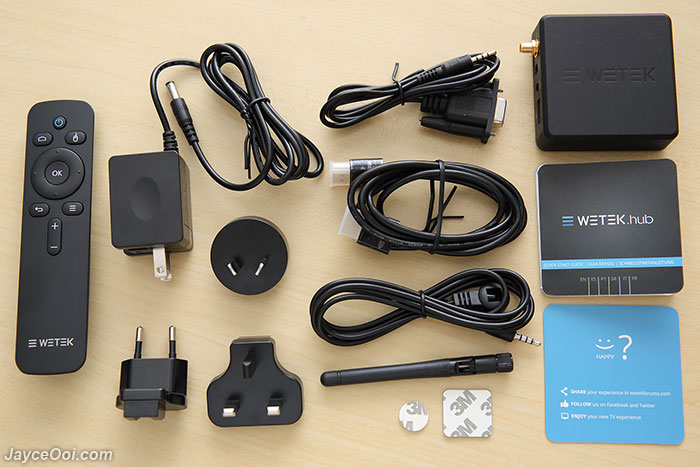 Specifications
Processor (CPU): Quad Core (AMLogic S905-H)
GPU: Penta Core Mali MP-450
RAM Memory: 1 GB DDR III
Flash memory: 8 GB eMMC
Wireless LAN: 802.11 B/G/N/AC
Supported Wi-Fi: 2.4/5 GHz
Ethernet: 1000 Mbit/s
Bluetooth: 4.0
HDMI: 1x
MicroSD: 1x
USB 2.0: 1x
Serial Debug: Yes, external
IR Extender: Yes
Power socket: DC In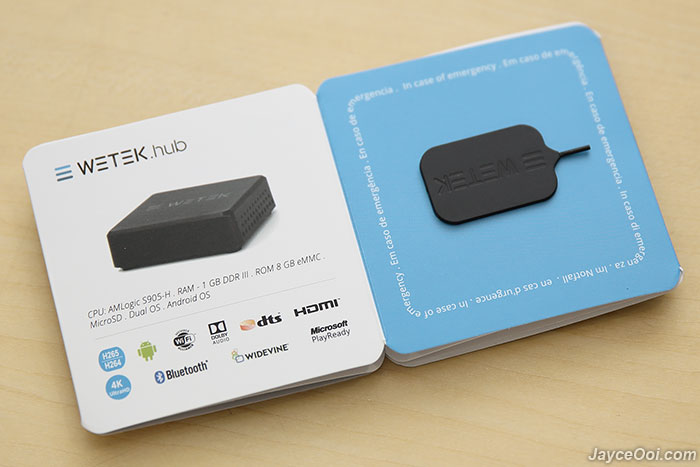 Build Quality & Design
WeTek Hub is really small as a TV box. The smallest that I have seen yet. And its build quality is top notch with solid plastic. On top, you can find WeTek logo and large heat sink under it (yes, you can feel the warmness when touch). There are lot of air vent holes on one of the side and bottom to help to keep it cool. There are 4 rubber anti-skid pads, update pin hole and place for you to put the sticker at the bottom. And all other connectivity like DC input, GbE, HDMI, USB, microSD slot, UART, IR input and antenna can be found at sides. You have everything you need in such a small profile body. The infrared remote unit is simple yet useful. Just insert 2 AAA batteries (not included) and you can start to use it. As usual, do refer to below photos for details.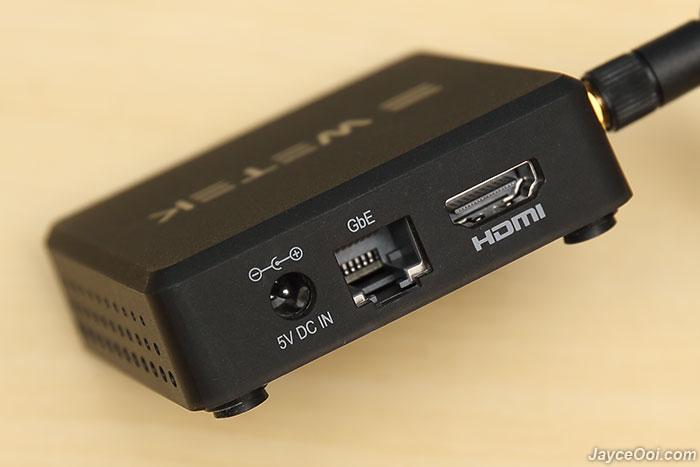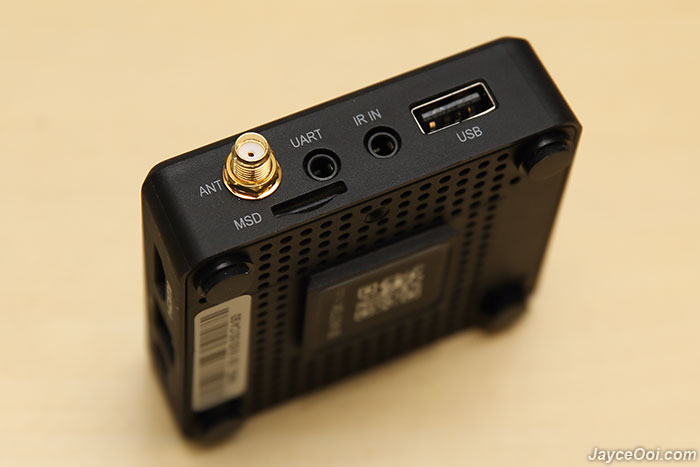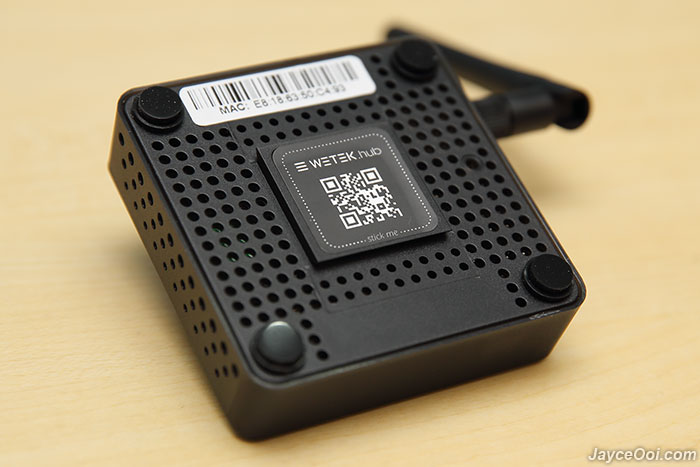 Software
WeTek Hub supports both Android and LibreELEC operating systems (however, I am going to cover Android OS only on this review. LibreELEC will come later). It is powered by Android 5.1.1 (on WeTek Hub OS v1.0.2). Yes, it also support OTA update. And it comes with 2 versions of Kodi Media Center – 16.1 stable (manufacturer version) and 17 alpha 2. By the way, WeTek is one of the Kodi Diamond Sponsors. And they have their own forum too. Rests assure you will get the best experience out of the Hub as WeTek Support is there for you on top of the 2 years hardware warranty.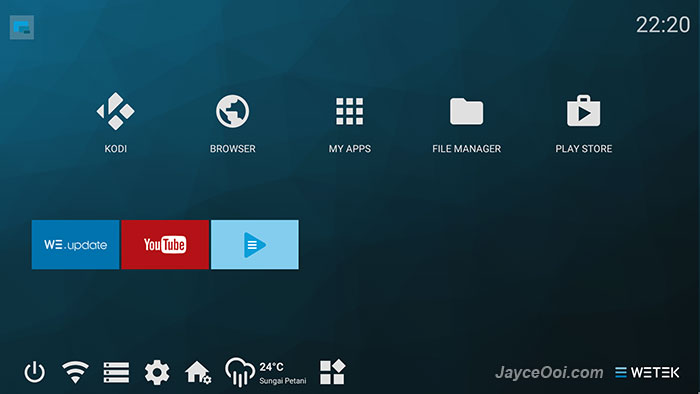 WeTek Launcher will be loaded once you power on WeTek Hub. And there are several applications like Media Center, MoviePlayer, Net Mounter and others come along with WeTek hub. As usual, you can always install the application that you need manually since we are talking about Android platform here. WeTek Launcher is simple yet useful to use with the remote control. You can replace the 4 main shortcuts with the one that you prefer. And add more below as favourite apps. Lastly, widgets can be added too at the very bottom.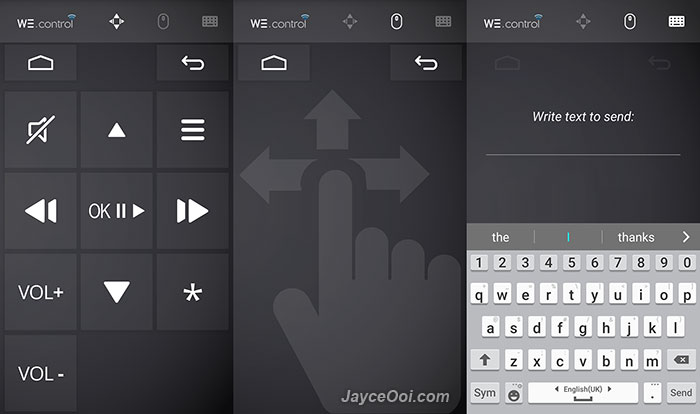 WeTek bundled remote control may not be the best out there as it does not support air mouse feature (need to use arrow keys to control the mouse pointer). But it does its job on normal navigation. And leave the complex ones on WeControl Android App. Yup, I am using WeControl most of the time as substitution of the physical air mouse. And much faster to input text with it. Of course, it support all functions of the remote control and does not limited by infrared range as it is using Wi-Fi connection.
Benchmark
How does WeTek Hub with AMLogic S905-H processor and Penta Core Mali MP-450 GPU perform? Does its 1GB of RAM and 8GB internal storage enough for daily use? And how is the wireless and Ethernet performance? I will let below synthetic benchmarks data to give you some ideas…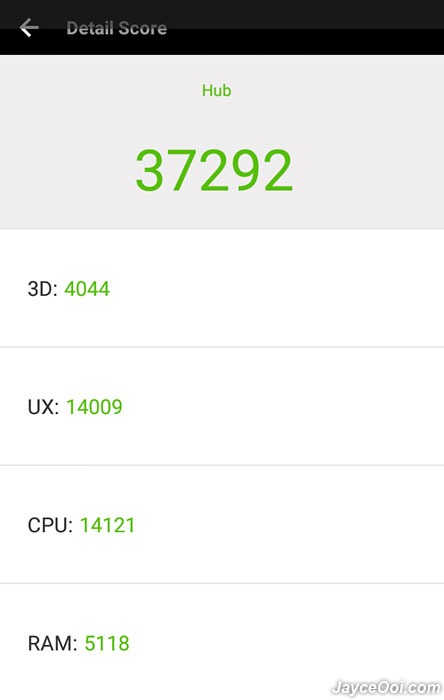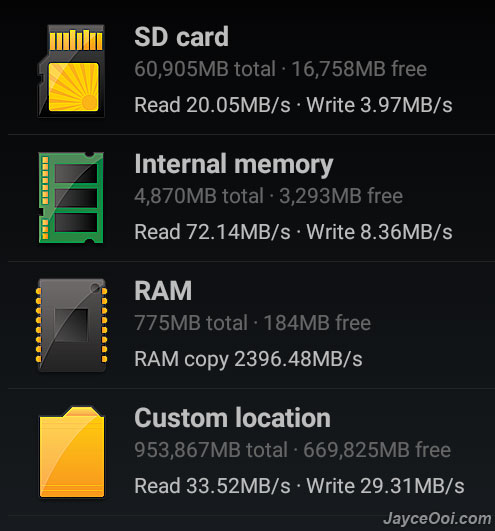 Hmm… By looking on the data, the Hub does not have the best results here. For your info, I am using SanDisk Extreme microSD Card and custom location is external HDD connected through USB port.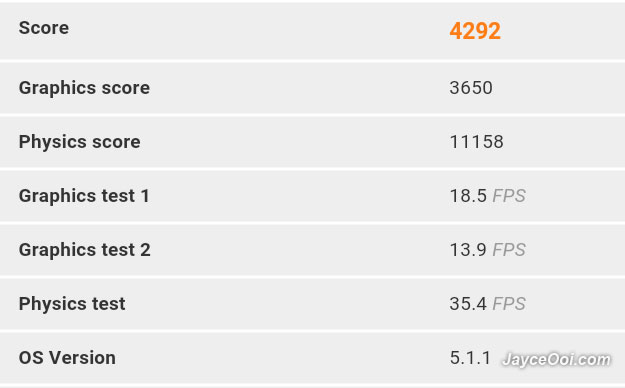 3D performance is not the best out there too. But rests assure that it will run casual games fine as I am able to play Asphalt 8 Airborne here.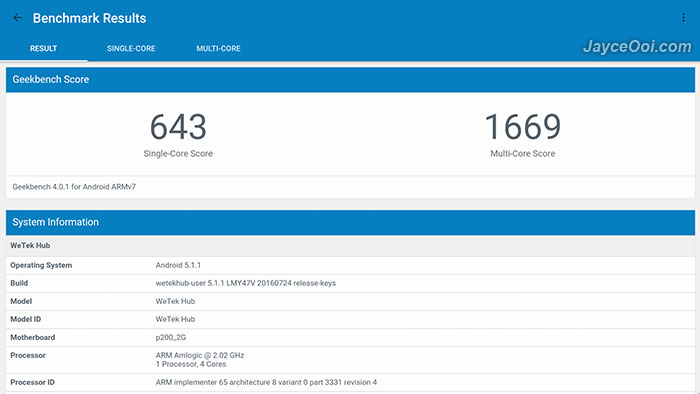 Performance Result
WeTek Hub boots up performance is good. It took around 27 seconds to do so. And shutdown is instant. As for connectivity, Wi-Fi range is great. I am getting full speed at 433 Mbps 5GHz AC. And getting better speed compare to 2.4GHz connection at same location. This ensure fast and smooth playback on all 4K Ultra HD contents. Its Bluetooth range is excellent too. Easily exceeds 10m Bluetooth range in straight sight line with no obstacle. Up to 7m with obstacles. Gigabit Ethernet gives me the best result too.
WeTek Hub can play almost everything that you throw at it. Yup, it can play video up to 4K Ultra HD 10-bit 3840 x 2160 HEVC 60fps smoothly. Same apply to 1080p videos no matter in h.264 or h.265 codec. Besides, it also support most of the popular audio codec like AAC (Dolby Digital), AC3 (DTS), Dolby True HD and DTS HD-MA on both 5.1 and 7.1 channels. Can be connected to your 5.1 home cinema system as well. Just don't throw those crazy high bit rate video will do. Else you will start to get stuttering or buffering playback then. In short, it will play most of the contents out there. WeTek Hub supports Google Widevine Modular and Microsoft Playready DRMs. Therefore, rests assure that you will be able to playback video from applications that requires DRM like Netflix. Yup, Netflix is playing back on HD smoothly here. Your favourite IPTVs from Play Store should work flawlessly too.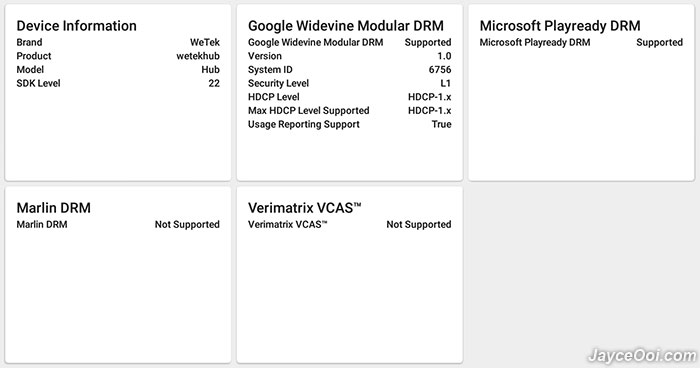 Yeah, I am able to play games through Moonlight (NVIDIA GameStream) smoothly (55ms latency on 1080p60 with H.265). Wi-Fi AC connection helps a lot here as 802.11 N does not enough bandwidth to transfer. Performance is great with no lag and buffer issue. No problem to play fast paced games like Zen Pinball here. Of course, you can play lot of casual Android games with gamepad (like GameSir G4s Review) too. Web browsing performs nicely as well. And you can also do some office works with keyboard and mouse connected to WeTek hub.
Advantages
4K Ultra HD & H.265 codec support
Great wireless & Ethernet
WeControl App support
Excellent build quality
Ultra portable
2 years warranty
Limitations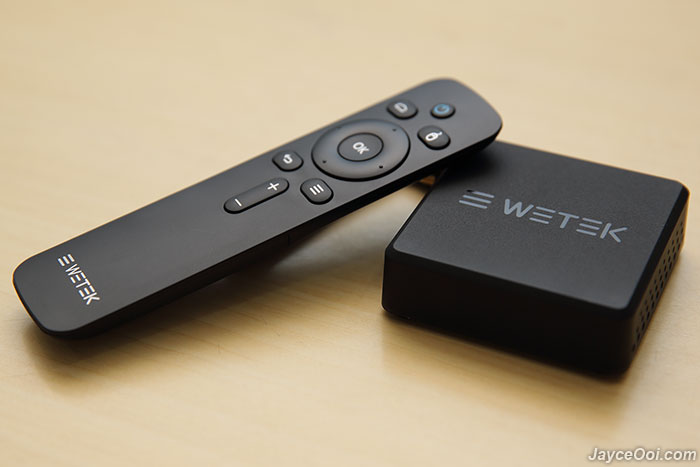 Conclusion
WeTek Hub is an impressive Android TV Box that fits the palm of your hand. Ultra portable to ease carry around and perfect for vacation. Enjoy video contents up to 4K Ultra HD any place you want. Interested? More information can be found at WeTek Website. And get yours there.