Introduction
Tired of plug and unplug USB cable when charging your smartphone / tablet? Try wireless charging instead. Yup, aLLreLi Fast Wireless Charger is the star today. It supports fast wireless charging for compatible phones like the Samsung Galaxy S7 / S7 Edge, Note 5 and S6 Edge Plus. And normal mode for all other Qi-enabled devices. Furthermore, it also has over and under voltage protection and short circuit protection. Sound great? Let's have a closer look then…
Specifications
Input: DC5V,2A (Normal) ; DC9V,1.8A (Fast)
Output: DC5V,1A (Normal) ; DC9V,1.5A (Fast)
Charging Distance: ≤8mm
Charging Efficiency: ≥72%
Frequency: 110-250kHz
Size: 100mm x 10.5mm
Package Content & Design
There are aLLreLi Fast Wireless Charger Pad, micro USB cable and user manual in the package. By the way, the user manual has lot of languages but English is good for me – clear and detailed. That's it. There is no charger. Yup, you need to use your own charger. Fast charge feature requires QC2.0/3.0 adaptive fast charger. Else you will only get normal charging rate. Build quality is decent. Solid plastic yet stylish and the non-slip pad (the black round one) does provide stability to your smartphone / tablet from moving around. Same apply to the charger pad itself.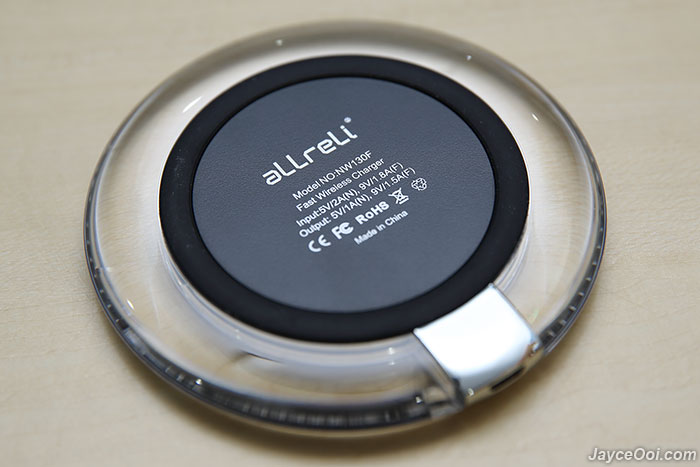 Performance Result
Just plugs in power adaptor and you are ready to use aLLreLi Fast Wireless Charger. And it is very easy and simple to use it. Just put your Qi-enabled smartphone or tablet on top will do. No need to plug in USB cable here. Very convenient for heavy smartphone users as most of the time battery won't last for the whole day. Plug and unplug USB cable is so troublesome, right?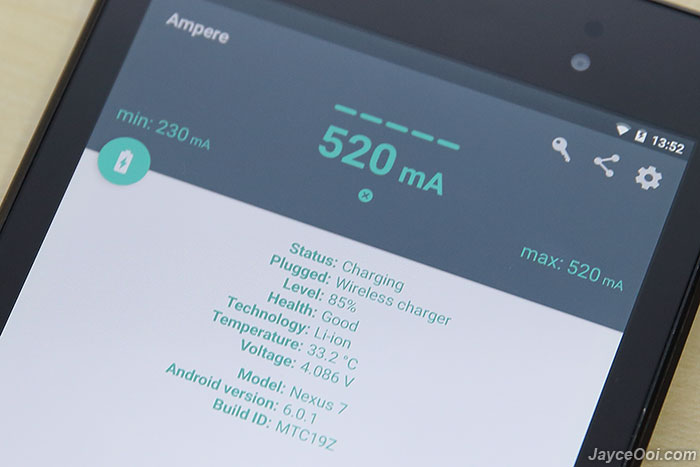 Err… I don't have any fast wireless charging devices like Galaxy Note 5 or Galaxy S7 yet. So tests were done with my Nexus 7 (2013) which supports normal Qi charging. Yup, I am getting around 520mAh charging rate based on Ampere Android Application. Half of wired charging rate which is expected. By the way, the green LED lights show when you placed normal Qi enabled device on top of it. And white LED lights for fast wireless devices. Note – LED lights will turn off after 10 seconds. And no worry about your phone case. Yes, wireless charging is still working even with case on. Just make sure that you don't have a thick phone case.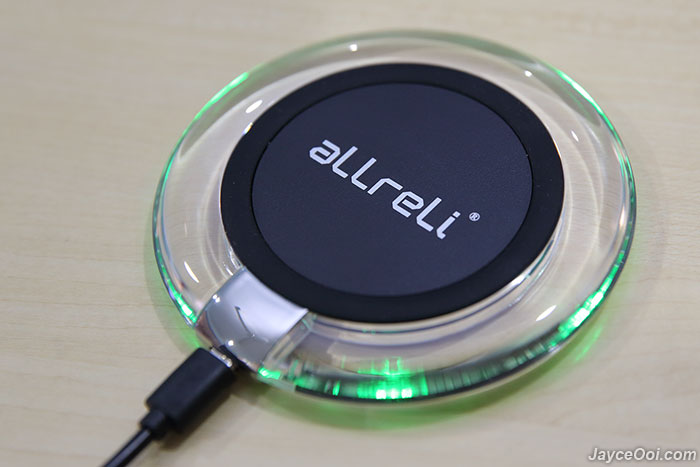 Advantages
Charge wirelessly of course
Fast charging
LED light indicator
Decent build quality
Limitations
Conclusion
aLLreLi Fast Wireless Charger is a good pad no doubt. Support both wireless fast charging and normal one. A must have for heavy battery user that look forward to use your smartphone conveniently. As usual, more information can be found at aLLreLi Website. And get yours here.