Introduction
I have been using Ambi Climate daily for more than a year. And it keeps me and my whole family comfortable all the time while cutting down electricity cost. What is Ambi Climate? It is an add-on smart brain to your existing infrared remote-controlled air conditioner by Ambi Labs. And they have latest Ambi Climate 2nd Edition now. How does it perform? Let's find out…
Special Thanks
This review is possible thanks to below companies. Be sure to check them out…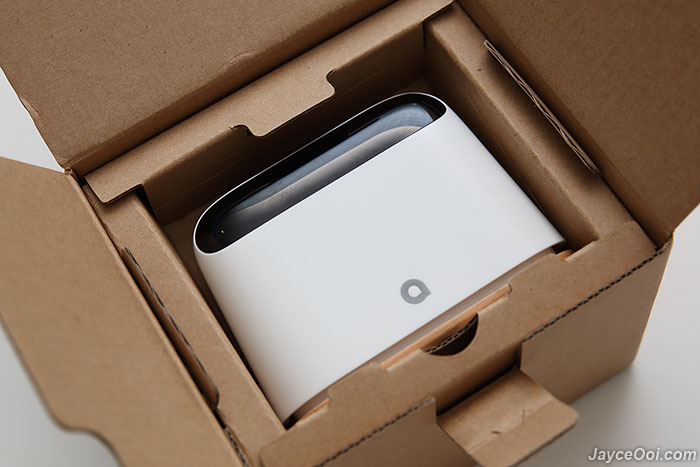 Package Content & Design
Ambi Climate 2nd Edition that I have is a pre-production unit. Therefore, the final unit and packaging might change. As usual, it comes with environment friendly package. And I was given AC power plug adapter with UK plug and micro USB cable this round.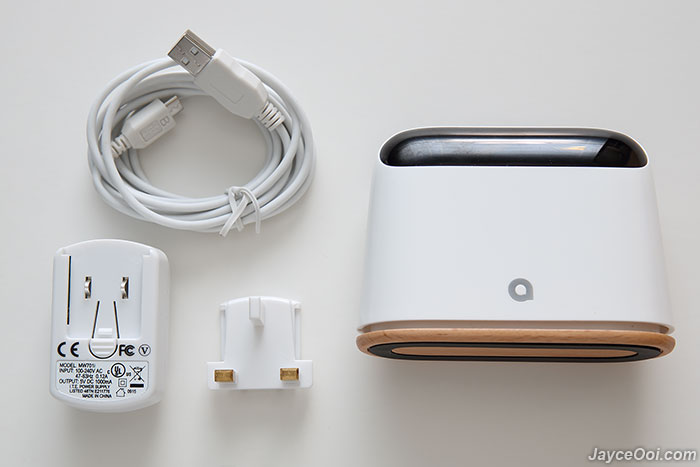 There are some changes on the design. The very first thing that I noticed, there is only 1 LED light indicator (with multi colour) on Ambi Climate 2nd Edition. And they are using wood as the base. Nice one. There is large oval anti-skid pad there too.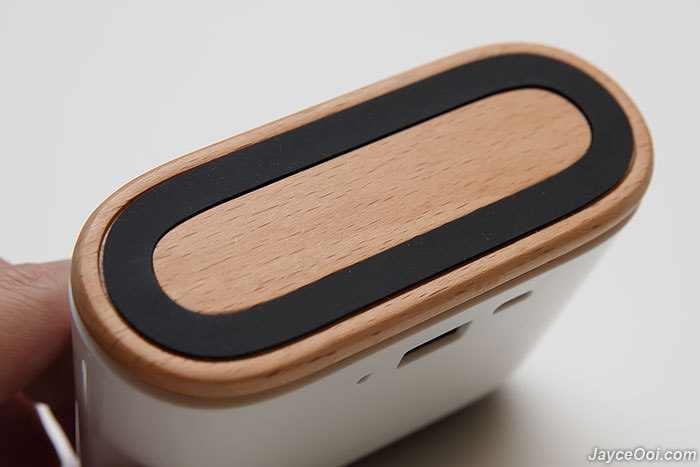 USB output, DC in and reset button are still there.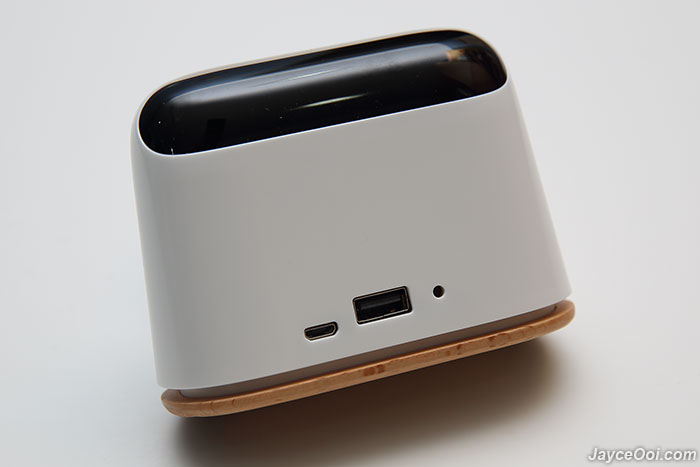 Yup, this is the LED light that I mentioned previously. Brightness is adjustable. Same apply to the sound buzzer. And 7 infrared transmitters are located underneath the black plastic parts.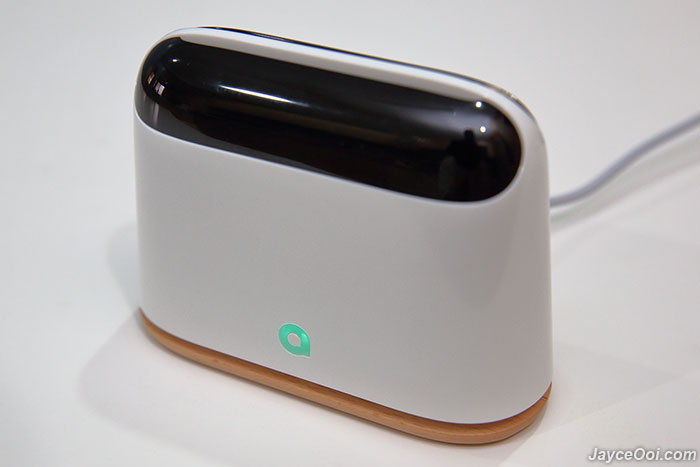 Installation
The installation of Ambi Climate 2nd Edition is pretty much the same as first edition – fast and easy. You need to have Ambi Climate mobile application from Android Play Store or iOS App Store. And sign up an account and activate it. Then setup Wi-Fi connection by following given instructions from the app. Enter location and room. Continue to pair aircon. You can use the usual manual mode or experimental auto pairing mode. That's all. Note – Ambi Climate is compatible with all common air conditioners in the market which over 50 brands and 1000 models. And they are continually expanding the coverage. Check compatibility here.
Software
Ambi Climate App improved a lot since I started to use it. Yup, lot of features and improvements are added from time to time. And they fixed bugs as well.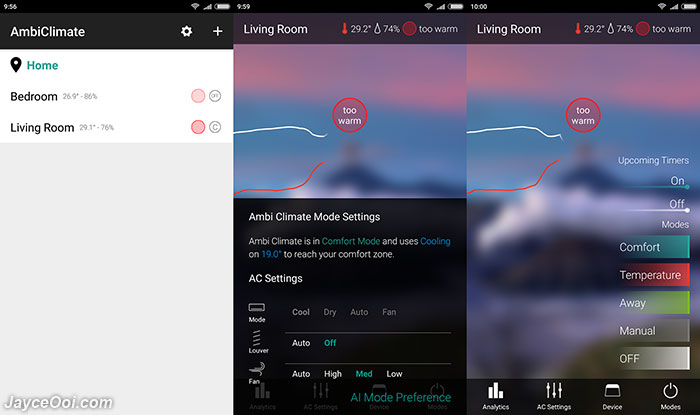 As you can see, I have 2 units of Ambi Climate at Home. One for bedroom and another one at living room. You can select the usual aircon functions through the app like mode – cool, auto & fan, louver level and fan speed. And of course, the advanced stuffs that Ambi Climate brings – multiple modes like comfort, manual, away and temperature.
Performance Result
Smarter comfort via artificial intelligence is one of the selling point of Ambi Climate. And it is also the feature that I like most. It will learn and analyze the impact of these multiple factors like temperature, humidity, weather and other on your comfort. And automatically adjusts your aircon for optimal comfort with energy savings.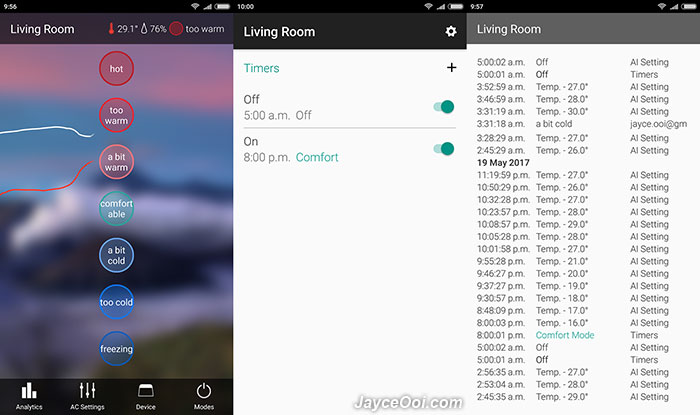 Ambi Climate turns on aircon at 8pm with Comfort mode through scheduled timer. A.I. take control of everything then. Finally, turn off at 5am. This can keep you, family members and your pets cool without wasting energy. Yes, lesser annoying aircon beeping sound with improved A.I compare to where I started to use it. And you can always interrupt by changing or feedback temperature that you feel on that point of time. This will make A.I. even clever and understand you better like below screenshots.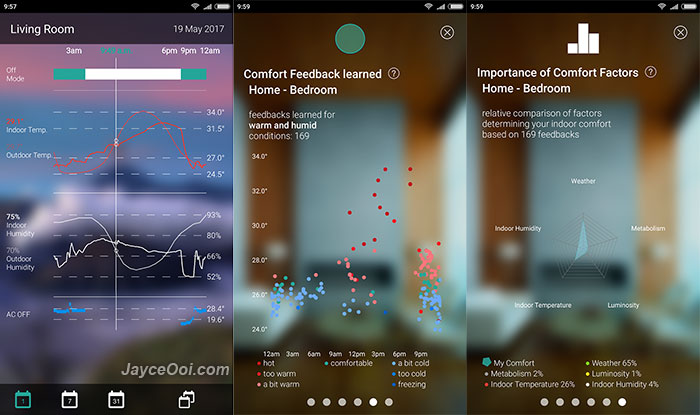 With Ambi Climate mobile application, you can access your aircon anywhere as long as you have Internet connection – from the next room, across town, or around the world. Total monitor and control in your hand. Yup, check on conditions at home while you're on-the-go. For your information, there are several cool upcoming features. Example, it can automatically switch on and off your aircon based on your location. And voice Control where control your air conditioner through Alexa via IFTTT.
Advantages
Keep you comfortable all the time
Cost saving
Multiple aircon support
IFTTT Support
Easy installation
Remote access anywhere, anytime
Firmware Over The Air update
2 Years warranty
Limitations
Conclusion
In short, Ambi Climate 2nd Edition is better and cheaper. Continue to serve you as previous version that won lot of awards like Computex d&i and IoT Asia Trailblazer Awards. Interested? Do check out Ambi Labs Website for details. Buy yours at Amazon.