Introduction
Hey guys, check out my latest keyboard from Armaggeddon – Swiftspectra AK-333s. Unlike normal keyboard, it has 104 soft and silent chiclet keys. Furthermore, it is loaded with multicolour backlights that improve gaming experience at dark environment. Sound great? Let's find out…
Features
Multicolour Backlights – Vibrant full spectrum backlighting
Keyboard Backlight key – ON/OFF keyboard backlighting
Soft and silent chiclet keys – Low-profile(2mm) 104 chiclet keys with silent keystrokes
Fast actuation and low profile enables fast movements across the keyboard
Quality and reliable soft-touch membrane keys
UV coated low profile keypads – Provides longer durability of the keypad lettering when compared with conventional silkscreen keyboards.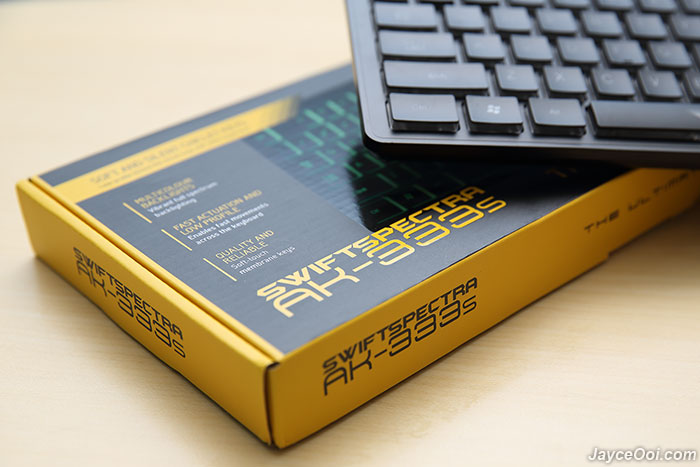 Package Content & Design
There is Armaggeddon Swiftspectra AK-333s Keyboard in the package. That's all. No user manual and driver CD here. Every info that you need is located at the packaging box. The build quality is excellent. Solid plastic housing and nice UV coated low profile keypads. Basically, it is a full-size layout keyboard with number pad. No additional shortcut buttons nor Fn ones. Except the one that toggle backlight on/off – scroll key. When scroll lock mode is on, the lights are off. And the other way around. At bottom, you can find 2 anti-skid pads at the lower part of the keyboard. But no keyboard legs for height adjustment.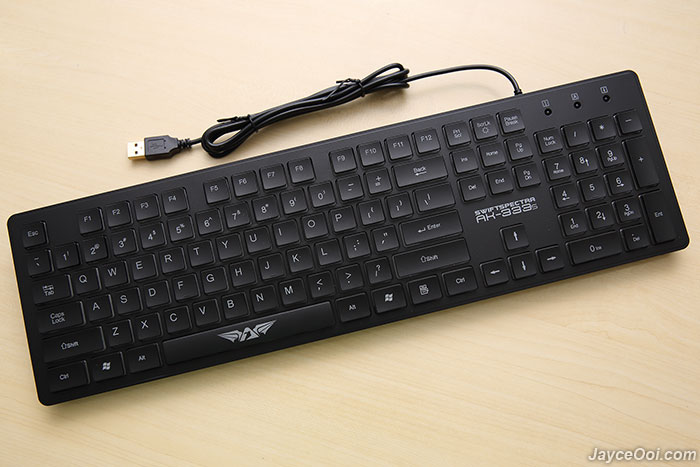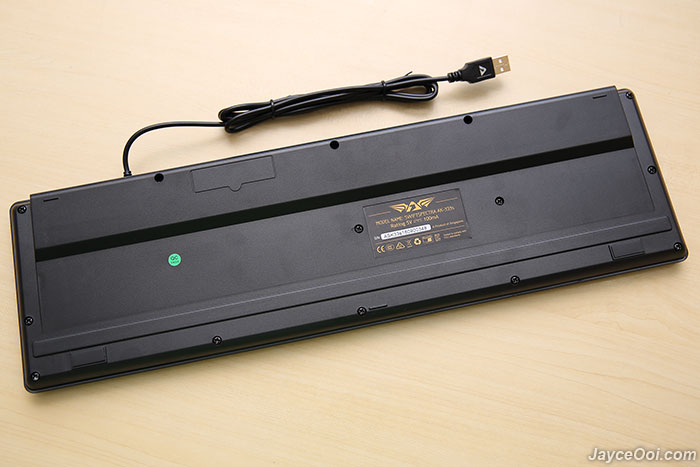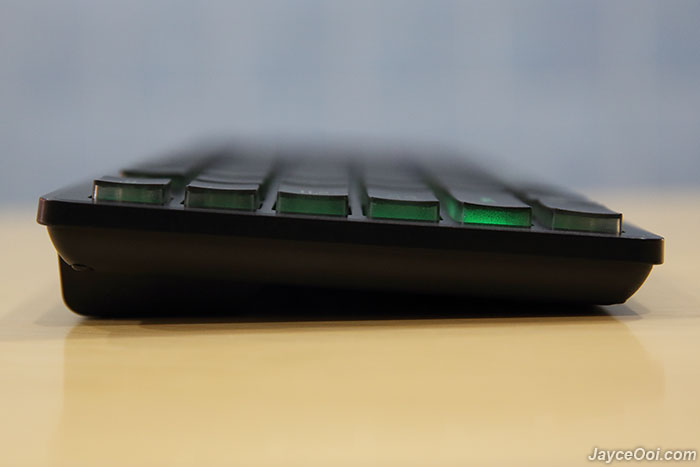 Specifications
Keyboard interface: USB
Keyboard keys: 104
Keyboard cable length: 1.4m
Dimension: L45 H2.5 H15
Performance Result
Yeah… I love its colourful multicolour backlights. Yes, it looks just like a RGB mechanical gaming keyboard. However, it does not have individual LED light therefore, the lights do not have any animation or effect. Just on and off here (no brightness control too). And colours stay at the same place – green on the left part, blue in the middle and red on the right side. But it does give you the feel of a RGB keyboard at first glance. Yes, it definitely look great at dark environment with all its illuminated character keys and backlit keycap sides.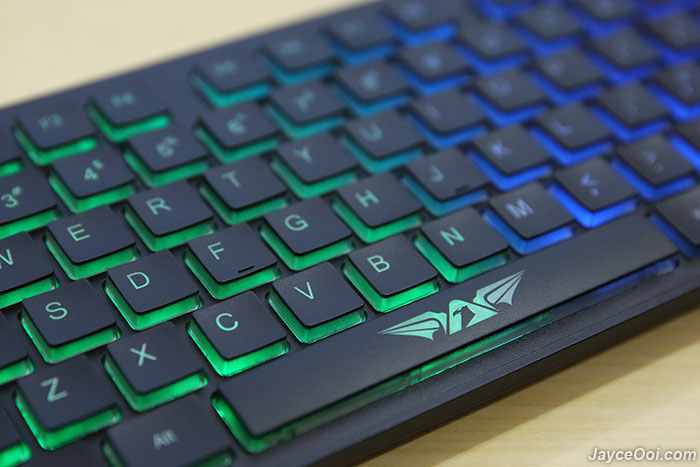 No software or driver is needed to use Swiftspectra AK-333s. It's plug and play. As for typing, the key strokes are quiet. Not totally dead silent of course but quieter than most of my other membrane keyboards. The tactile feedback is good as well. And no issue to type fast with its low profile keycaps here. Chiclet keyboard lovers will going to like it too.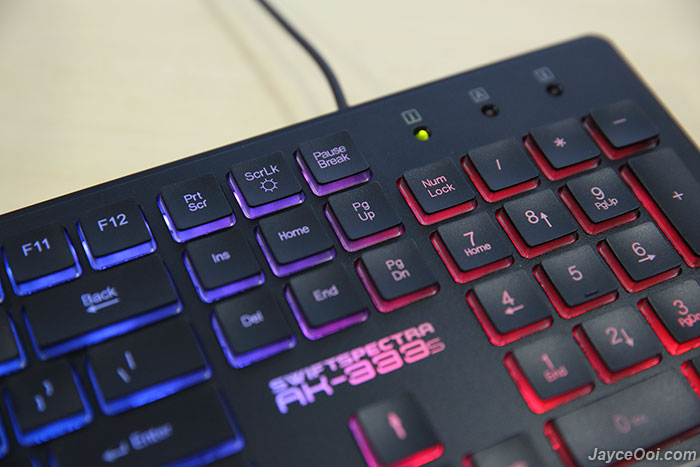 By the way, Swiftspectra AK-333s does not have anti-ghosting gaming clusters. Example, you can't press Q, Z or X while holing A and S keys. Q, Z and X key won't be registered. Do take note on that as it is not advertised to do so too. But it is still part of 'The Ultimate Gaming Keyboard' by Armaggeddon?
Advantages
Illuminated character keys
Colourful backlights
Low-profile chiclet keys
Quiet key stroke
Solid build quality
2 years warranty
Limitations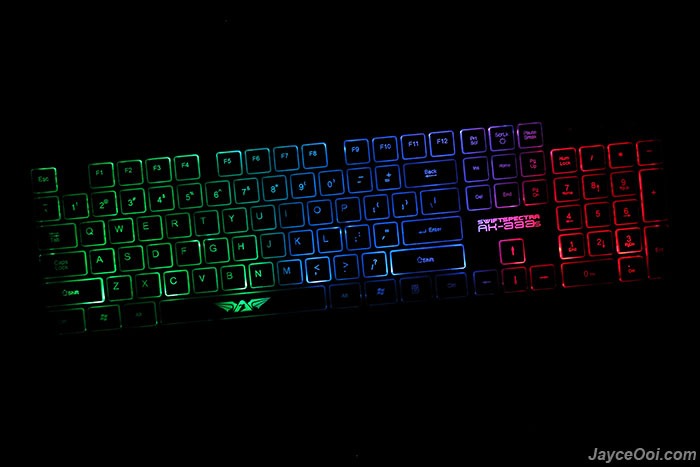 Conclusion
Armaggeddon Swiftspectra AK-333s is a nice and colourful chiclet keyboard for daily usage. Loaded with quiet key stroke and has solid build quality. Just don't use it for games will do as it does not support anti-ghosting gaming clusters. Do visit Armaggeddon Website for more information.