Introduction
Hey guys, check out this LED backlit gaming keyboard with spill-proof design. Yup, Armaggeddon Kalashnikov AK-555i Keyboard is the one. Besides having blue LED backlight that improve gaming experience, it is also loaded with high profile, ultra-durable and silent keys with a lifespan of up to 100 million keystrokes. In addition, it supports anti-ghosting clusters and has 12 shortcut function keys too. How does it perform? Read on to find out…
Features
Spill-proof intelligent design with drainage for liquids
High-profile, ultra durable and silent keys
Lifespan up to 100 million keystrokes
Anti-ghost gaming clusters (WASD and Arrow keys)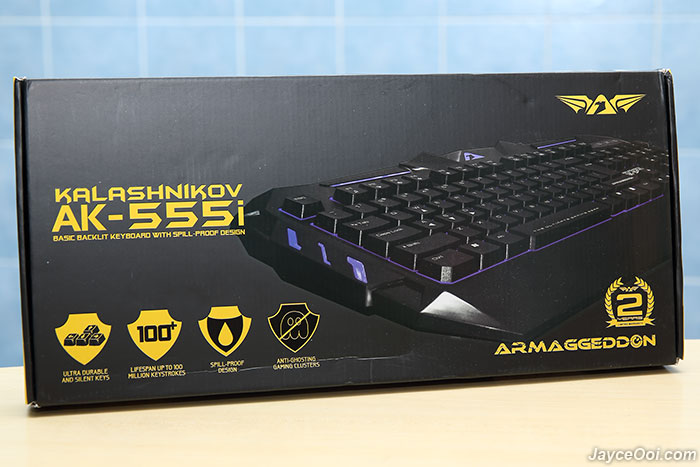 Package Content & Design
There is Armaggeddon Kalashnikov AK-555i Keyboard only in the package. That's it. No user manual and driver CD here. The build quality is decent. And there are 2 LED colours to choose – blue and red. As for design, it is a full-size layout keyboard with number pad. The right Windows key is replaced by Fn key while Menu key by LED light on/off toggle. 12 function keys from F1 to F12. And Num, caps and scroll key lock LED status indicator lights are located on top right corner. At back, you can find 2 anti-skid pads at the lower part of the keyboard. 3 openings as liquid drain are located there too. By the way, it is heavy too which is good as it will surely provide more stability. Finally, do check out below photo for more details of the keyboard layout.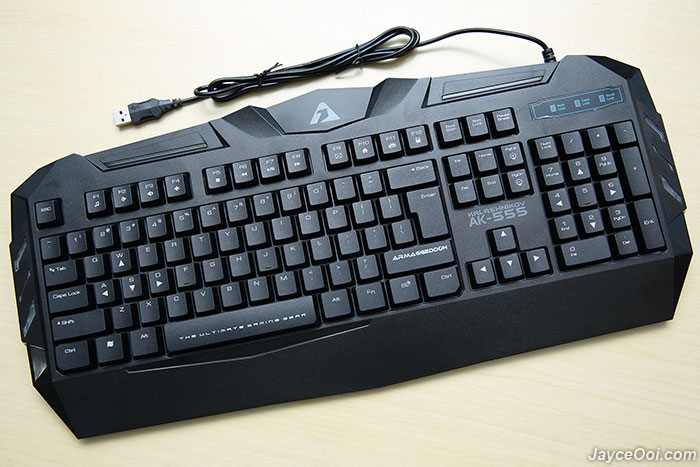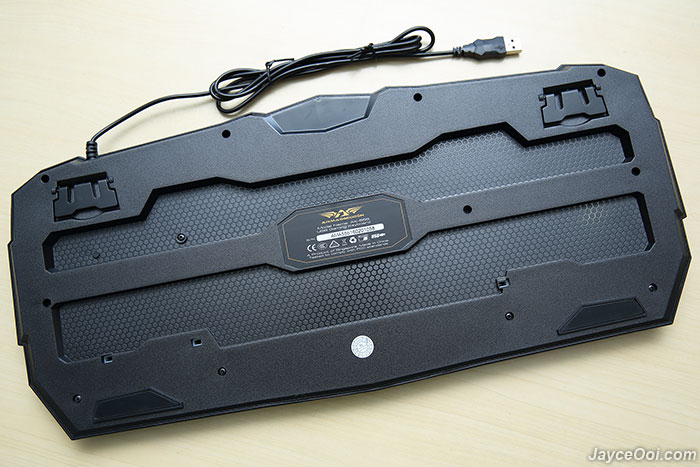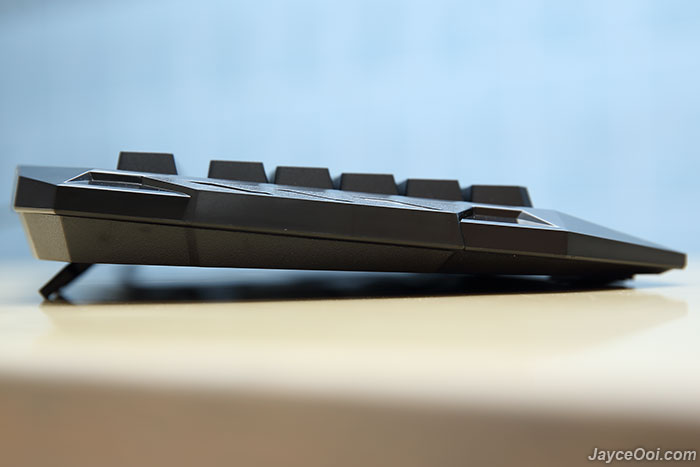 Specifications
Full size, 3-segment multimedia and gaming keyboard
104 membrane silent key stroke up to more than 100,000,000 times
12 shortcut keys from FN+F1 to FN+F12 keys
Blue LED backlight improve gaming experience
1.5 meter ultra durable USB cable and jack
Performance Result
Wow… Armaggeddon Kalashnikov's key strokes are quiet. Not dead silent of course but definitely quieter than my other membrane keyboards. Yes, I can type as fast as I can without disturbing others with all those loud click click sounds. And the tactile feedback is good too. As for ergonomics, it is okay as well with the help of wrist rest. But I do wish that the wrist rest can be little bit wider. Is it the ultimate gaming gear? Yes, for a budget one. Its anti-ghosting ability works well. You can hold 2 direction keys and press another key without any issue. It can register all four direction keys together too. It will surely keep up with all your fast-paced games. Yup, it works well on FPS and fighting games.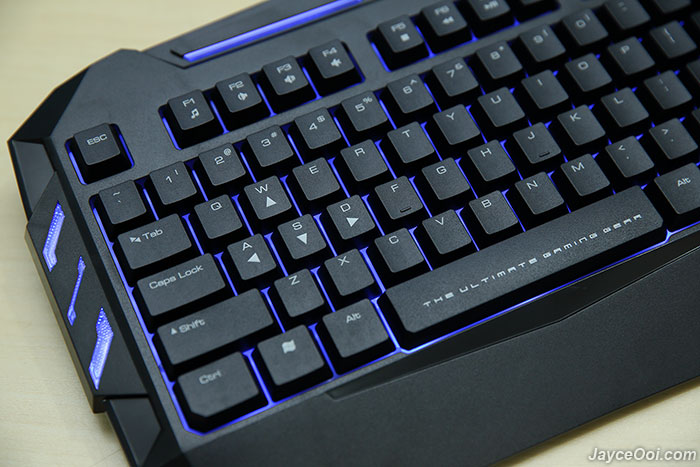 No driver is needed to use Kalashnikov. Just plug and play will do. Windows will install the correct driver for you. And you can start to use it immediately then. The blue LED backlight will light up at maximum brightness once connected to PC. There are 5 brightness levels to select. Or you can also turn it off totally. To me, the LED light is there for cool effect only. Why? The keyboard's keys are not illuminated. Basically, it is unusable at dark environment because bright LED light actually distracts you to see the keys. No problem at bright room though. Thankfully, the spill proof design is not there just for show. Yes, it is working perfectly. No worry about coffee spill anymore. Hurry!!!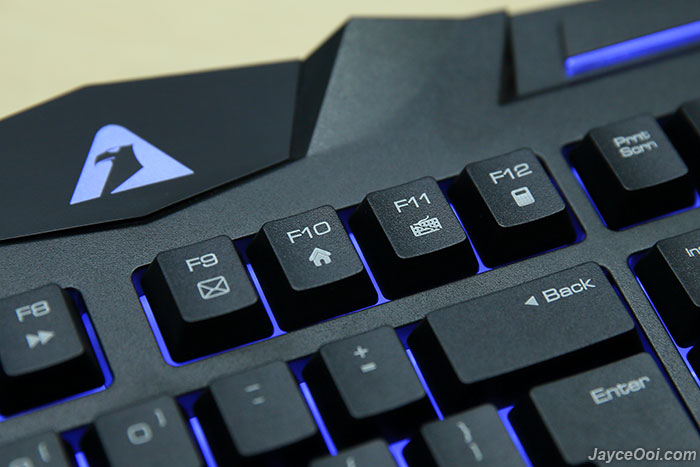 There is no software for Kalashnikov. So you can't customize its keys as well. But there are 12 shortcut function keys for you and me. Most of them are multimedia purpose like sound volume and media player controls. And shortcuts for email, home and calculator. Hmm… The F11 function key is use to disable all keys input. Personally, I would like it to be Windows key lock toggle instead as this is a gaming keyboard. You don't want to press the Windows key accidentally while playing games, right?
Advantages
Anti-ghosting gaming clusters
Quiet key stroke
12 shortcut function keys
Spill proof with drain
Adjustable LED light
Limitations
Can't use at dark environment as keys are not illuminated
No Windows key lock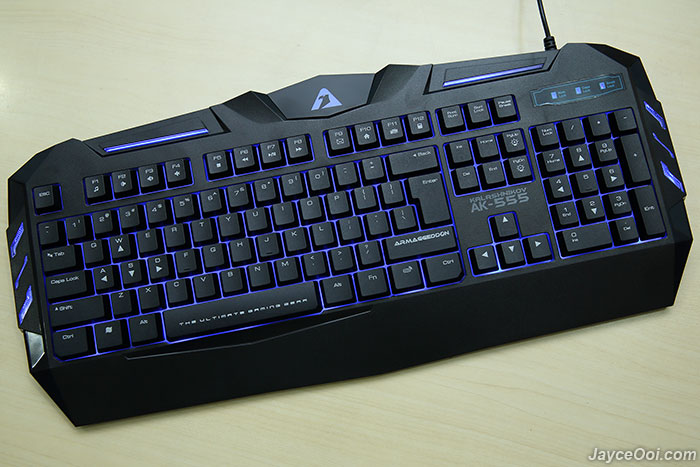 Conclusion
Armaggeddon Kalashnikov AK-555i is a solid budget LED backlit gaming keyboard no doubt. It has lot of features like anti-ghosting, quiet key stroke and spill proof design. And comes with 2 years warranty. Do visit Armaggeddon Website for more information.