Introduction
Hey guys, check out my latest gaming mouse from Armaggeddon. It is SRO-5 Havoc III RGB Gaming Mouse which running on an optical sensor that can reach up to 5000 CPI. Furthermore, it is loaded with Japanese company OMRON's switches for extra responsive clicks. And there is customizable RGB lights for you to play with. In addition, there are 5 macroable buttons and on-the-fly CPI adjustment too. Interested? Let's find out how does Havoc III perform…
Features
Macro-able gaming mouse using OMRON switches, with 2-way click scroll
Up to 5000CPI, software adjustable with RGB light indicator
On-the-fly CPI adjustment. Default: 400 / 800 / 1000 / 2000
High performance tracking speed, up to 130 inches per second
Save up to 8 macros
Extra-large high quality teflon mouse feet
Up to 16.8 million color options
Extra durable nylon cord
Extra set of high quality teflon mouse feet included
Software included to aid customization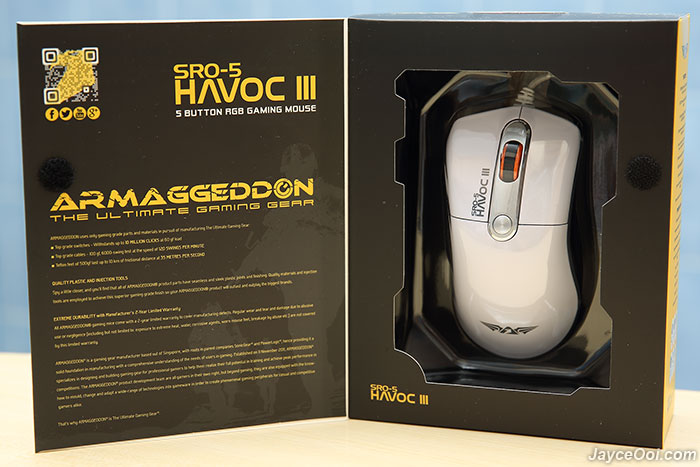 Package Content
Armaggeddon SRO-5 Havoc III RGB Gaming Mouse comes in a nice packaging. Yup, you can have a peak by open the front to have a look of the beauty of Havoc III. Besides the mouse, you can find Windows PC CD Driver, addition teflon mouse feet for replacement and user manual.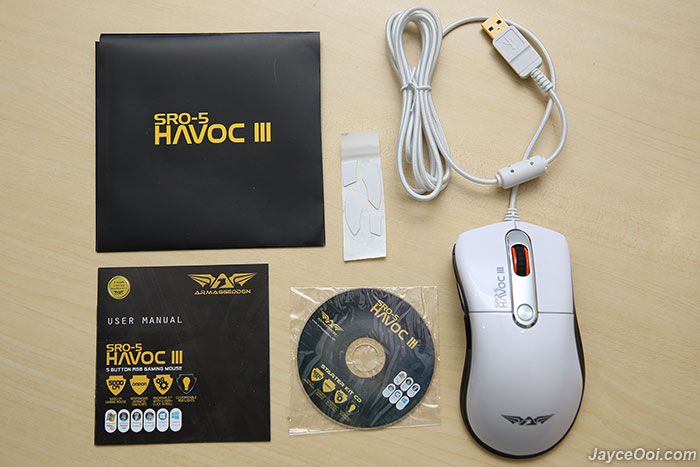 Build Quality & Design
The build quality of the mouse is decent. And the scroll wheel and buttons provide nice feedback too thanks to OMRON switches. Same apply to the 1.8m braided nylon cord. There are 2 models to choose. Mine is Alpine Allies (white glossy) and another one is Sable Soviets (black matte). Alright, let's talk its design now. Havoc III has great ergonomic as a right handed mouse. Do take note that it is a slightly large mouse with 132mm length, 73mm width and 41mm height. No problem to use it as palm and claw grip. Fingertip grip is workable if you have a large hand. Every buttons and scroll wheel are easily accessed. Do have a detailed look on the shape of Havoc III with pictures below.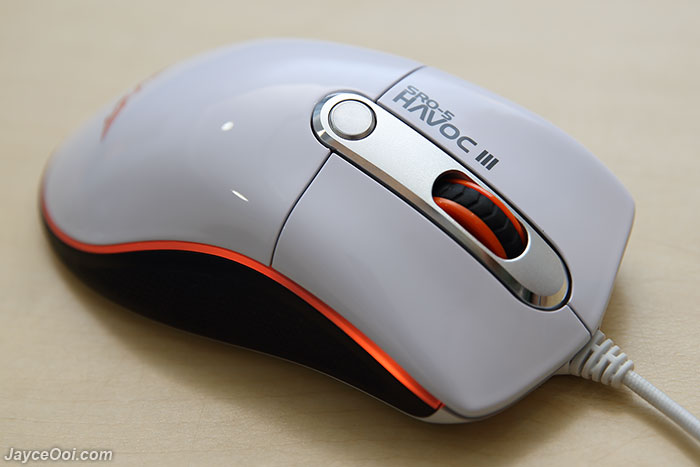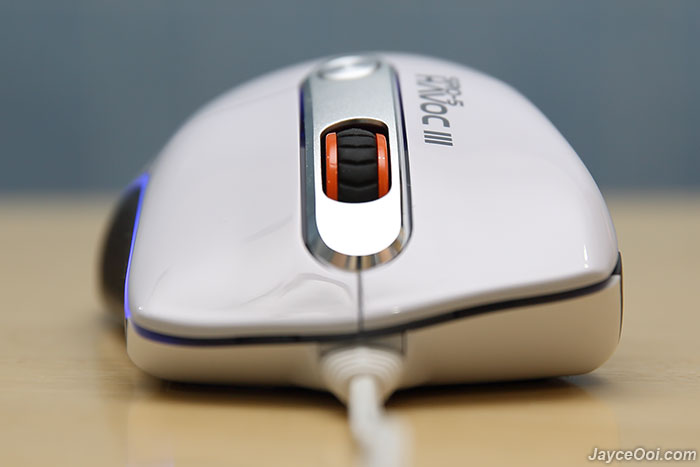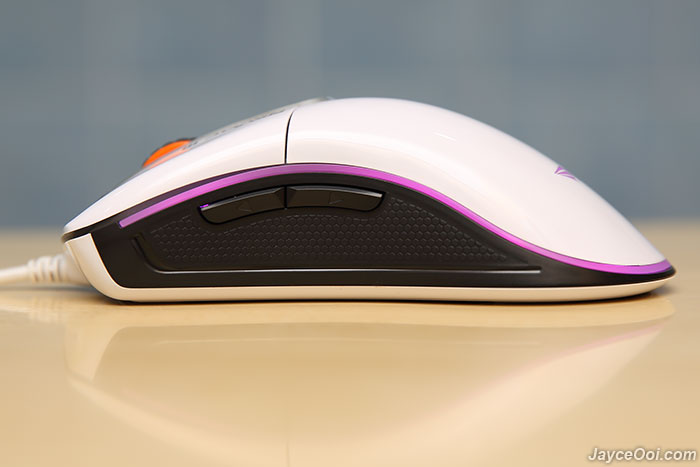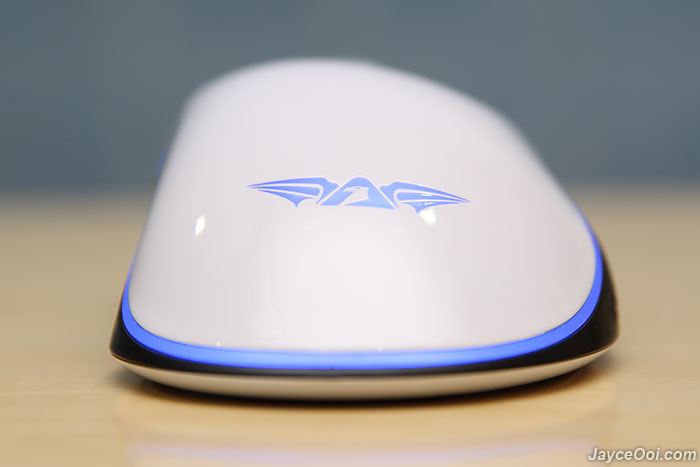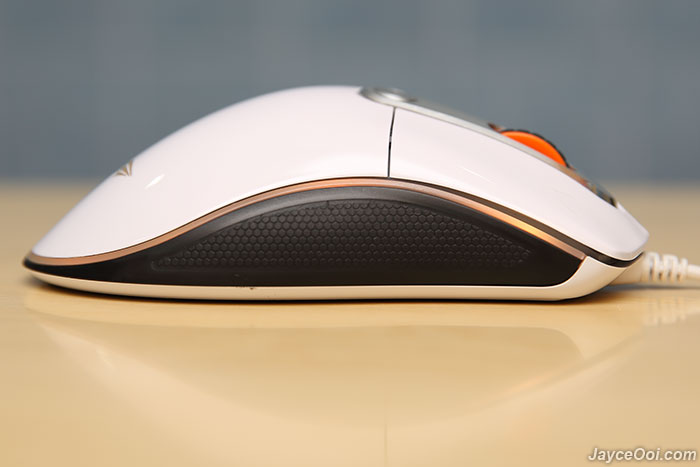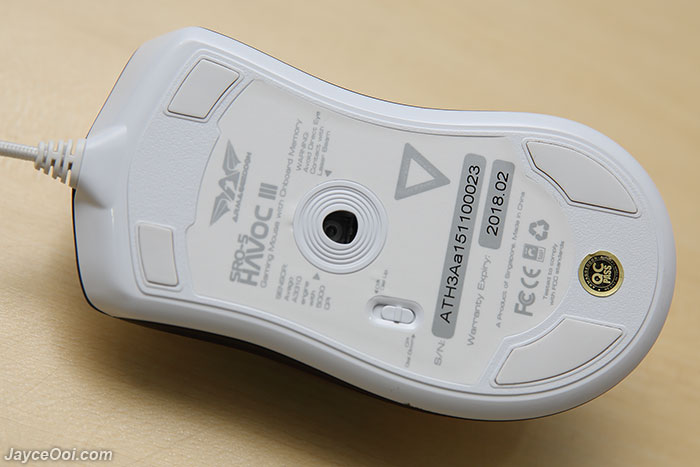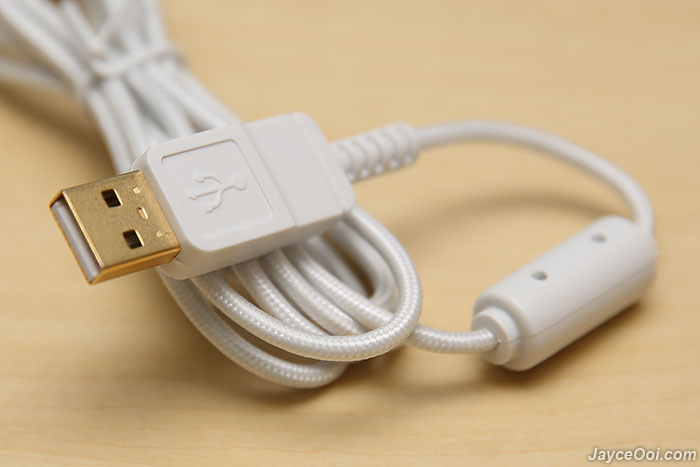 Hey, the USB port is gold plated. And there is a ferrite bead over the braided cord to suppress noise and filter out unwanted external interference. All your mouse movements count.
Specifications
5-button optical gaming mouse
Resolution: adjustable 400-5000 CPI
RGB controllable up to millions of colors
High performance tracking speed: 130 IPS
Frame rate of up to 6500 frame rate per second
Sensor: PMW3310
Polling rate: 1000hz
Acceleration: 30g
Cord length: 1.08m
Gold plated USB connector
Software
You can start using Armaggeddon SRO-5 Havoc III after connected with your Windows PC. Just plug and play will do. And the customizable RGB light will shine multiple colours just like rainbow without any driver installation. However, you need to install its mouse driver and software to get the most of out of it. And adjust lot of things from the useful software. Take your time play around as there are lot of things to configure.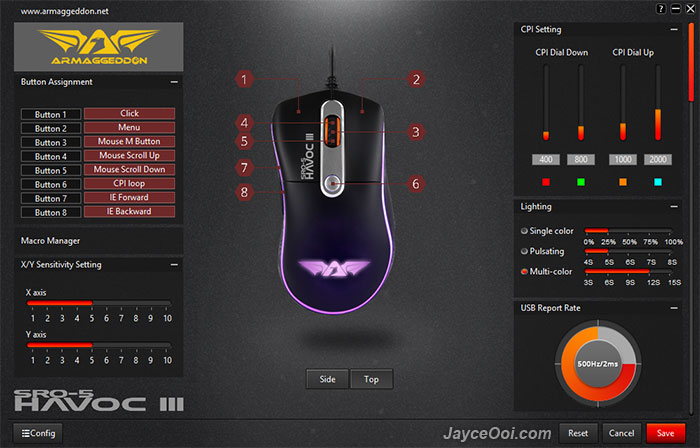 First thing that I tried to play with – RGB lighting effect. Yes, you can set single colour for each of the CPIs. For example, 1000 CPI for red, 1500 CPI for blue and so on. A very useful function as you can know which CPI you are using by just looking at the solid colour. Or make it more interesting with pulsating mode. And finally multi-colour mode which meant for show off as changing CPI won't affect the colour. You can switch between 2 CPI modes (CPI Dial Up & CPI Dial Down). And each mode has 2 CPI speed that can be selected with CPI loop button. Therefore, you have 4 CPI settings to set. Yup, you can set as low as 100 to 5000 CPI max.
Follow on, you can select USB report rate that you prefer – 125Hz/8ms, 250Hz/4ms, 500Hz/2ms and 1000Hz/1ms. Then, you can set the essential stuffs like mouse speed, double click speed and scroll speed with the software too. Angle snap can be adjusted as well to guide you draw the perfect line. You can adjust X and Y sensitivity settings to suit your preferences.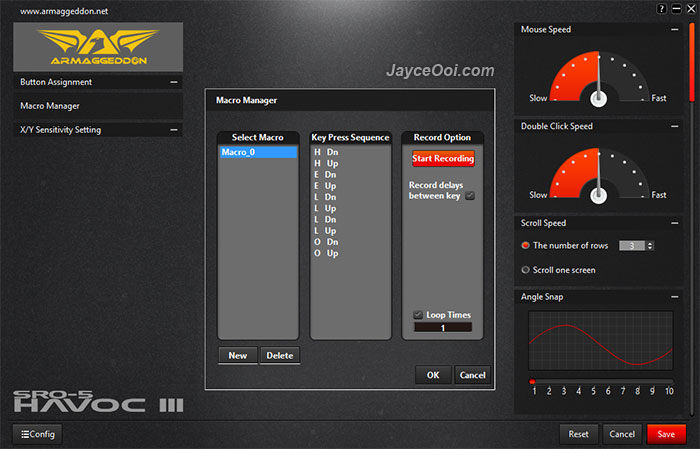 Yes, all 5 buttons are assignable (except the left click one and scroll up and down can be assigned too). You can set them as multimedia functions like play, pause, next track, volume up and so on. Or hotkeys like copy, cut, paste… Windows functions like show desktop too. Lastly, combo and macro keys are configurable. Up to 12 Macros can be set through the macro manager. And 6 mouse setting profiles for each of your games. Finally, you can update mouse firmware through the software as well.
Performance Result
Alright, let's talk about user experience now. And I will start with the negative first this round. Hmm… The white glossy surface is a bit sticky when your palm is sweating. That might be an issue for sweaty palm person. Luckily, there is a solution for this issue. Play games at aircon room or get the black matte version. Another one is the sensor. It does not work on every surface. It won't work on shinny or reflective surfaces. The mouse pointer will jumping here and there. But that should not be an issue for gamers because you surely have a gaming mouse pad with you. Yes, it performs flawlessly on my cloth surface gaming mouse pad. And glides smoothly thanks to the high quality teflon mouse feet. All problems solved, right?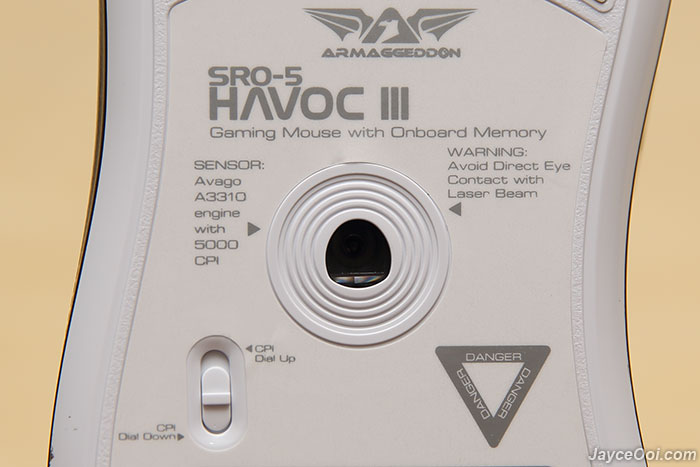 Other than these issues, Havoc III is an absolutely fine gaming mouse. I like its sensor which placed right in the center of the mouse. This will provide an accurate movement no matter which grip you are using. No weight management option here but it is working just fine once you adapted to its weight. Not too heavy or light. The left and right mouse buttons are fast and responsive. Scroll wheel tactile feedback is not the best in town but have it job done. No missed or over changing weapon on FPS games here. And do take note that you can only toggle 2 CPI with the button on top. Perfectly fine with me as I usually use 2 DPI modes in most of the games. And don't forget that the lighting effect lets you know which CPI mode that being activated. By the way, the side thumb buttons are easy to access and well placed so you won't click them accidentally.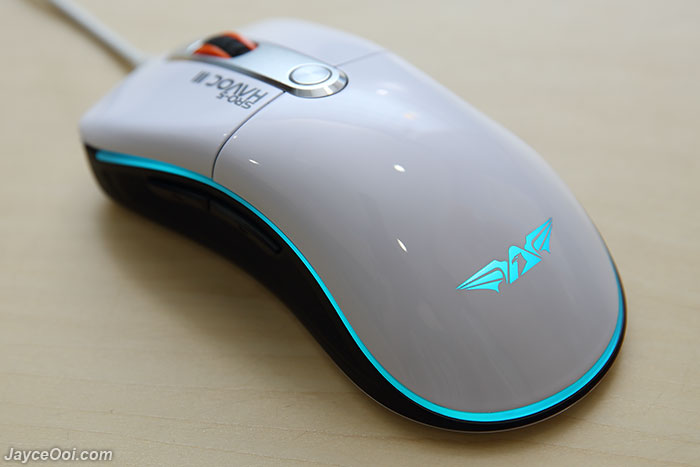 Advantages
Great ergonomic for comfortable grip
Customizable RGB lighting effect
Glide smoothly on gaming mouse pad
Lot of customizations with software support
Wide range of CPI (up to 5000 CPI)
2 years warranty
Limitations
Sensor won't work on shinny / reflective surfaces
Glossy surface is a bit sticky (for sweaty palm)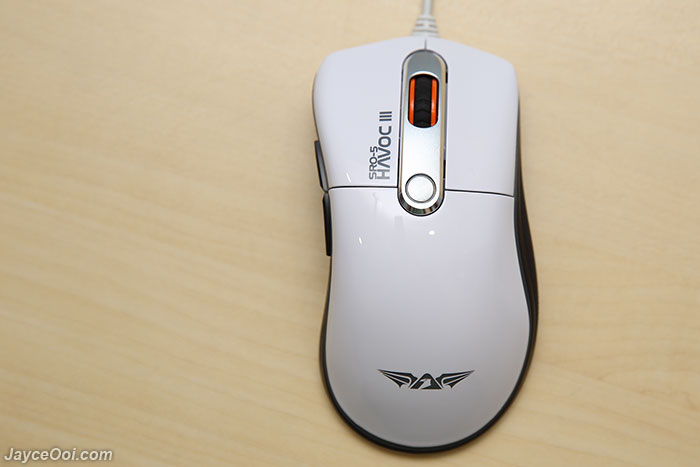 Conclusion
No doubt that Armaggeddon SRO-5 Havoc III is one of the best ergonomic and comfortable gaming mouse out there. Loaded with useful and playful customizable RGB lighting effect. And have a great software support too. It will surely bring your gaming experience up to another level. More information about Havoc III can be found at Armaggeddon Website.