Introduction
I posted SonicGear Pandora Neo Classic 600 Review last week. It is a nice multi-purpose Bluetooth speaker with retro design. Meet its bigger brother – SonicGear Pandora Neo Classic 800. Both of them are almost similar in specifications with FM radio, alarm clock and speakerphone. Having Bluetooth connection, normal Aux-in, micro SD card and USB flash drive too. Powered by the same size 1800 mAh battery, 8 watts 52mm driver with bass driver as subwoofer. Come with a remote control as well. Are they really the same? Read on to find out…
Features
Quad alarm clock settings
Bluetooth CSR 4.0
Built-in microphone with call answering function
5 Music playback modes: Bluetooth | Aux-in | FM Radio | TF-Card | USB
Built-in FM radio function
LCD Digital display
User friendly functional button design
6 Equalizer acoustic modes for TF-card & USB music playback
Built-in 1800mAh Rechargeable lithium-ion battery

Continuous music playback for up to 6 hours
Continuous talk time for up to 5 hours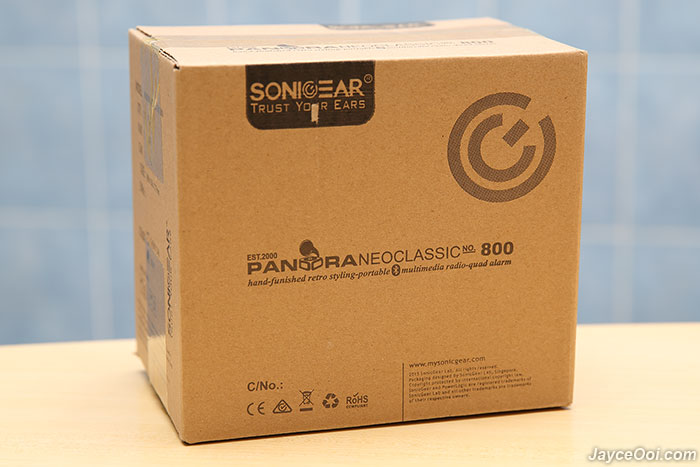 Package Content
SonicGear Pandora Neo Classic 800 is getting the very same treatment like 600. Yup, it comes in tough packaging box as well. Covered with foam in another box too. As usual, speaker is covered with another layer of plastic.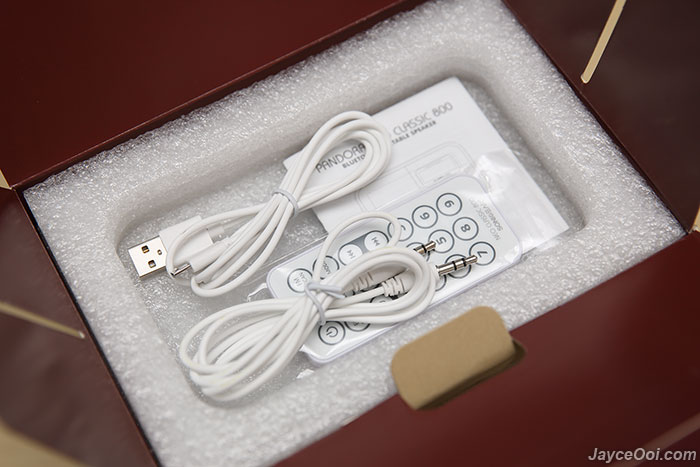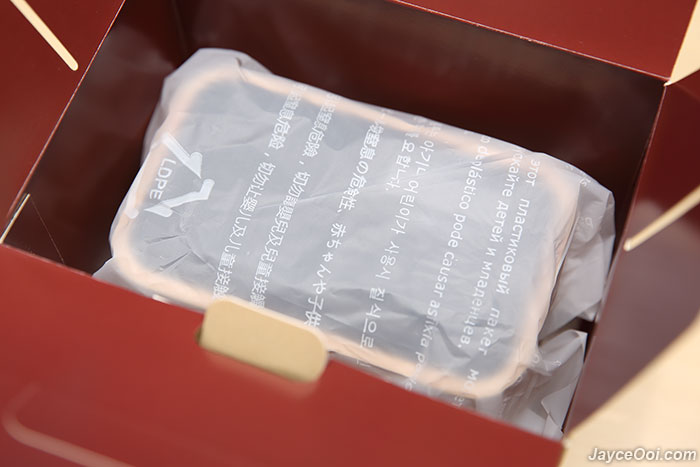 Pandora Neo Classic 800 comes with the same accessories like remote control, micro USB charging cable, 3.5mm Aux audio cable and user manual. Basically, both of the remote controls are the same except for the model naming. You can use it on both of the speakers. Control functions are the same. You can adjust LCD light brightness, repeat mode and equalizer with it. Selecting FM radio station and MP3 too.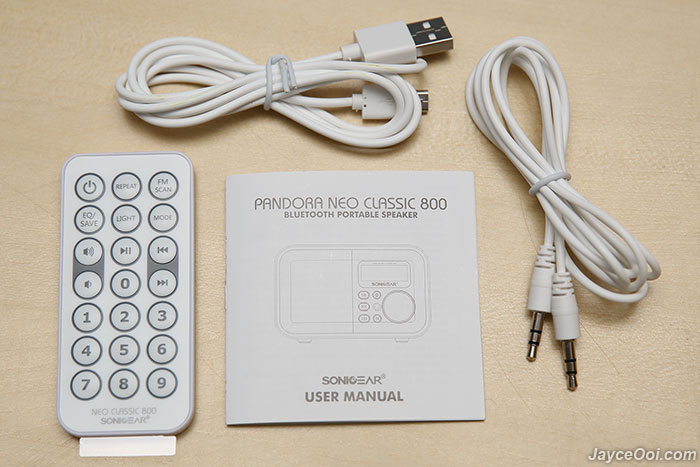 Build Quality & Design
Pandora Neo Classic 800 build quality is top notch as well. It also comes with 2 types of wood as housing – maple and cherry oak. Mine is maple model this round. It shares the same toughness and very sturdy too. Same size on height and width but have deeper depth. Both front and back panel are made with plastic. Same apply to the buttons, volume knob and speaker grill (covered with fabric).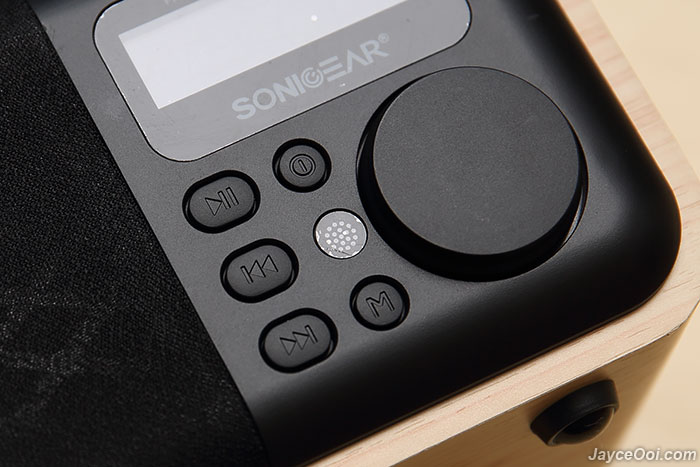 The front panel and buttons are all in black colour. Covered with maple colour rounded corner housing. Yes, no more sharp cabinet corners on Pandora Neo Classic 800. As usual, it has LCD display, microphone, control buttons, infrared receiver and speaker at front. There are reset button, aux-in port, micro SD slot, USB port (for flash drive), micro USB port (for charging) and LED charging light indicator (red for charging and green when fully charged) and subwoofer at the back. Lastly, there are 4 round anti-skid pads at the bottom to provide stability.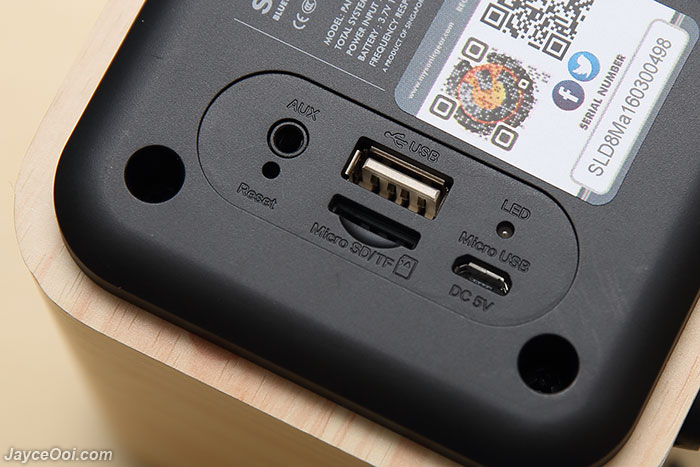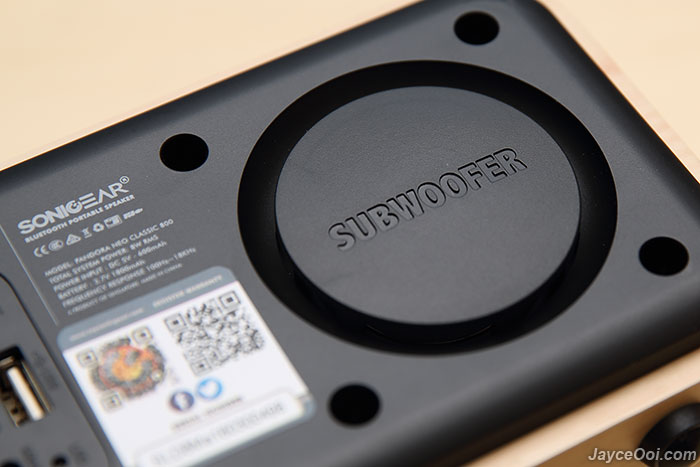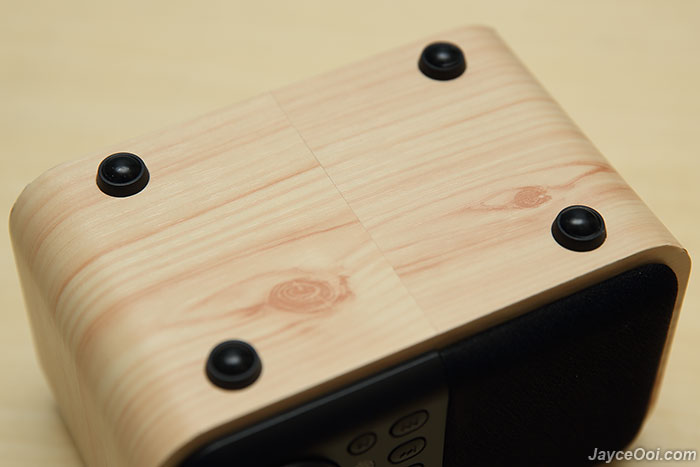 Specifications
Total system power (RMS): 8watts
Driver impedance: 4 Ohm
Driver size: 52 mm
Bass driver: 52 mm
Frequency response: 100Hz-18KHz
Wireless distance: up to 10m
Performance Result
Since having the same specifications, SonicGear Pandora Neo Classic 800 should perform like its little brother, right? In short, nope. Else it won't be bigger brother then. Yes, it has better Bluetooth range which can reach up to 7m with obstacles. Easily exceeds the standard 10m Bluetooth range in straight sight line with no obstacle. Guess that bigger housing can store a larger antenna to have better Bluetooth coverage. It almost does not have any audio delay (out-of-sync) too. A great pleasure to listen music video, play games and watch movie on smartphones and tablets through it. Finally, 3.5mm AUX line-in port is there for devices without Bluetooth support.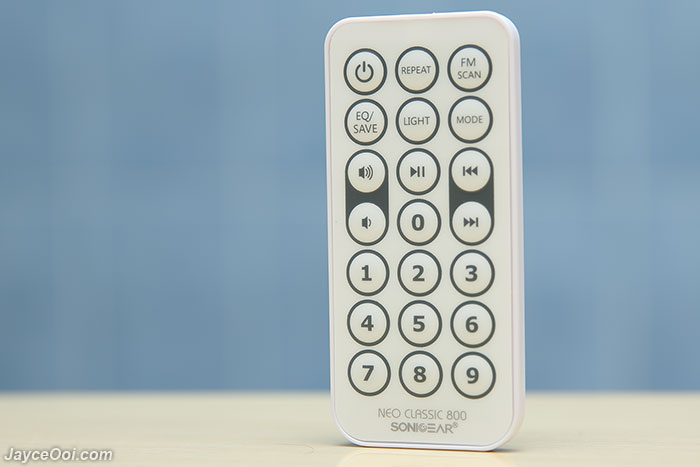 Besides display time, Pandora Neo Classic 800 has date and day too. Have more information to show therefore the fonts are smaller. No worry, you still can see it when put on bedside table. Loaded with alarm clock ability with 4 sets of alarms. 2 extra than 600 model. FM radio reception is good and no external antenna is needed too. Auto scan feature is here too to scan from 87.5 MHz to 108 MHz. Then save all available radio stations. Again, the remote control is very helpful to ease you to configure and select radio station. For example, you can input 928 on remote control to get Hitz FM Radio Station at Kedah. Finally, remote control infrared range is the same – up to 5-6m in straight sight line.
Pandora Neo Classic 800 has MP3 player built-in. It will start to play MP3 after plugged in micro SD card or USB flash drive. Supports up to 32GB capacity storage and MP3 rate up to 320kbps. 6 equalizer modes are selectable during MP3 playback. They are normal, rock, pop, classic, jazz and bass. You can use remote control to set the playback modes like repeat all, random and repeat single. Just like 600 model, it will continue to playback the last MP3 song when power on back. Same apply to FM radio station.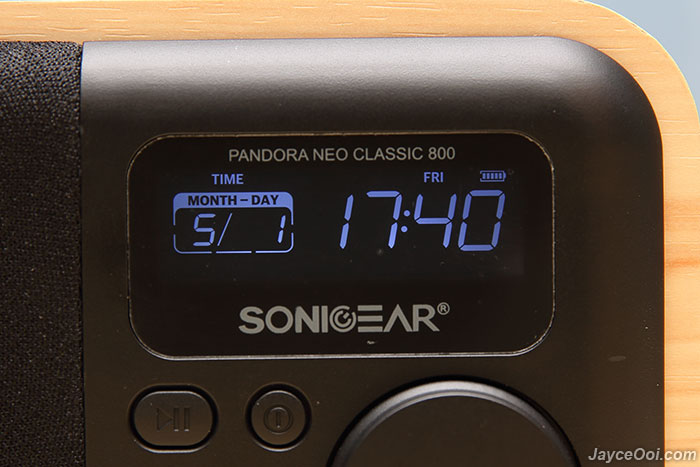 Hey, I am getting 14 hours of non-stop music playback from its 1800mAh battery. 1 hour extra. As usual, tests were done with average room sound level through Bluetooth connection. Battery life will be shorter when play louder. Charging speed is the same – about 4 and a half hour to fully charge. Still having the same inaccurate battery life displayed on LCD screen here too. Showing full battery life after 7 hours playback. No a big issue here, just prepare to charge it when there is 1 or 2 bars left.
Speakerphone call quality is good too. Basically, they perform the same. Other can hear me loud and clear. As usual, closer to the mic == better quality.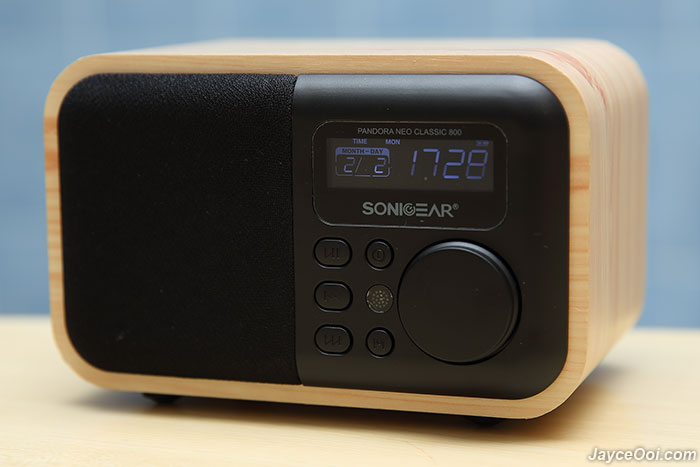 Wow… Pandora Neo Classic 800 is the best 1-channel speaker that I ever heard so far. Period. Unlike 600 model which focus on treble, it has much more balanced sound signature. And the bass from subwoofer is better and deeper. I believe the longer depth housing helps here. Furthermore, it has enough power to blast music for the whole room. Again there is almost no distortion even on maximum volume. The high and mid are clear and crisp. And the bass is amazing from such small profile.
Advantages
Crisp high & mid with amazing bass
FM radio with alarm clock & date
Built-in MP3 player (USB & microSD)
Speakerphone ability
Excellent build quality
Limitations
600 model has better outlook (when compared else none)
Conclusion
Looking for a bedside or work desk speaker? Give SonicGear Pandora Neo Classic 800 a try. You will love it like I do. Enjoy wonderful music and all the nice features that it brings. And do visit SonicGear Website for more information.