Introduction
Love to enjoy music on the go? Try out AtomicX S204 Wireless Bluetooth Headphone by iDeaUSA then. Yup, it is a Bluetooth headphone and without any cable attached. Therefore, you can enjoy your music anywhere you prefer less the music player. Isn't that great? Furthermore, it uses aptX technology that provide highest quality Bluetooth audio streaming (CD-like quality wireless audio). By the way, you can use it to receive phone call with built-in microphone too. How does AtomicX S204 perform? Read on to find out…
Specifications
Bluetooth version: 4.0
Talk time: 14 hours
Standby time: 540 hours
Music play time: 14 hours
Wireless range: 10m
Bluetooth profile: A2DP / AVRCP / HSP / HFP
Impedance: 32ohms
Sound pressure level: 118 ± 3db
Frequency response: 20Hz to 20KHz
Weight: 0.56lb
Dimension: 7.9×7.1×2.6in
Warranty: 1 year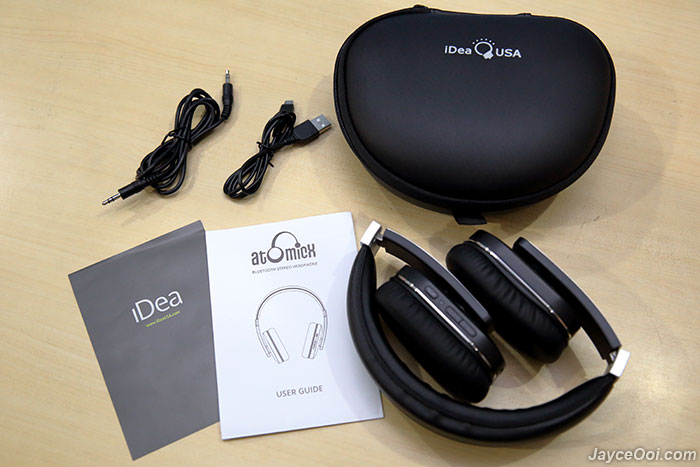 Package Content & Design
AtomicX S204 Wireless Headphone comes with a nice hard protective case. 3.5mm audio cable, USB cable and user manual are included too. Okay, let's talk about AtomicX S204. It is a foldable headphone. Easy to carry around as you can fold it down to a portable size and keep in the included case. The length of headband is adjustable. And ear cups are slightly tilt able too. The control buttons, mic, aux and USB ports are located at right ear cup. The build quality of AtomicX S204 is good. And have stylish design too. Soft and comfortable for long hour wearing because the headband and ear pads are filled with soft cushions.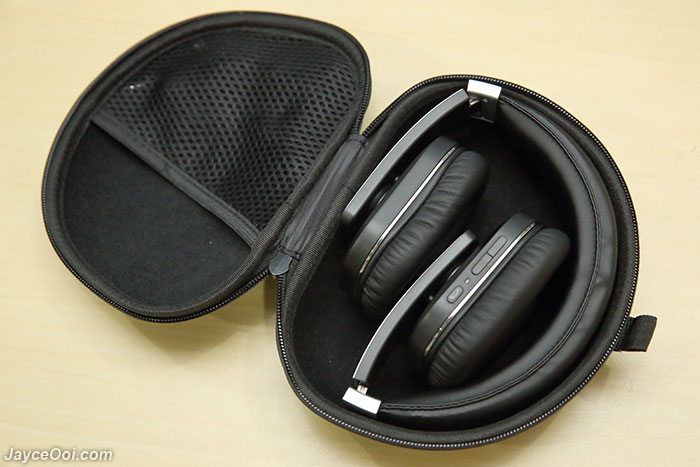 Performance Result
It is very easy to pair AtomicX S204. All my Bluetooth enabled phone, tablet, laptop and PC are able to pair flawlessly. Work great on Windows, Android and iOS. And you can always use 3.5mm audio cable to enjoy music while running out of battery. The Bluetooth coverage is good too. I managed to get it connected more than 10m in straight line. And up to 6m with some obstacles like wall. By the way, you can pair it with 2 devices at the same time too (like phone and tablet).
Wow… It has seriously long battery life. I managed to get it to play up to 20 hours of music non-stop with its 270mAh battery. 6 hours more than 14 hours specs. By the way, you can check remaining battery life status on iOS devices (iPhone, iPad & iPod). Or check the LED status as it will flash red when battery life is low. Finally, it requires around 4 hours to fully charge.
Phone call quality is good. I can hear other's voice loud and clear. And the other way round too. However, people do complaint about intermittent cut off of my voice some time. Not sure what went wrong because I can hear them smoothly without any interruption.
AtomicX S204 is not an active noise-cancellation headphone however it does provide passive sound isolation that block some ambient noises with over-the-ear design. Did I mention that it has extra bass to offer? Yup, it has heavy bass sound signature compare to natural sounding headphone. You will love it if you prefer your music and movie to have extra bass. The high and mid are still clear. Overall, the sound quality is good at this price point.
My only complaint – I can hear buttons' clicking sound some time when shake my head according to the music beats (ex, listen to Michael Jackson's Thriller Music Video). Of course, I don't do that offer while listening to music. Therefore, it is not a big issue as long as you don't shake your head much.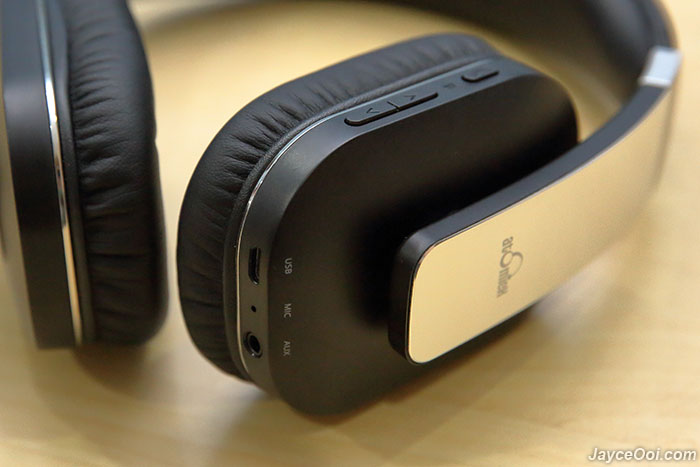 Advantages
Good sound quality with heavy bass
Long battery life
Comfortable for long hour wear
Foldable design with carry case
Connecting 2 devices at the same time
Built-in mic for phone call
aptX technology support
Limitations
Buttons' clicking sound
Intermittent voice cut off some time
Conclusion
AtomicX S204 is a nice budget wireless headphone with good sound quality, heavy bass and aptX support. Super long battery life and easy to carry around when folded in case. And you can make phone call with it too. Interested? Get yours here.