Introduction
"Darling, someone bumped into our car and drove off. What should I do?" No worry, dear. We have BlackVue DR650GW-2CH dash cam which had everything recorded. Just check back the video, and claim from insurance company. Yup, BlackVue DR650GW-2CH is a dual channel car dash cam by Pittasoft. It consists of Full HD front camera with Sony Exmor CMOS sensor and HD rear camera for complete coverage of both front and rear of your vehicle. Besides, it has Wi-Fi and GPS built-in too. Yes, you can access all recorded video footages from mobile devices through Wi-Fi and even watch live video there. Let's find out how does it perform…
Features
Ultra-high quality and smooth video
High-class design with functionality
Support 64GB microSD card
129° Wide-angle lens supporting high quality image as default
Enhance for user convenience
2CH Wi-Fi Video Shooting
SONY Exmor CMOS sensor
G-sensor & highly-sensitive GPS
VOD & real-time live view function
BlackVue App
Diverse recording options (Normal/Event/Parking)
High-compression recording mode to extend microSD card life
Support BlackVue Viewer program for Windows PC and Mac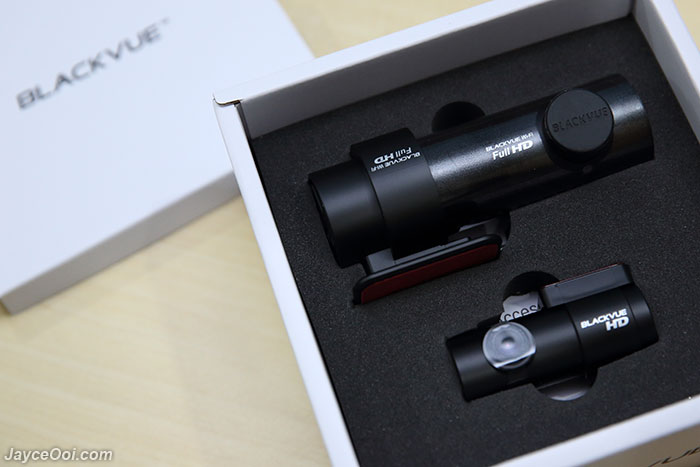 Package Content & Design
In the package, you can find front camera, rear camera, cable clips (8 EA), double-sided tape for the mounting bracket, microSD card (including BlackVue viewer and manual), microSD card reader, power cord, rear camera connection cable and quick start guide. Both front camera and rear camera build quality is top notch. They are in tube shape to minimize view being blocked by dash cam. Yup, the front camera stays behind rear-view mirror. Driver's vision is as wide as before. And the all black colour body blends into any car and not so easy to be noticed by others too. This is one of the features that I like. Alright, let's talk about the front camera design. There are camera lens and security LED in the front. LED Indicators for Recording, GPS and speaker at the back. On the left, there are voice on/off button and Wi-Fi LED. Finally, DC in, V in, microSD card slot, Wi-Fi button and cover at the right. By the way, there is lock button at mounting bracket for you to detach front camera unit if you don't want to leave it at car. The rear camera unit is simpler which has camera lens in the front. Security LED on the left and V out on the right. And can be pulled out from mounting bracket easily for safe keeping too.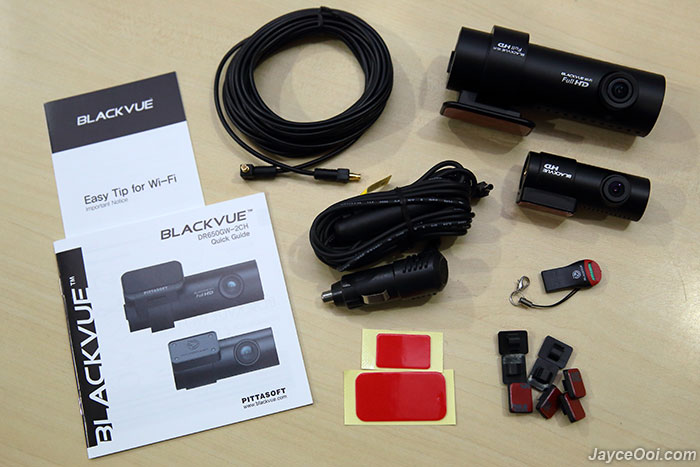 Specifications
Color/Size/Weight – Front: Black / Width 118.5mm x Height 36mm / 120g, Rear: Black / Width 67.4mm x Height 27.6mm / 30g
Memory – microSD Card (16GB / 32GB / 64GB)
Recording Mode – Normal Recording, Event Recording (Impact Detection), and Parking mode Recording (Motion+Impact Detection)
Camera – Front: CMOS Sensor (Approx. 2.4M Pixel), Rear: CMOS Sensor (Approx. 1M Pixel)
Viewing Angle – Front: Opposite Angle 129°, Horizontal 103°, Vertical 77°, Rear: Opposite Angle 129°, Horizontal 108°, Vertical 57°
Resolution/Frame – Front: Full HD(1920×1080)@30Fps/15Fps, HD(1280×720)@30Fps/15Fps, Rear: HD(1280×720)@30Fps/15Fps
Video Compression Mode – MP4
Wi-Fi – Built-in (802.11b/g/n(2.4~2.4835GHz)
GPS – Built-in
Microphone – Built-in
Speaker – Built-in
LED Indicators – Front: Recording LED, GPS LED, Wi-Fi LED, Front Security LED, Rear: Rear Security LED
Sensor – 3-Axis Acceleration Sensor
Button – Wi-Fi On/Off Button, Voice On/Off Button
Backup Battery – Built-in super capacitor
Input Power – DC 12V-24V
Current Consumption – Max. 4.8W
Operation Temperature – -20°C ~ 60°C
Storage Temperature – -20°C ~ 70°C
Certificates – KC, FCC, CE, RoHS, Telec, WEEE
Software – BlackVue Viewer (Windows XP or later (Up to Windows 8), Mac Leopard OS X(10.5) or later)
Application – BlackVue App (Android 2.3 or later & iOS 5.0 or later & Windows 8.0 or later)
Installation
BlackVue DR650GW-2CH installation is simple. Yup, even you can do it yourself without help from mechanic. Just attach front camera to the windshield glass with the camera lens located in the middle of the vehicle using extremely strong 3M double-sided tape (hey, there is spare adhesive for mistake). Remove lens cap after installed. Connect power cord to DC in of the front camera and to car's power socket. Install rear camera to the rear window glass the same way too. Then use rear camera connection cable to connect both front and rear camera. You can use cable clip to organize the cable or hide it. And no worry about cables' length, it is long enough install at most of car out there. That's it. Start your engine and BlackVue DR650GW-2CH should be started smoothly. Now it's the time to adjust angle of the camera lens while watching real-time video through smartphone using Wi-Fi connection. And start to setup configuration to suit your preferences then.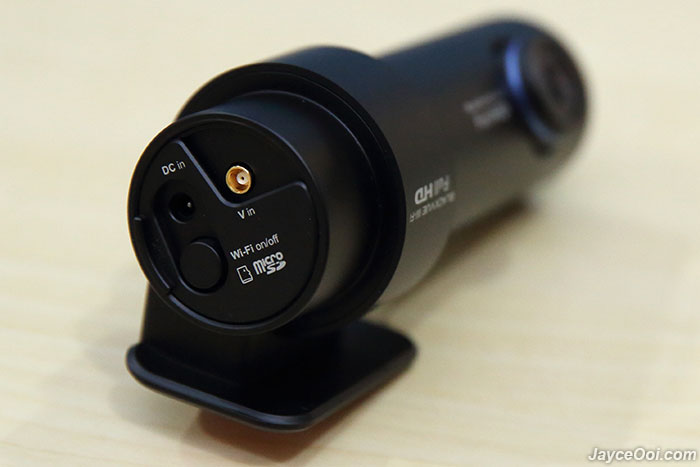 Performance Result
BlackVue DR650GW-2CH will turn on automatically when car engine is started. And it took around 30 seconds to boot up and start recording. A friendly female voice will start to give status updates then. Yup, by the time that I keep my wallet and smartphone in the drawer, adjusting rear-view mirror and put on seatbelt, it was already started to record. And I need to wait for auto-gate to open too. That's pretty fast.
Crystal clear Full HD 1080p recording. Yes, that's what you will get from BlackVue DR650GW-2CH. And this is the most important part of car dash cam. You don't want a camera that failed to capture the very moment, right? The front camera offers excellent video quality no matter in day or night. All the signs and license plates of nearby cars can be seen easily. Thanks to 2.4MP Sony Exmor CMOS sensor with 30 frame / second capture ability. You won't miss out a thing if an unpleasant event happened. Yes, it can capture most of the scenes even fast passing by cars. By the way, 129° wide-angle lens is wide enough to cover all the stuffs you want. Let's take a look on below picture which taken with front camera during the day time. License plates can be seen easily. Superior clarity, right?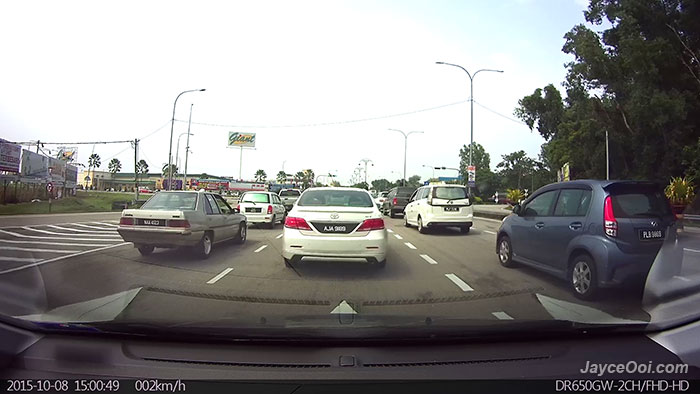 Night time video quality is great as well. Even without night-mode ability, Sony Exmor CMOS sensor does a nice job here. Image quality is clear to discern as long as there is enough light source. And light flare is very well in control. Check out below picture for details.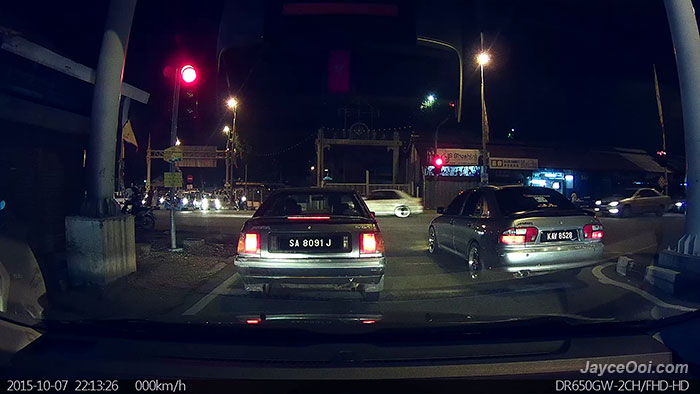 Rear camera is connected through high quality coaxial cable to minimize signal noise. Its 1M CMOS sensor manages to capture clear images as well. Of course, you won't have the exact clarity as the front unit because it is just a HD 720p camera. But it is still manages to capture detailed video during the day.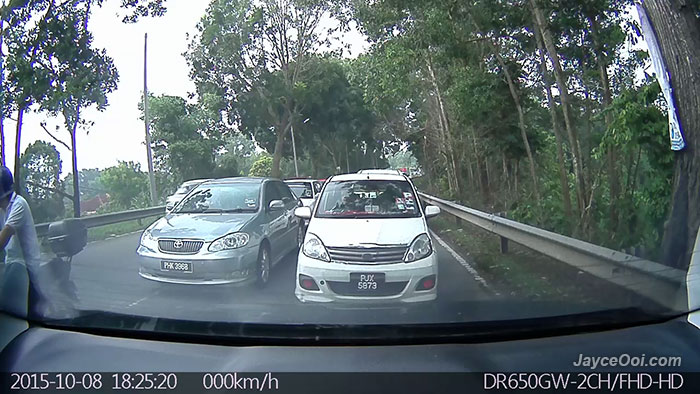 Night time is totally another story. Yes, just like taking photo at night. You need to use flash else dark image is what you will get. Same apply to rear camera here. You will get clear image when there is enough light in the environment.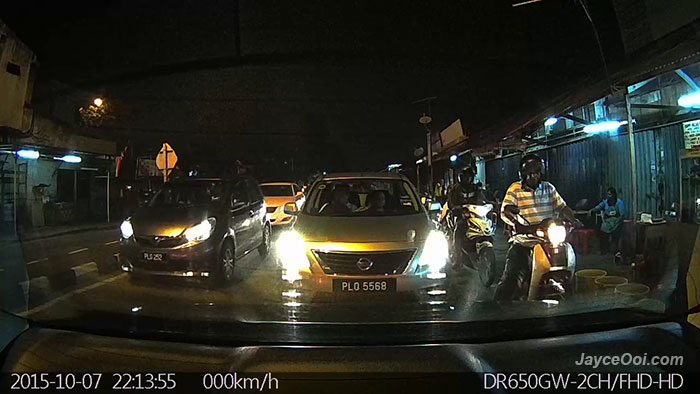 Check out these video compilations of day and night for both front and rear cameras. Do watch them at Full HD for front camera and HD for rear camera. Note – YouTube has compression on videos therefore some of the video quality will be lost. Actual uncompressed videos are better.
BlackVue DR650GW-2CH's microphone and speaker quality is great too. Yup, all the voice notifications that coming out from speaker are loud and clear. And the mic manages to capture all the surrounding sound fairly well.
There are 3 recording modes – normal, parking and event mode recordings. When the BlackVue is turned on, normal recording is automatically started. This is the mode that you will see most of the time. If your car doesn't move for 5 minutes or longer during normal mode, it will automatically converted to parking mode recording. And if movement or impact is detected by the camera, video is recorded. Else it won't record anything. Note – Power Magic Pro (battery discharge prevention device) is required while engine is stopped in order to continue to record. GPS feature will turn off automatically and the recording frame is reduced to 15 fps. Lastly, event recording is started when an impact is detected in normal or parking mode recording. It records video for 5 seconds before and 55 seconds after the impact. By the way, the built-in super capacitor (which act as backup battery) is very helpful as it will holds enough residual current to shut down the dash cam properly to save the event video when power is cut off.
Software
Okay, here come another important part – software support. Yup, BlackVue supports most of the platforms out there. BlackVue PC Viewer is there for both Windows and Mac OS X on desktop PC / laptop. Smartphone and tablet are supported as well for both Android and iOS. With slim LCD-less design, BlackVue app is the only way to watch recorded and live videos, access BlackVue dashcam preferences to configure time, video quality, compression rate, sensitivity, LED options, Wi-Fi, etc. You can update BlackVue DR650GW-2CH firmware through Firmware Over The Air (FOTA) as well.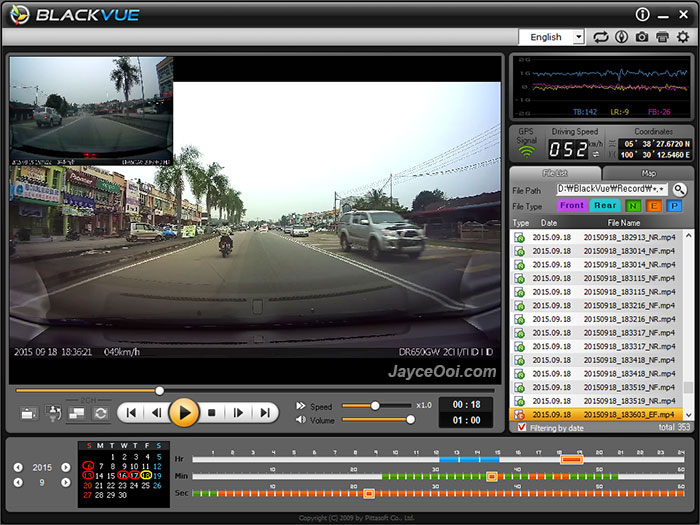 BlackVue PC Viewer is a very useful tool to analyse recorded videos. Thanks to built-in GPS, vehicle speed and exact location details will be captured on the videos (Note – there is option to turn off speed tracking). Yup, GPS coordinates are displayed along with G-Sensor information. You can filter out recorded videos based on date, timeline, front & rear camera, and recording type (normal, parking & event). This will speed up to locate the video that you want. Then you can watch it with both front and rear view in Picture in Picture (PIP) mode or just single video. And the video file can be verified forgery. Finally, the ability to export video with segment required is there too. In addition, you get the option to remove sound from the video as well. Therefore, be sure to record sound when driving. Of course, video can be saved as image and print out. Finally, you can change BlackVue DR650GW-2CH settings there. And take your time to fine-tune G-sensor and motion sensitivity so that it won't create false alarm.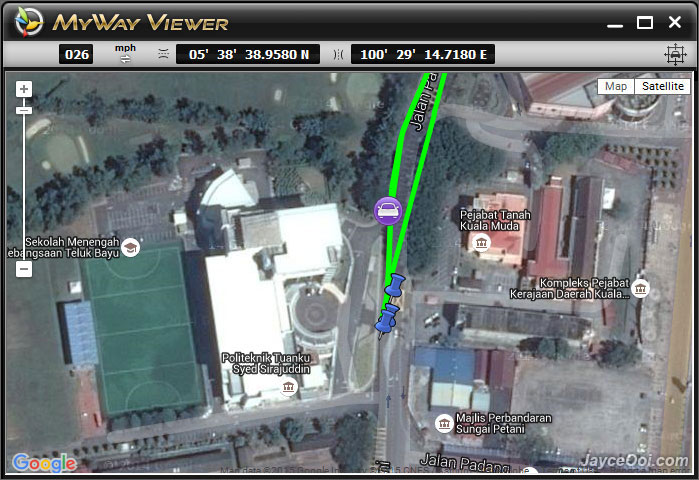 Driving route will be displayed on the map in MyWay Viewer. And it is powered by latest updated Google Maps. A nice feature to check all the route that you have been through.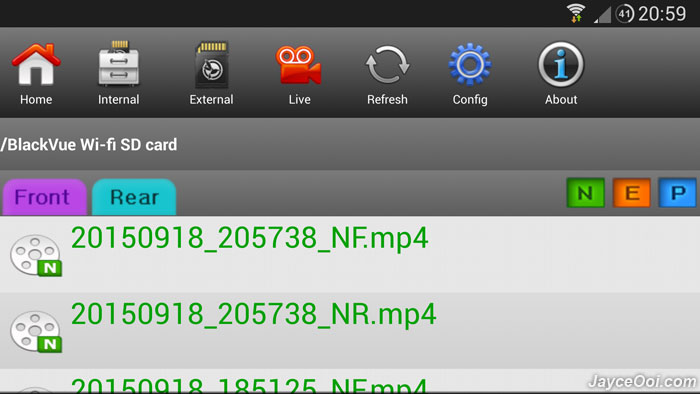 BlackVue mobile application has almost the same features as PC Viewer. And added few wonderful features. Yes, you can use BlackVue App to watch live view recording through Wi-Fi. Of course, ability to watch recorded videos is there too. And you can export them from BlackVue to your smartphone. There is no need to remove microSD card to copy videos here. Once copied to smartphone, you have the option to upload to YouTube for sharing. You can also insert BlackVue microSD card to your smartphone and watch all the videos there too.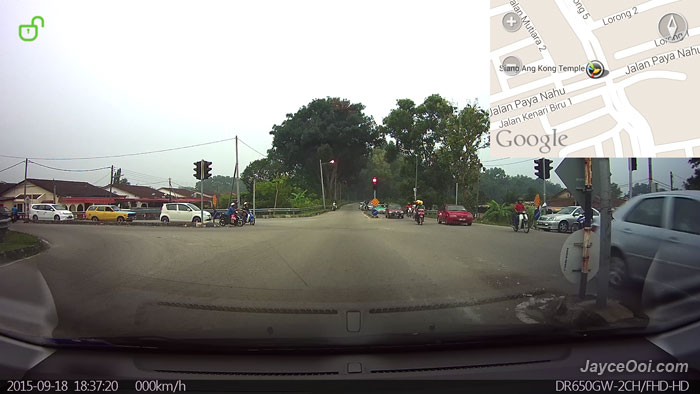 Complaints? Yes, but all can solved. BlackVue DR650GW-2CH supports up to 64GB memory cards which can record highest quality video at 8 Mbps + 3 Mbps bit rate for around 12 hours. However, mine comes with 16GB card only and can store up to 3 hours videos maximum with the same settings. With parking mode enabled, all previously recorded event videos was overwritten when card is fully filled. Just get a 64GB card, right? Hopefully, future firmware update will have option to keep event videos not being overwritten. Rear camera security LED light can't be turned off is another one. It can be fixed with black adhesive tape easily though.
Advantages
Superior video clarity
Sony Exmor CMOS sensor
2 channel video shooting for enhanced protection
All black & small profile for stealth
CCTV alike parking mode
Built-in Wi-Fi, GPS & G-sensor
Easy installation
Multi platform viewer support
Firmware Over The Air update
Limitations
Event videos being overwritten
Rear camera LED light always on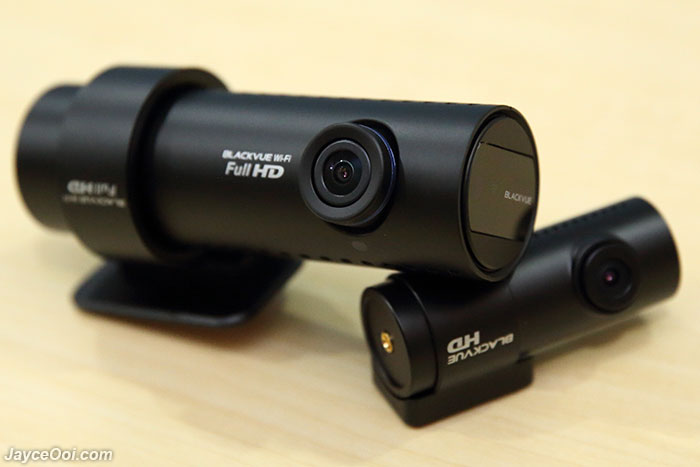 Conclusion
Without doubt, BlackVue DR650GW-2CH is one of the best 2 channels dash cams in the market. A perfect recording tool for surveillance of your property while parked or proof of liability in case of an accident. Have superior video clarity with Sony Exmor CMOS sensor. Have all the features you need like built-in Wi-Fi, GPS and G-sensor. Multi platform support and simple installation. Interested? More information can be found at BlackVue Website. Or buy yours here.