Introduction
Hey guys, check out DUNU Titan 1 little brother – Titan 1es. It is an in-ear earphones that utilizes a single large diameter dynamic transducer with titanium diaphragm. And able to produce perfect transient response while retains nature yet energetic sound. It can be worn cable down and over the ear (with ear-guide too). Several special designed eartips for your selection to get maximum isolation and comfort. By the way, Titan 1es is only half of the price of Titan 1. How does it perform with this deep price cut? Let's find out…
Specifications
Driver: 14mm Titanium Diaphragm Dynamic Driver
Frequency Response: 20Hz – 20kHz
Sound Pressure Level: 102 +/- 2dB
Impedance: 16Ω
Plug Size: 3.5mm Gold-Plated
Cord Length: 1.2m
Weight: 13g
Warranty: 1 Year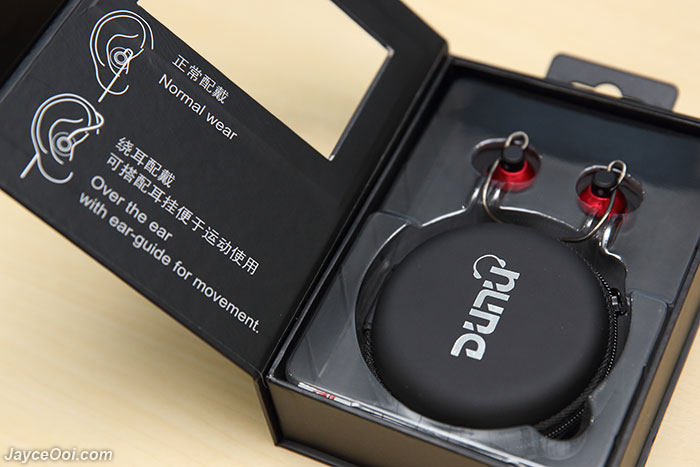 Package Content
DUNU Titan 1es comes in a nice and simple box. And 6 pairs of special designed ear-tips (S/M/L) come along with it. There will be one to match your ears and have maximum bass with secure seal. Besides that, there are shirt clip to minimize microphonic effect and ear-guide for over the ear wear style. There is a warranty card too. Last but not least, a soft touch hard case is there for you to keep all the stuffs.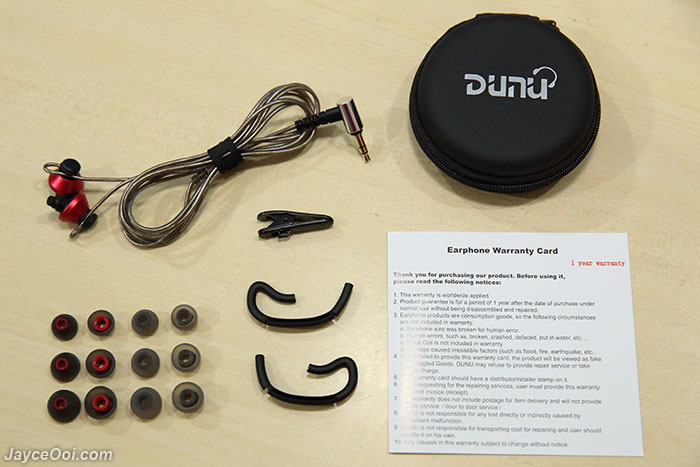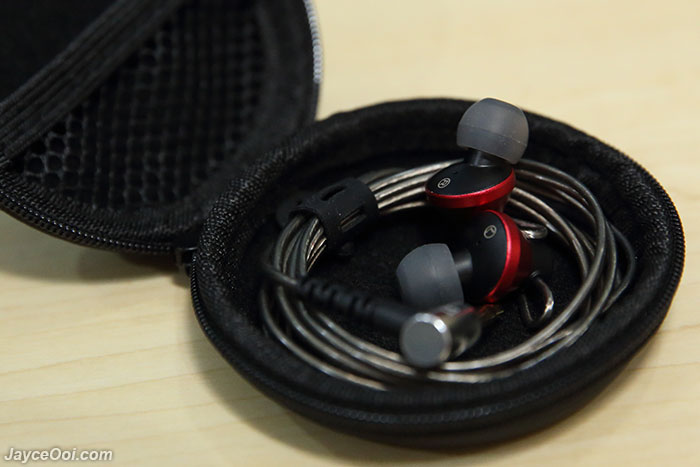 Design & Build Quality
DUNU Titan 1es housing is made with metal as well. However, inner part is sturdy plastic. But hey, it is much more lighter in this case. And it is using high purity OFC wire now from body through Y-splitter until 90° angled plug. As usual, there is cable cinch that can fit right into the Y-splitter when not in use. And a handy rubber cable tie is there to well keep Titan 1es. There is only 1 vent hole near nozzle at the earpiece body unlike 11 vent holes on Titan 1. Another one at the back near cable. There are 3 colours to choose this round. Mine is metallic red and another two are black and sliver. Yes, just select the one that match your taste.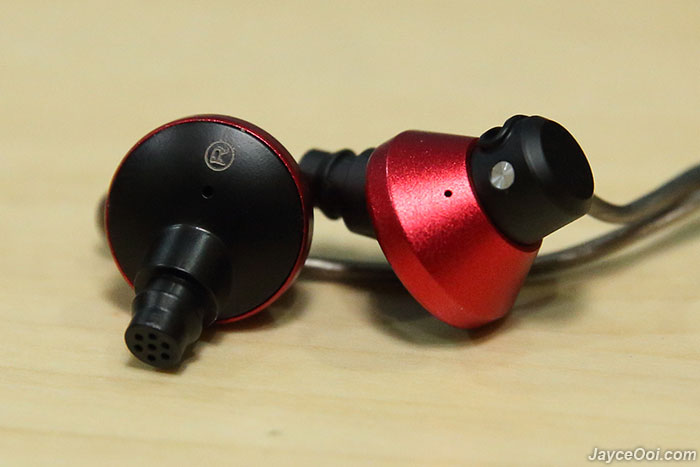 Fit, Comfort & Isolation
DUNU Titan 1es is designed to be worn cable down and over the ear. Microphonic is greatly reduced with over the ear wear style. And there is ear-guide to keep it still while doing gym or sport for your active lifestyle. It is also pleasant to wear for long hours. With 6 pairs of ear-tips, I have no issue to find the perfect seal and still able to provide comfort. Yes, isolation is good and better if compare to Titan 1. It surely block some of the environment noises out there.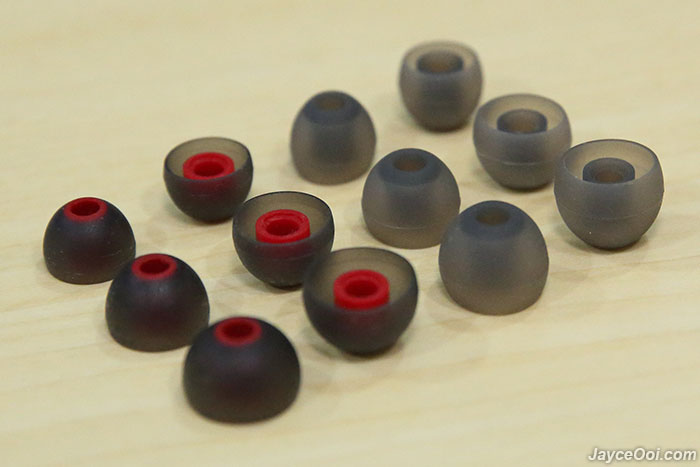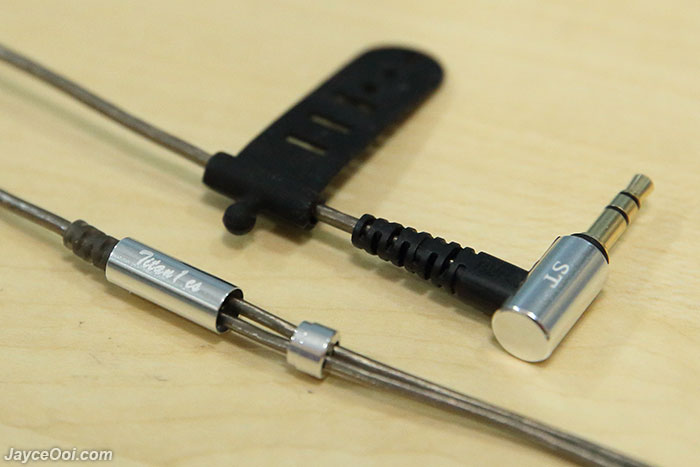 Sound Quality
DUNU Titan 1es has relatively balance and neutral sounding. The treble, mid and bass are good and in control. Vocals are clear and sweet to hear. Perfect for listening to latest pop songs in the market. Don't forget that it has powerful bass too. And it is easy to drive without the need of amplifier. Yup, all your mobile devices like iPhone, iPod, Android smartphone and tablet will be able to handle it easily. Enjoy all your favourite streaming, music, games and movies while on the go with good isolation.
DUNU Titan 1 vs Titan 1es… Who will be the winner in the end? Overall, Titan 1 takes the lead however Titan 1es is not far behind. Titan 1 has wider soundstage but Titan 1es has better isolation to compensate. All in all, Titan 1es performance is good at this price point.
Advantages
Clear & balanced sound
Powerful bass
Can be worn cable down and over the ear
Comfortable for long hour wear
Good isolation
Solid build quality
Plenty of accessories
Limitations
Microphonic (reduced with shirt clip and over the ear)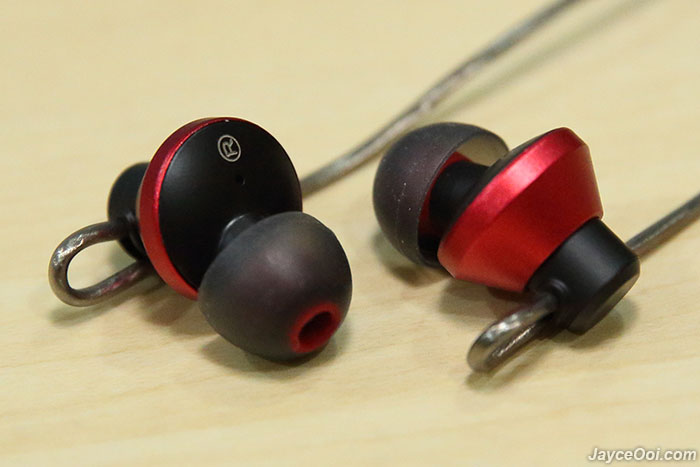 Conclusion
DUNU Titan 1es has many characteristic of Titan 1. Have better isolation and can be worn over the ear with ear-guide for active lifestyle. It is a nice addition to your smartphone and tablet to enjoy better sound quality. Do visit DUNU website (Chinese) for more information.