Introduction
39 hours battery life, Super X-Fi Software, IPX5 sweatproof, Bluetooth 5.0 with aptX & AAC audio, graphene driver diaphragm, Siri & Google Assistant… Yes, enjoy all these wonderful features from Creative Outlier Gold True Wireless Earphones. A TWS earbuds that gives detailed, well-balanced audio reproduction. Really? Read on to find out…
Special Thanks
This review is possible thanks to below companies. Be sure to check them out…
Creative for this Creative Outlier Gold True Wireless Earphones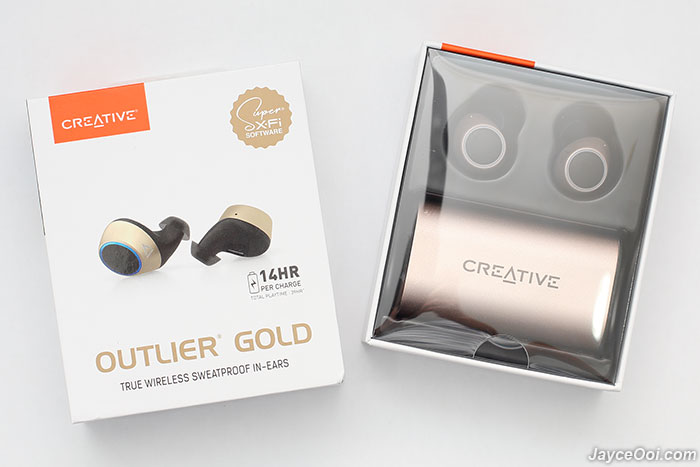 Package Content & Design
Creative Outlier Gold comes well-protected as you can see. There are earphones, charging case, 3 pairs of silicon eartips (S & M), USB-C charging cable, Software Super X-Fi, warranty card, safety & regulatory information and user manual in the package.
Excellent build quality with sturdy plastic housing. Slightly glossy in gold colour outside and matte in black for inner part. Stylish, compact and light in weight. There are multi-function button, round LED light indicator (red and blue) and microphone on top of it.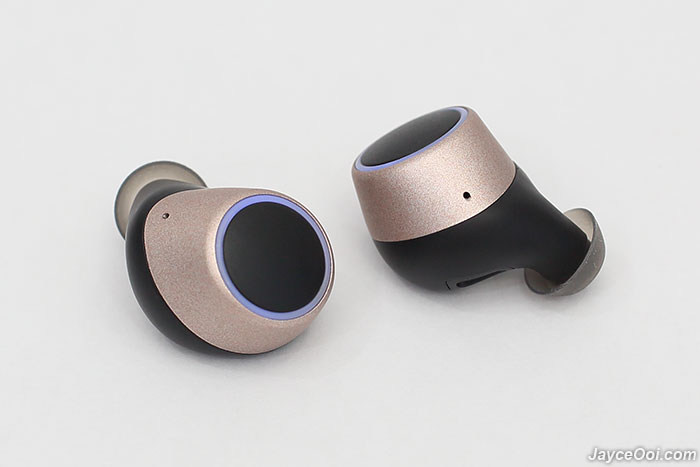 And here are the included eartips. 2 pairs of S size (a pair attached to earbuds) and another 2 pairs of M size. As usual, just pick the one that matches you.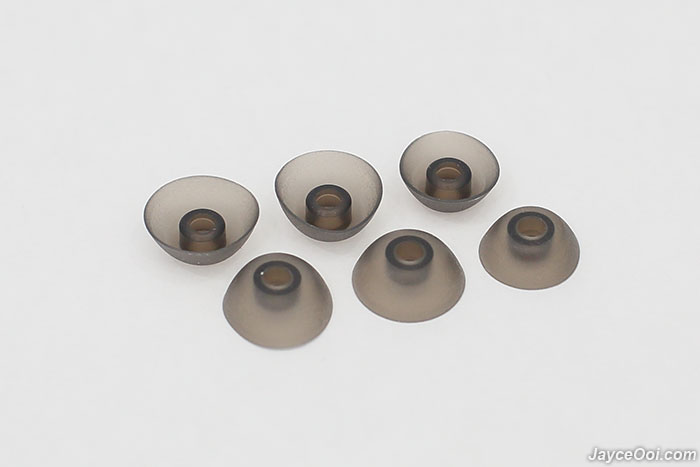 The useful charging case with slide out design. Metal frame with plastic inner part. Loaded with latest USB-C port and 4 LED light indicators.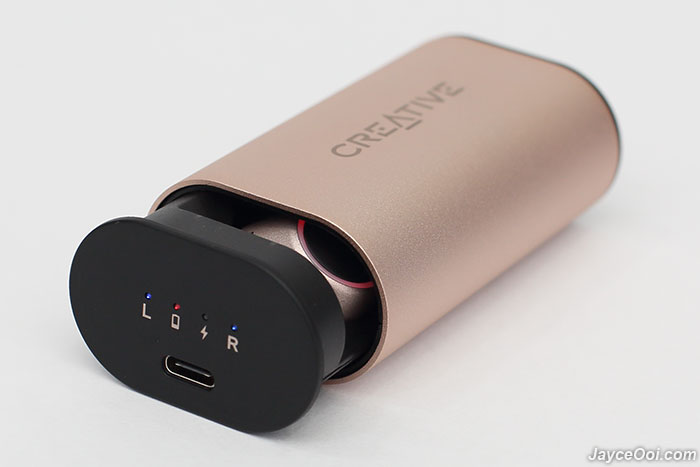 Fit, Comfort & Isolation
It is a pleasure and comfort to wear Outlier Gold for long hour. All thanks to ergonomic design. Round and smooth body helps too. As usual, pick the correct ear tips size that matches you. I am getting perfect seal with S size ear tips. Yes, it stays securely while exercising and jogging. No worry about dropping it at all since it's so light. Again, it is loaded with IPX5 sweatproof that works well against sweat, splashes and rain. Finally, it has excellent noise isolation. It will block some of the environment noises while music is being playback.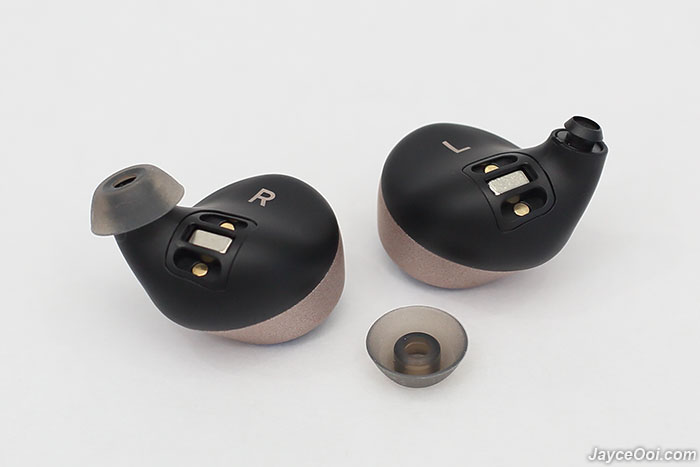 Performance Result
Bluetooth connection is the most important part for TWS devices. However, Outlier Gold Bluetooth connection range is average at best. It can go up to 5m with obstacles like walls. Music starts to skip after that. But look at the bright sides. It is loaded with AAC and aptX audio codecs which have lower latency than the usual SBC codec. Yup, audio and video are virtually in-sync that great for movie, games and MV. Lastly, you can use Outlier Gold as stereo or mono as you wish.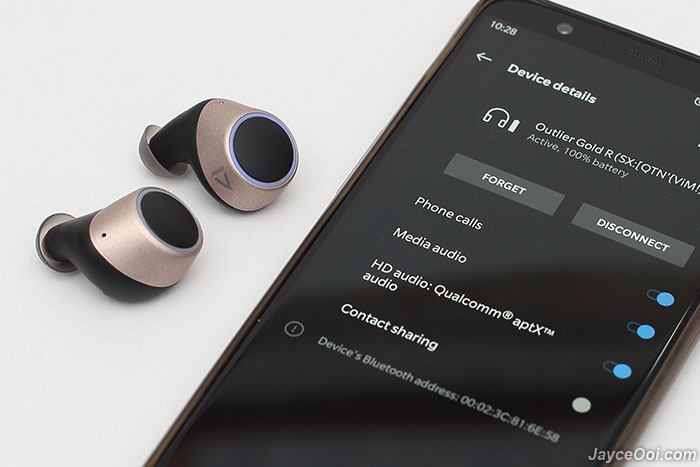 Based on specs, you can enjoy up to 14 hours of music playback. Up to 39 hours of listening with the charging case. More than enough for your daily sport activities. In addition, there is battery indicator status on iOS and Android devices. Never forget to charge it when low power.
Excellent phone call experience. Others can hear me loud and clear thanks to sensitive microphone. Same applies to me. A nice headset for business users who need to call a lot.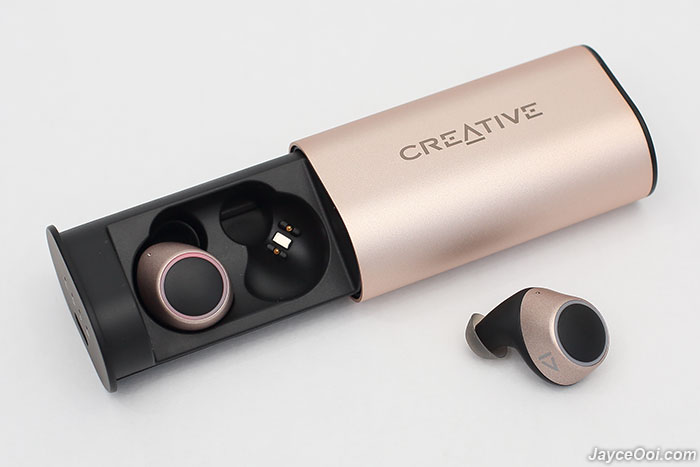 Sound Quality
Balanced sound signature toward slightly V-shape is what you get from Creative Outlier Gold. As usual, this is the result that I get from perfect fit. Highs are bright and clear. Sharp yet well in controlled. No worry about harshness. As for mids, vocals sound natural in both male and female. Placement correctly which not too close nor too far. Bass is punchy and powerful. Fast and well control too. Slightly V-shape sound makes Outlier Gold feel much more excitement when listening to it. Soundstage is decent. Not the best out there nor the worst. Instruments placement separation is clear even in the complex scene thanks to the sound clarity. Overall, Outlier Gold sounds great for the price.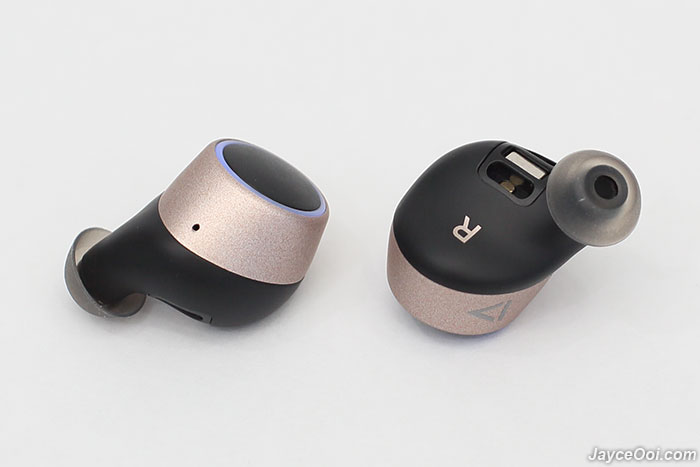 Don't forget Creative own Super X-Fi Software! It works by mapping the head and ear, and transforming audio based on those features, for the individual. Then allows you to experience audio as if it's coming from outside the headphones, and the headphones seemingly disappear! It supports 10-band Equalizer for further audio customization too. In short, it brings virtual 3D sound effect. Great or not is totally up to personal taste. By the way, the Super X-Fi effect is limited to its app only.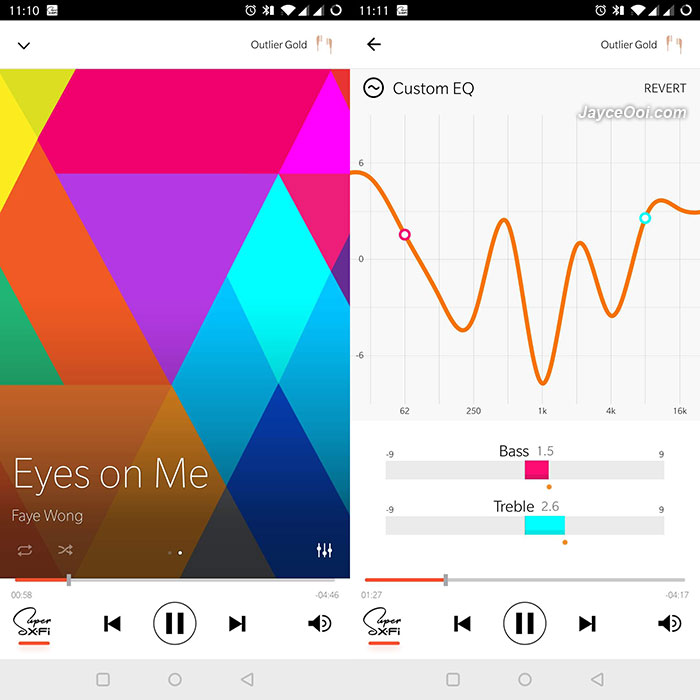 Thing to take note… At totally quiet environment, there is a very sightly hiss noise when Bluetooth kicked in but nothing is being played. You won't notice it during normal music listening or movie playback. In addition, the multi-function button is a bit hard to press when wearing them.
Advantages
Crisp, clear treble with amazing bass
aptX and AAC support
Excellent microphone
Long battery life
Comfortable for long hour wear
IPX5 splash-proof
Super X-Fi Software support
Limitations
Average Bluetooth range
Slightly hiss noise at totally quiet environment
Button a bit hard to press
Conclusion
For less than $100, Creative Outlier Gold is surely a keeper. Enjoy crisp, clear sound with amazing bass. Excellent phone call quality. Ultra long battery life. And comfortable for long hour wear. Interested? Do visit Creative Website for more information. Get yours there or Amazon.