Introduction
Simple and clean design for your computer… AUX, SD, USB and Bluetooth supported. Easy to use control panel. 4-inch bass driver for bigger sound. Comes with IR remote control. Yes, that's all part of Edifier XM2BT 2.1 Speaker System features. Having total power of 21 watts RMS – satellites 4.5W x 2 + subwoofer 12W. Does it sound great for sub RM200 price range? Let's find out together…
Special Thanks
This review is possible thanks to below companies. Be sure to check them out…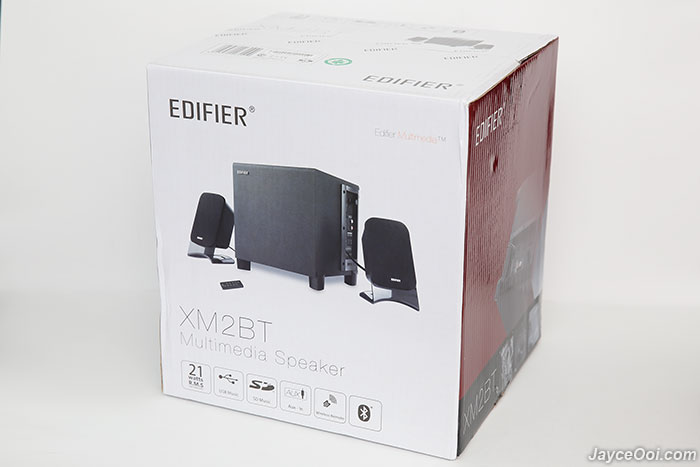 Package Content & Design
Edifier XM2BT comes well protected as usual just like other Edifier products. Once taken out the speakers, you can find 3.5mm AUX audio cable, IR remote control, warranty card and user manual. Be sure to go through the guide to get started. It's very easy to use all its features like Bluetooth, AUX and MP3 player.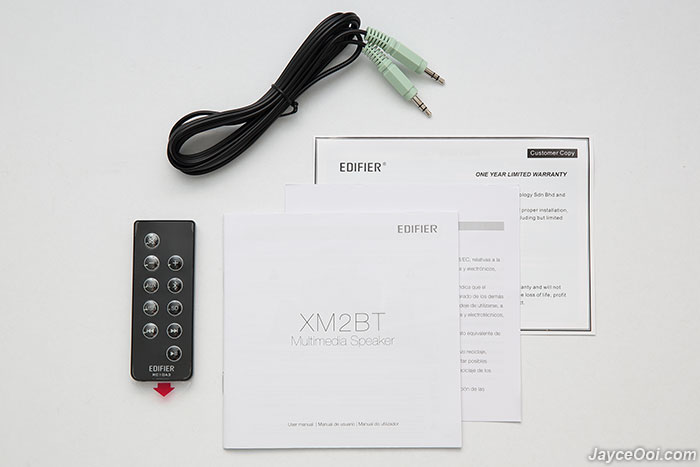 Build quality is excellent for the price. Thanks to tough wooden cabinet for subwoofer. As for satellite speakers, they are using sturdy plastic housing with fabric speaker grill in front. As usual do refer below photos for its design in details. A compact yet stylish in design…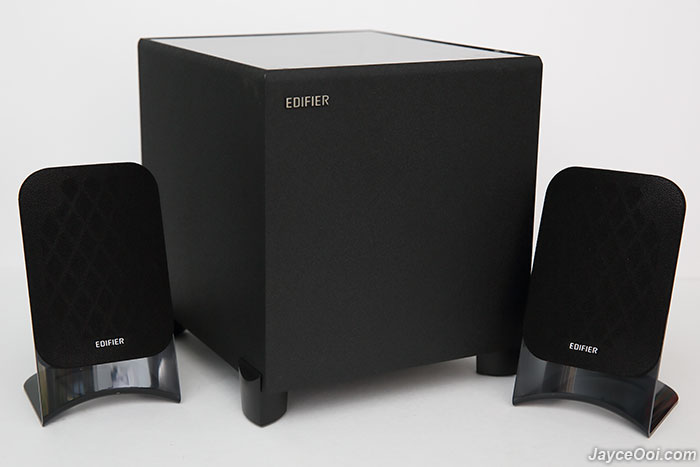 Here are all the inputs and outputs. Only bass volume control to adjust subwoofer power. No treble volume control that I wish for. All the navigation buttons are located there if you don't want to use remote control. USB port and SD slot is for MP3 playback. 2 LED light indicators – red: SD/USB, green: AUX and blue: Bluetooth. AUX input and 2 output to satellite speakers. Lastly, power switch for on or off.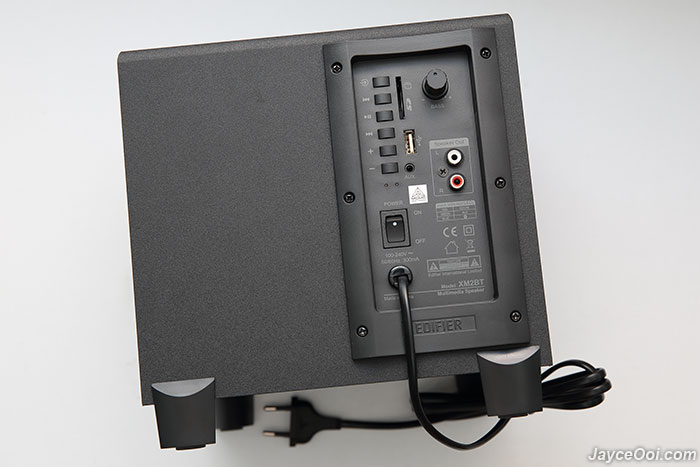 Alright, here are the 4-inch driver that encased in subwoofer wooden enclosure. Bass reflex port is located under it too. And 4 anti-skid pads to provide stability even on maximum volume output.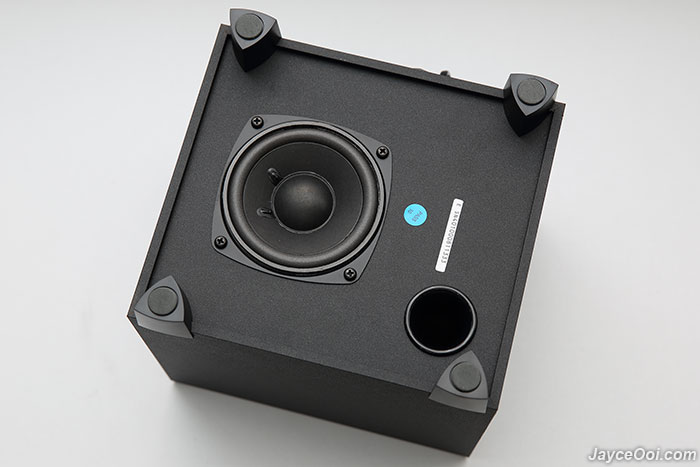 Check out these stylish satellite speakers with 2 ¾ inch driver. They are made with an angle this way so that the sound is directed right to your ears. Yes, you get the full experience of the sound in return.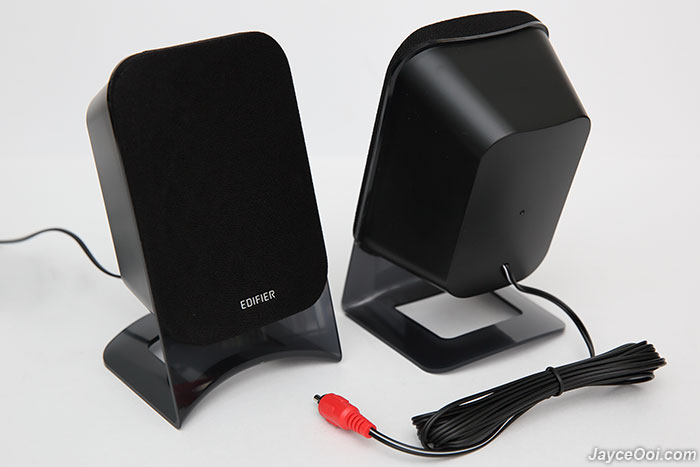 Performance Result
Let's talk about Edifier XM2BT Bluetooth performance first. Yes, it passed with flying colours. No issue at all on 10m straight sight line test. And up to 7m with obstacles like wall. The great news – it has virtually no lag between video and audio. That's great to watch movie, TV drama and even play games on your smartphone and tablet through it. As usual, AUX input is there for PC and non-Bluetooth devices.
As for built-in MP3 player, you can play your favourite MP3 by just plugging USB flash drive or SD card. It will start to play automatically. Breakpoint memory feature is supported where it will continue to playback the last song and at the place that left off flash drive was ejected. And IR remote control range is excellent. Up to 8m easily. You can control it even XM2BT far away from you in the living room. Another thing to praise on XM2BT, it remembers last used audio source after power off. Example, it will start with Bluetooth mode if you turn it off with that mode. Same apply to AUX, SD and USB.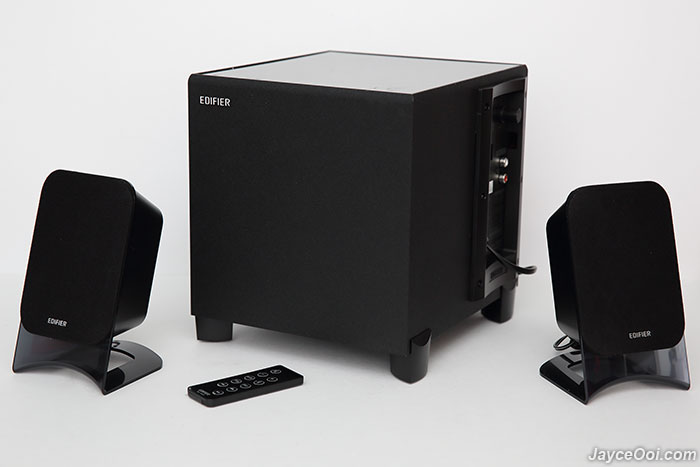 Edifier XM2BT has balanced (toward little bit warm) sound signature. 21W is good enough to blast in a big living room. Yes, you can enjoy clear treble yet pumping bass from XM2BT. The highs are clear and smooth. No harshness at all. I do love to have treble volume control so that it can be brighter if you want to. For mids, it performs great too. Vocals sound natural and organic. Yes, it's a pleasure to listen to pop music for sure. Bass is punchy for its size. You can feel bass pumping here and there. For me, I almost maximum the bass volume in the subwoofer. Overall, Edifier XM2BT sounds great for its price. Perfect to use it for gaming, movie and music listening…
Advantages
Clear sound quality with nice bass
Let's have small party in house
Fast Bluetooth audio video sync
Bluetooth & MP3 player (SD & USB) support
IR remote control included
Remember last used audio source
Stylish design
Limitations
Conclusion
Edifier XM2BT is great for both home and office no doubt. Enjoy clear sound quality with nice bass. Bluetooth is very useful for smartphone era nowadays too. As usual, more information can be found at Edifier Website. Get yours at Lazada.