Introduction
Elysium Infiniio Wireless 2.1 Hi-Fi Speaker is in the house. It is a stylish Bluetooth stereo speaker with built-in subwoofer that suitable for living room, bedroom and office. Powered by two 2.5″ 5W satellite full range drivers and 4″ 30W subwoofer. Loaded with many features like NFC, USB port for charging and built-in MP3/WMA player. And it even comes with a remote control. Sound great? Let's find out…
Features
NFC hifi sound system with total power output of 40W
Stream audio wirelessly from any Bluetooth source device e.g. computer, tablet, smartphone etc.
Great for music, movies, internet video entertainment and other audio uses
Bluetooth 4.0+ EDR supports A2DP and AVRCP
Built-in 5V USB power port lets you charge various mobile devices
Even lets you play your music directly from a USB flash drive, hassle-free
Includes an auxiliary (aux-in) 3.5mm audio jack for traditional usage
2 full-range drivers and 1 bass driver for an all-encompassing 2.1 listening experience
Brushed cool-touch aluminium control panel minimises handprints
Illuminated control keys make them easy to locate, even in the dark
Stylishly matched remote control included for long range interaction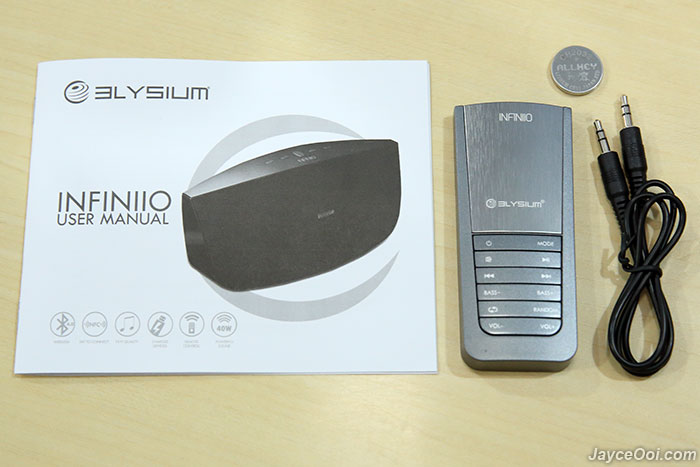 Package Content & Design
There are Elysium Infiniio Speaker, remote control (with button cell CR2032 battery included), audio line-in cable and user manual in the box. Infiniio is a stylish Bluetooth speaker with curve shape. The body is made with quality sturdy plastic with fabric cover in front and shining aluminium plate on top. You will see Elysium logo in the middle of the fabric cover and NFC sticker on the right side where NFC chip located. Oh, the LED light indicator is located on top of the logo (hidden behind fabric cover). On the top, you can see all the inputs like mode, play/pause, power on/standby, previous/next track and volume up/down buttons. On the right bottom side of the speaker, there is a USB port for charging mobile devices and also turn Infiniio into media player with USB storage device. Aux-in jack and AC power cord (with 2 pin Europlug) are at the back. Same apply to rear sound tube for subwoofer output. Lastly, you can find 2 long anti-skid pads at bottom for stabilizing speaker during heavy bass scene.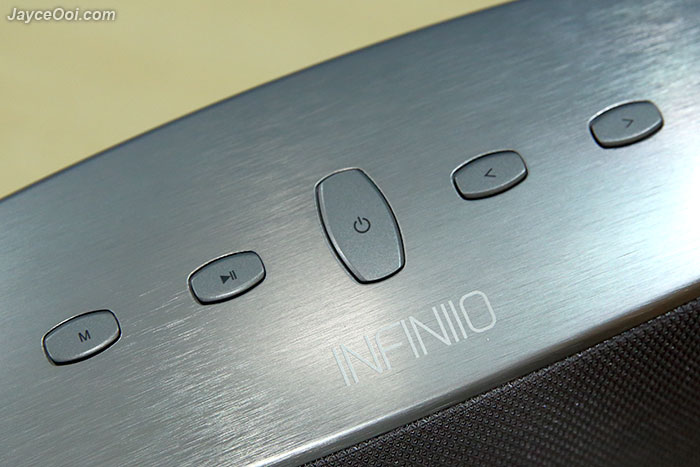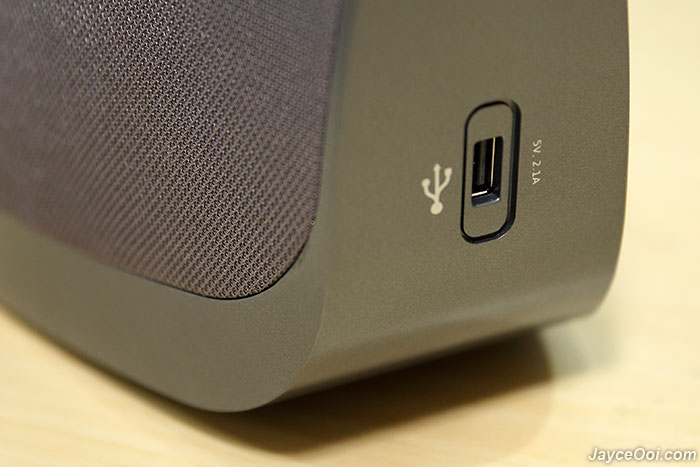 As for remote control… It has the same colour and design as the speaker. Using same material which consist of line textured metal part on top too. This brushed aluminium does not attract fingerprint at all. Nice one. It consists all input functions like the main speaker with addition buttons like mute, bass +/-, repeat and random. At back, there is a slot for CR2032 battery. By the way, there are 2 colours to choose. Mine is Gun Metal and another one is Pitch Black.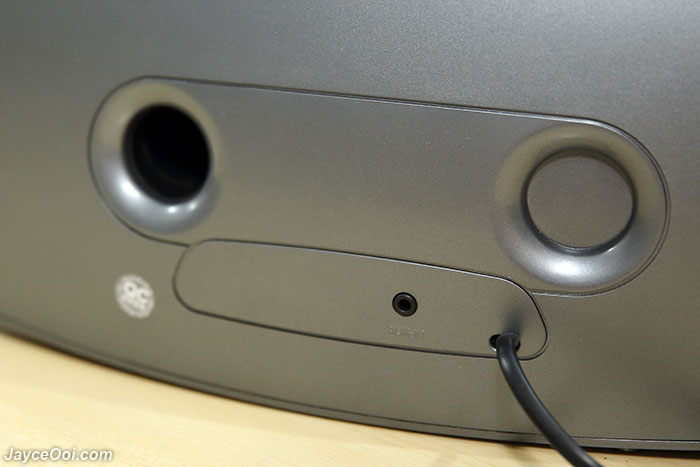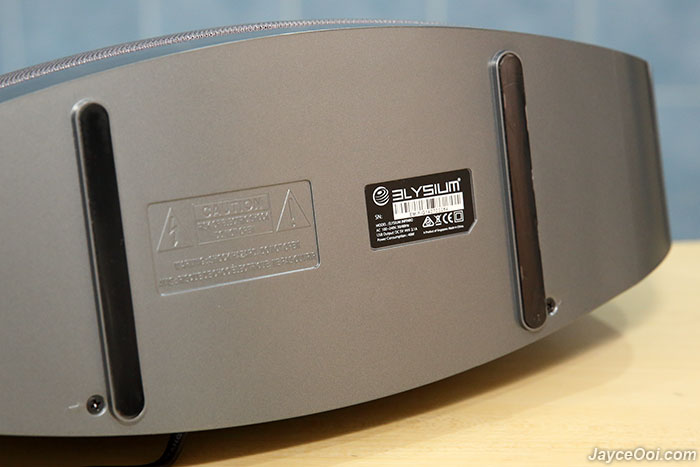 Specifications
Pure output power (RMS): 40W
Satellite output power (RMS): 5W x 2
Subwoofer output power (RMS): 30W
Full-range driver: 2.5″ x 2 (4 Ω )
Bass driver: 4″ (4 Ω )
S/N ratio: ≥ 80 dB
Frequency response: 40Hz ~ 16kHz
Wireless operation range: up to 10 metres
USB port for charging: 5V, 2.1A
Universal AC voltage: 100-240V~50/60Hz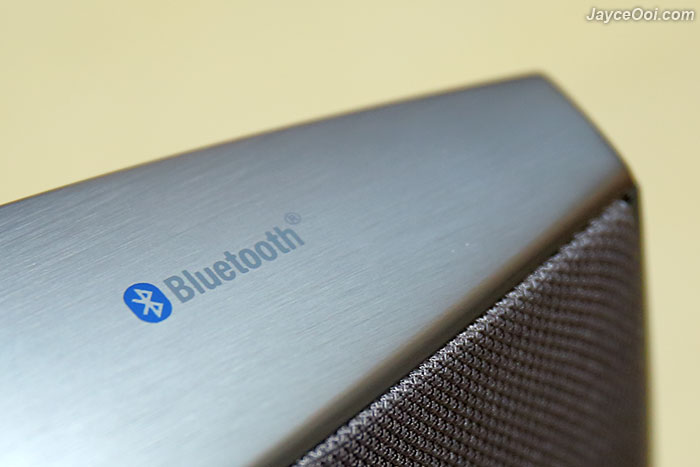 Performance Result
Elysium Infiniio has decent Bluetooth coverage. It pass 10m Bluetooth range in straight sight line with no obstacle test. And up to 5-6m with obstacles like wall. More than enough for you to walk around living room or bedroom while checking other stuffs on your smartphone. Just don't go up/down stair. All my Android and iOS devices are able to pair and work flawlessly. By the way, it is on Bluetooth pairing discovery mode after powered on. Besides manual pairing, it supports NFC one touch pairing too. That's the easiest and fastest way to get connected. For older non-Bluetooth devices, Aux in port is always there for you.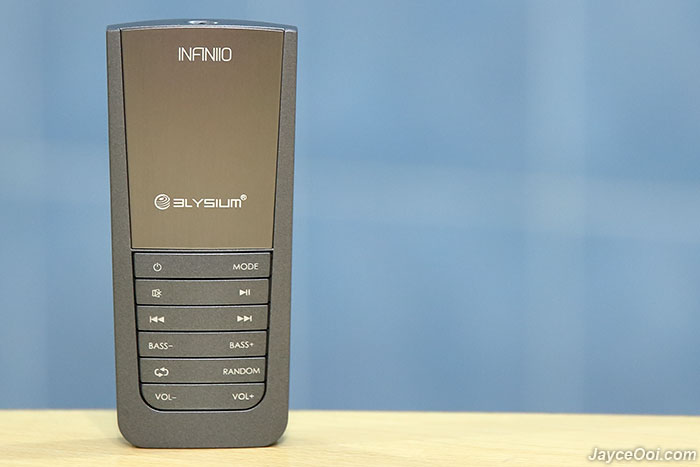 Remote control infrared range is okay too. It manages to get up to 5-6m in straight sight line. No problem for me to control Infiniio at the corner of the living room while sitting on big sofa at another side. Remote control is very useful on USB and Aux-in mode. Besides normal aux-in connection to connect to portable music player, Infiniio itself is a MP3/WMA player on USB mode. Yup, just connect USB flash drive with MP3 songs will do. And change to USB mode (with blue LED light) to start playing. By the way, Bluetooth mode is blue colour, aux-in is green and standby is red. Random function is very useful on USB mode. You get the chance to play tracks randomly else built-in player will go folder by folder and song by song. Oh, before I forget. It will continue playback the last song even changing modes and power off. That's great.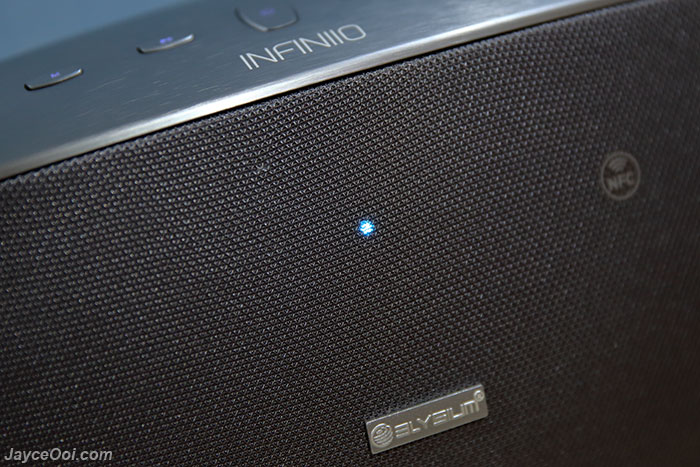 Yes, yes, yes… Elysium Infiniio can charge your smartphone, tablet and music player with its USB port. A nice feature to keep your player get charged while playing music, right? However, it does not seem to support 2.1A because my iPad and Galaxy Note 3 get 1A only based on USB voltmeter reading. Hmm… Not a deal breaker as it is just an add-on feature. And it will still be able to keep your smartphone continue to play 24/7 non-stop music with screen on even with 1A. Just not the fastest for those devices with 2A charging support.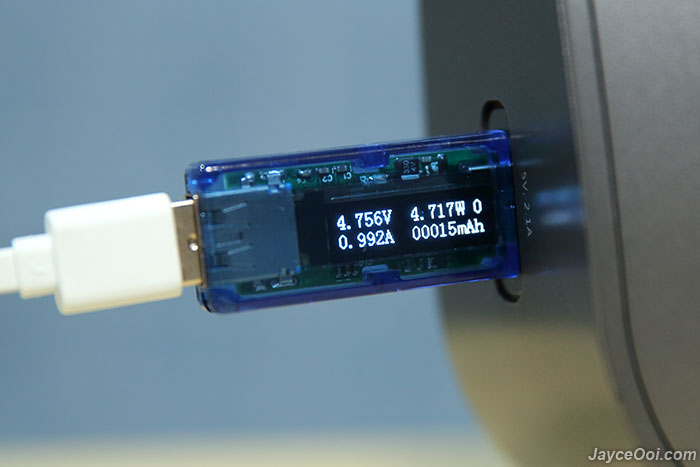 Elysium Infiniio stays in my bedroom currently. And I love the brushed aluminium control panel. Why? It has the cool touch feel in aircon room. Besides, the illuminated control keys let you to see even in dark environment. Perfect to use in bedroom when light off. In addition, Infiniio slim profile design let you enjoy powerful bass without the bulky dedicated subwoofer. And can be easily placed in living room, bedroom, lounge and office.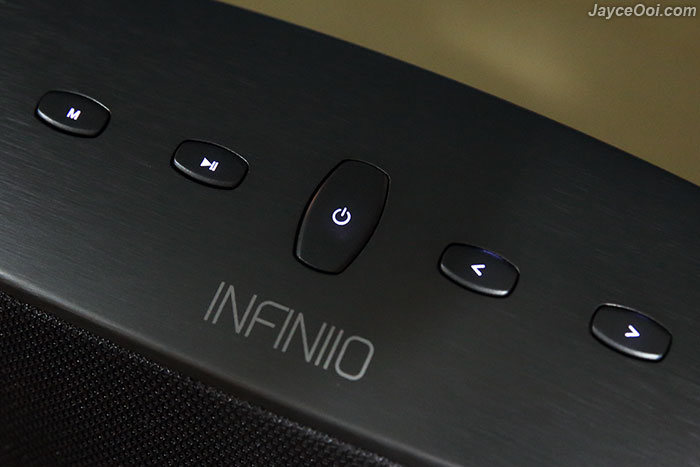 Elysium Infiniio sound great with Lotoo PAW 5000 DAP which support Bluetooth as music source for FLAC format HD tracks. Clear and bright treble is what you get. And it is slightly sharp by default. Therefore, I boasted the bass with remote control to compensate it. As result, you can get deeper bass too (which I prefer). And it can produce really loud sound at max volume without distortion. Yup, feel the bass pumping on Michael Jackson's Billie Jean and Beat It. And enjoy the clarity of the guitar on Taylor Swift's songs. Furthermore, it is also a great companion for smartphone and tablet on games and movies. Just connect it with NFC and you are ready to enjoy all your favourite entertainments with much better and louder sound. Personally, I love to watch anime and YouTube MV with it…
Advantages
Clear & bright sound quality
Amazing bass
Hey, it's loud and powerful
Built-in MP3/WMA player
Charges devices ability
NFC one touch pairing
Stylish design
Limitations
Bluetooth range can be better
1A USB port only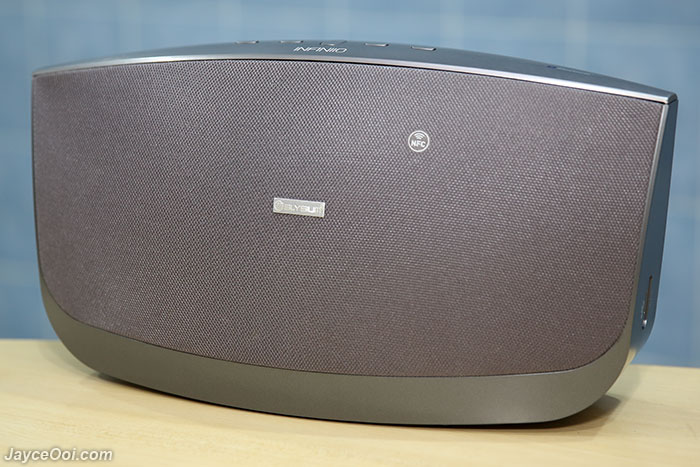 Conclusion
Looking for a wireless speaker for your living room, bedroom or office? Give Elysium Infiniio 2.1 Hi-Fi a try. It's loaded with lot features like built-in MP3/WMA player, NFC and charge devices. And come with a remote control too. Enjoy clear and bright sound with amazing bass with it. Do visit Elysium Website for more information. And get yours there.