Google latest gadget ~ Google Buzz comes to Google Maps for Mobile 4.0. It is currently fully supported for Android 2.0+. And Buzz Layer on Google Maps for mobile for other mobile platform except BlackBerry. I am not a big fan of Google Maps because Malaysia maps are not detail enough (at my small hometown Sungai Petani) and slow updated. You still can get high level detail but just not detail enough for me like US or Singapore maps which you can see cars and people from the satellite view. Yeah… That's what I call maps. But when will it comes to Malaysia?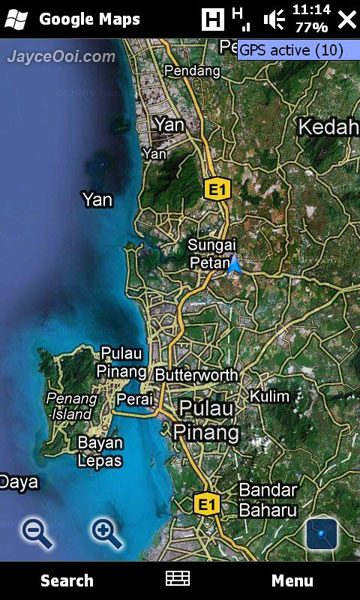 There are lot of features in Google Maps for Mobile like My Location, Buzz, Business listings, Driving directions, Navigation, Transit directions, Latitude, Street View, Layers and Traffic. Most of the features are available in US with Android devices like Google Nexus One, Motorola Droid. The best feature that I wanted most ~ Google Maps Navigation is not available in Malaysia and not in Windows Mobile. Therefore, Garmin Mobile XT is still my turn-by-turn GPS navigation with voice output must have application.
I tried Google Maps for Mobile 4.0 on HTC HD2. It works perfectly with pinch and zoom. It uses Internet connection to download the maps and mobile operator tower to determine your location. GPS helps to lock your exact location. The driving directions work as it should but just no voice output on turning. And HTC HD2 becomes extremely hot after half hour of usage. However, it will be a useful tool when you are traveling to other countries.
Download Google Maps for Mobile here.