Do you factory data reset when got your new Samsung Galaxy Note 3? Well, you don't have to do so. Why? Because it is pre-factory data reset before shipping out. But no harm to do so again if you want. Just no point. However, it is not the case after few weeks or months of usage. Galaxy Note 3 might become not so stable, or facing forced close issue offer. That's the time to hard reset then. Note – factory data reset can solve software issue only. You need to send back to service center if facing hardware related issue. No idea which one is causing the issue? Just restore everything back to stock to find out.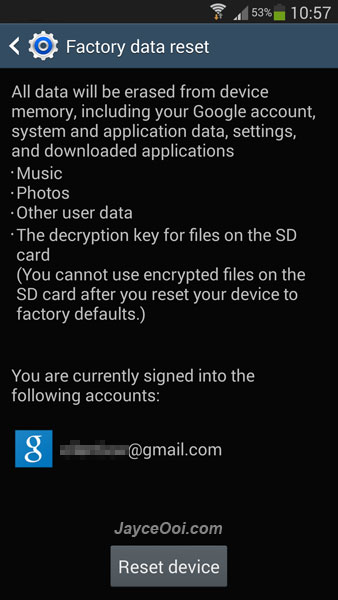 How to hard reset Galaxy Note 3?
Go to Settings.
Then General tab.
Select Backup and rest then.
Click on Factory data reset ~ Reset all settings and delete all data on device.
Select Reset device.
That's it.
Everything on your internal storage will be deleted. Be sure to backup first before perform this. External SD card's data will be intact though.