Finally, I found a working infrared remote control for Samsung Galaxy S4. Yup, DSLR Remote by bitshift is the one. And the best part – it is free and no ads. DSLR Remote supports both infrared and cable. You can use DSLR Remote IR Dongle for Android smartphone without built-in infrared. Or use IR Blaster for HTC One and Samsung Galaxy series like Galaxy Tab 7.0 plus, Galaxy Tab 7.7 plus, Galaxy Tab 2 7.0, Galaxy Tab 2 10.1, Galaxy Note 10.1 and Galaxy S4. And supports most of the digital SLR out there like Canon, Fujifilm, Minolta, Nikon, Olympus, Pentax and Sony. Yes, it supports my Canon EOS 5D Mark III. I don't need to bring Canon RC-6 Wireless Remote with me anymore.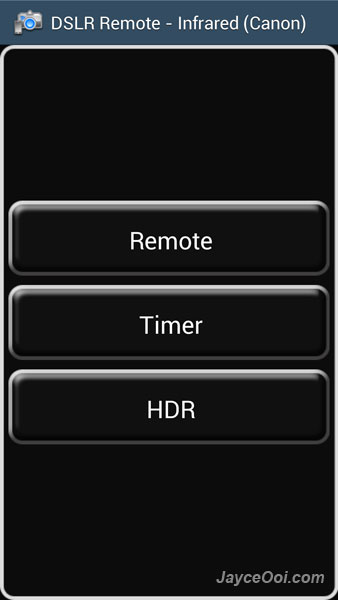 There are 3 modes for Canon camera – Remote, Timer and HDR. Just played with S and 2S for the moment. Will explore more about Timer and HDR modes. Should be interesting too. What are you waiting for? Try DSLR Remote now…
Download DSLR Remote for Android here.