Introduction
"Hello, I am driving right now. Can I call you back later?" That is the life without phone hand-free. A Bluetooth headset is what you need. Luckily, I have jWIN Electronics JB-TH130 Bluetooth Headset with me. It is a budget Bluetooth headset. Let's see how it performs…
Product Specifications
Compliant with Bluetooth V2.0 + EDR
Supports HSP and HFP profiles
Built-in lithium polymer rechargeable battery
Standby time up to 100 hours
Continuous talking time up to 4 hours
Communication range up to 33ft. (10m)
Light weight: 0.3 oz (9 g)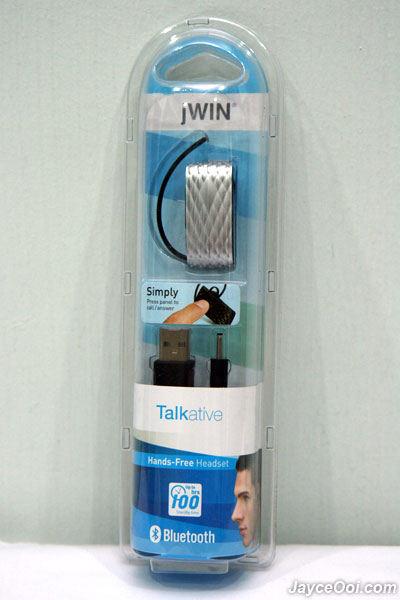 Package Contents
There are USB charging cable, instruction manual and warranty information inside the package. That's all you need. The instruction manual has all the guide you need to know. From how to turn on, pairing, normal call, voice dial and ending a call.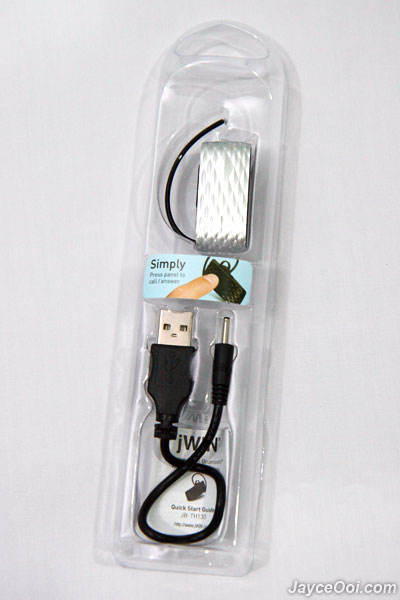 Design
The jWIN Electronics JB-TH130 Bluetooth Headset has a pleasing design and a raised earpiece. Designed for left ear usage but can easily switch to right by changing the ear clip. The headset is average in size, measuring 4.3 x 1.8 x 0.9 cm and weighs 9 g. The headset can stay in the ear without the included ear clip, but not suitable for jogging. It is comfort to wear. And I have no issue to wear it even lying on the bed chatting with my girl friend for long hours. The volume rocker is well placed on top but the answer / end button (the big diamond) is not easy to press without pushing the headset toward your ear.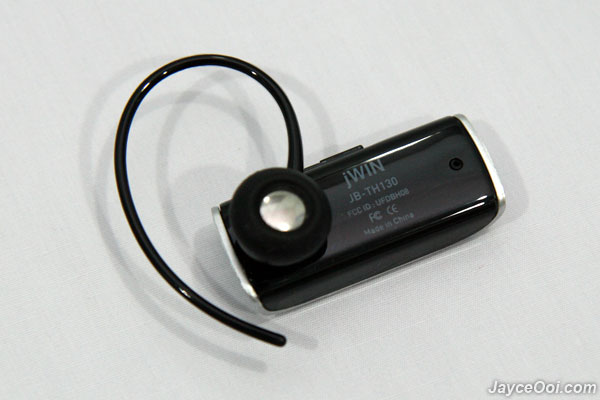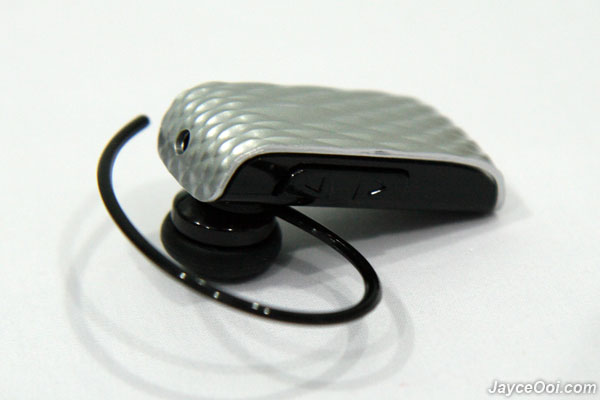 Performance Results
I tested jWIN Electronics JB-TH130 Bluetooth Headset with HTC HD2 and Nokia 3120 Classic. The pairing is easy and simple on both phones. The incoming voice is loud and clear. I have no problem to listen to others on noisy environment. But the outgoing voice is a little bit low. The reception range between jWIN Electronics JB-TH130 Bluetooth Headset and HTC HD2 is good up to 20 ft. The headset claims to have standby time up to 100 hours and continuous talking time up to 4 hours. I managed to use it for more than 2 hours for 1 single charge (several calls).
Conclusion
jWIN Electronics JB-TH130 is a nice affordable Bluetooth headset. It is comfortable to long hour usage due to its light weigh. Low outgoing voice is the only concern. It is good for those who wanted a budget Bluetooth headset.
Thanks WirelessGround.com which has full line of quality cell phone and PDA accessories and products for the opportunity to review this product. Be sure to check out jWIN Electronics JB-TH130 Bluetooth Headset here.