Introduction
Yeah, Dell UltraSharp U2410 is my first IPS panel monitor (dump VA panel due to slowness). It is a 24 inch monitor with 1920×1200 resolution. It is hard to find 16:10 widescreen aspect ratio monitor nowadays. Most of them are 1920×1080 (16:9) Full HD format. By the way, Dell UltraSharp U2410 is the replacement of Dell UltraSharp 2408 Widescreen Flat Panel Monitor. Basically, Dell replaced the Samsung VA panel with LG IPS panel and V shape monitor stand with a solid rectangular base. What I like? It has the same 110% Color Gamut as 2408WFP but with higher color depth of 1.07 billion and crazy high 80,000:1 dynamic contrast ratio. Best of all, better viewing angle compare to cheap TN panel monitor.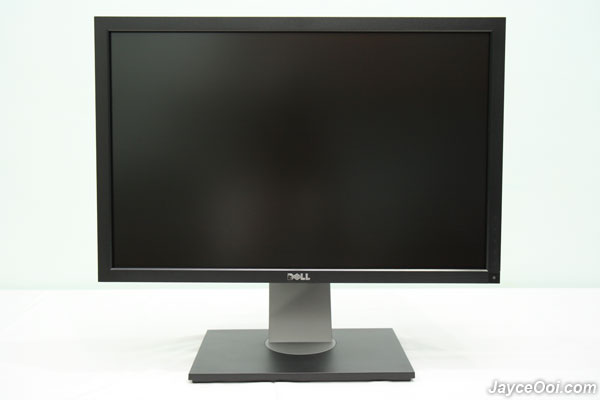 Dell UltraSharp U2410
Product Specifications
DISPLAY
Panel Size: 24-inch (518.4 mm) viewable area
Aspect Ratio : Widescreen (16:10)
Panel Type: IPS – In Plane Switching
Optimal Resolution: 1920 x 1200 at 60 Hz
Contrast Ratio: 1000 to 1 (typical)
Dynamic Contrast Ratio: 80,000:1 (Max)
Brightness: 400 cd/m2 (typical)
Response Time: 6ms (gray to gray) Typical
Max Viewing Angle (vertical/horizontal) : 178º vertical / 178º horizontal
Color Support: 1.07 billion colors
Color Gamut 110% (CIE 1976)
Pixel Pitch: 0.27 mm
Internal Processing :12 bits
Pixel Per Inch : 94
Support and Compatible with Industry Color Space : AdobeRGB (96% Coverage), sRGB emulates 72% of NTSC Color (100% Coverage) and xvYCC Compatibility
CONNECTIVITY
Video Graphics Array (VGA)
Digital Visual Interface – Digital (DVI-D) with HDCP
DisplayPort(DP)
Component
Composite
High Definition Multimedia Interface (HDMI)
Built-in Devices
Media Card Reader and USB 2.0 Hi-Speed Hub (with 1 USB upstream port and 4 USB downstream ports)
STAND
Height-Adjustable stand,tilt, swivel, pivot and built in cable-management
VESA Mount
Packaging and Accessories
Dell UltraSharp U2410 comes in a good packaging. Check out Dell UltraSharp U2410 Monitor Unpacking for more info and images. Basically, you will have Dell UltraSharp U2410 panel, monitor stand, several cables like VGA cable, DVI cable, DisplayPort cable, USB cable, power cord and CD user's guide and documentation. Too bad that HDMI cable is not included. Anyway, DVI cable is sufficient for daily PC usage like gaming or office work.
Features
Dell UltraSharp U2410 has lot of features that normal monitors don't provide. It has
Picture-in-Picture and Picture-by-Picture Multi-Views – I did not test it yet. Will cover this later
Flexible Viewing and Mounting Options – It has height-adjustable stand and tilt, swivel and pivot features. Perfect for multipurpose use. I love the pivot function, good to read e-book
Intuitive Controls – Hey, the buttons are touch sensitive. Just move your finger near it, the bottom blue LED will lights up. Touch it to bring up the selection menu.
Extensive Connectivity – Besides all the display inputs that I mention above, it has 4 USB ports and a xD/SD/MS/MMC media card reader. (no CF format). You can add on Dell Soundbar at below the monitor panel too.
Consistent, Accurate Color Out of the Box – Factory-tuned Adobe RGB and sRGB modes minimize the need for further color calibration. The monitor that I received has average Delta E of less than 4.
8 Preset modes – Standard, Multimedia, Game, Warm, Cool, Adobe RGB, sRGB and Custom Color mode.
Performance Results
Okay, let's talk about the real stuff. When you turn on Dell UltraSharp U2410 monitor for the first time, your eyes will hurt by its brightness and sharpness (Both 50% on Standard preset mode). Immediately, I reduced the brightness to 10% to match the room lighting. Then changed to sRGB mode which produces most natural colours. How are the viewing angles on this IPS panel monitor? Hmm… It is definitely better than TN panel. But not as good as I expected from IPS panel. Note – I am a first time IPS panel monitor owner. Read lot of review about viewing angles of IPS panel. However, the viewing angles are not as good as mentioned by cnet.com.au and pchome.net. Here is the result that I have.
Viewing Angles

Landscape Mode
45° Left | 22° Left | Center | 22° Right | 45° Right

Portrait Mode
45° Left | 22° Left | Center | 22° Right | 45° Right
Input lag test
As a gamer, monitor input lag is another important factor to me. A high input lag monitor is not suitable for first person shooting (FPS) games. But still okay for real time strategic (RTS), role play games (RPG), racing or action games. I took lot of photos with Samsung SyncMaster 550s CRT Monitor on Game mode and sRGB mode. 50 photos for each mode with Canon EOS 400D SLR on 1/320 sec exposure, F/2 and ISO 800. And I used Virtual Stopwatch Pro 3 as the timer. Here are the results…
Game mode – min = 0ms, max = 31ms, avg = 17.14ms
sRGB mode – min = 16ms, max = 46ms, avg = 33.96ms
Note – the red and green colours are oversaturated due to wide-gamut colours in Game mode. You need to sacrifice colour to gain more speed (1 frame == 16ms). So what is your choice? Anyway, I play FTS game like Wolfenstein in sRGB mode and don't not feel much different with 2ms Samsung T220 Monitor. Definitely not a problem with games like Overlord II.

Input Lag Test
Minimum Input Lag | Maximum Input Lag
Panel Uniformity
I have neither LaCie Blue Eye Pro colorimeter nor BasICColor's calibration software. Below are the white and black screen shots taken in dark environment.

Panel Uniformity
White | Black
Conclusion
Dell UltraSharp U2410 is a great monitor but not perfect. It got 8/10 from me for the moment. Will keep update this post with other tests. Let me know if you want me to test out anything. I will try my best to test if I can.