Introduction
Mstick is a LED light stick by MOLT. You can use it by its own. Or enhance its ability by featured modular application on your smartphone or smartwatch. Lot of light modes to play with like mood lamp, bike light, air display, sound visualiser, concept selfie and alarm. Suitable both indoor and outdoor. What makes it special? It automatically changes colour and animation based on your movements with G-sensor and environment sound too. Therefore, make it useful and fun to use. Interested? Let's have a closer look then…
Specifications
CPU : 32-bit ARM Cortex M4 32-bit CPU
Bluetooth 4.1 2.4Ghz, 3 Axis Sensor
Light : RGB LED x 16 ea (estimating roughly more than 120 lm)
Battery : Li-Po 1800 mAh (maximum 7 days ~ minimum 3 hours)
Charging : Micro 5pin USB Port
Mount : Universal Camera Mount / Built-in magnet
Stick Body : 160(H) x 24.5(W) x 17.5(D) mm
Weight : 105g ( including package : 200g)
Compatibility : Full support for iOS 8 / Android OS 5.0 and above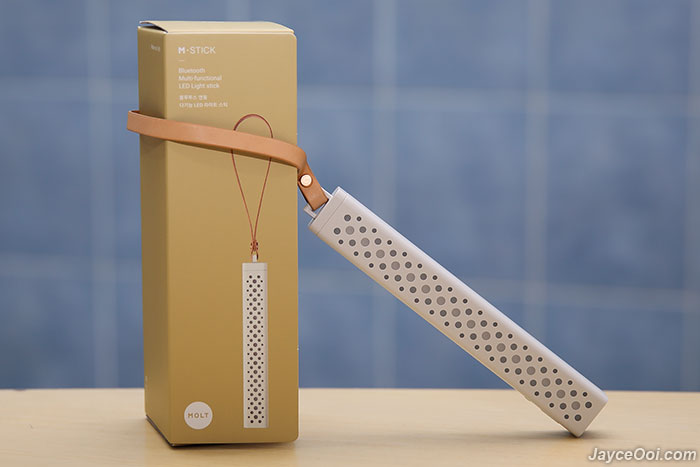 Package Content & Design
There are Mstick itself, leather hand strap, cable holder, 3 wall mounts and instruction manual in a classy packaging. Making it ideal gift for your loved ones. Besides, those accessories are very useful too. Strap for easy carrying and hanging. Wall mount with metal and 3m adhesive lets you attach Mstick on wall or any place that you prefer. Yes, both Mstick built-in magnet so you can easily attach it to wherever that is magnetic. The cable holder has built-in magnet too by the way.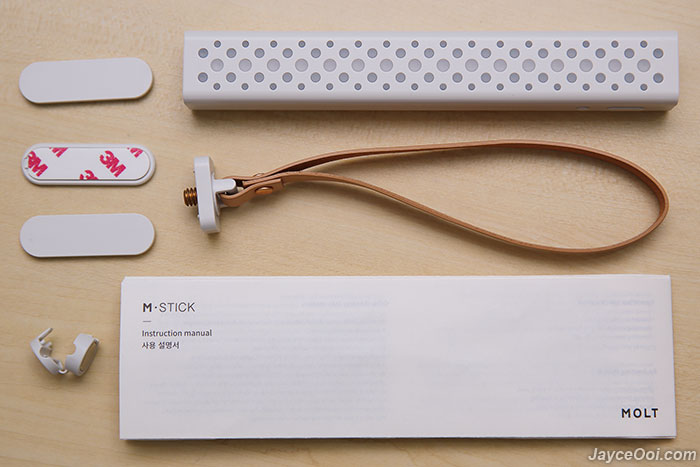 Mstick is simple yet beautiful. Build quality is top notch as sturdy plastic is being used here. And this make it light and durable to use. Let's have a closer look of its design. You can find 2 buttons on top. One for power with LED status (white for power on, blue when connected through Bluetooth and red means running low on battery). Another one is the animation button. Change animations modes like air display, solid light, angle sensor, alert light, rainbow, bike light and other more through it.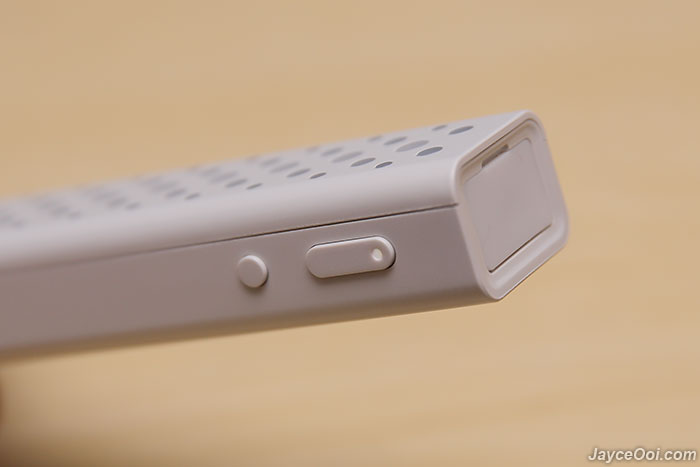 There is a cover that protect the micro USB port for charging there too. Just open it up for charging.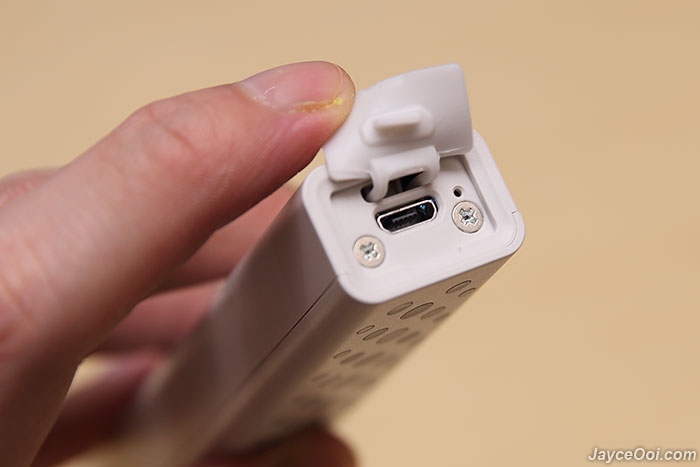 On the other side, there is a universal camera mount hole (0.25″). Yup, you can attach the leather hand strap there. Or attach any other compatible types of camera accessories that you have. Example, mini tripod. You name it…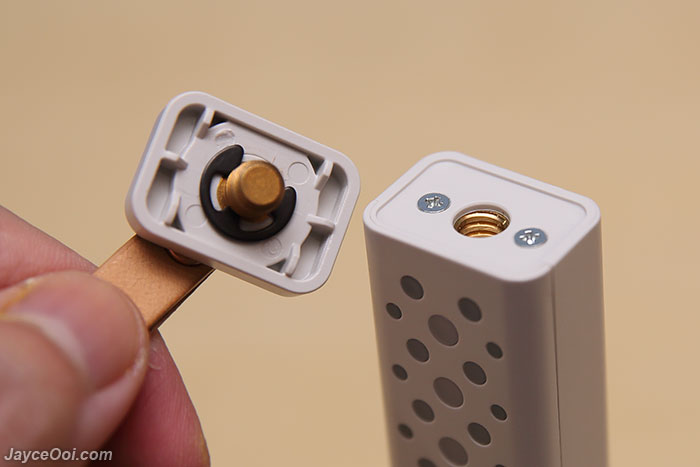 On the middle back of Mstick, you can find the built-in magnet there. Feel free to attach to any steel material. Or use the bundled wall mount to do so.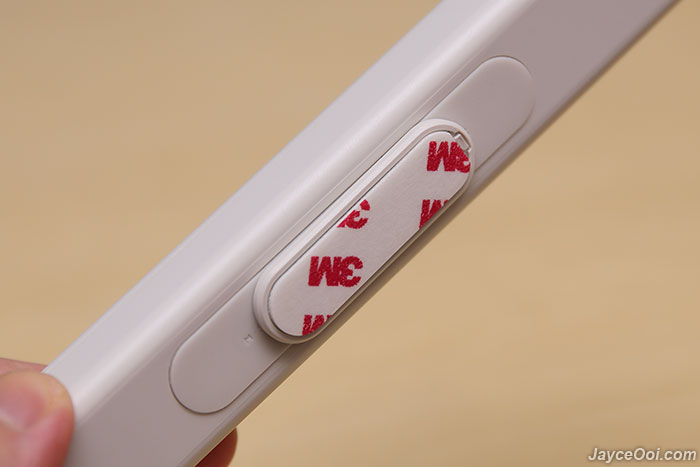 Finally, Mstick comes with following 3 colours – cream white, turquoise and midnight blue. Pick the one that suit you most. In addition, MOLT has bike and running mounts that not found in this package too. Perfect for biker and jogger to use during dawn or at night. Do check out MOLT Website for more information.
Software
You can start using 16 basic features of Mstick without installing any application on your smartphone. But you can further enhance its ability through application. Yes, unlock all modes like alarm, flash light (custom), mood lamp (custom & animation), bicycle (animation), air display (custom & theme), sound visual (animation) and selfie (animation). And others like weather forecasting, fitness timer and cook timer will be updated in future application revision. Yup, MOLT is working very hard on supporting this product. You can upgrade Mstick firmware through the app as well. The version 6 that I am using right now has better support and smoother animation. Look forward for more goodies from MOLT. Oh, you can check its battery life through the app too.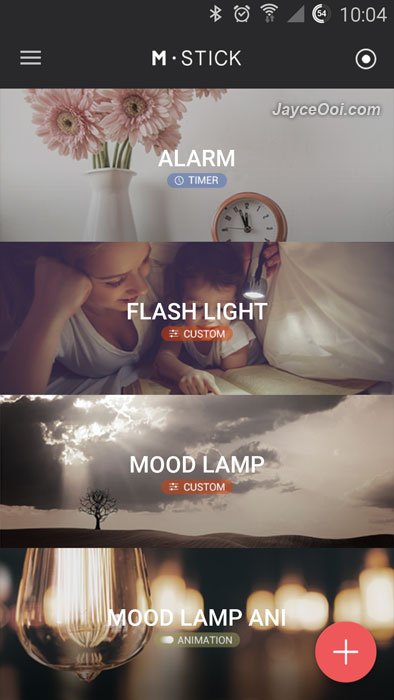 It is very easy to use Mstick app. Just select the mode that you want. Follow by the animation that you prefer. That's it.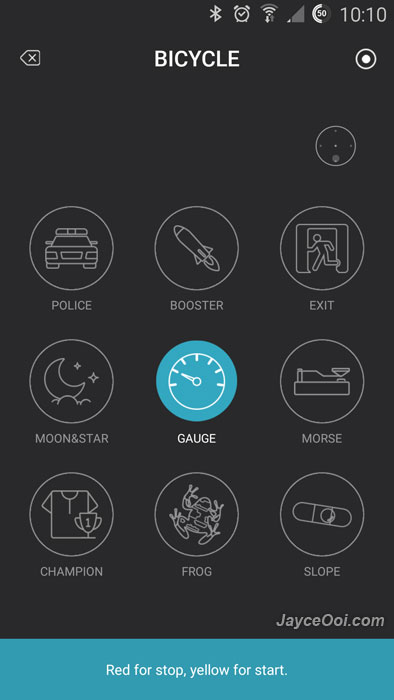 Do take note that some of the modes use G-sensor data to change the LED light effect. Example, Bicycle and air display modes. Be sure to play around with every each one of them to find out all the interesting and cool effects.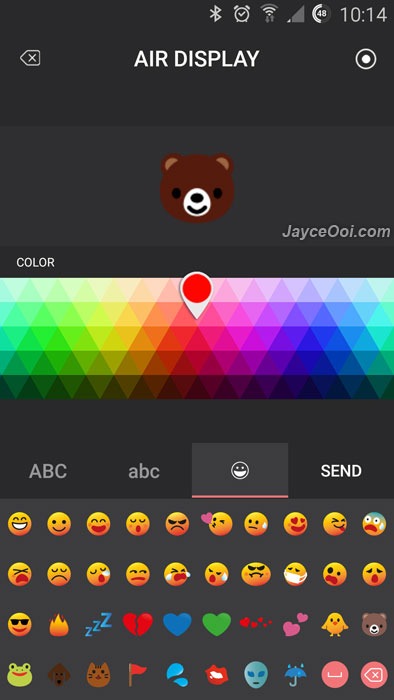 Performance Result
Mstick LED light is super bright. You can see those LED lights clearly even in daytime. People can't miss you when you use it in dark environment or at night. Words can't describe how well and nice does Mstick perform. Enjoy the video below to find out its beautiful and colourful LED light effects. The video covers bicycle mode that depends on G-sensor, sound visual mode which change effect based on music & sound and finally air display mode.
Lovely, right? And Battery life is great too. It lasted for at least 3 hours on fully usage here. More on light usage of course. Surely enough for your party, cycling and any other events. By the way, it takes around 3 hours to fully charge its 1800 mhA battery.
Advantages
Hey, it's fun to play
Amazing bright LED lights
Lightweight & portable
Mobile app supported
Excellent build quality
Great battery life
Limitations
Come on, help me think of its weakness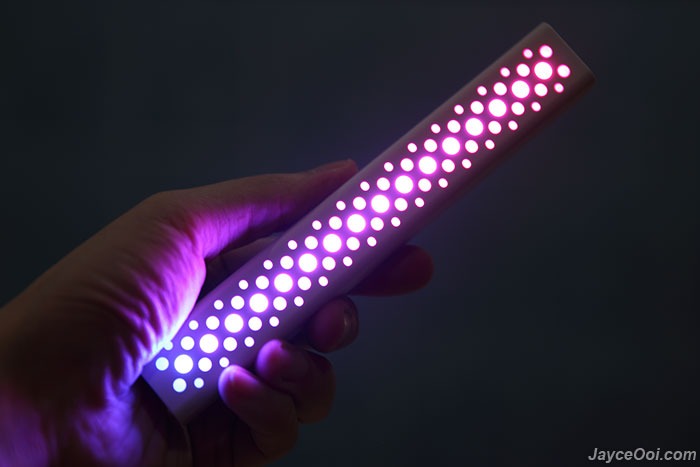 Conclusion
Mstick LED Light Stick is fun and useful no doubt. Highly recommended for all cyclers and joggers to improve your own visibility at dark environment. Great for concert and party. Of course, suitable for your daily tasks too. Can't wait for more features to be added in Mstick mobile application. Interested? More information can be found at MOLT Website. And get yours at Amazon.