Introduction
Hey guys, check out my latest gadget – SpotCam HD. If you think that it is just another IP camera, you are wrong then. Unlike normal IP camera which store videos at network video recorder (NVR), SD card, network attached storage (NAS) or a PC / server locally, SpotCam stores them on the Internet. Yes, it is a Wi-Fi video monitoring surveillance camera that store video at cloud server outside your house. It cut out the troublesome local NVR installation, and let you view live video and recorded video footage anytime, anyplace. Sound good? Let's find out…
Features
Easy setup – Setup and ready to go in a matter of seconds
Night vision – Automatic infrared LEDs to see clearly even in the dark
HD video quality – See the details with HD 720P video and a wide angle view
Real-time alert – Stay aware by receiving active motion or audio event alert via email or mobile APP from SpotCam
WiFi Connectivity – Hassle-free connection to the internet, power cord is the only thing you need to connect to SpotCam
Social networking – Share your SpotCam videos to people you like or even public on the air
Two-way audio – Built-in microphone and speaker to listen and talk to the SpotCam
Scheduling – Turn on and off SpotCam based on your weekly schedule
Cross-platform Viewing – View video in mobile or PC device with network connectivity
Bank-level security – Video streaming and storage are protected and transmitted securely with SSL encryption
Package Content & Design
There are SpotCam HD, wall mounting kit, 3m (10 ft) power cable, 12V 1A power adapter and quick start guide in the package. SpotCam HD has cylinder body shape made by sturdy hard plastic. Camera lens in the front with status LED below it and follow by microphone. Wi-Fi Mode switch and power port at the back. By the way, it can pivot forward and backward to suit your video recording angle. Mine come in as white colour and designed for indoor use. There is another version – SpotCam HD Pro which has the same specifications with addition IP65 protection level that designed for outdoor use, protection against dust ingress and water jets. And have operating temperature down to -10°C. That one is black in colour.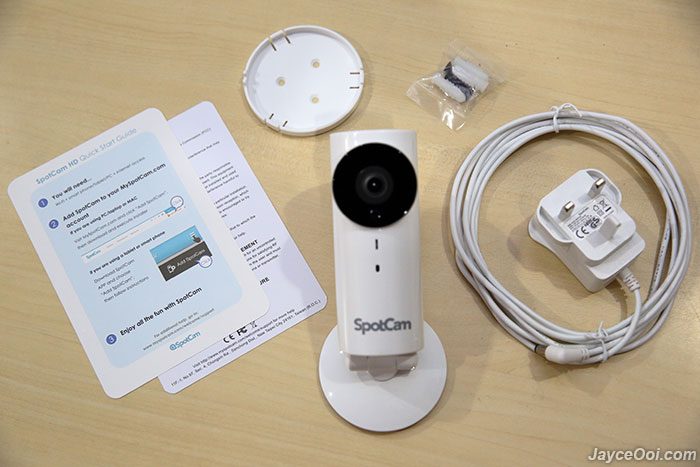 Specifications
Dimensions: Bracket Ф7.5cm (2.95″), Body Ф 4.8cm (1.89″) × 14.8cm (5.83″)
Weight: 198g (6.37oz)
Power Input: 12V1A
Video: Up to 720P HD (1280×720) at 30 frame/sec
Streaming: H.264 encoding
Field of View: 110 degrees (diagonal)
Audio: Speaker and microphone
Night Vision: 12 High-power IR LEDs
Warranty: One-year parts
Operating Temperature: 0°C – 50°C, designed for indoor use
Installation
The installation process is really simple – fast and easy. I took less than 10 minutes to do so. First of all, you need to sign up a SpotCam account and activate it. Then setup SpotCam Wi-Fi connection by following given instructions. You can setup it with PC or even Android, iOS devices. Switch Wi-Fi Mode from AP to Client. That's all. By the way, your PC needs to have Wi-Fi card because it need to be connected to SpotCam wireless for password setup. After that, you can place it on desk, wall or even ceiling to record the video that you want to monitor. 3m long power cable is helpful here. Before I forget, my SpotCam was getting OTA firmware update right after everything was setup. Bugs fixes and enhancements are being pushed through that. Good job…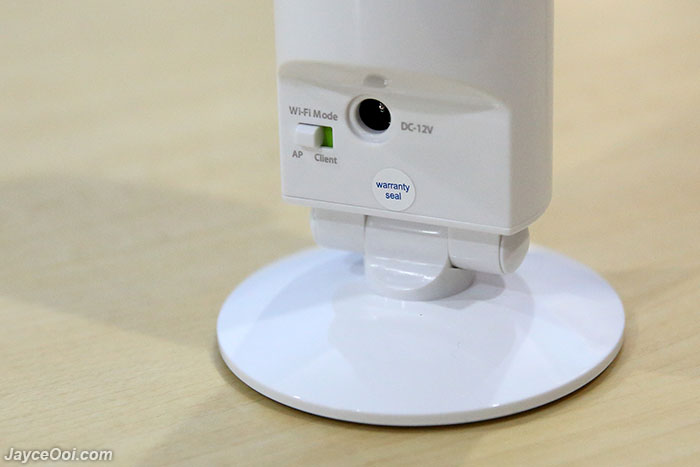 Performance Result
SpotCam video quality is great for a HD IP camera. Sharp and clear as per screenshot below taken from recorded video footage. Yup, that's me in the picture. Even in a lot of stuffs / complex scene, SpotCam manages to capture words clearly like i-CITY, KELUAR and Watikah Cinta – Hakim Fara in the banner. Besides, viewing angle is wide enough to cover all the shop. Feel free to check out the actual video footage from other SpotCam owners that have chosen to share with public here. No worry, recorded videos are set private by default. Only you and invited person (shared by you) can view them.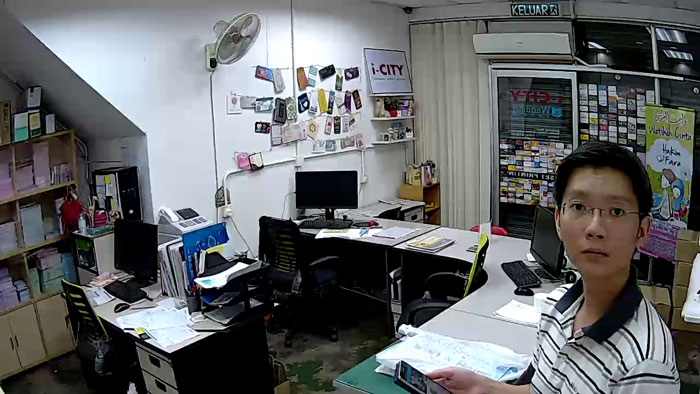 Live video feed is responsive too. Mobile version is almost sync in real time. However, some time it will delay 2 to 3 seconds on web version. This is highly depended on your Internet connection (at least 500Kbps uploading bandwidth is required and 1Mbps if possible). By the way, night view video quality is good as well. Thanks to 12 high-power infrared LEDs. You can see the picture clearly even in pitch black.
Yes, there is real time alert on active motion or audio event via email and SpotCam mobile application for both iOS and Android. Alert can be sent when SpotCam is offline (turn off by other purposely) as well. All of them can be configured in event settings. Set the motion and sound sensitivity level when to trigger alert. You can also mark the area to be ignored by motion sensor. So that it won't trigger alert if there are movement over there. By the way, you can receive this alert anywhere, anytime as long as you are connected to Internet. Two-way audio is a very convenient feature. You can talk to others with built-in microphone and speaker to listen. By the way, I do notice there is static noise coming from speaker. No idea why…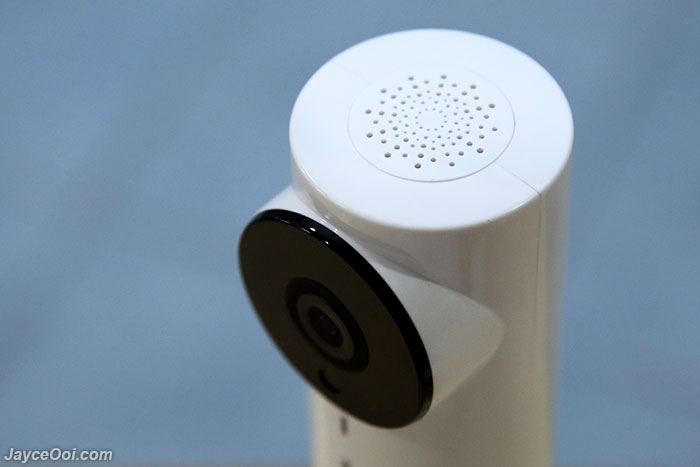 There are 2 ways to access SpotCam video – via web browser like Internet Explorer / Edge, Firefox, Safari and Chrome with Adobe Flash or mobile devices like iPhone, iPad, iPod Touch and Android smartphone or tablet. Personally, I prefer to use web browser as I can get bigger picture while at home. And mobile application while on the go. Both of them perform the same as almost all the features and functions are there. Just mobile app does not have make film and view them back ability. Hopefully, it will be added in the near future. By the way, I do face freeze and force closed issue on SpotCam Android application once in a while.
Okay, here is the best part of SpotCam. It stores everything on the Internet and not locally. Therefore, even there is a thief broke into your house and steal everything including your SpotCam, you still have the recorded video footage at cloud server. All the videos will be gone too if you used normal IP Cam that store in SD card and NAS. Yes, your NAS was stolen too. There is nothing you can do, right? However, SpotCam records everything and store them on cloud server until Internet connection is cut off. You still have the recorded videos even SpotCam was stolen. Yup, everything is stored in MySpotCam.com cloud server. And the 1-day recording is free forever. They will keep the last 24 hours video and delete those over. Or you can upgrade to extend recording period to 3 days, 7 days and up to 30 days plans with small amount of fee. By the way, you can make film footage from stored video. They are stored forever and can save up to 3 hours video in total. Besides normal video, you can make time-lapse video too. They can be downloaded to free up the 3 hours disk space, isn't that great?
Advantages
Video streaming & cloud storage with SSL encryption
24 hours recording for free forever
Sharp & clear HD 720P video
Easy installation
Real-time alert
Limitations
Mobile application freeze & crash once in a while
Static noise from speaker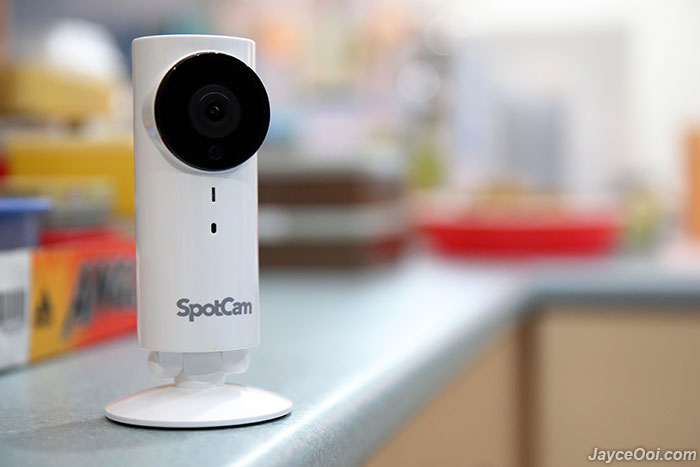 Conclusion
With 1-day recording for free forever, SpotCam HD is one of the cloud IP cameras that you should consider. Sharp and clear video quality with cross-platform support. In addition, video streaming and cloud storage are protected with SSL encryption. I love the easy installation and no maintenance is needed after that. Feel free to get more information at SpotCam website or buy yours here.