Introduction
Yes, I can enjoy real stereo sound from my wireless speakers now. Most of the portable Bluetooth speaker has both right and left channel close to each other. Therefore, you can't really enjoy the stereo effect. However, this is not the case for Taco Dual Wireless Bluetooth Speakers by iDeaUSA that I have. Why? It has 2 individual Taco speakers that let you place far enough to experience the actual stereo sound effect. Yup, they are Bluetooth 4.1 with NFC support speakers and come with affordable price tag. How good is Taco Dual sound quality? Read on to find out…
Specifications
Power source: DC 5V/500mA
Battery capacity: 1400mAh
Audio drivers: 2 x 40mm 3W (RMS), 2 x 45mm passive radiator
Frequency: 80Hz-20000Hz
S/N Ratio: ≥80dB
Audio input: 3.5mm Aux line-in
Wireless: Bluetooth 4.1 up to 10 meters with NFC
Dimension: 2.48 x 8.27 x 2.56 in
Weight: 0.66lb
Warranty: 1 year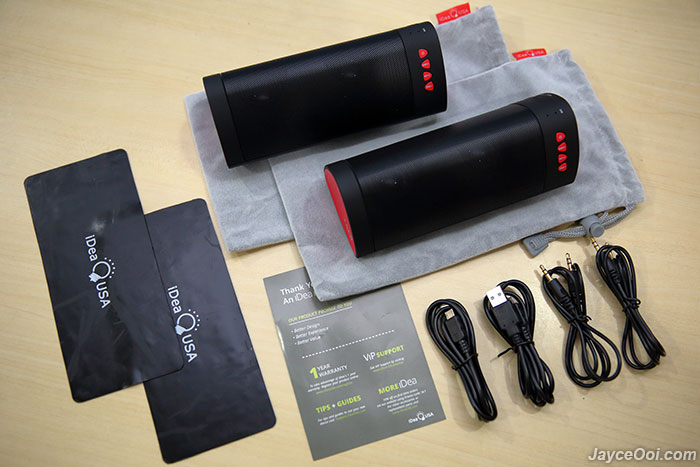 Package Content & Design
There are Taco Dual stereo speaker, protective cap bag, anti-skid pad, USB cable, audio cable in the package. All of them come in 2, yes double the fun. There is user guide and warranty card too. Taco Dual has triangle shape design. It is light and its durable shell will protect the device from roughly use. All the control buttons and inputs are located on the right side of the speaker while NFC tag on the left. There are 4 tiny anti-skid rubbers to provide stability at the bottom. You can use provided anti-skid pad to help too. Finally, the nice soft protective bag will ease you to carry them around freely.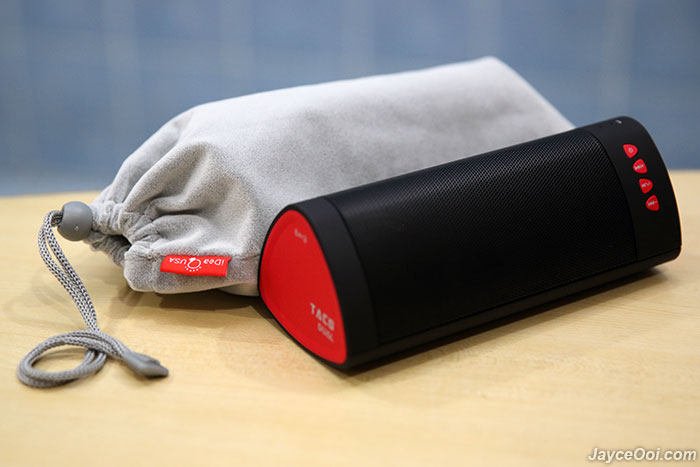 Performance Result
Wow, pairing Taco Dual speaker is so easy thanks to NFC support. Yup, just one touch from NFC enabled device and it will get connected. And pairing both Taco Dual speakers is simple as well. They work great on all my Windows, Android and iOS devices no matter phone, tablet, laptop or PC. 3.5mm AUX line-in is supported for older devices without Bluetooth. Wow… Its Bluetooth coverage is great. Easily exceed the standard 10m Bluetooth range in straight line and up to 7m with obstacles. Finally, the left and right channel speakers can be distanced up to 3m to enjoy the stereo effect.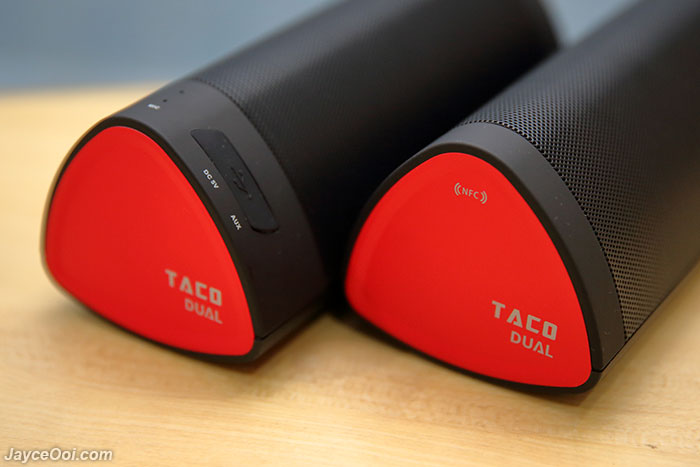 2 days of non-stop music playing. Yup, that's what I get from its 1400mAh battery life. Of course, sound volume does affect battery life performance here. My testing was done with average room sound level (not outdoor loud party level). I waited for so long for the caution tone that will be emitted every 30 seconds when battery is low. By the way, the left channel speaker ran out of battery first as it need to communicate with your Bluetooth device and right channel speaker. Right channel speaker can continue to play up to 6 hours then. Finally, it take 2.5 hours to fully charge. Wow… That's fast.
Speakerphone is supported for conference call in a small group. Or you can use it as hand free mode. Phone call quality is good. I can hear other's voice loud and clear. As usual, you need to get close to the mic in order to let other hears you clearly. But this is expected for speakerphone's mic. The softer the voice when you are far away from mic.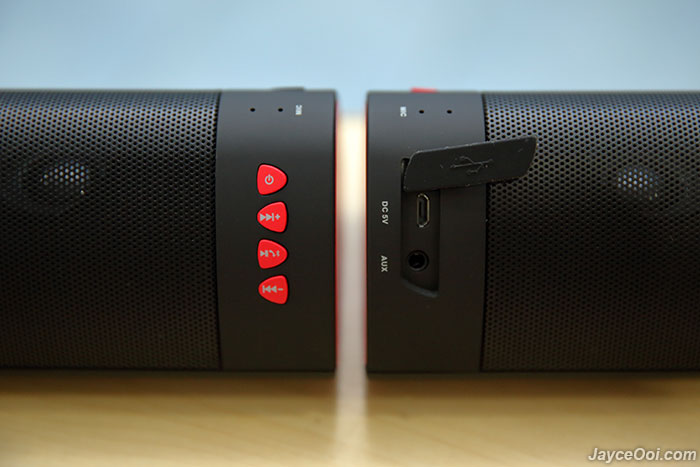 Fantastic audio quality… Yes, that's what you will get from Taco Dual stereo speakers. You can enjoy wonderful audio clarity and nice bass with these budget wireless speakers. It is perfect for mini party and event no matter indoor or outdoor. A nice addition to your smartphone and tablet as it will definitely level up the sound quality and enjoyment. You can place them horizontally or vertically depend on your preference. Personally, I prefer to have them vertically to save some space. By the way, there is slightly distortion at maximum volume some time (depend on your audio source sound level). Not an issue because it is too loud for indoor at that level. Finally, you can let 2 people use Taco Dual speaker separately at the same time. Yes, it still can be used as 1 speaker mode but you will miss out the wide stereo effect then.
Any issue? Yes, right channel speaker was cut off / disconnected some time. Therefore, you will have left channel speaker output only. I have to power off both of them and re-connect back. Not a deal breaker because I only faced it 3 times during weeks of testing.
Advantages
Crisp & clear sound quality
Nice bass
Excellent battery life
Speakerphone ability
One touch NFC pairing
1 speaker mode support
Lightweight & portable
Limitations
Distortion at max volume
Disconnected right channel some time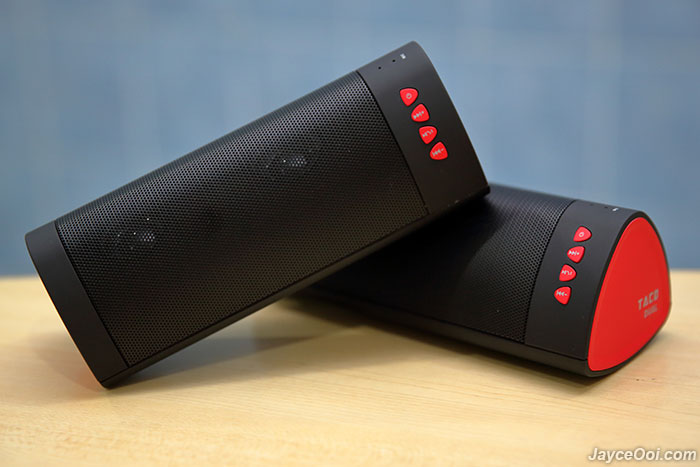 Conclusion
Taco Dual is a must have budget stereo wireless speakers for your smartphone and tablet. They provide fantastic stereo effect with nice bass. Extremely long battery life for your entertainment. And easy to carry around with its protective bag. With this price range, you can't go wrong with it. Get yours here now.