Introduction
Hey guys, check out my fastest and ultra portable SSD – Transcend ESD220C. Yes, it's a credit-card size SSD that fits perfectly in a wallet. Perfect choice for business people who need to take important files on their many travels. It is using SuperSpeed USB 3.1 Gen 1 interface with UASP support and built-in SLC caching technology. Able to achieve exceptional transfer speeds of up to 410MB/s read and 400MB/s write. Does ESD220C really that fast? Let's find out together…
Special Thanks
This review is possible thanks to below companies. Be sure to check them out too…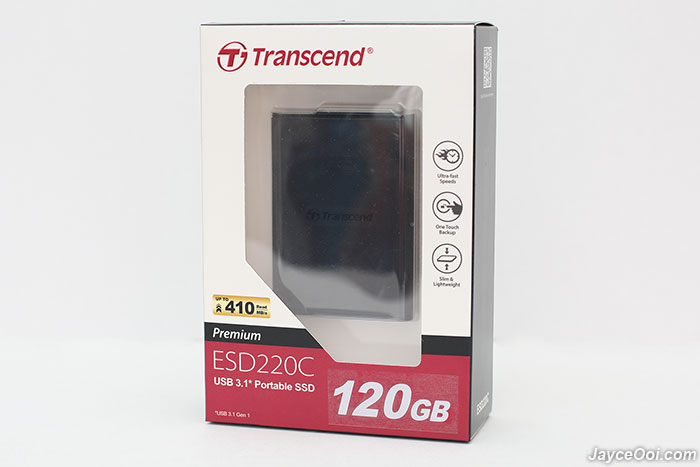 Package Content & Design
Just like other Transcend's products, ESD220C comes in a well-protected packaging too. Besides ESD220C, there are USB 3.1 Gen 1 to USB Type-A cable, quick start guide, warranty card and product brochures.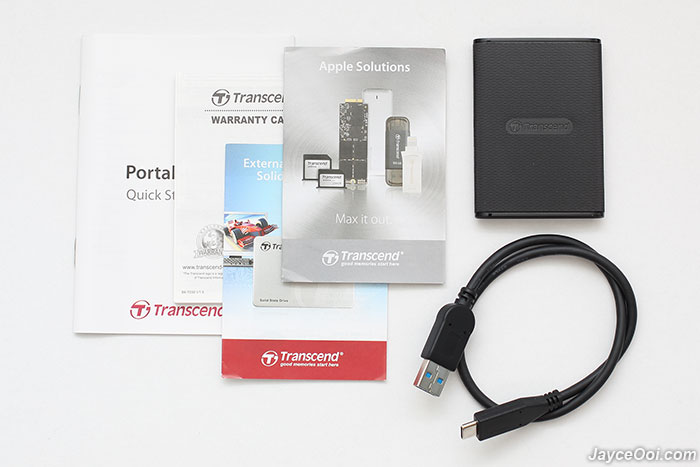 Build quality is excellent thanks to solid plastics housing. Furthermore, the reflective black case has anti-scratch coating that last long and stylish. Overall, it is compact in size and lightweight. Slim enough to fit it into your wallet while on the go.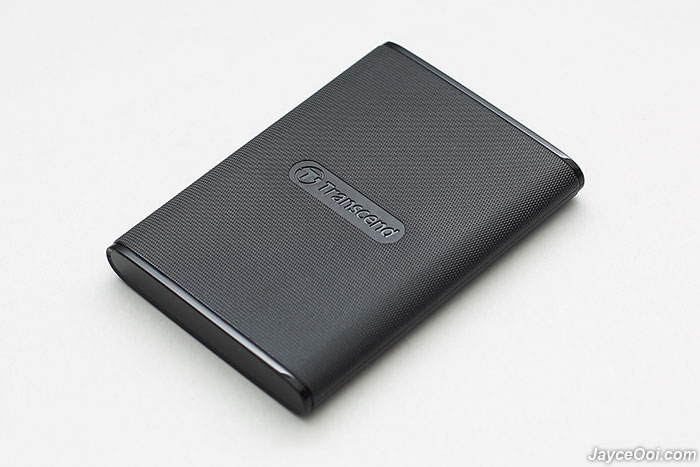 Alright, here are the one-touch-backup button and USB 3.1 Gen 1 port. Note – it needs free Transcend Elite software to backup.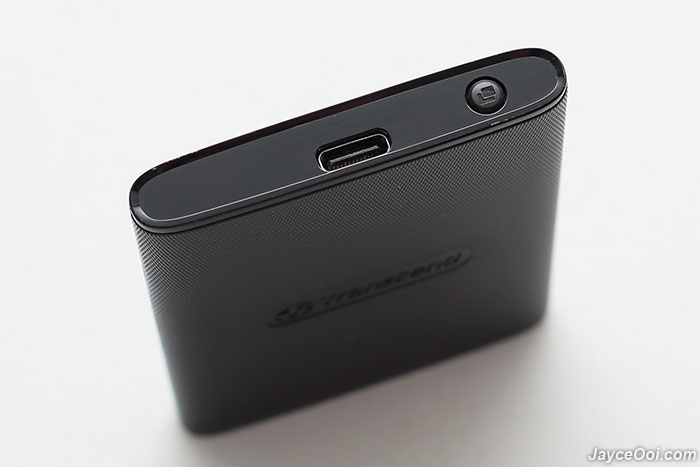 The back is getting the same treatment as the front.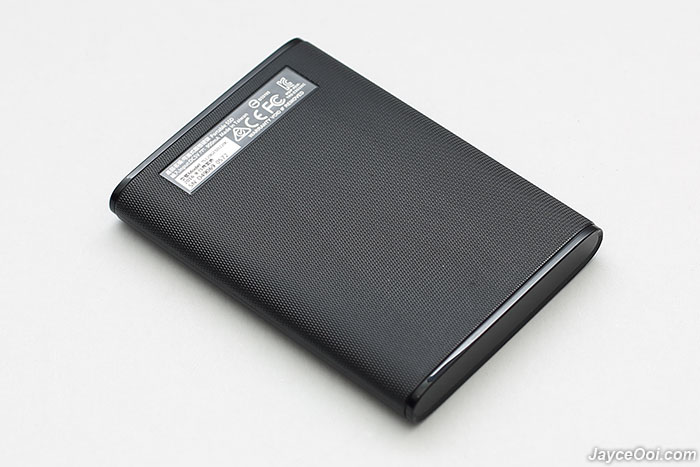 Software
There are several bundled software that you can use with this SSD. Transcend SSD Scope is one of them. And it is an advanced and user-friendly software that makes it easier than ever to maintain a healthy and efficient SSD. You can use it to view drive information, S.M.A.R.T. status, diagnostic scan, secure erase, firmware update, TRIM enable, health indicator and system clone. Built-in benchmark tool is included to test SSD speed performance. And the wear out indicator will keep you informed about the SSD life span.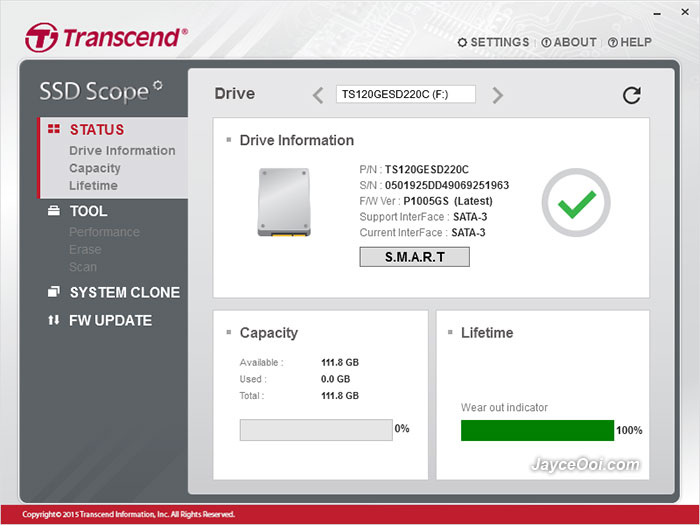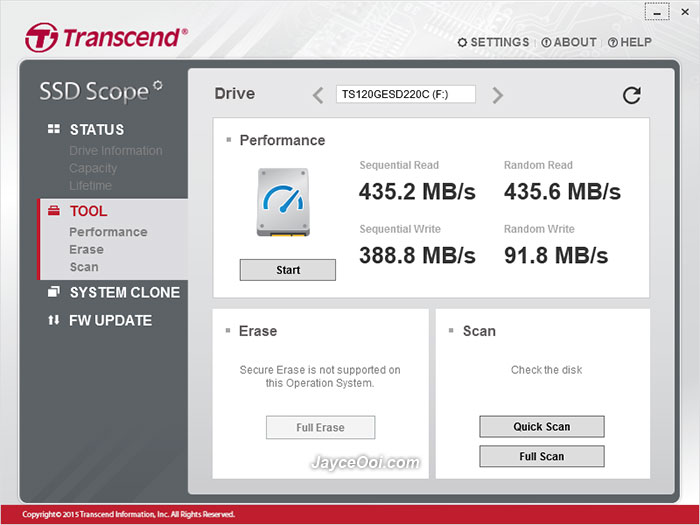 Another tool is Transcend Elite for data management. This software allows important files stored on your Transcend storage devices to be kept organized, protected and up-to-date, making you more productive. There is lock and unlock the entire portable solid state drive function but I can't find way to enable it on my ESD220C. No idea why…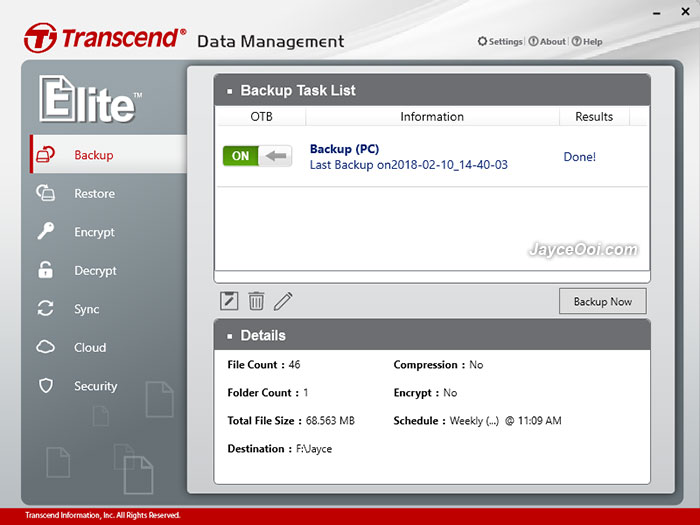 Performance Result
Transcend ESD220C comes in 3 capacities – 120GB, 240GB and 480GB. And solid-state drive is always the best choice for mobile devices like laptop / smartphone due to shock and vibration-resistant support compare to normal mechanical HDD. Furthermore, it has much faster access time and transfer rate all thanks to USB Attached SCSI Protocol and built-in SLC caching technology. Workable on desktop PC and can be used with mobile devices with OTG support too. How does Transcend ESD220C SSD perform? Check out below synthetic benchmark results based on the 120GB model.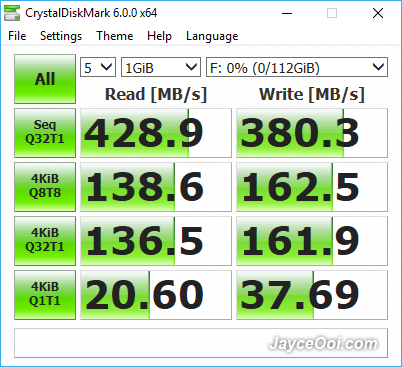 ESD220C performs excellent on CrystalDiskMark sequential Q32T1 test with 428 MB/s read and 380 MB/s write. 4K results are good too.
ATTO Disk Benchmark is getting better result for both read and write tests. Much better reading speed than specs but still 10 MB/s shy on writing.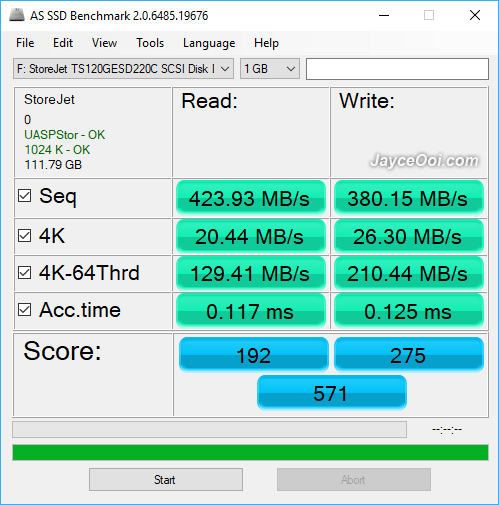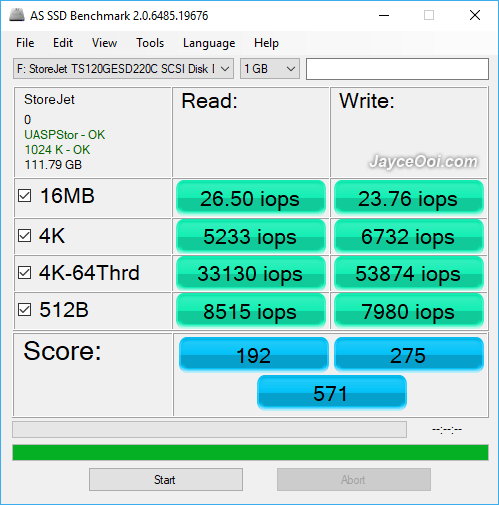 AS SSD Benchmark has pretty much the same result as CrystalDiskMark. You can refer IOPS and access time scores here.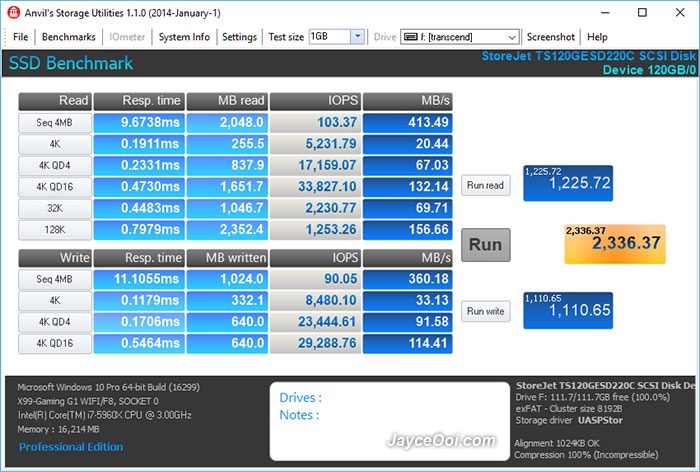 Lastly, Anvil's Storage Utilities has everything that you need to know from response time to IOPS. And it also provide the system information that been used for this benchmark.
Everything is working perfectly on Transcend ESD220C until this test. Writing speed into SSD is limited to 65 MB/s from 389 MB/s once cache memory is running out. This will happen when you transfer more than 3GB of data. Do take note…
Advantages
Up to 449MB/s read & 389MB/s write
Ultra portable, lightweight & compact in size
Shock & vibration-resistant
Excellent build quality
3 years warranty
Limitations
Slow large file writing when cache is filled
Conclusion
Transcend ESD220C is a slim, compact and lightweight portable SSD no doubt. Enjoy ultra fast transfer rate on both reading and writing. Worry free with 3 years warranty. Sound great? Do visit Transcend Website for more information now. And buy yours at Amazon.