Introduction
Hurrah, all my PCs at home and office are loaded with SSD. SSD is getting affordable each day. And I can't find any reason not to use it as SSD is much faster than normal HDD. Yes, you get better and faster Windows boot up and applications loading, file transferring. Lower power consumption as well which great for mobile devices like laptop. Furthermore, much longer life span with better endurance and reliability. Yup, that's what 256GB Transcend SSD230S SSD can do. Interested? Read on then…
Special Thanks
This review is possible thanks to below companies. Be sure to check them out too…
Features
3D expansion to break through limits
Transfer speed, transfer performance
Endurance. Reliability.
Save power, save time
Take control with SSD Scope
Ultra-slim, ultra-portable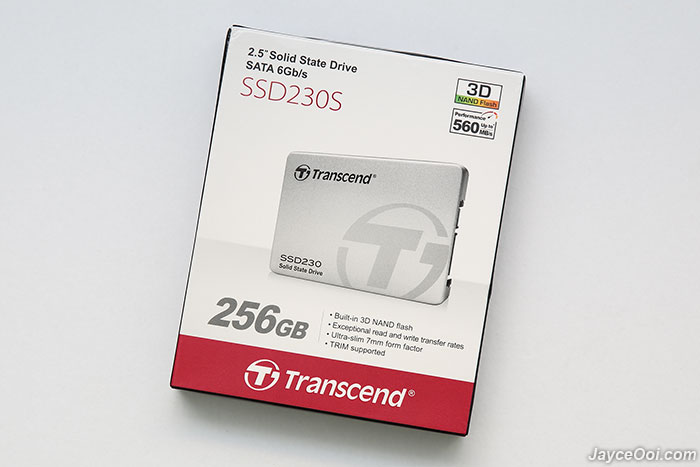 Package Content & Design
Transcend SSD230S SSD comes in a well-protected packaging. No worry about SSD230 itself as it is loaded with tough and slightly glossy metal housing. Top notch build quality is what you can expected. Besides SSD, there are 4 screws, quick installation guide, product brochures and warranty card.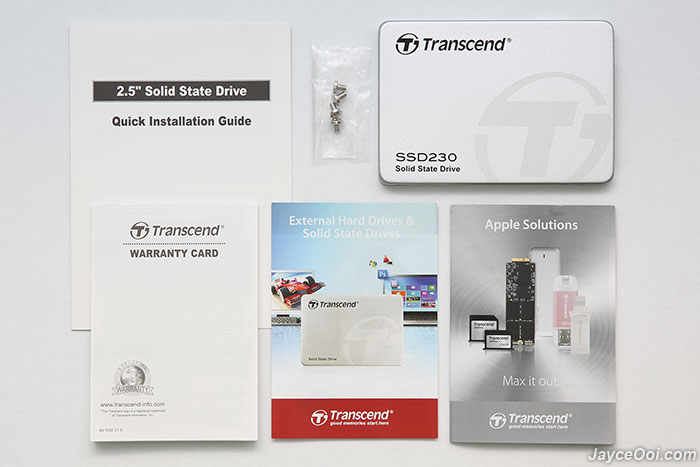 There are lot of capacity for you to choose – from 128GB to 1TB. By the way, SSD230 series is using latest 3D TLC NAND flash memory technology that can deliver a greater level of performance and endurance. Worry free with 3 years warranty loaded.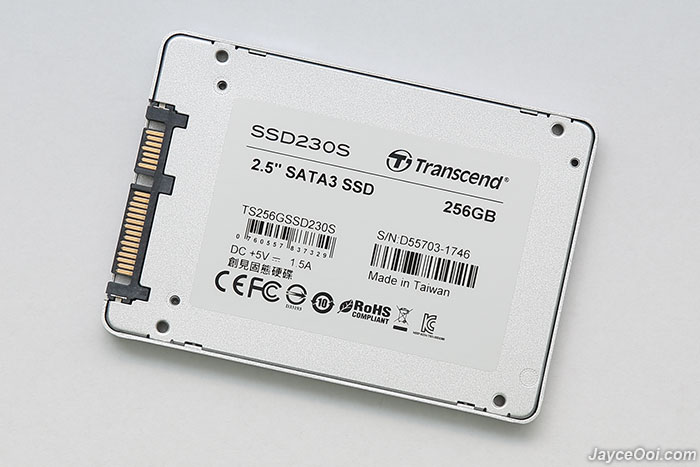 Specifications
Capacity: 128GB, 256GB, 512GB, 1TB
Dimensions: 100mm × 69.85mm × 6.8mm (3.94″ x 2.75″ x 0.28″)
Weight (max.): 63g (2.22oz)
Storage Media: 3D TLC NAND flash memory
Operating Voltage: DC 5V
Operating Temperature: 0°C (32°F) to 70°C (158°F)
Performance: Read up to 560MB/s; Write up to 520MB/s
Certificates: CE, FCC, BSMI
Warranty: Three-year Limited Warranty
Software
Transcend SSD Scope is an advanced and user-friendly software that makes it easier than ever to maintain a healthy and efficient SSD. You can use it to view drive information, S.M.A.R.T. status, diagnostic scan, secure erase, firmware update, TRIM enable, health indicator and system clone. It even has built-in benchmark tool to test your SSD speed performance. And the wear out indicator will keep you informed about the SSD life span.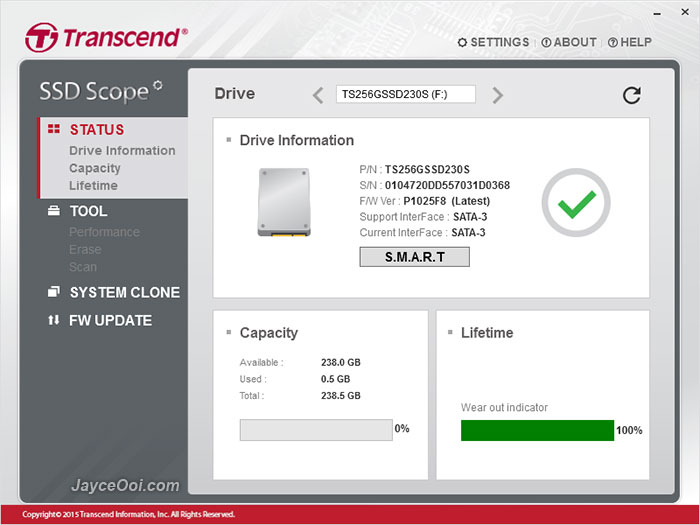 Yup, monitor your SSD's health status with S.M.A.R.T. technology. Enable the TRIM command for optimum write speeds. Keep your SSD's firmware up-to-date and migrate data from your original drive to a new SSD with just a few clicks.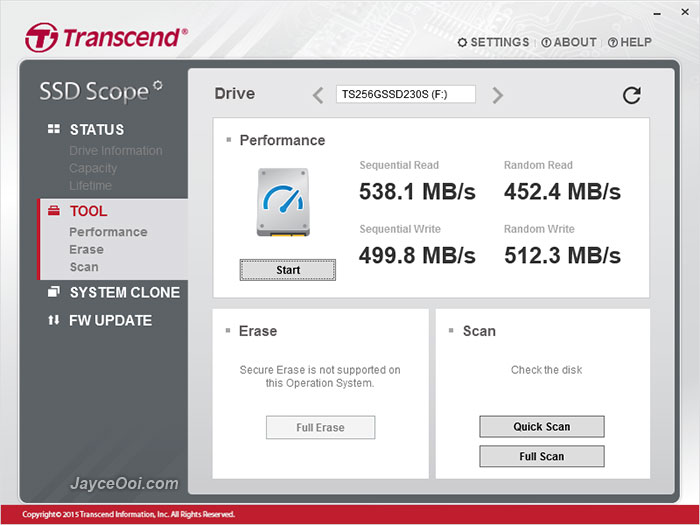 Performance Result
I always mentions that solid-state drive is the best choice for mobile devices like laptop due to shock and vibration-resistant support. In addition, it uses lesser power than HDD as well. Transcend SSD230S is able to do so. And it is equipped with a DDR3 DRAM cache that provides an incredible 4K random read and write performance. Surely speed up Windows boot time and application loading no doubt. Let's have a look on the synthetic benchmark results now.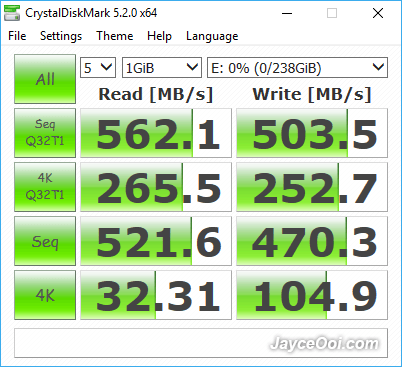 Transcend SSD230 performs very well on CrystalDiskMark sequential Q32T1 test with 562 MB/s read and 503 MB/s write. Writing speed is a bit shy from specs maybe due to my Intel X99 chipset here. Anyway, it is still very fast with more than 500 MB/s.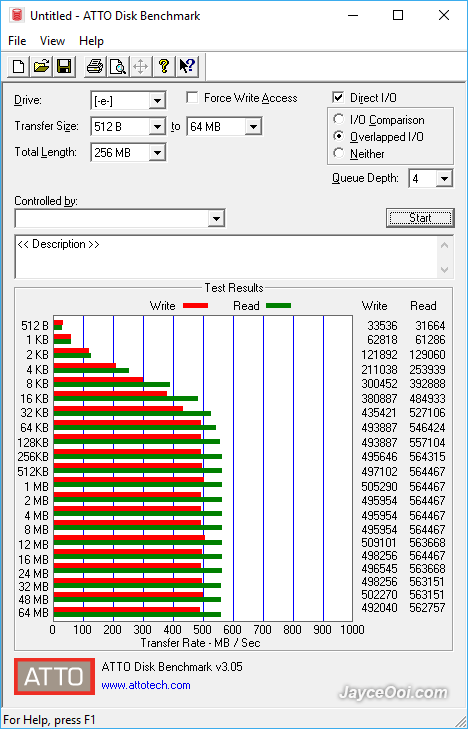 ATTO Disk Benchmark is getting the same result for both read and write tests like CrystalDiskMark.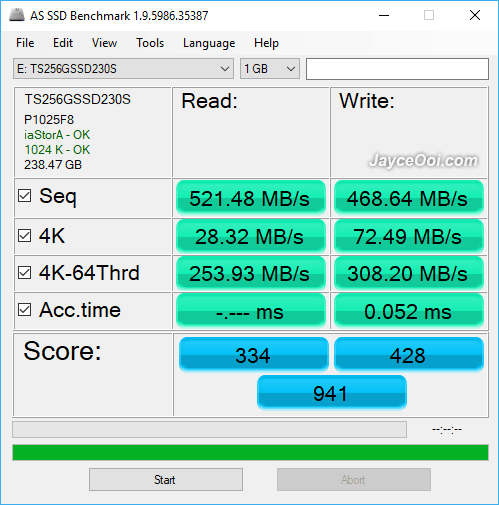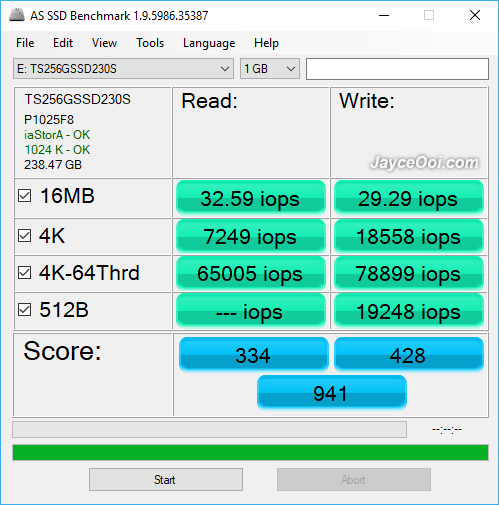 As usual, AS SSD Benchmark has slower reading speed compare to previous benchmarks as expected. Standard with all my other SSD reviews. You can refer IOPS and access time scores here.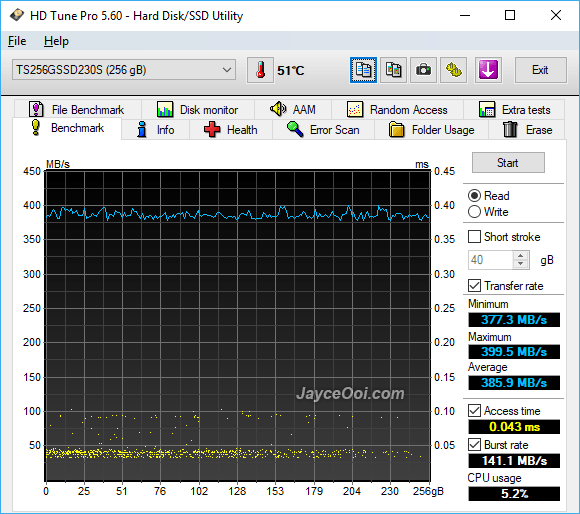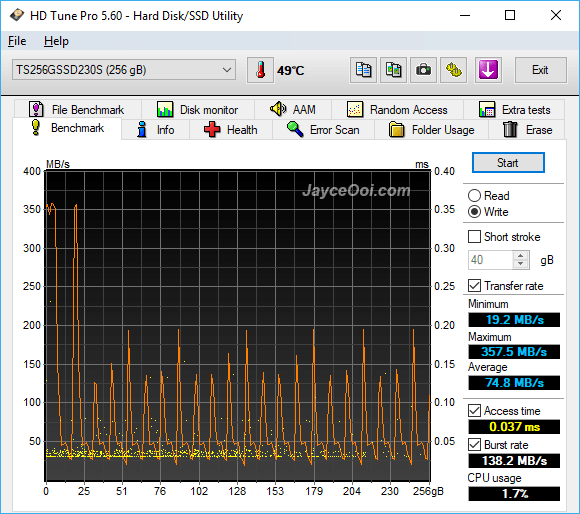 HD Tune Pro gives you the idea on how the drive perform in actual environment with its cache. Yes, drive without enough SSD caching write buffer can be detected through it. However, Transcend SSD230S writing performance does not seem to be correct in this test. Why? Because it manages to continue writing at 420 MB/s on file with 40GB in size. The controller is powerful and fast enough to do so. Well done, Transcend.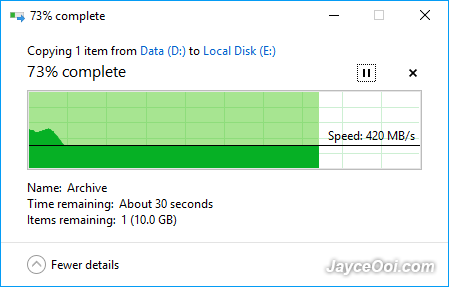 Anvil's Storage Utilities has everything that you need to know from response time to IOPS. And it also provide the system information that been used for this benchmark. Again, results are align to other benchmarks here.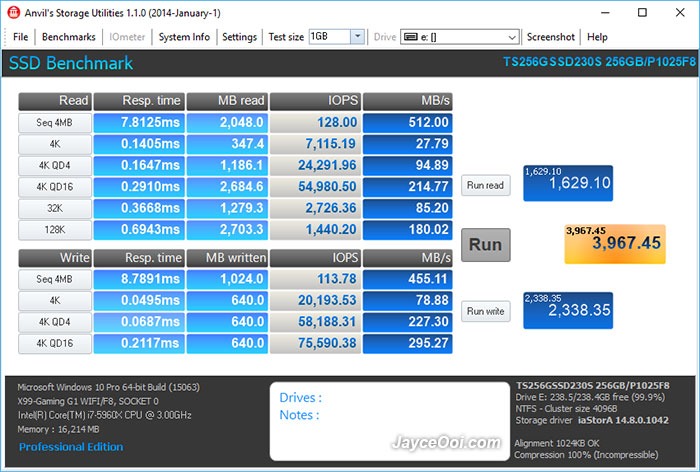 Transcend SSD230S is almost 15X faster than 7200RPM hard drive in PCMark 8 storage bandwidth test. FYI, my 3TB HDD scores 11.20MB/s only while Transcend SSD230S is getting 150MB/s here. By the way, HDD takes around 3 hours+ to finish this PCMark 8 test. And SSD230S takes around 1 hour only. How much time you can save by using SSD? You tell me…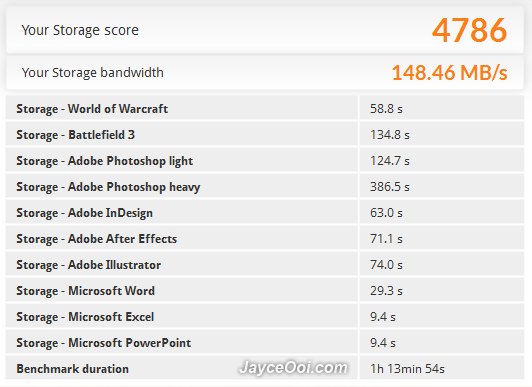 Advantages
Up to 562MB/s read & 503MB/s write
Shock & vibration-resistant
Excellent build quality
3 years warranty
Value in price
Limitations
Conclusion
Still using HDD? It's time to upgrade to SSD now. Give Transcend SSD230S a try and you will like it as I do. Enjoy faster transfer rate on both reading and writing. Shorter Windows and application loading time. Worry free with 3 years warranty. Interested? Head for Transcend Website for more information now.