Introduction
Looking for a wireless mouse that work on Windows, Mac OS and Android for travel? Check out Xiaomi Portable Mouse that I got from GearBest. It is a mini mouse that loaded with dual wireless connectivity – Bluetooth 4.0 and RF 2.4GHz through USB receiver. Perfect companion for laptop, tablet and even smartphone on the go, right? Let's this review tells you then…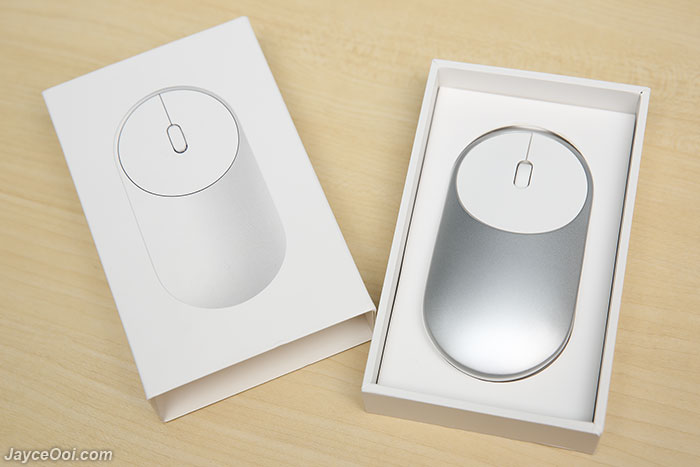 Package Content & Design
Xiaomi Portable Mouse (or Mi Mouse for short) comes well protected in a simple package. There is Mi Mouse and user manual (in Chinese). Great if you can read it but not a deal breaker if can't. Most of us don't need it in order to use a mouse. Just plug in USB receiver to PC / Mac and power on Mi Mouse will do. The top button with LED light indicator will turn green on 2.4GHz mode and blue for Bluetooth. In order to pair with your devices through Bluetooth, you need to long press the top button for few seconds until blue light flashes. Then look for MiMouse on your device and pair it will do. That's it. Simple, right?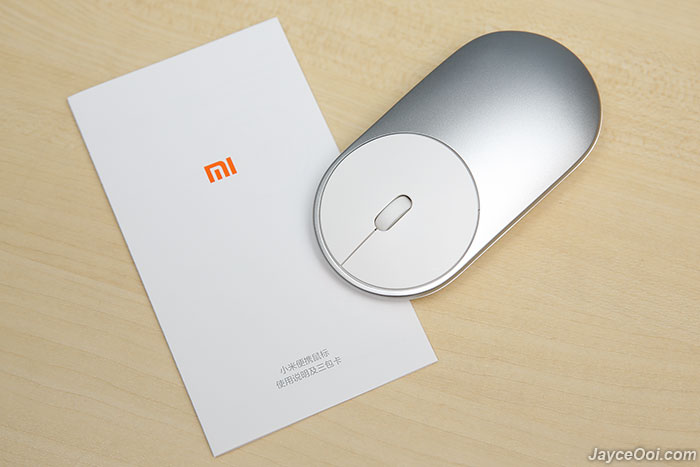 Mi Mouse build quality is top notch thanks to aluminium alloy shell and solid ABS body. For your info, the metal surface is using the same manufacturing process as MacBook. Nice looking yet provide the best quality. Premium product from Xiaomi no doubt. As for design, it is a small profile and light in weight mini mouse. You have 2 mouse buttons and stroll wheel here only. Stroll wheel can acts as third button too. The slim profile makes it easier to store in bag and even your shirt pocket.
At the bottom, you can find the optical sensor and 2 glide pads. The optical sensor is almost in the middle which is good. You can find the power switch just right above it follow by the wireless mode button. After opened the battery cover, you and find 2 AAA batteries (which included) and nano USB receiver. That's all. Do refer to all the photos to know more about it.
Performance Result
Being a wireless mouse, the connection is very important. Xiaomi Portable Mouse passes this test with flying colours in both Bluetooth and 2.4GHz. Easily exceeds 10m in straight sight line with no obstacle. Can go more than 20m in fact. Yes, that's the result for both wireless modes. 100% no problem to cover your big living room with TV and sofa at each corner. And definitely not an issue at all on notebook, tablet and PC that close to you. Furthermore, it is responsive and I did not notice any slowdown as wireless mouse.
Second thing to check – battery life. Well, I am not able to tell you the exact performance result as my included batteries still working until now on casual usage. Guess that power saving mode is helping a lot here. Yup, it will automatically enter sleep mode to save power after few minutes of inactivity. In addition, I am not worry about it much because I can swap battery easily with a new ones when battery ran out.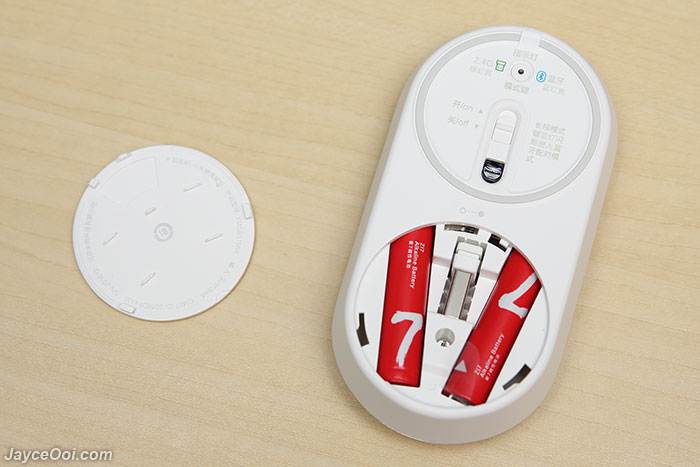 It's super easy to use Mi Mouse. Just plug the USB receiver to PC and you can start to use it then. No addition driver installation is needed. Furthermore, you can connect and swap between 2 devices easily too. For example, you can use 2.4GHz RF through USB receiver on laptop and Bluetooth on tablet. Switch between them with just a single click of the mode button. Perfect for businessmen that need multi-tasking on 2 devices simultaneously.
Mi Mouse works great as a fingertip grip mouse. And suitable for both right and left-handed users. However, it might requires some time for users including me as a palm grip user to adapt to it. Optical sensor with default 1200 DPI performance is great. Mouse pointer movement is fast and accurate. Buttons are responsive and feedback is good too. And the scroll wheel work very well on web browsing. In addition, it works on multiple surfaces including slightly shinny and reflective ones.
Advantages
Dual Bluetooth 4.0 & 2.4GHz
Decent optical performance
Support both hands
Excellent build quality
Ultra-portable
Stylish slim design
Limitations
Learning curve to use it is needed (for non-fingertip grip user)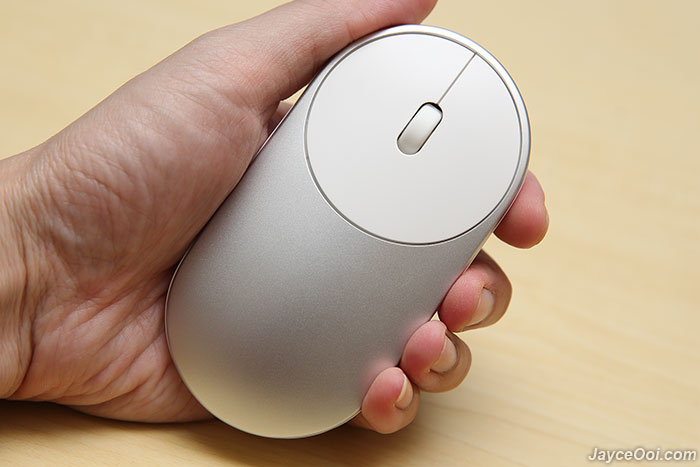 Conclusion
Xiaomi Portable Mouse is the perfect companion for laptop. Super easy to keep and carry around. And I do use it with TV box occasionally as air mouse replacement too. More details and specs can be found at GearBest Website. And buy yours there.