Introduction
I always wanted to try out the latest Samsung EVO Plus U3 micro SD card. Yup, that the year 2017 model. It has much better reading and writing compare to previous generation. Both 128GB and 256GB models have ultra-fast read and write speeds up to 100 MB/s and 90MB/s. So I took the 128GB model for best value and performance ratio. Does it really that great? Read this review to find out…
Special Thanks
This review is possible thanks to below companies. Be sure to check them out too…
Package Content & Design
As usual, my 128GB Samsung EVO Plus (2017 model) MB-MC128GA/AM microSD card is from GearBest, China. As long as you get it from genuine Samsung store, you are okay. Be sure to get the latest 2017 model with Plus wording like mine not the + sign (older model). By the way, there are other capacities to choose – 256GB, 128GB, 64GB and 32GB. Do take note that 64GB and 32GB models have slower writing speed. 128GB model is the best performance / value among all.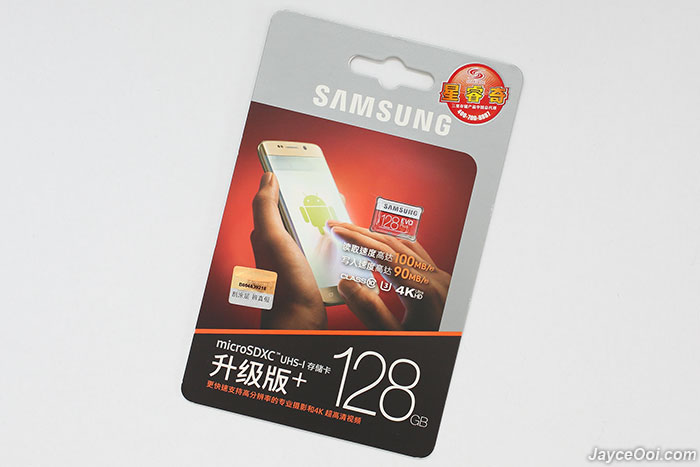 Performance Result
128GB Samsung EVO Plus 2017 model microSDXC is a class 10 UHS-I card. And does not have App Performance Class 1 (A1) certificate. Is it slow when used as internal storage as part of Android Adoptable Storage. Do you know? No? No worry, let's all the benchmark results tell you.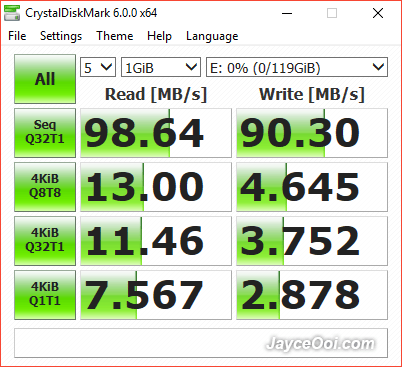 Outstanding sequential reading and writing speed in CrystalDiskMark @ 98 MB/s and 90 MB/s. Surely, one of the best 128GB microSD that I own.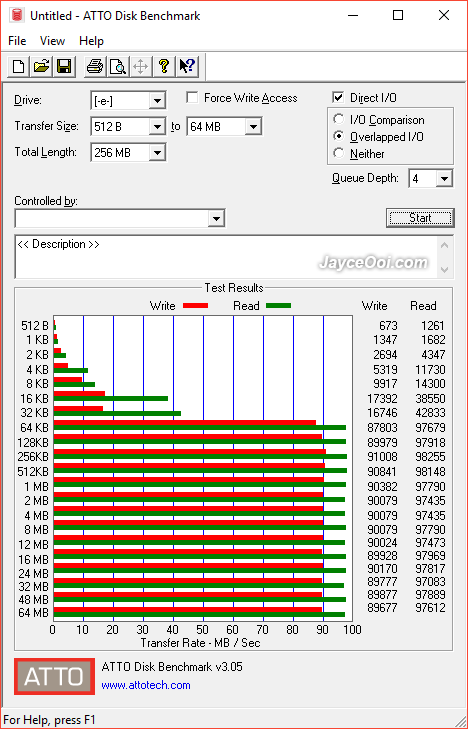 ATTO Disk Benchmark is still getting the best result for both read and write.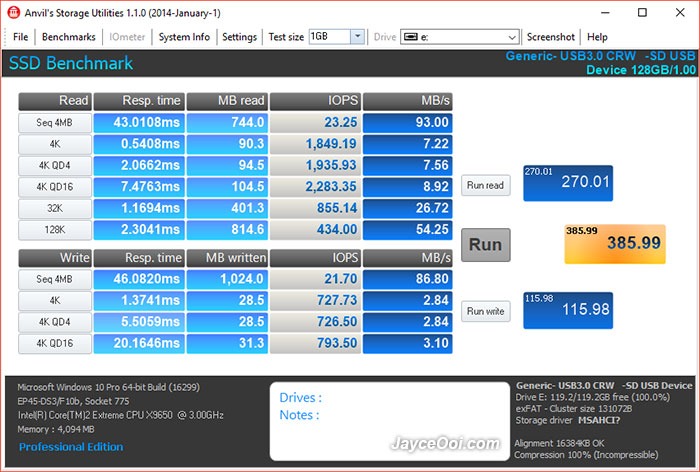 My favourite benchmark tool for Windows – Anvil's Storage Utilities. It tells all the ability of storage performance including Input-Output access Per Second (IOPS) performance for 4K. Surprise, Samsung EVO Plus has more than enough IOPS transfer rate for both read and write in order to get A1 standard. But didn't show it on the card. Need to pay SD Association to show?
Alright, back to real world tests. As usual, BlackVue DR490L-2CH Dual FHD dash cam, Xiaomi Mi Action Camera 4K, Mi Sphere 360° panoramic camera, Redmi Note 4 and Galaxy Note 8 are being used. Again, 128GB Samsung EVO Plus 2017 Model passes with flying colours. Manages to withstand the summer hot temperature on dash cam in car. And able to write up to 4K UHD 100 Mbit/s super fine quality mode on action camera (GoPro HERO6 Black should work too).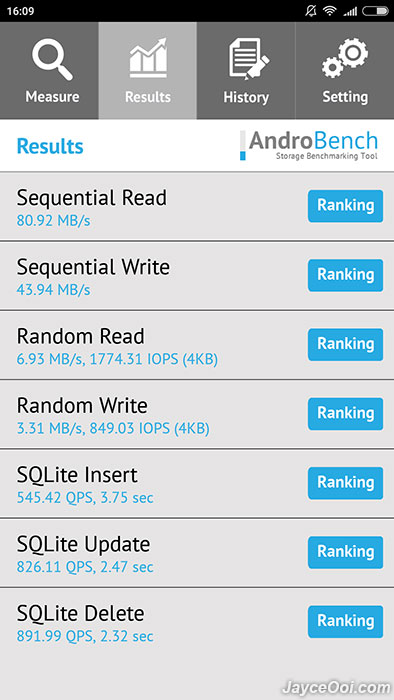 Finally, AndroBench test on Android smartphones. 4K IOPS tests show Samsung EVO Plus surely is an App Performance A1 card. And getting fast reading and writing speed as well. Rest assures that all the 4K video and photo will be taken smoothly and safely…
Advantages
Excellent sequential read & write speed
Fast 4K IOPS rate for both read & write
UHS-I U3 & A1 support
Extreme protections
Decent build quality
Limitations
Conclusion
128GB Samsung EVO Plus (2017 Model) is the best budget yet performing microSD card that I found so far. Loaded with ultra fast reading and writing speed with A1 support. Perfect to use on your dashcam, smartphone, tablet, digital camera, recorder and even drone camera. Interested? Do visit Samsung Website for details. And buy yours at GearBest.