Introduction
Esports grade Avago 3325 Sensor, 10000 CPI, 16.8 million colours RGB customizable lights, high quality Japanese OMRON switches, macroable 6 buttons, 6500 FPS… Yes, that's all part of the latest gaming mouse – Armaggeddon Falcon III features. A sub RM100 gaming mouse that you don't want to miss. Does it really that great? Read on to find out…
Special Thanks
This review is possible thanks to below companies. Be sure to check them out…
Armaggeddon for this Armaggeddon Falcon III Gaming Mouse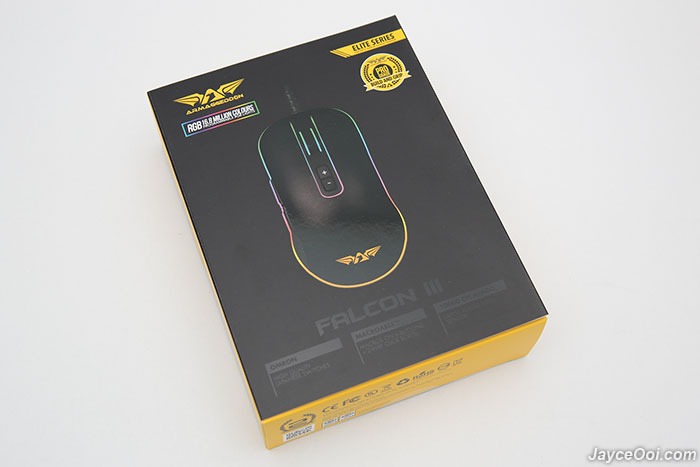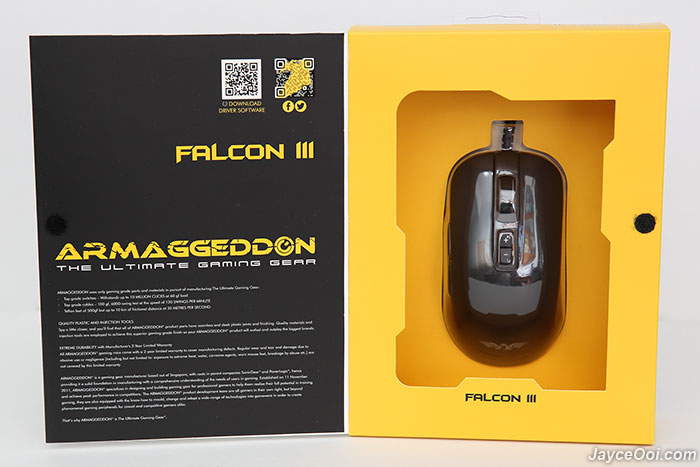 Package Content & Design
There are Armaggeddon Falcon III Gaming Mouse in the package. Along with high quality teflon footpads replacement and user manual. No software driver CD as usual. Just download software driver easily from Armaggeddon Website will do (which I prefer).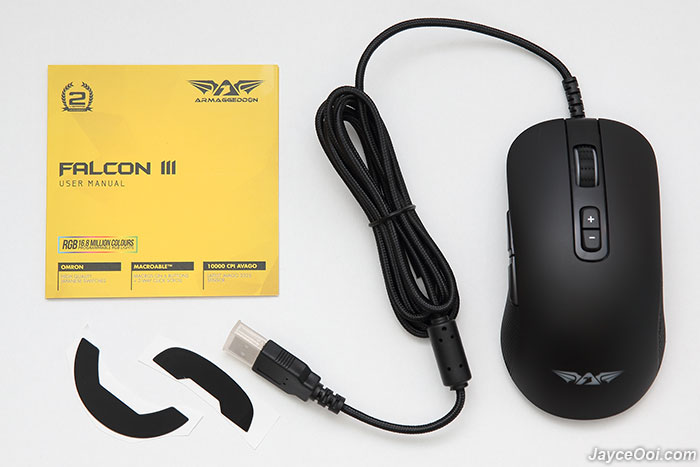 Build quality is excellent for the price. Solid plastic housing is being used no doubt. In addition, it is stylish with those colourful LED light effects. Ergonomic is great for both hand. Medium in size that suitable for small to medium hands. Give you comfortable grip for both fingertip and palm grip styles. All thanks to double injection rubber sides. Every buttons and scroll wheel can be accessed easily. By the way, the slightly glossy matte UV surface gives smooth feeling when touch. 2 large glide pads at the bottom. Finally, the 1.8m nylon cable is braided with anti-interference magnet ring. Do check out all the photos for details and see the loving RGB LED lights.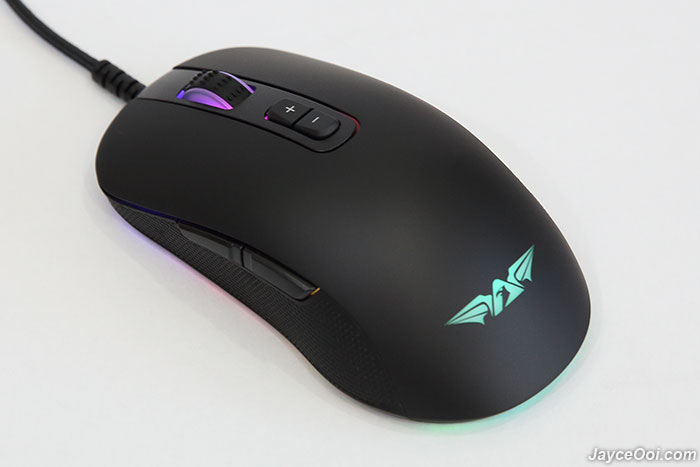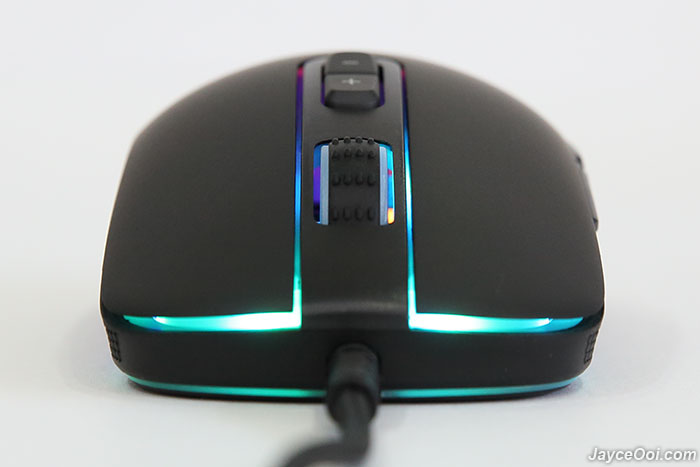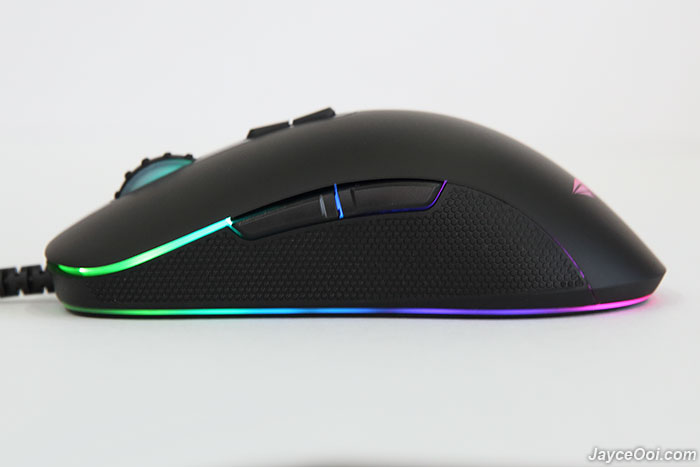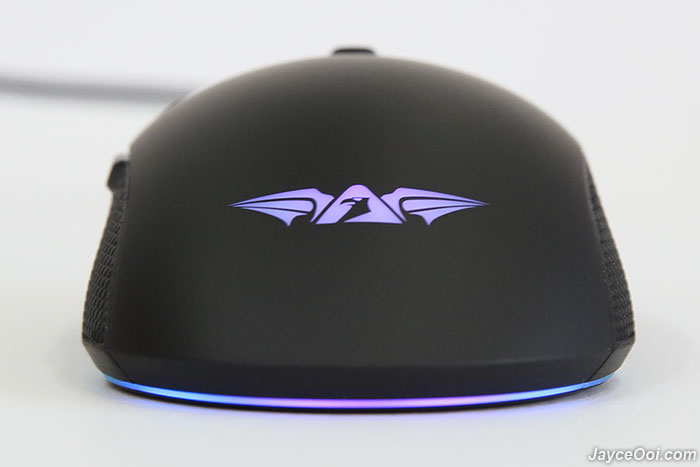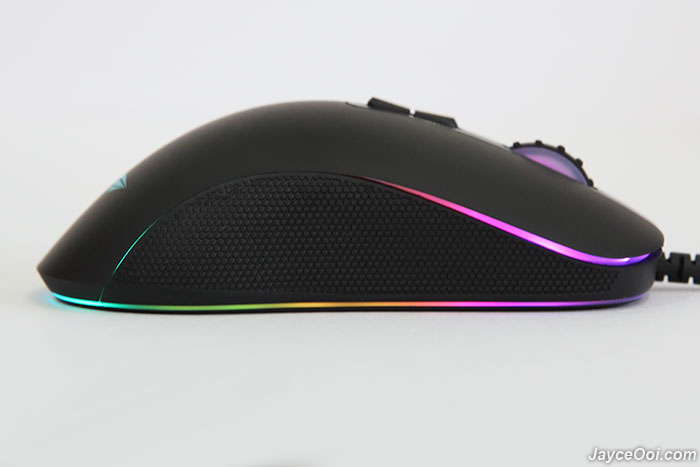 Software
You can start to use Armaggeddon Falcon III without any software driver. With it, you can unlock all its features and functions. All 6 macro-able buttons are configurable. Select Windows shortcuts, macros and multimedia functions that you prefer. 5 profiles for you to play with.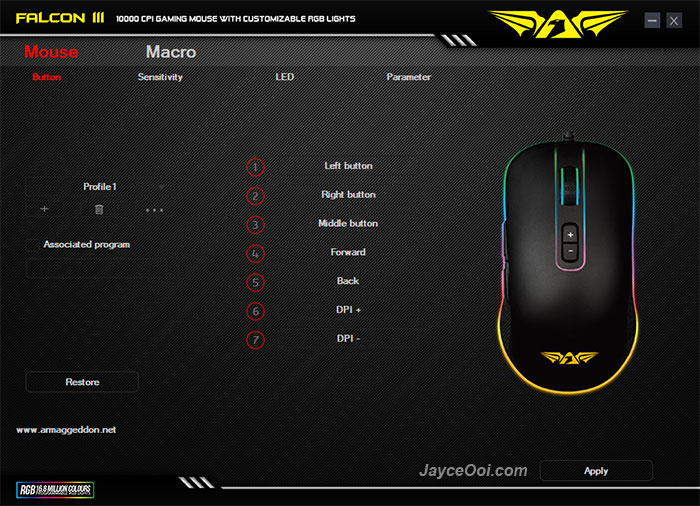 6 sets of DPI can be set from as low as 100 to 10000 CPI. 100 CPI / step adjustment up to 5000 CPI. Then 500 CPI / step to 10000 CPI. Assign each CPI with own colour. Yes, it will flash the selected colour when you change CPI. You can know which CPI mode you at then. That's great!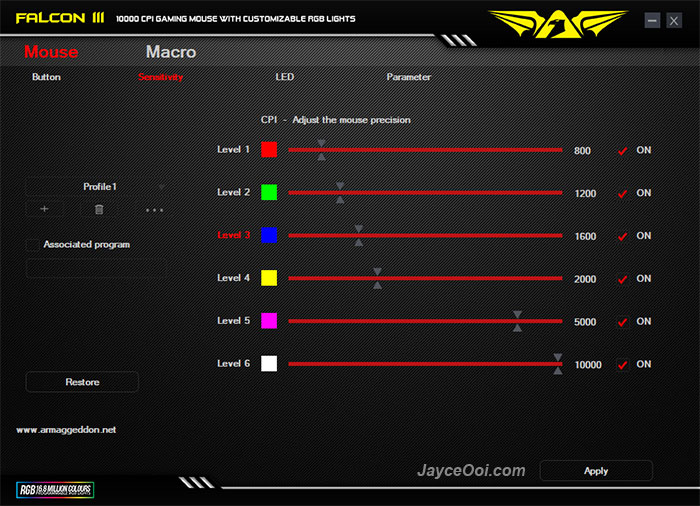 Yeah… Lot of LED effects to select. And they are lovely too. All thanks to 7 individual LED lights. Yes, be sure to go through all the effects and find the best one for you. Adjust flow direction, motion speed and colour as you prefer…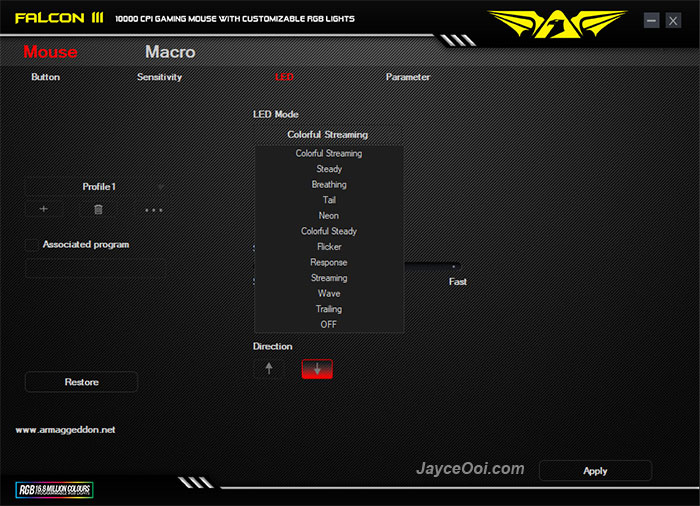 Of course, there is macro manager to assign macro shortcut. Falcon III software got it cover for you.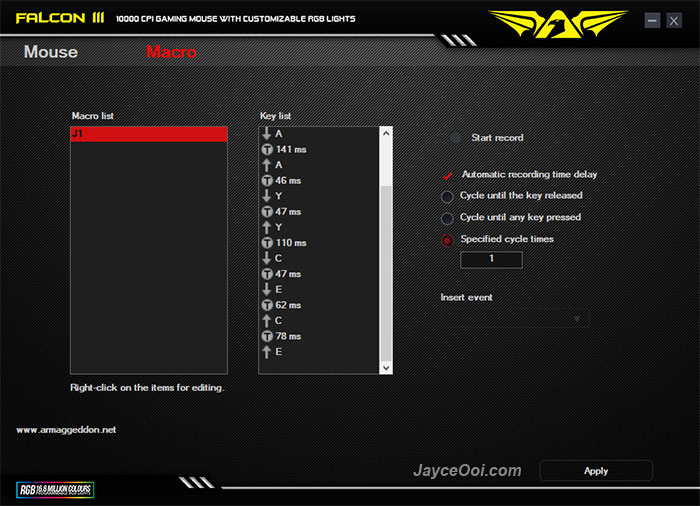 Performance Result
Avago 3325 Sensor is great for all type of games out there. Accurate and great for the price no doubt. It is working well on multiple surfaces including slightly shinny and reflective ones. The optical sensor is located at center of the mouse. That's good as no new learning curve here. Again, ergonomic is perfectly well and fits my hand. Best for medium to small hand by the way. Buttons are responsive and feedback is good too thanks to durable OMRON switches. Scroll wheel has enough grip for gaming and still fast to scroll along website.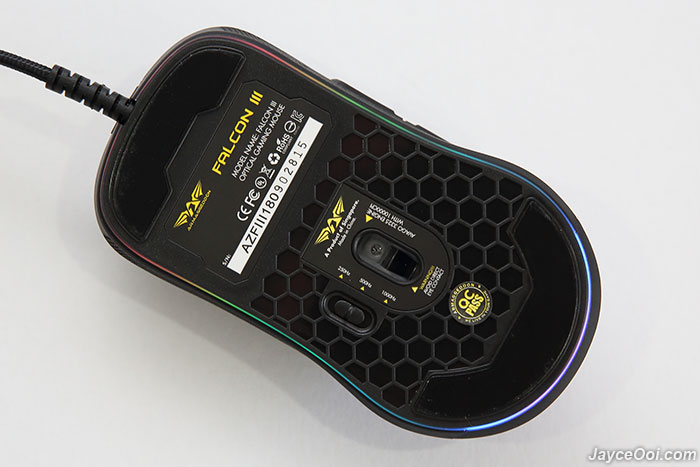 Yup, you can adjust response rate with this switch at bottom of the mouse. Just pick the one that suite you most. And enjoy the lovely and colourful RGB light effects. By the way, you can use Falcon III for all type of games including FPS, MOBA, RTS, sports and so on…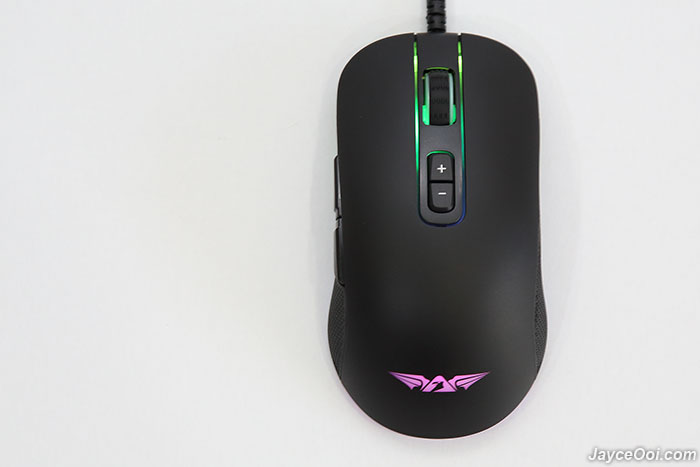 Advantages
Great optical performance
Excellent ergonomic for comfortable grip
Adjustable CPI values
Customizable keys & LED lights
Lovely RGB light effects
Stylish design
Limitations
Conclusion
Wait no more and get yourself an Armaggeddon Falcon III Gaming Mouse. Enjoy accurate optical sensor and excellent ergonomic. Don't forget the lovely RGB LED light effects too. And back with 2 years warranty. Interested? Do visit Armaggeddon Website for details. Buy yours at Lazada.