Introduction
RGB light effect. Checked. Japanese OMRON switches. Checked. IR LED optical sensor runs up to 10000CPI. Checked. Weight management system. Checked. Yup, that's part of the features of Armaggeddon NRO-5 Starship III 2017 edition. There are 11 customizable buttons too. And having rubberized finish and ergonomic shape for better comfort. Sound great? Read this review to know more…
Special Thanks
This review is possible thanks to below companies. Be sure to check them out…
Features
Latest IR LED runs up to 10000CPI
Macroable 9 button + 2-way click scroll saves up to 12 macros
16.8 Million colour RGB customizable lights
6-level weight management system
High-quality Japanese OMRON switches
CPI adjustable on-the-fly with light indicator
100CPI/step adjustment available in driver
Rubberized finish with additional rubber side-grip for added comfort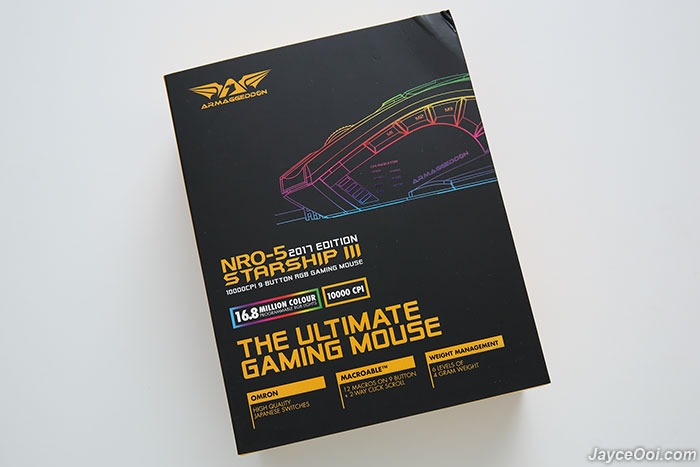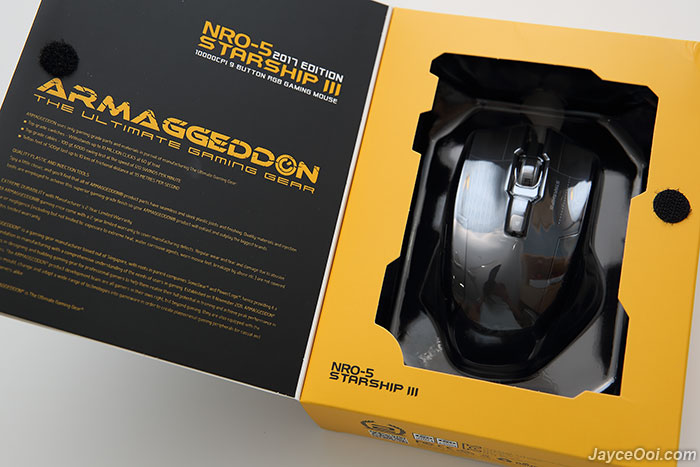 Package Content
NRO-5 Starship III comes in with an attractive package. The RGB colours help a lot. Once opened, you can find mouse itself, addition teflon mouse feet for replacement and user manual. That's all. No CD driver this round. Personally, I don't need CD driver at all because I don't have internal CDROM here. Just download driver from Armaggeddon Website will do, right?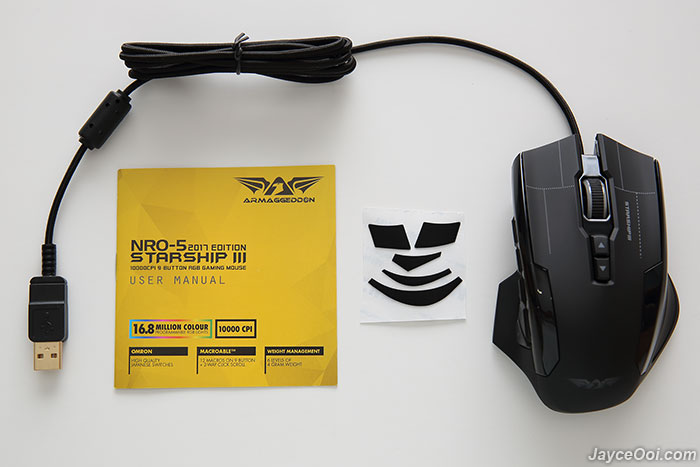 Build Quality & Design
Build quality is excellent with solid plastic housing. Personally, I love the rubberized finish as it is really nice to hold and touch. And still providing good grip too. NRO-5 Starship III is a middle size mouse. I am able to use all 3 grips – fingertip, palm and claw grip. Of course, this is depended on your hand size. Mine is not that big and its ergonomic shape works great here. All thumb buttons are accessible. However, some are easier than some depend on the grip. For my case, I have issue to click M1 on fingertip grip mode and M5 (M4 sometime) on the other 2 grips. Just assign the buttons to match your grip type will do. By the way, the cable is braided. It has gold plated USB port and ferrite bead attached. I won't explain the mouse outlook and design much here. So do check out all the photos for details. See them yourself.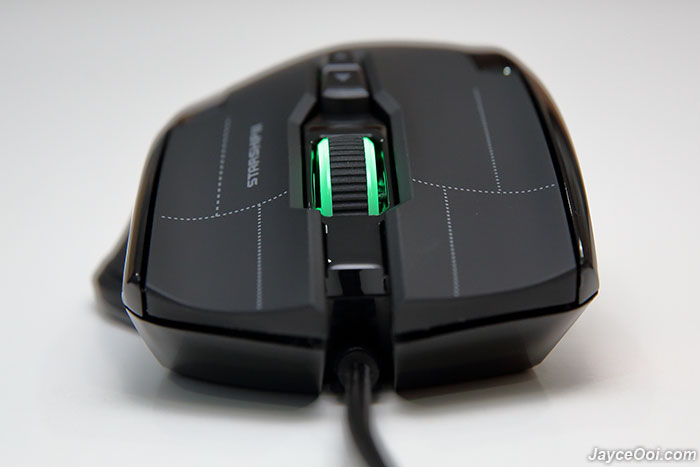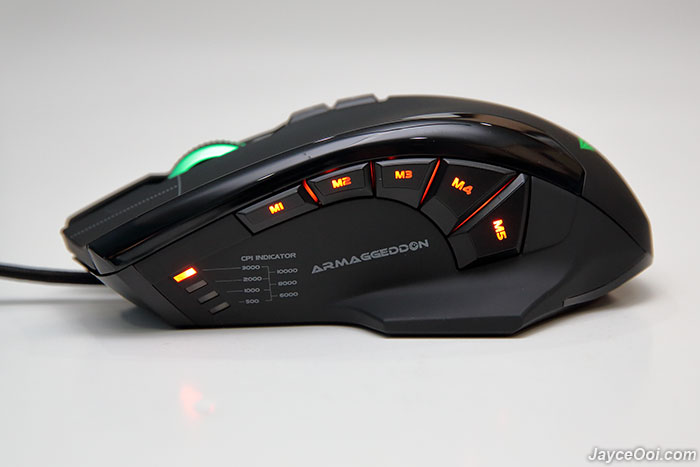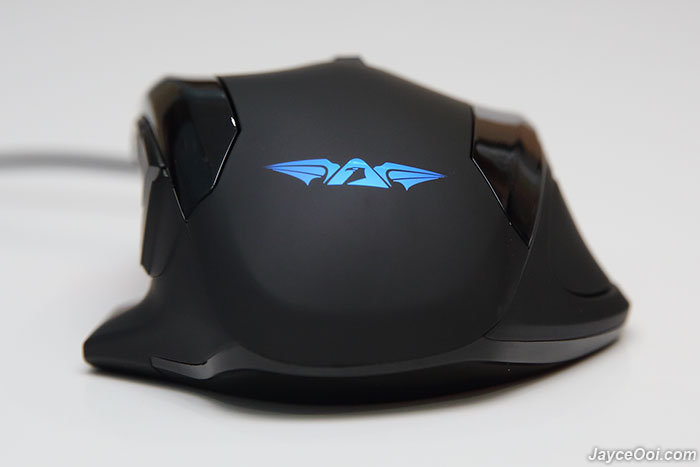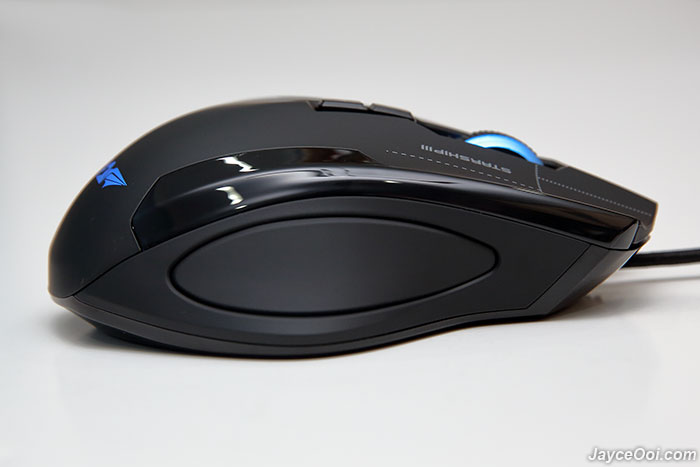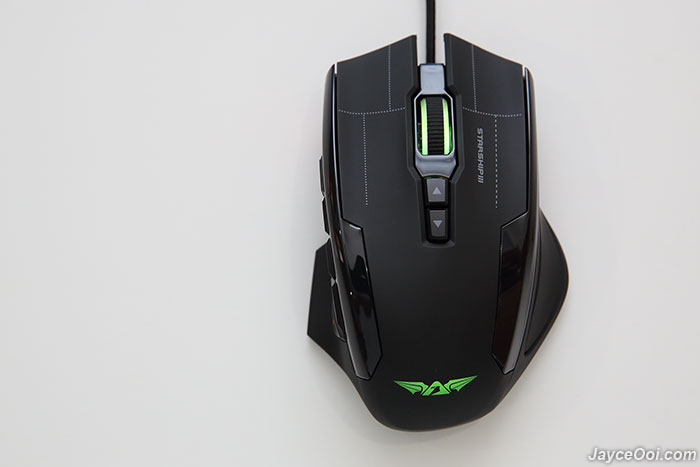 Specifications
Macroable 9 button + 2-way click scroll gaming mouse
High-quality Japanese OMRON switches
Save up to 12 macro scripts
Save up to 7-levels of CPI adjustable on-the-fly (Default 500/1000/2000/3000/6000/8000/10000)
Customizable CPI settings (100CPI/step)
Adjustable polling rate: 250Hz4ms/500Hz2ms/1000Hz1ms
High performance track speed: up to 100 inches per second
Ultra Durable 1.8M Nylon Cord
6-step weight management
Sensor: PMW3325 (2017)
Acceleration: 20G
Frame Rate: 6500FPS
Software
You can start to use Armaggeddon NRO-5 Starship III 2017 edition without any software driver. Yup, plug and play works fine. You get multi-colour mode by default where scroll wheel and Armaggeddon Logo are getting rainbow style RGB light. Default CPI as 500, 1000, 2000, 3000, 6000, 8000 and 10000. Thumb buttons' M1 to number 1, M2 to number 2 and so on. That's it. More stuffs are available to configure and play once you installed the mouse driver and software.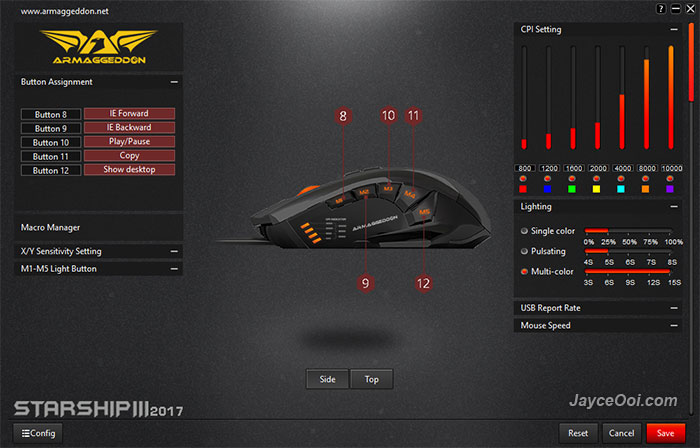 Yes, you can assign all the 11 buttons (including 2-way click scroll). Set them as multimedia functions like play/pause, next/previous track, volume up/down and so on. Or hotkeys like copy, cut, paste… Windows functions like show desktop too. Combo and macro keys are configurable as well. Up to 12 Macros can be set through the macro manager. And 6 mouse setting profiles for all your games.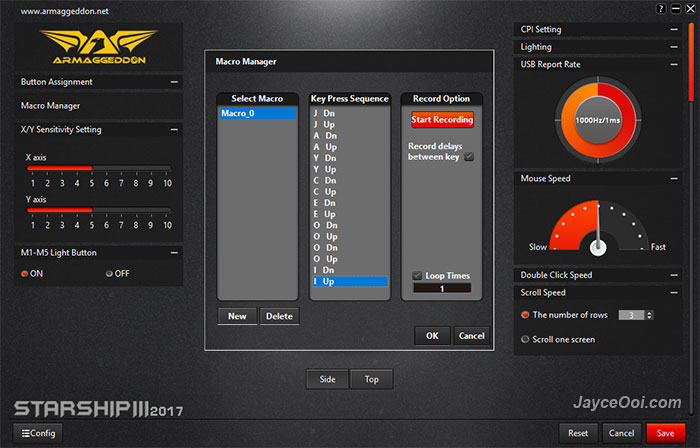 Having RGB scroll wheel is great. I can know which current CPI mode is enabled right now (DPI indicator light on the thumb side does not help). For example, 1000 CPI for blue, 1500 CPI for green and so on. Turn pulsating mode on if you prefer. Or multi-colour mode if you don't care about CPI indicator but just want to enjoy the colourful RGB lights. M1 to M5 lights can be turned off too. As usual, stuffs like USB report rate can be set – 125Hz/8ms, 250Hz/4ms, 500Hz/2ms or 1000Hz/1ms. The essential stuffs like mouse speed, double click speed and scroll speed can be configured as well. Same apply to X and Y sensitivity settings.
Performance Result
The PMW3325 optical sensor by PixArt is located at slight below center of the mouse. No learning curve is needed here to use it. And optical performance is great. No complaint here. Works on multiple surfaces including slightly shinny and reflective ones. Even better on gaming mousepad of course. And glides smoothly thanks to large teflon mouse feet. Highly sensitive 10000 DPI mode is still usable if you have high res 4K monitor. Else 1000 to 2000 CPI should do just fine for you. The liftoff distance is low and that's good for gaming.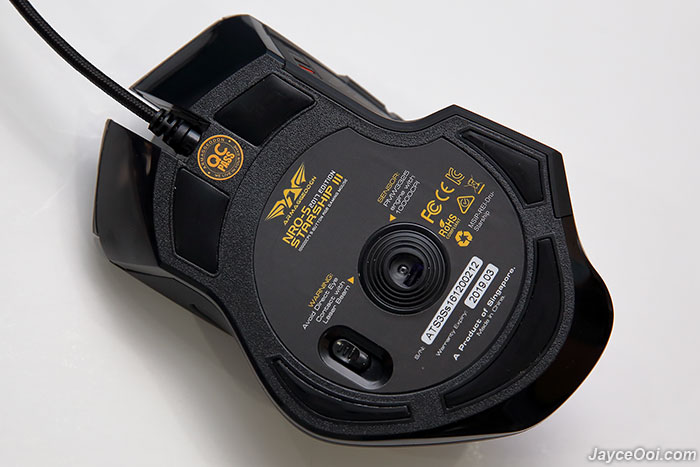 6-level weight management system with 4 gram each. Yes, adjust the weight of the mouse to suit your preference. That's a plus as you can make it a heavy or lighter mouse. Totally up to you.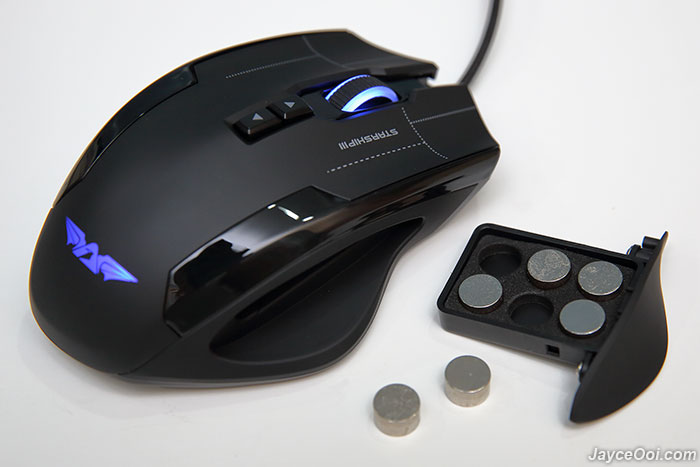 Overall, NRO-5 Starship III is a great gaming mouse. Accurate movement no matter which grip you are using. Left and right mouse buttons are fast and responsive. Scroll wheel tactile feedback is good as well. Great for changing weapon on FPS games here. However, it requires quite some force to press. In addition, the left, right mouse buttons and scroll wheel are noisy when compare to other gaming mouse at its price range. Other than that, it is totally fine…
Advantages
Great ergonomic for comfortable grip
Customizable RGB lighting effect
Glide smoothly on gaming mouse pad
6-step weight management
Lot of customizations with software support
Wide range of CPI (up to 10000 CPI)
2 years warranty
Limitations
Noisy buttons & scroll wheel
Software can be improved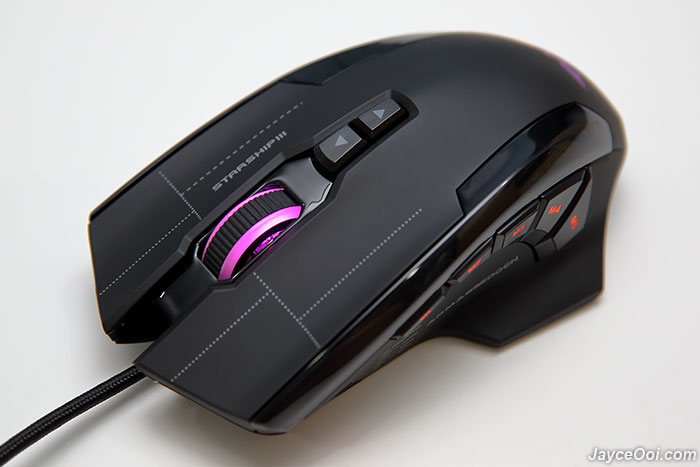 Conclusion
Looking for a RGB gaming mouse lately? Give Armaggeddon NRO-5 Starship III 2017 edition a try. Enjoy great ergonomic and comfortable grip. Accurate mouse pointer, smooth glide and 6-step weight management… And don't forget that it comes with 2 years warranty too. Interested? More information can be found at Armaggeddon Website.