Introduction
Hot! Hot! Hot! Err… Weather in Malaysia is becoming hotter each day. Agree? Thankfully, I have Sensibo Sky – 2nd generation smart air conditioner controller by Sensibo to help me. Yes, Sensibo Sky can be used to control air conditioner from anywhere, anytime. And maximize comfort and save energy in return. Furthermore, it works with Amazon Echo. Has open API and IFTTT support. Interesting, right? Let's find out more about it…
Special Thanks
This review is possible thanks to below companies. Be sure to check them out…
Features
Control your air conditioner
7-day scheduling
Automatically turns on and off
Share with your family
Works with Amazon Echo
Open API & IFTTT
Package Content & Design
Sensibo Sky comes in a small packaging as itself is quite small too. Around half of normal air conditioner remote. After took out Sensibo Sky, you can find all-in-one universal AC power plug adapter (AU, UK, US, EU) with microUSB port. Yes, you can use back own smartphone charger too if you want. By the way, there is no user manual included but simple and clear steps by steps to get you started. No worry, you can check out their online guide anytime you want.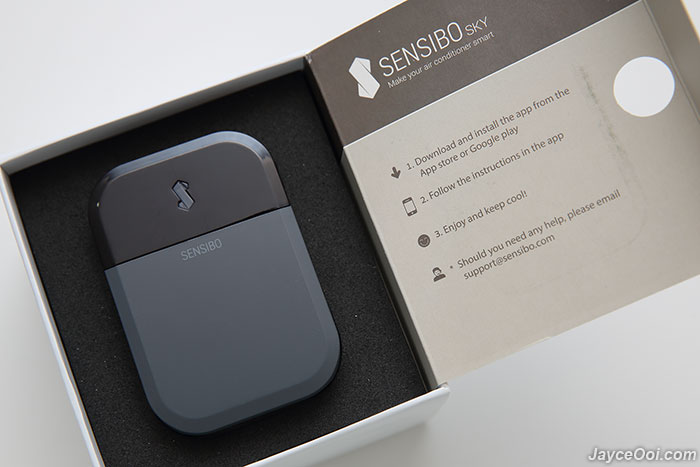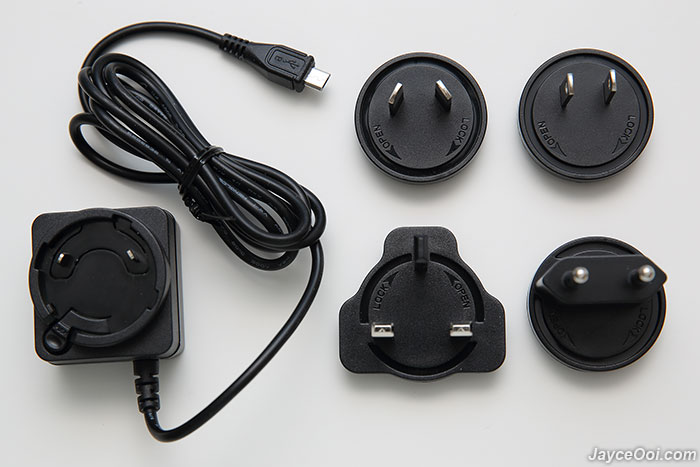 Sensibo Sky itself is simple yet stylish. The infrared sensor and receiver are located on top. The Sensibo Logo will emit blue LED light when sending signal to aircon. You can place it on top of table. Or hang it on the wall with screw or included adhesive tape.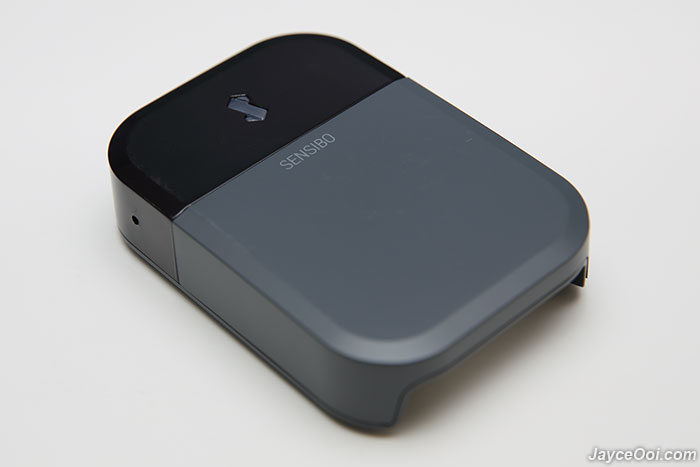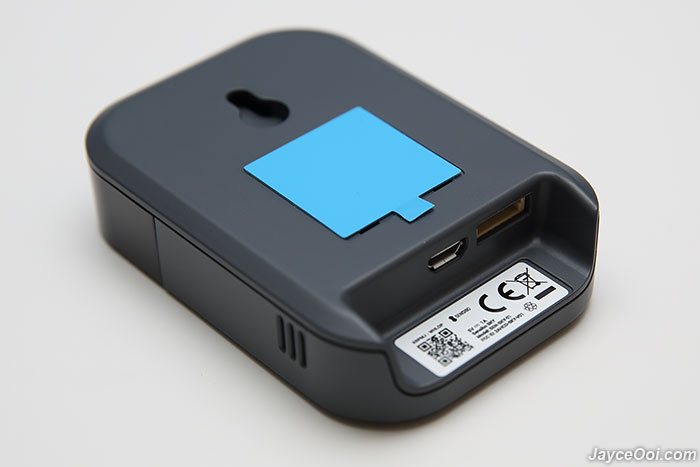 Installation
You are slow if took more than 10 minutes to install and setup Sensibo Sky. Yes, the installation process is pretty simple and fast too. In short, just download Sensibo application from iOS App Store or Android Play Store. Then follow instructions there will do. The long version – you need to set your Wi-Fi router password on Sensibo Sky so that it can connect to Internet by its own later on. Create an account for Sensibo Sky too. And assign your air conditioner model to it by just scanning the infrared signal. I love this one. Fast and easy with no manual input for aircon brand and model. All done by itself. That's it. You can start to use Sensibo Sky to enjoy cool summer (or a hot winter).
Software
Sensibo app is simple and easy to use. Once opened, you get the whole list of Sensibo devices that connected at your place. For my case, there is only one in the living room. After clicked on it, you get to control the settings like cool, heat, dry or auto mode. Fan speed, temperature and auto turn off based on timer too. Of course, turn on and off air conditioner as well. You can checked out the recent events. As you can see from the event status, there are lot of ExternalIrCommands. Yup, that's from actual aircon remote. Sensibo able to detect outside IR signal and inform Sensibo server on the latest status. Great as it will always get the accurate data and give you the best comfort here.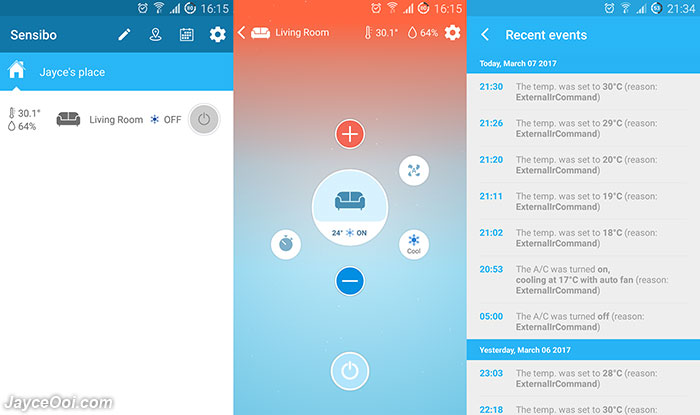 Performance Result
Yes, you can control assigned air conditioner at any place with Sensibo app as long as you are connected to Internet. You can also share it with your family at home and colleagues in the office to control it too. Automatically turns on and off can be set by using the phone location through GPS. Yes, Sensibo will turns on aircon before you arrive. And turns off it when everybody leaves. It's that great?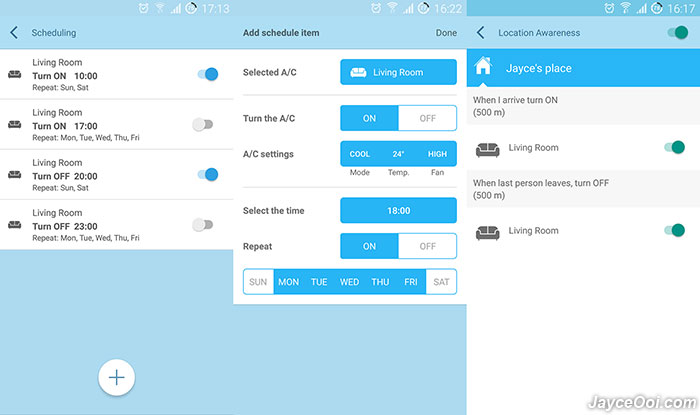 Define as many schedules in Sensibo app with 7-day scheduling to turn on or off aircon. Set the mode, temperature and fan speed that you prefer. And based on the day that you set too. After that, just enjoy the comfortable environment that Sensibo brings. For example, you can set aircon to run at maximum fan speed with 16°C cool mode at 5pm to bring down the living room temperature fast. Then set another schedule with auto fan speed with 24°C cool at 6pm that give you most comfortable condition when you arrived home. Finally, set the last one to turn it off at 11pm when you go to sleep. Once setup, everything will be done through Sensibo server. No manual input from you at all then.
For your information, Sensibo Sky works with Amazon Echo too. Has open API and IFTTT support to work with your home other smart devices. This will give you endless other possibilities of using Sensibo. In addition, Sensibo Sky reads current room temperature and humidity. However, it does not auto re-adjust aircon temperature based on the data like Ambi Climate comfort mode (still need manual input here). Hopefully, this can be implemented in the future.
Advantages
Keep you comfortable all the time
Cost saving
Multiple aircon support
Amazon Echo & IFTTT support
Easy installation
Remote access anywhere, anytime
Firmware OTA update
Limitations
Conclusion
Yes, Sensibo Sky surely make my air conditioner smarter. And I can control it anyplace, anytime. Or schedule it for automatically temperature control. Don't forget that it has Amazon Echo and IFTTT support too. Be sure to visit Sensibo Website to get more information. And get yours there or Amazon.