Introduction
Looking for a better earphones for your music player? Look no further, check out DUNU Titan 1 that I have now. It is an in-ear monitor that utilizes the top of the line dynamic transducer with nano class titanium diaphragm which has great sonic clarity and transparency. It is also able to handle high power without distortion and evenly spreads the energy across its surface. And comes with various designs eartips for maximum isolation and comfort. Okay, let's find out its performance…
Specifications
Driver: 13mm Titanium Diaphragm Dynamic Driver
Frequency Response: 20Hz – 30kHz
Sound Pressure Level: 90 +/- 2dB
Impedance:16Ω
Plug Size: 3.5mm Gold-Plated
Cord Length: 1.2m
Weight: 18g
Warranty: 1 Year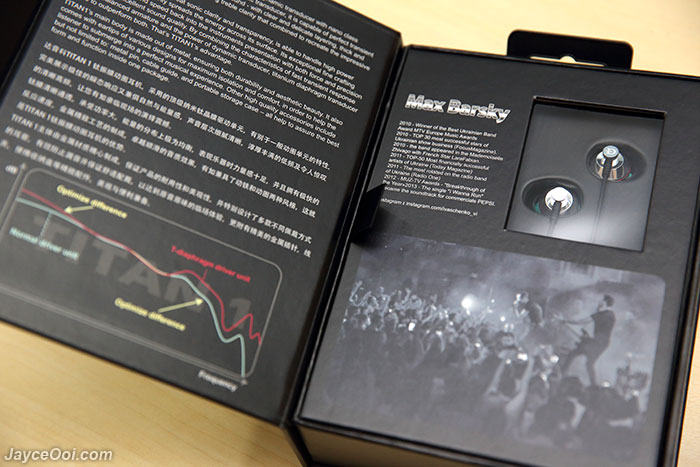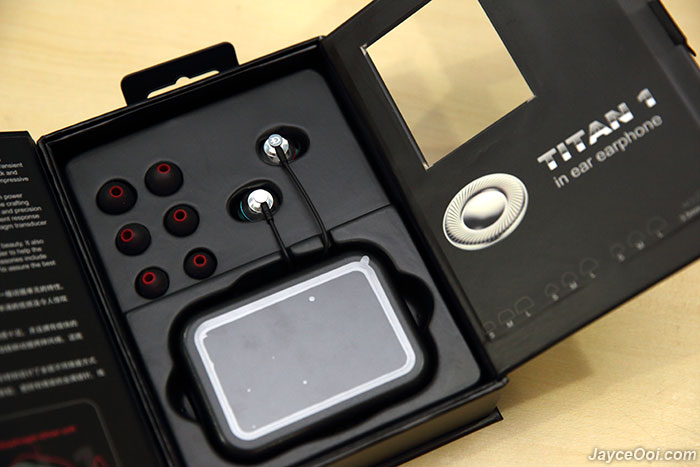 Package Content
Wow… There are lot of stuffs in the nice looking package. Yup, DUNU Titan 1 earphones is there. And 9 pairs of special designed ear-tips (S/M/L) to suite your need from secure seal for maximum bass to lesser one to change the sound signature taste. A hard sturdy case with locking mechanism to safe keep the earphones and ease carrying around. Gold plated 3.5mm to 6.3mm audio adapter is there too to connect to your home Hi-Fi system. A shirt clip for keeping the cable still and reduce microphonic noise while walking. Finally, a warranty card comes along too.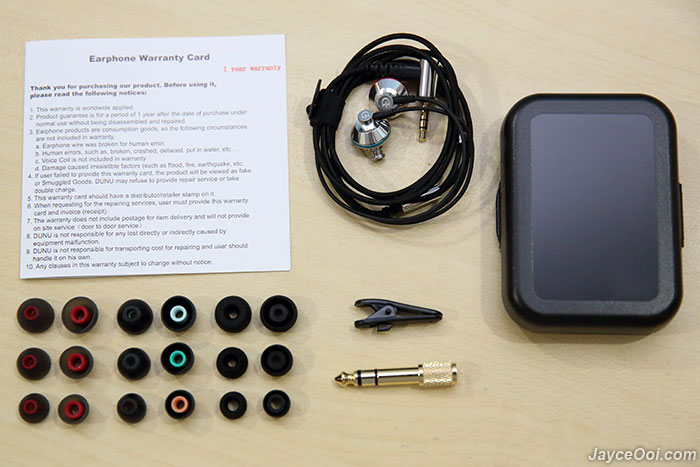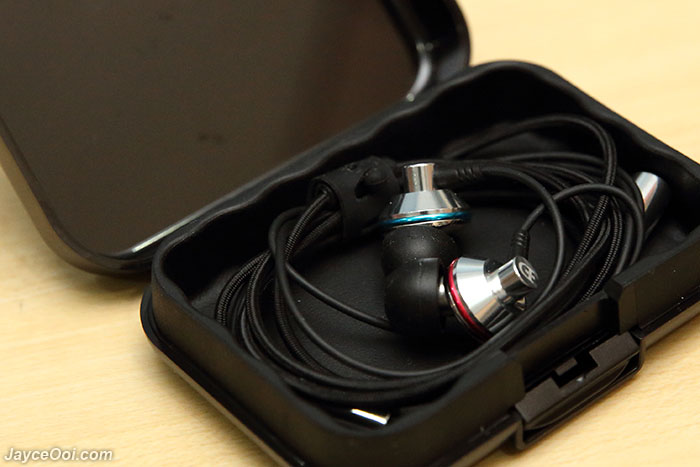 Design & Build Quality
DUNU Titan 1 is just like a tank. Yes, the build quality is supreme thanks to polished metal body. So no worry about its durability. Besides, it is also look nice with red and blue rings that can be used to determine left and right channel too. The cables between body and Y-splitter are covered with smooth rubber. And the rest of the cable until to 90° angled plug is braided to prevent tangling. The cable cinch can fit right into the Y-splitter when not in use. Hey, there is a handy rubber cable tie to well keep Titan 1 too. Nice one. By the way, there are 11 vent holes near nozzle at the earpiece body and another tiny one at the back near cable to provide open and wide soundstage.
Fit, Comfort & Isolation
DUNU Titan 1 is designed to be worn cable down. They fit perfectly on my ears and won't fell off even not wearing over the ear style. And pleasant to wear for long hours. Yup, no problem to finish watching a movie here. As for isolation, it is an in-ear earphones that perform not so well here due to the vent holes. It can be an advantage and disadvantage depending what is your need. Personally, I prefer this as a family man who need to look after a 3 years old at home. And I don't want to be totally blocked out by surrounding sound.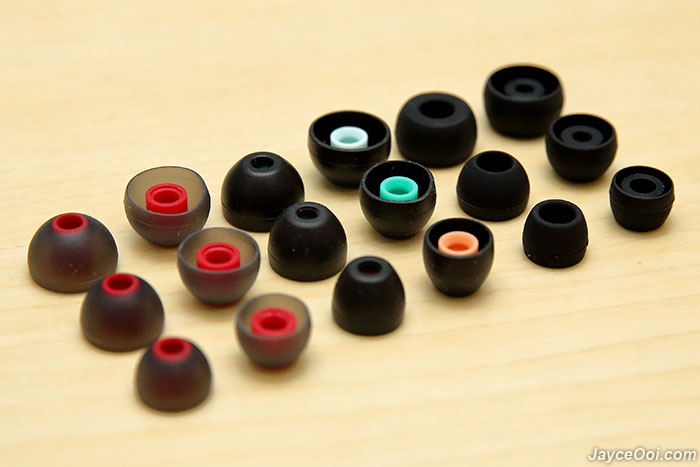 Sound Quality
Wow… You don't need to be an audiophile to discover the greatness of DUNU Titan 1. Your existing smartphone and tablet's audio quality no matter iPhone, iPad or Android devices will automatically level up. Clean, clear, rich in detail and clarity are what you will get. Yes, the experience is just like switch from watching DVD video to HD quality footage. You will realize how much details you lost from using earphones that bundled along with smartphone. Yes, Titan 1 will greatly improve the audio quality on streaming, music, games and movies. No need lossless HD tracks to enjoy it (of course, they sound even better then).
Personally, I love to listen MV from YouTube. A fan of Japanese anime. Love to listen to POP, R&B and country genre songs. Girls' Generation music videos are one of my loves. Titan 1 manages to get their voices in Lion Heart MV sound so sweet and clear. And feel the beats in Party MV. Crisp and bright are what you will get from Taylor Swift's songs like Tim McGraw, Mean and 22. Enjoy clarity of the guitar and natural vocal. And feel the deep and powerful bass yet in control pumping on Michael Jackson's Billie Jean, Beat It and Black or White. All the instruments and vocal can be hear clearly even in the complex scene.
Advantages
Crystal clear, detail & balanced sound
Deep powerful bass
Spacious soundstage
Excellent build quality
Comfortable for long hour wear
Great accessories
Average isolation (for me)
Limitations
Microphonic (reduced with shirt clip)
Average isolation
Conclusion
DUNU Titan 1 has excellent sound, wide and spacious soundstage. High level of detail, incredible resolution and clarity. And don't forget the powerful bass. Want to level up your mobile devices' sound quality? Titan 1 is the one for you. Do visit DUNU website for more information and buy yours here.