Samsung Galaxy Note 3 has 32GB storage as the base model. There is 64GB model but still missing in action. 3GB of RAM too. Yes, the very first smartphone with such large memory. Furthermore, it has UHD 4K video recording and USB 3.0 support. Therefore, its storage performance should be good, right? Let's find out…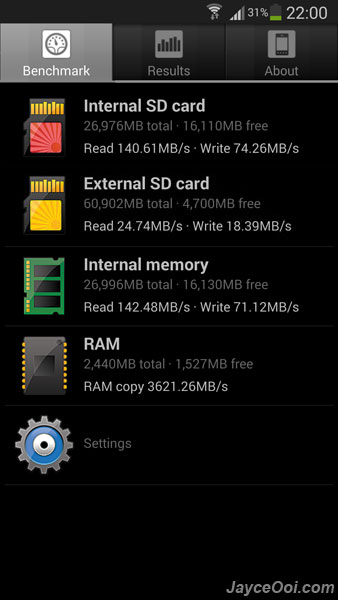 Wow… Galaxy Note 3 newer 3GB of RAM is fast when compare to Galaxy S4. Great, double performance. And has faster writing speed for internal storage but slower reading speed. No worry about UHD 4K video recording now. Too bad, Galaxy Note 3 still does not support external SD card UHS-I standard. Getting low scores on both read and write on the fastest 64GB SanDisk Extreme microSDXC UHS-I Card. Hopefully, Galaxy S5 will support it.
As a result, it is better to get a bigger 64GB Galaxy Note 3 than putting an external SD card.