Introduction
Rechargeable programmable optical wireless gaming mouse under USD20? Yup, that's HAVIT HV-MS995GT that I have now. It is a mouse that loaded with 6 adjustable DPI levels (500/1000/1500/2000/2500/3500), 7 programmable buttons and customize-able LED light. Furthermore, it has built-in battery that can be charged through USB cable. Interested? Read this review to know more…
Features
Fully programmable buttons
6 adjustable DPI optical sensor
Power controller and power indicator
Strong compatibility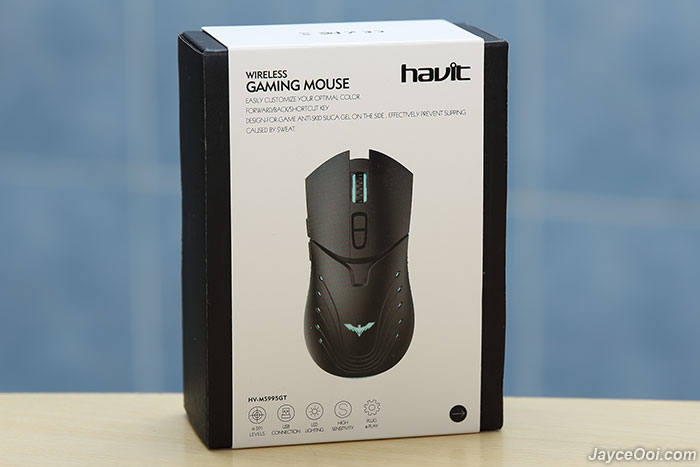 Package Content & Design
HAVIT HV-MS995GT comes with a simple yet compact packaging. Once opened, you can find charging USB cable, CD driver, user guide and feedback card there. Err… The information is clear in the user manual but page order is totally wrong. It should be in booklet format but turn into a large piece of page instead. Therefore, do take your time to flip around to go through it.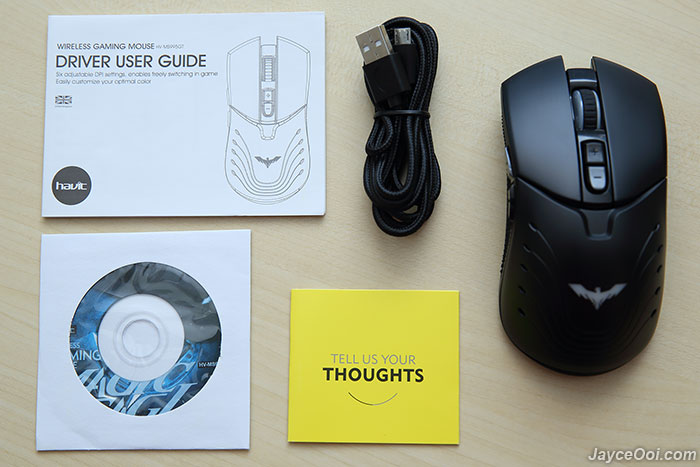 The build quality is decent with solid plastic. Ergonomic is good for comfortable grip. Both scroll wheel and buttons provide nice feedback. You can use it with both left and right hand. However, you can't access to thumb buttons on left handed mode. On top, you can find the usual left, right mouse buttons, scroll wheel, DPI +/- buttons and Havit Magic Eagle logo. For your information, both scroll wheel and logo are loaded with LED light. Both left and right side have multiple round dot rubber grip. 2 thumb buttons on the left. At the bottom, you can find the optical sensor, on/off switch, storable nano receiver and 2 large glide pads. Before I forget, there is a micro USB port in front of the mouse for charging. Do have a detailed look on the shape of this wireless gaming mouse with pictures below.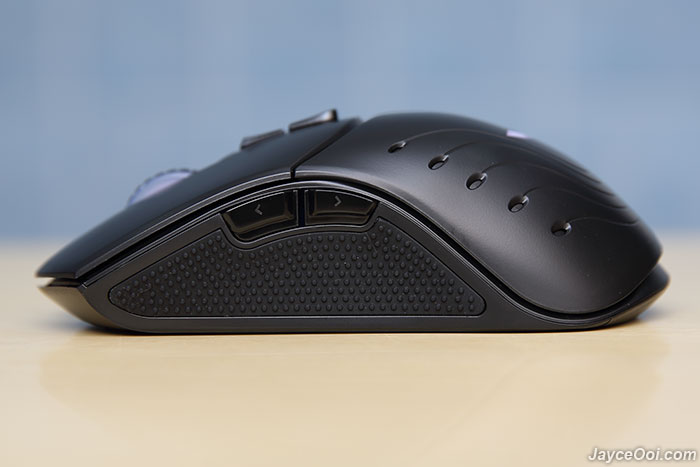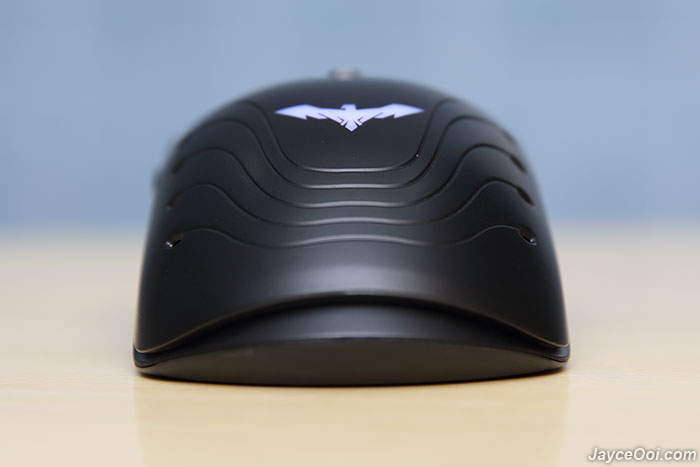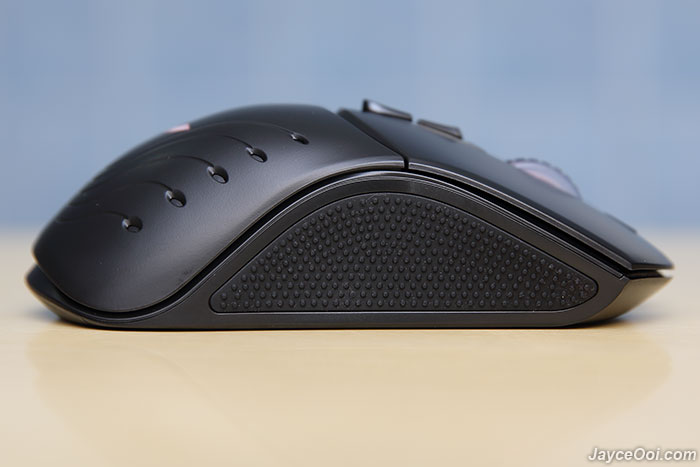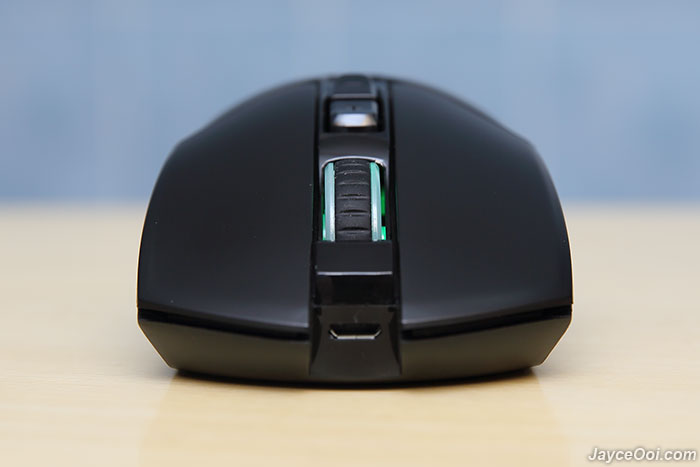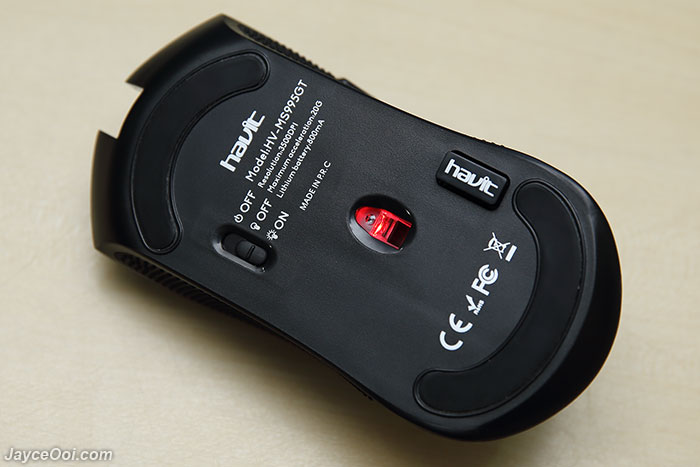 Specifications
Working mode: Optical
Interface type: USB
With driver: Yes
Working voltage: 3.7V
Key number: 7
Lithium battery: 800mA
Mouse size: 127*63*42mm
Weight: 166g
Resolution: 3500dpi
Return rate: 1000Hz
Refresh rate: 4000frames/sec
Maximum acceleration: 20G
Software
You can start using HAVIT HV-MS995GT after plugged in your Windows PC. And the customizable LED light will shine based on the DPI settings that you set without any driver installation. You can also turn off the LED light with the switch below the mouse too. As usual, install mouse driver and software to get all the features and functions out of it. Just use CD driver to do so or download the driver from Havit Website like I did.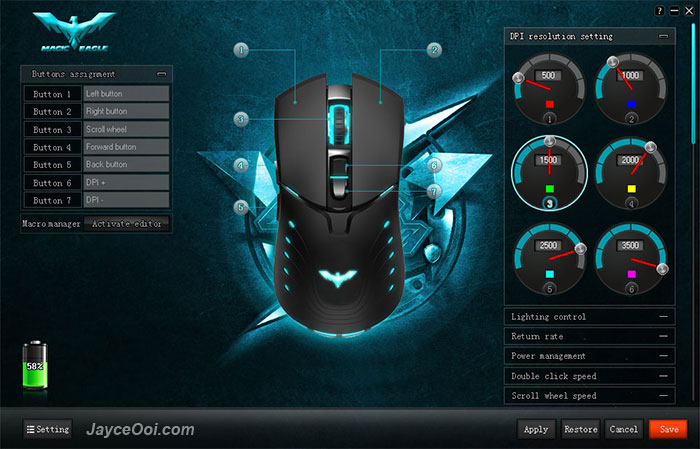 Once installed, you get to control the LED light for DPI settings. Just pick the colour that you prefer for the particular DPI (note – not all colours are working). A very useful function as you can know which DPI you are using by just looking at the colour. One thing to take note, the DPI levels are set permanently to 500, 1000, 1500, 2000, 2500 and 3500. You can't assign it as 200, 400 or any value that you want. A bit let down but not a deal breaker. Follow on, there are 2 modes of lighting effect – standard and breathing modes. Polling rate up to 1000Hz. Power management that let you control when to warn about low battery and control wake up trigger – button or movement. Yes, you get to know the battery life in the software too. Double click and scroll rate can be set there as well.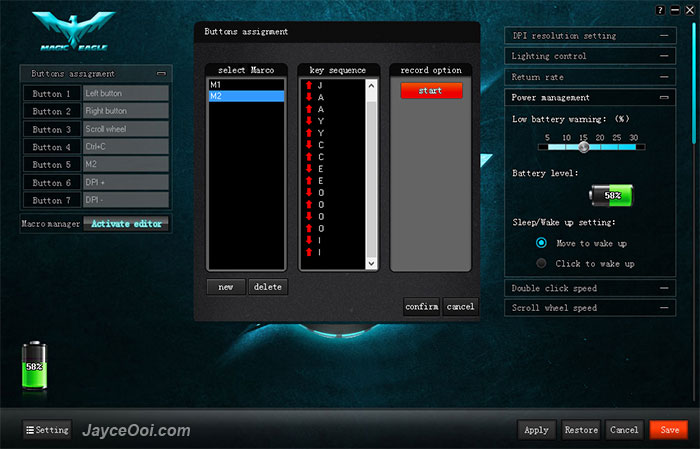 You can customize all 7 buttons including scroll wheel click. Assign combo or macro to anyone of them. Or assign multimedia functions and launch daily use applications like Email and My Computer. And lot more functions can be assigned to the buttons. It also support simple profiling too. Just take your time to setup it to get the most out of it…
Performance Result
Being a wireless mouse, the connection is very important. You don't want to get disconnected while playing intensive games, right? HAVIT HV-MS995GT passes this department with flying colours. It easily exceeds 10m in straight sight line with no obstacle. No problem to cover your big living room with TV and sofa at each corner. Definitely, not an issue at all on laptop and PC that close to you. Furthermore, it is responsive and I did not notice any slowdown as wireless mouse. It acts like wired mouse to me.
Battery life is great. Surely, more than enough for you to play games whole day long. Yup, it lasted for days on intensive usage. Easily reach weeks on casual use here. Yup, automatically enter the sleep mode to save power after 5 minutes of inactivity helps. And charging is fast too. Just need around one and a half hour to fully charge. Thing to take note, USB cable is for charging only. You can't turn HAVIT HV-MS995GT into wired mouse. Nano receiver still need to be plugged into PC in order to use it. Therefore, you need 2 USB ports while charging.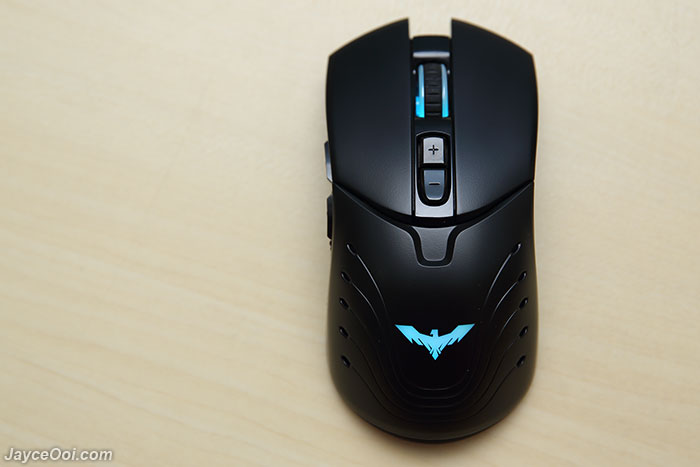 Its ergonomic design fits my hand well. Buttons are responsive and feedback is good too. The scroll wheel is really tight which good for gaming when changing weapon (but slow for web browsing). Optical sensor performance is good as well. Works on multiple surfaces including slightly shinny and reflective ones. Everything work great except it has a fairly high mouse lift off distance compare to other mouse that I own. You need to lift the mouse higher than usual to lose the tracking. Not a deal breaker once you get used to it though.
Advantages
Great wireless range
Good ergonomic for comfortable grip
Long built-in battery life
Customizable lighting effect
18 months warranty
Limitations
High mouse lift off distance
Fixed DPI levels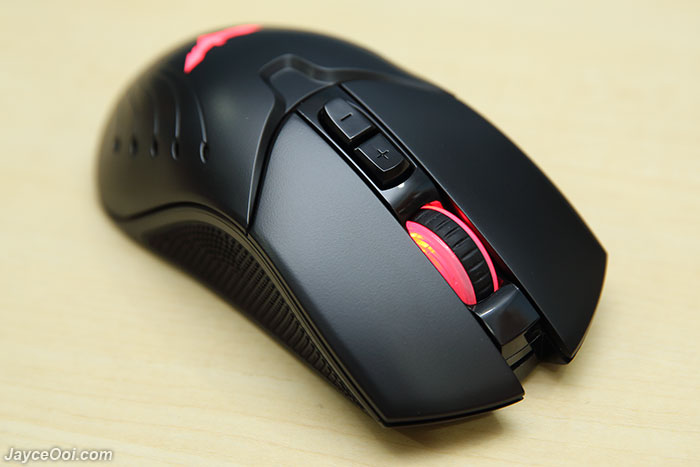 Conclusion
HAVIT HV-MS995GT is a nice budget wireless gaming mouse no doubt. It has great wireless range and built-in battery life. Useful LED light to know DPI level. And comes with 18 months warranty. Make sure that you are okay with its limitations before pull the trigger. More information can be found at Havit Website. And you can buy it at Amazon and AliExpress.