Introduction
Slicepad D7 is a 7″ screen budget tablet loaded with Android 4.1 Jelly Bean from local consumer electronics, SKR Sdn Bhd with INEC brand in Kedah, Malaysia. It is almost like its bigger brother Slicepad D8 but loaded with better and wider viewing angle IPS screen. Powered by the same ARM Dual-core Cortex A9 CPU @ 1.6GHz and Quad-core GPU. And having 8GB of storage and 1GB DDR3 RAM too. Hmm… There is lot of 7″ tablets out there in the market. Can Slicepad D7 compete with them? Let's find out…
Package Contents
There are Slicepad D7, UGB OTG cable, micro USB cable, charging adaptor and user manual in the package. As usual, screen protector is pre-attached to prevent scratches. And there is a protecting cover with adjustable angle and position for reading, watching movie and typing. Finally, Slicepad Soundmaster headset is bundled along too when purchased Slicepad D7.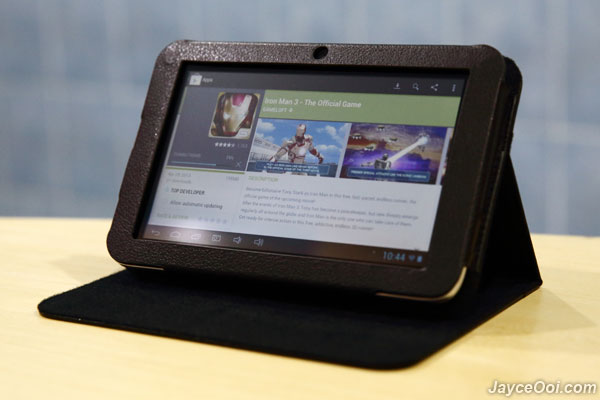 Hardware Specifications
Screen: 7″ ultra responsive multi point touch screen
Resolution: HD 1024 x 600 IPS – Wide Viewing Angle
Operating System: Android 4.1 Jelly Bean
Processor: ARM Cortex A9 Dual Core 1.6GHz
3D engine: Quad Core GPU
Memory: DDR3 1GB
Internal Storage: 8GB
External Storage: Micro SD card, Pen Drive (up to 32GB)
USB: USB 2.0. Supports Pen Drive, external 3G dongle, network card, keyboard and mouse.
Sound: Built in mic and speaker. 3.5mm output jack for earphones and external speakers.
G-Sonsor: Yes
Camera: Front camera – 1.3 Megapixels, Rear Camera – 2 Megapixels
Network: Built in WiFi 802.1lb/g/n, External 3G Dongle, wired LAN connection with external network card
HDMI Output: Yes
Flash: Yes
HD Video encoding: AVI, WMV, MP4, MKV, RM, RMVB, FLV, MOV, 3GP up to 1080p, WebM VP8.
Battery: 3000mAH (minimum 3 hours of movie playing)
Item Dimension: 193mm (Height) x 122mm (Width) x 10.6mm (Depth)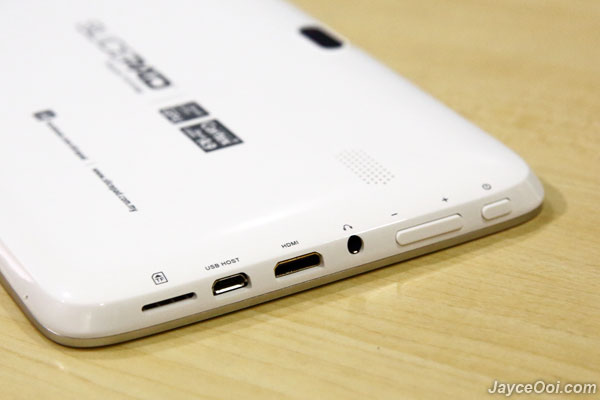 Software
Slicepad D7 is loaded with Android 4.1.1 Jelly Bean. Besides the usual Android stock applications like browser, calculator, email, music and video, full version of Documents To Go and Astrid Tasks & To-do List with Astrid Power Pack are bundled along. You can easily edit Microsoft Word, Excel or PowerPoint files on the go with Documents To Go. Access office works in USB Pen Drive with the help of OTG cable (don't forget that external 3G dongle, network card, keyboard and mouse are supported through OTG cable as well). Besides, Adobe Flash is supported in stock browser.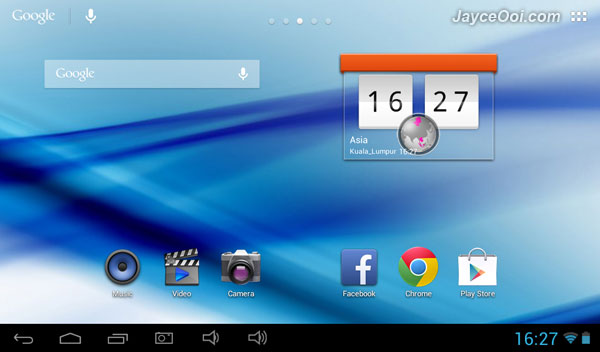 As for multimedia, Slicepad D7 supports AVI, WMV, MP4, MKV, RM, RMVB, FLV, MOV, 3GP and WebM VP up to Full HD 1080p definition. You can enjoy movie, music video with adjustable angle protecting cover. Or on bigger TV screen through HDMI output. It can act as a game console too with the help of USB game controller (like GameSir G4s Review). Play all controller supported games on big screen.
Benchmark
How does Slicepad D7 perform compare to other 7″ tablets in the market? Let's these synthetic benchmarks tell you.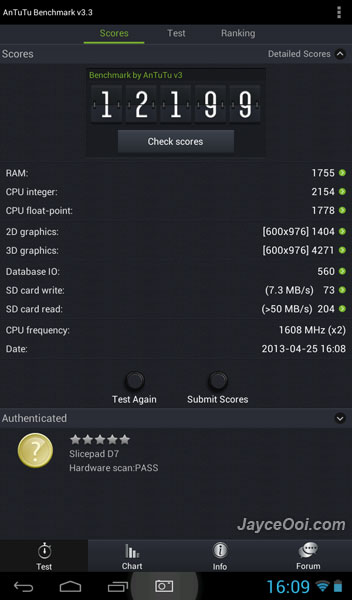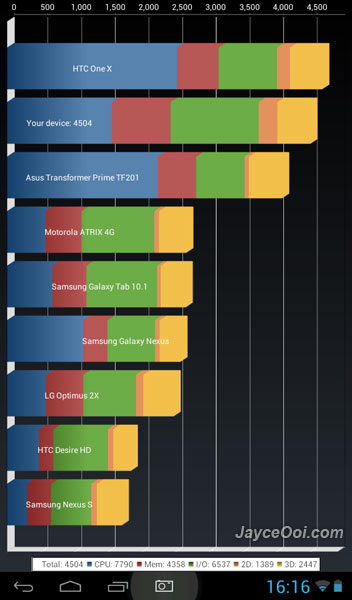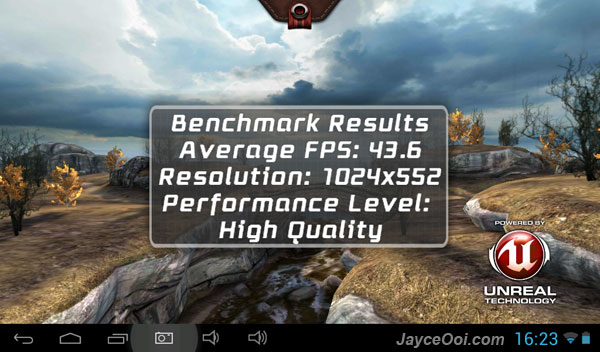 Video Demo
3D gaming uses lot of processing power most of the time. Can ARM Cortex A9 Dual Core 1.6GHz CPU and Quad Core GPU handle it? Synthetic benchmarks only tell you numbers. See them in action here.
Advantages
Attractive price
IPS panel screen
USB OTG support
HDMI output
Limitations
Below average camera
No Bluetooth
Average battery life
Conclusion
Slicepad D7 is a nice budget Android tablet to have. It is also a small powerhouse thanks to ARM Cortex A9 Dual Core 1.6GHz and Quad Core GPU that will handle your works and entertainments. And enjoy them on wide viewing angle IPS panel screen.
Interested? You can get more information about Slicepad D7 at Slicepad Facebook Page here.