First of all, I would like to say sorry if you had lost your precious Samsung Galaxy S4. Not to worry much, there is always way to recover it. Of course, if you have done the prerequisite ~ sign in your Galaxy S4 with Samsung Account. If you had signed in Samsung own applications like Samsung Apps, you are in luck now. Why? Basically, you registered Galaxy S4 as your device. You can locate it with Samsung Find My Mobile website (previously known as Samsung Dive). For those did not sign in Samsung account yet, it's time for you to do so. You don't know what might happen to your Galaxy S4 as well. It might be stolen or missing in action…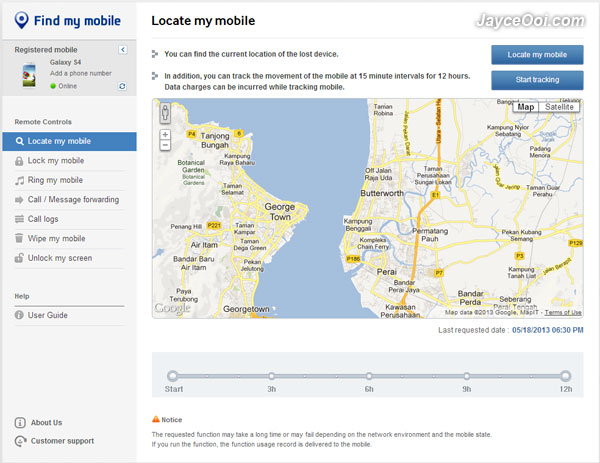 How to find lost / stolen Samsung Galaxy S4?
Login into Samsung Find My Mobile website (link).
Use Locate my mobile to find your Galaxy S4.
Or use Start tracking to store its location (when moved).
Besides locating Galaxy S4, Find My Mobile can do other tasks like lock it and auto sends a notification message when the SIM card is changed. Rings for 1 minute at the highest volume regardless of the mobile's sound and vibration settings. Forward calls and messages for the lost mobile to a specified mobile number. Retrieve call logs during the last week. Delete all the data including external memory and SIM cards. And finally, unlock the mobile screen remotely.
But here is one big catch – none of these features can work if no Internet connection on your Galaxy S4. So pray for it to be connected to Internet sooner…