By default, Windows Mobile HTC HD2 will have auto selection on the network band ~ 2G (GSM) and 3G (WCDMS/UMTS). However, I don't have a strong 3G HSDPA signal at my place. And it will switch back to EDGE or GPRS whenever 3G signal dropped below 1 bar. This is really annoying. Is there a way to make it stay at 3G HSDPA permanently? Yes, here is the step by step guide to fix it.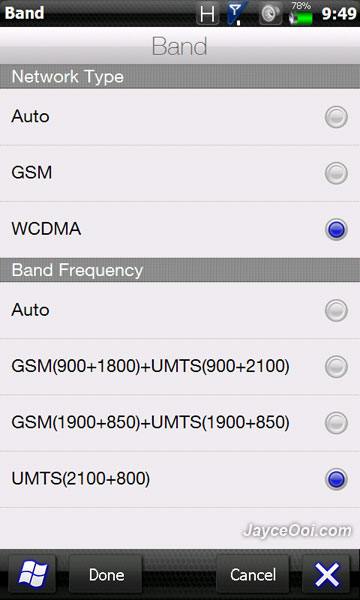 Guide to enable 3G / WCDMA / UMTS / HSDPA connection on Windows Mobile HTC HD2
Click on 'Windows hardware button' at main screen.
Go to 'Settings'.
Go to 'Connection'.
Go to 'Comm Manager'.
Click on 'Phone'.
Scroll down and click on 'Band ~ Change baseband'. You get the screen like above.
Select 'WCDMA' for Network Type and 'UMTS(2100+800)' for Band Frequency.
Click 'Done'.
That's it.
Note – When set to 3G connection only. You won't have any connection if there is 2G connection only in that area (no 3G connection at all). You need to switch back to auto mode then.