How to improve wireless network signal and boost its range? Personally, I don't care much about my existing ASDL Wi-Fi router setup until I faced Google Nexus 7 has screen flickering issue. There is lot of ways to improve wireless network at home. Most of them require to add new hardware or changing it. My router is located at the best central location already. And I don't want to make any hardware changes like replace router's antenna, replace PC network adapter, add wireless repeater or upgrade to latest 802.11n router. Prefer to improve wireless network signal and range with software tweak…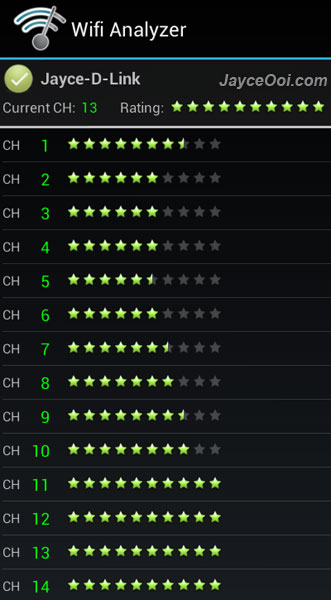 Update to the latest wireless router firmware might help as manufacturers regularly make improvements. But mine is on latest firmware already so can't help here. Luckily, I discovered that I am not using the best Wi-Fi channel available. I set it by default which uses Channel 6 automatically. With the help of Android application ~ Wifi Analyzer (link), I managed to find out channel 11 to 14 are the best for me. So I selected CH 13 (can't choose CH 14 on my router setting). Note – please refer to your wireless router user guide on how to change Wi-Fi channel.
Guess what? My wireless network really improved and boosted its signal range too. I don't see Nexus 7 has screen flickering issue much now. Yeah… I should have done this long long time ago.