Remove bloatware on Google Nexus 4? Seriously, is that needed? Well, it is up to personally choice to define bloatware. For me, I still don't use some of the stock Google Android 4.2 Jelly Bean features. And some of them are loaded and running by default. It uses up a bit system resources like RAM and CPU. System apps like Currents, Earth, Google+, Local, Maps, Movie Studio and Navigation are considered bloatware to me. Therefore, it is better to disable them if you are not using them at all.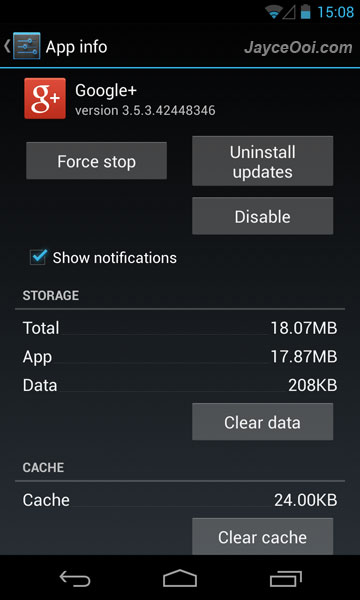 How to disable built-in system application on Nexus 4?
Go to Settings.
Select Apps.
Go to ALL tab.
Select the application that you want to disable.
Click on Disable.
Select OK to confirm. (Choose OK if prompted again)
That's it.
Note – Disable those built-in applications that you know only else your Nexus 4 might not working properly. And those applications will be located at the very bottom of the list after disabled. You still can enable them back any time you wish.