Introduction
Need a powered USB 3.0 hub? Check this out – ORICO H4013 4-Port USB 3.0 Hub. Yes, it extends one SuperSpeed USB 3.0 port to four. And there is another power input for those power hungry USB devices. Compact and lightweight to ease carry around. Comes with removable 1m cable that work great on both desktop PC and Mac. Sound great? Let's find out…
Special Thanks
This review is possible thanks to below companies. Be sure to check them out…
ORICO for this ORICO H4013 4-Port USB 3.0 Hub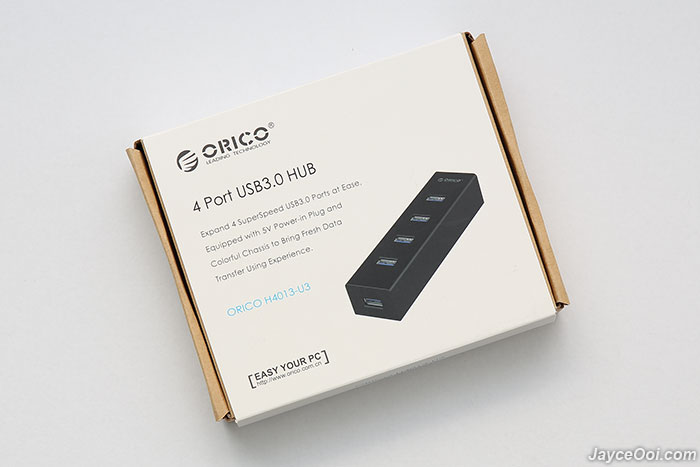 Package Content & Design
ORICO H4013 4-Port USB 3.0 Hub (H4013-U3-V1) comes in an environmental friendly package. Well protected with plastic covers. Besides USB hub, there are male to male USB 3.0 cable, USB cable for power, user manual and welcome/support card (in both Chinese and English languages) in the package. That's all.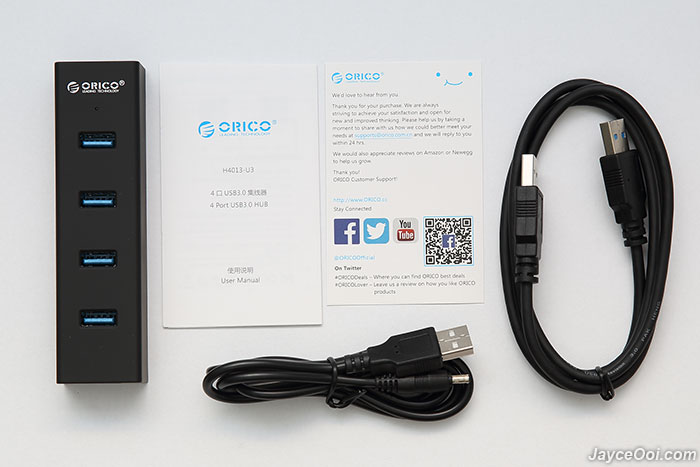 The hub itself is light in weight and compact to ease carry while travelling. Build quality is decent with solid plastic. The surface has matte soft touch feel by the way. 4 USB ports and LED indicator light on top while one port for USB data input on the right and power input on the other end. Mine is black in colour. And there are blue, white, red and yellow to choose too.
Specifications
Port: 4 SuperSpeed USB3.0 Ports
Controller: Via-Labs VL812
Power Supply: USB
Data Cable: 3.3 Ft / 1M USB3.0 Cable
Driver: Driver Not Required
Supported System: Windows XP, Vista, 7, 8, 8.1, 10, Mac OS and Linux
Dimension: 120 x 32 x 23mm
Performance Result
Plug and play is supported on ORICO H4013-U3 4-port USB 3.0 Hub. No driver is required. Furthermore, it supports hot swapping function. The removable long 1m cable makes it very convenient to connect USB devices to hard-to-reach USB ports on desktop computer (which put on the floor for my case). You can also change to a shorter cable for laptop use as well. Or longer one too. Cool, right?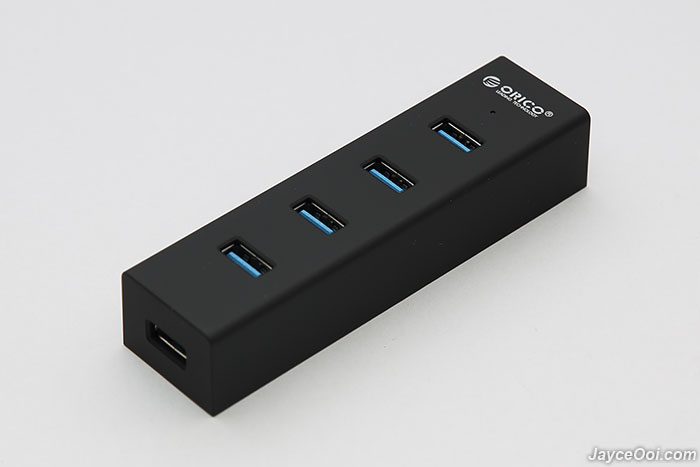 VIA USB3.0 controller – VL812 chipset is the one that power this hub. File transfer rate is great as almost like direct connection to USB port on motherboard. And the wide USB port spacing lets you connect all your devices like keyboard, mouse, hard drive, cooling pad and other devices easily.
Advantages
Fast SuperSpeed USB 3.0 performance
Decent build quality
Removable cable
Ultra-portable
Plug and play
Limitations
Conclusion
ORICO H4013 is a nice powered 4-Port USB 3.0 hub no doubt. Ease to carry around with removable cables. Wide spacing ports lets you connect all your devices easily. Interested? Do visit ORICO Website for more information. And get yours at Amazon.