Introduction
Hey guys, check out my latest 3.5″ USB 3.0 external HDD enclosure that can support up to 8TB SATA hard drive. Support UASP protocol to ensure maximum speed from your HDD/SSD. Using exquisite aluminum-magnesium alloy and ABS material of both ends as casing to improve heat dissipation and prevent static. Comes with detachable vertical dock too. Sound great? Let's find out…
Special Thanks
This review is possible thanks to below companies. Be sure to check them out…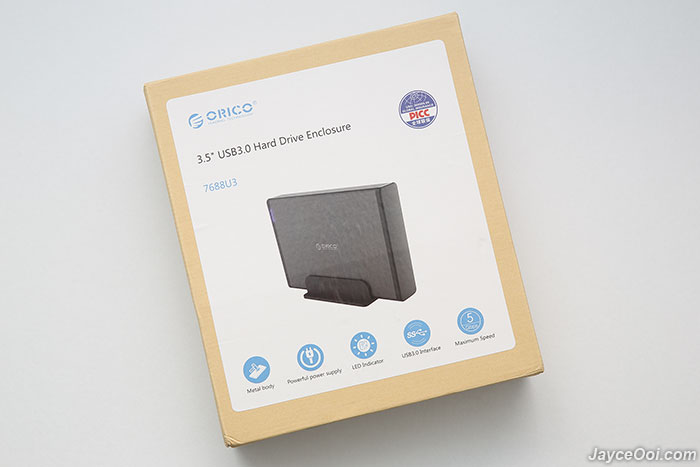 Package Content & Design
ORICO 7688U3 comes in a well-protected packaging. There is lot of stuff that come with it – USB 3.0 cable, AC power adaptor, detachable dock, screwdriver and user manual and welcome/support card (in both Chinese and English languages). That's it. No CD driver as there is no need of that.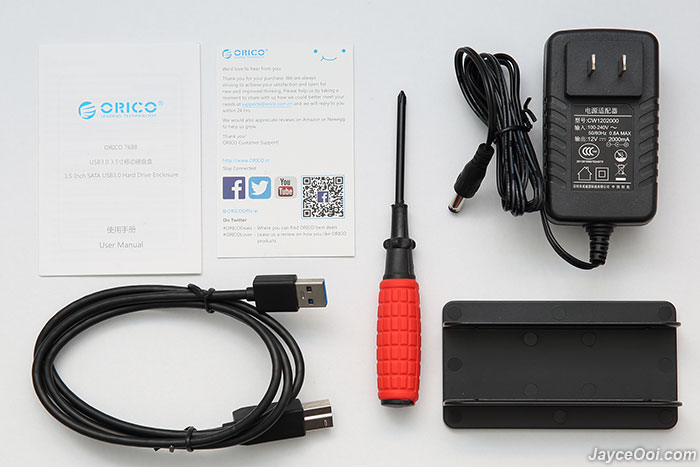 ORICO 7688U3 build quality is great thanks to zinc alloy + ABS housing. Yup, the whole body is by zinc alloy which is good to dissipate heat fast. The part with ports like USB 3.0, DC input and power button is using solid ABS plastic.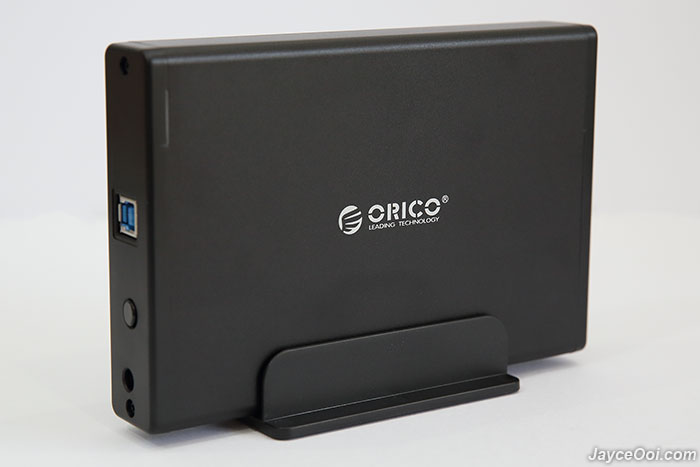 The detachable dock is very useful. Provide decent stability no doubt. Can be used in vertical mode to save space of desk.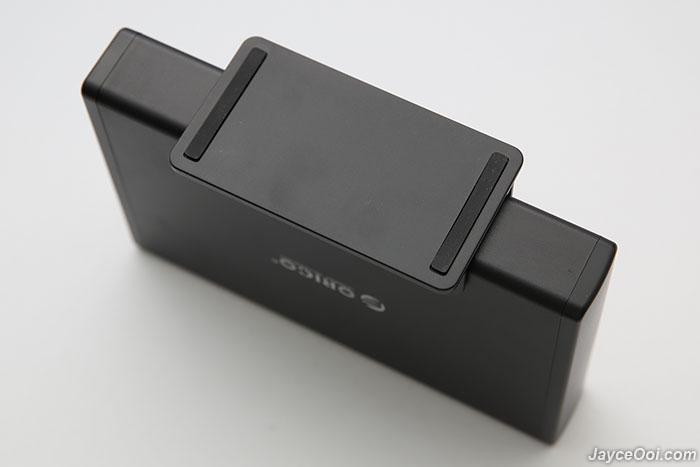 Here is the cover that contain all the important stuffs. You can attach 2.5″ SSD / 3.5″ HHD in naked as well. Convenient for temporary usage.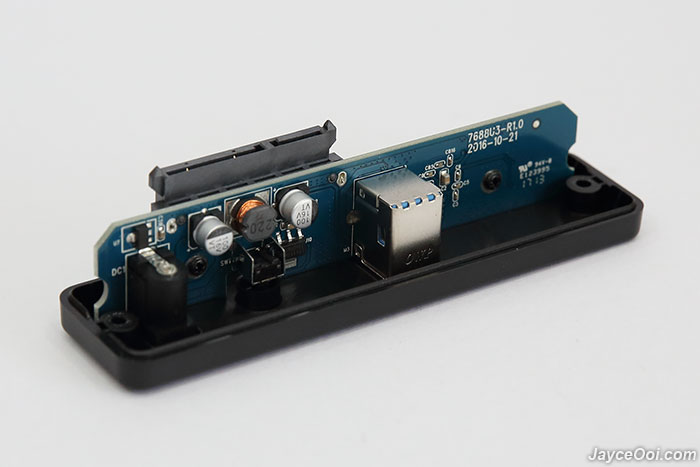 Specifications
Material: Zinc Alloy + ABS
Output Interface: USB3.0 Type-B
Color: Black
Supported HDD: 3.5 inch SATA HDD
Installation: Screw Fixation
Indicator Light: Blue When It's Energized, Blue and Red Light Flicker When It Reads and Writes Data
Supported System: Windows/Mac/Linux
Performance Result
ORICO 7688U3 3.5″ USB 3.0 External HDD Enclosure is more than enough to power normal HDD to maximum performance with USB Attached SCSI Protocol – UASP support. Hot swapping, plug and play and lock screws stable installation are supported as well. Suitable for most major systems in the market including Window, Mac OS and Linux. Alright, how does it perform? Check out below results from Kingston SSDNow UV400 SSD.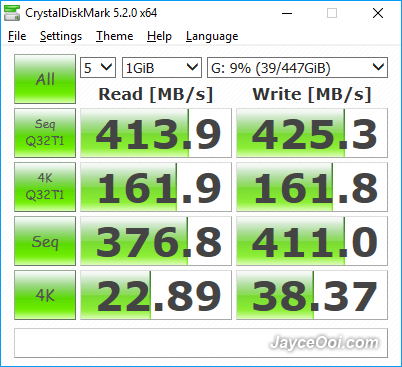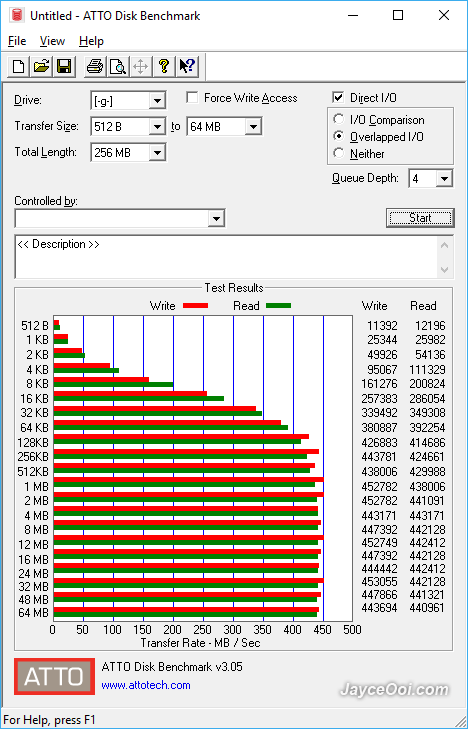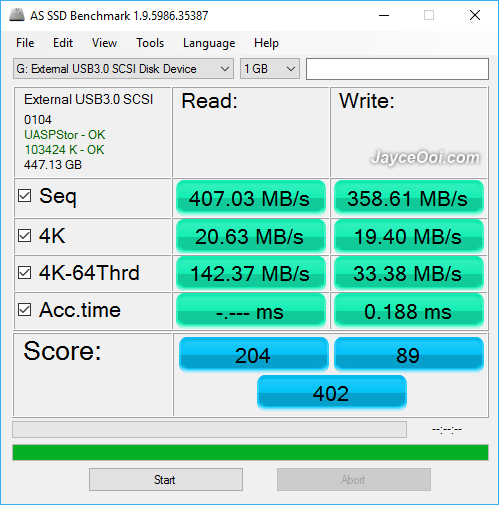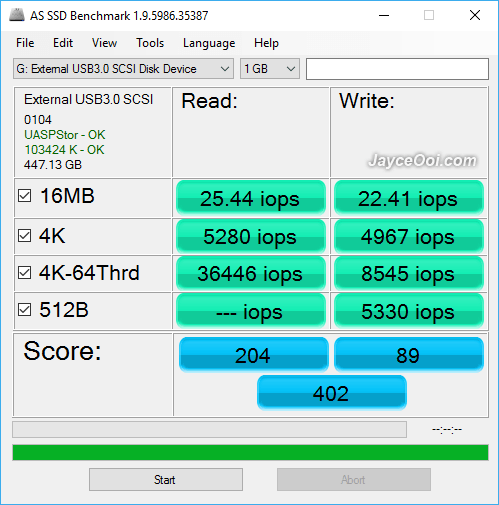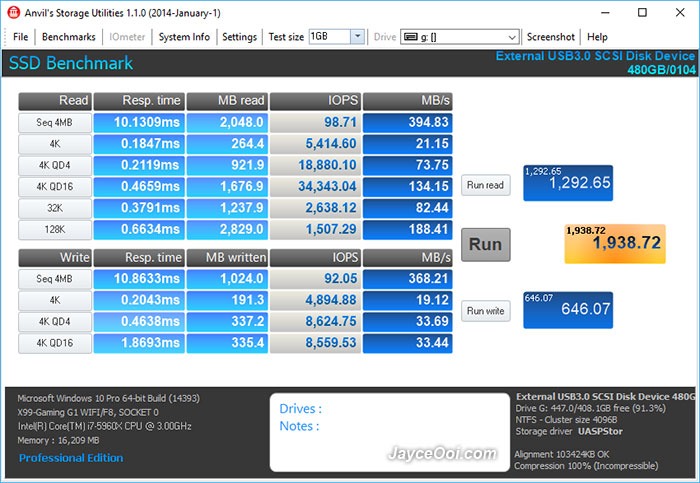 ORICO 7688U3 performs very well no doubt. It manages to push 480GB Kingston SSDNow UV400 SSD to 413 MB/s read and 425 MB/s write in CrystalDiskMark sequential Q32T1 test. Much better result in ATTO Disk Benchmark with 442 MB/s read and 453 MB/s write. AS SSD Benchmark has slower writing speed. Same apply to Anvil's Storage Utilities test too. As I mentioned, ORICO 7688U3 is overkill for normal 3.5″ hard drive. All your music, photos and movies will be transferred in maximum speed for sure.
Advantages
Fast performance with UASP support
Excellent build quality
Detachable dock
Portable
Workable without the casing
Limitations
Conclusion
ORICO 7688U3 is a solid 3.5″ USB 3.0 external HDD enclosure. Period. Loaded with UASP support to ensure the fastest performance from your SSD. And maximum performance from normal HDD. Interested? Do visit ORICO Website for more information. And get yours at Amazon.