Introduction
ORICO MH4U-U3 4-Port USB 3.0 Transparent Hub is one of the gadgets in ORICO Transparent Series. It is made with same transparent ABS fireproof material like the previous HDD casing that I reviewed. ORICO MH4U is super compact and lightweight to ease carry around. Comes with removable 30cm/100cm cable that work great on both laptop and desktop. How does it perform? Continue reading to find out…
Special Thanks
This review is possible thanks to below companies. Be sure to check them out…
ORICO for this ORICO MH4U-U3 4-Port USB 3.0 Transparent Hub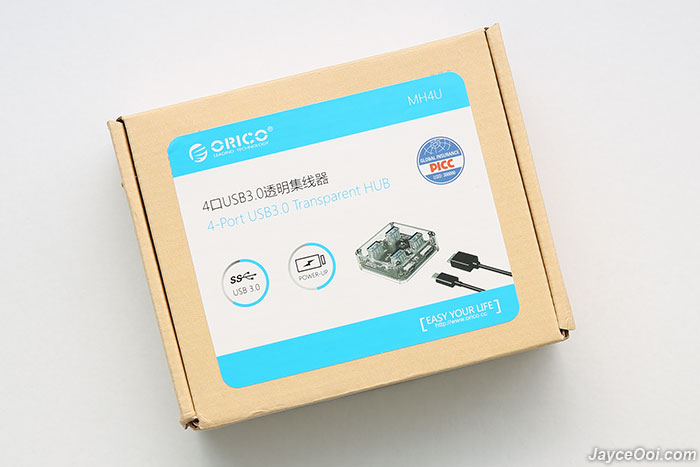 Package Content & Design
Environment friendly package is part of ORICO plan nowadays I believe. As usual, everything is well protected with plastic covers. You can find USB hub, data cable, user manual and welcome/support card (in both Chinese and English languages) in the package. By the way, my cable is 30cm only which is suitable for laptop usage. There is 100cm version for desktop as well.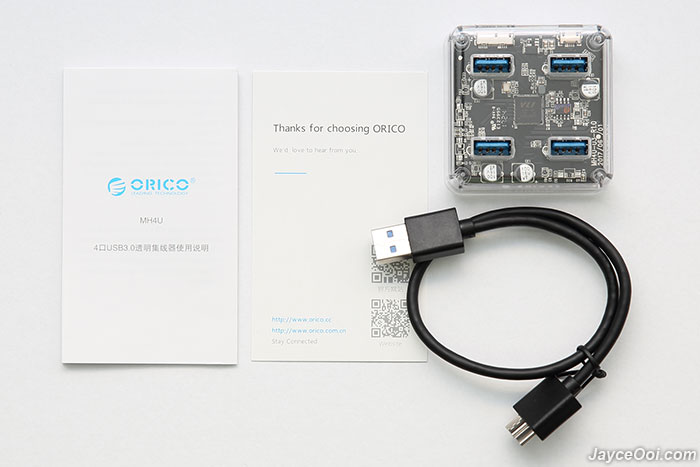 Build quality is excellent once again. Furthermore, the USB hub looks cool and stylish with transparent design I must say. Yes, you can enjoy the black PCB board and all the electronic components. VIA USB3.0 controller – VL812 chipset can be seen clearly there.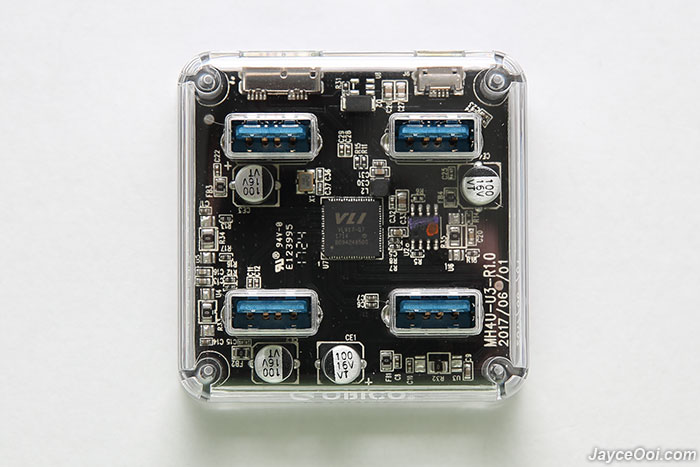 There are a white rectangle anti-skid pad and cool blue LED light at the bottom of the hub.
Data transfers through micro USB 3.0 port and another micro USB 2.0 port for addition power supply – up to 5V / 0.9A.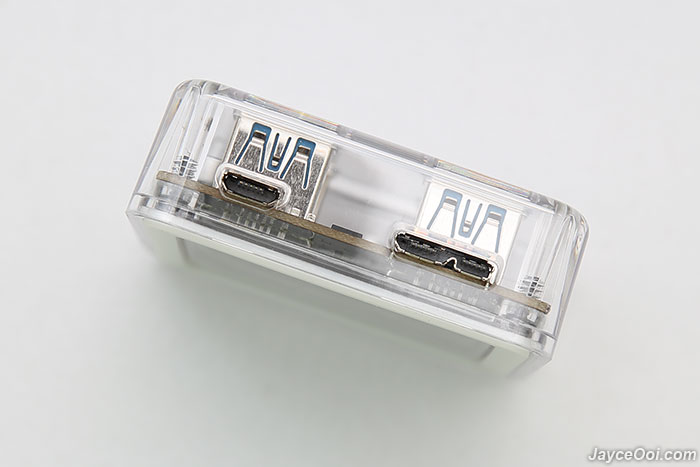 Specifications
Material: Transparent PC
Output: USB3.0*4
Input: Micro USB3.0*1
Dimension: 56.7mm*56.7mm*20mm
Power Supply: Micro USB Power Supply
Data Cable: Separate Design, 30cm or 100cm
Indicator: Blue LED Indicator
Certificate: CE, FCC, RoHS
Performance Result
I tested ORICO MH4U USB 3.0 Hub on both Windows 7 and 10. No manual driver installation is required as plug and play is supported. The removable cable makes it easier to use. Short cable for laptop and long one for desktop PC. Just pick the version that you use most. And purchase additional cable for other usage.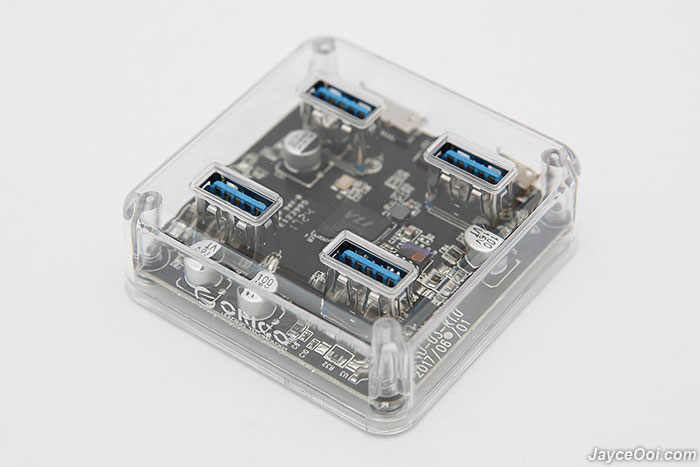 File transfer rate is great as almost like direct connection to USB port on motherboard thanks to powerful VIA USB3.0 controller – VL812 chipset. Furthermore, the wide USB port spacing lets you connect all your devices like keyboard, mouse, hard drive, cooling pad and other devices easily. Perfect for devices with less USB ports like budget Jumper EZbook 3 Pro laptop that I own.
Advantages
Fast SuperSpeed USB 3.0 performance
Excellent build quality
Removable cable
Ultra-portable
Plug and play
Limitations
Conclusion
Looking for USB 3.0 hub? Be sure to check ORICO MH4U Transparent Hub out. And you will like it as I do. Yes, suitable for both desktop and laptop. More information can be found at ORICO Website. Get yours at GearBest, Amazon.