Introduction
Partition Assistant from Aomei Technology allows you to manage your disk partition similar with Partition Magic. With it, you can resize and move partition, extend system drive, repartition, merge, split partition and other more… It supports Microsoft Windows 2000, XP, Vista and Windows 7 in 32bit (FREE Home edition) and 64bit (Pro edition). And added Microsoft Windows Server 2000, 2003 and 2008 (32bit and 64bit) support on Server, Unlimited and Technician editions.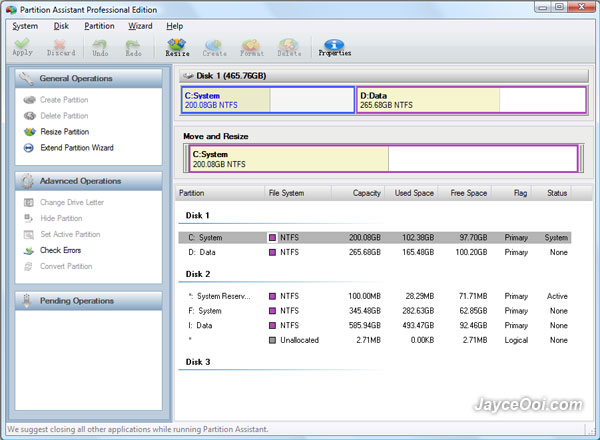 Partition Assistant Professional Edition Features
Extend NTFS system partition without restarting computer.
Resize and Move partition to optimize disk space management.
Extend Partition Wizard help you step by step expand the size of your selected partition.
Merge two or more partitions into a larger one.
Split one partition into two or more.
Create, Delete and Format partition.
Convert file system from FAT to NTFS.
Wipe permanently sensitive data to anti-recovery.
Repartition by drag & drop mouse on a disk panel.
Support Windows 2000/XP/Vista/Windows 7 (Both 32 bit and 64 bit).
Test Setup
| | |
| --- | --- |
| CPU | Intel Core2 Extreme quad-core processor QX9650 |
| Motherboard | GIGABYTE EP45-DS3 |
| RAM | 2 x 2GB Corsair Twin2X4096-6400C4DHX DDR2 |
| Hard Drive | 500GB Seagate Barracuda 7200.11 SATA 3Gb/s |
| Operating System | Windows Vista Ultimate 64-bit SP1 |
Performance Results
The testing was done with Partition Assistant 2.1 Professional Edition. The testing system has 2 partitions which are drive C (195GB) and drive D (270GB). Tested extend partition drive C from 195GB to 200GB by using the extend partition wizard. It provides approximation of 1 hour and 8 minutes need to extend partition. Based on the actual result, it took 1 hour and 37 minutes. One thing that I like, the whole extend operation does not need a system reboot.
Besides extend partition, Partition Assistant does other tasks like create, delete and format partition. Convert file system from FAT to NTFS. Wipe whole partition data to anti-recovery. All of them are executed flawlessly.
Partition Assistant also provides a detail user help manual (HTML and PDF format). Just go through the guide and follow the instructions to have your tasks done. Wizard is also available to help you to extend partition. Or use Partition Management that gives you the full power to control partition easily.
Conclusion
Partition Assistant 2.1 Professional Edition is advanced partition manager software to assist you to optimize disk performance. It is easy to use and you can manage partition by yourself without any IT professional's help. Do check out Aomei Technology website for more information. There is Partition Assistant Home Edition that is completely FREE for you.