Introduction
Looking for a power bank that easy to carry around? And comes with built-in charging cable? Able to change both Android and iOS devices too? Is there really a power bank that can do so? Yes, there is. Romoss Q Series QS05 Power Bank is the one that can do all of them. It is a compact power bank and loaded with 5000 mAh capacity. Sound like a perfect companion for your smartphone, right? Let's find out…
Features
Portable and convenient to charge your mobile device.
Applicable to both Android and iOS devices.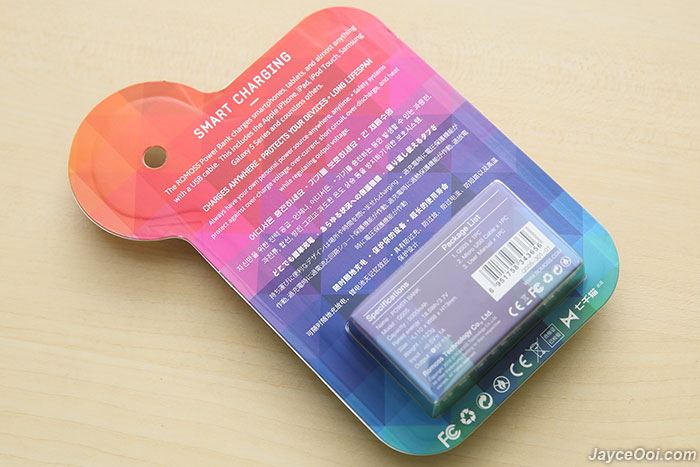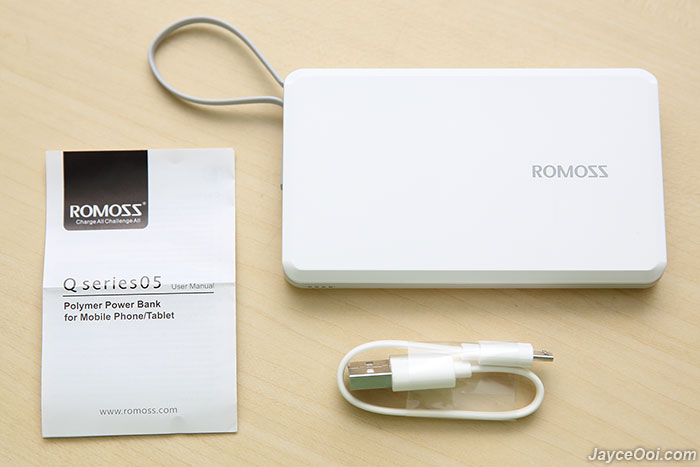 Package Content & Design
There are Romoss QS05 Power Bank, micro USB charging cable and user manual in the colourful package. Build quality is top notch with National fireproof material. And it is super slim and compact in size. Much smaller than smartphones nowadays. Furthermore, it has the smooth feel when touch. As for the built-in cable, it is 130mm in length with micro USB. And there is another built-in non-MFI Lightning connector for iOS devices. Oh, the micro USB port is for self-charging. And 4 levels bright LED lights besides it as battery life indicator.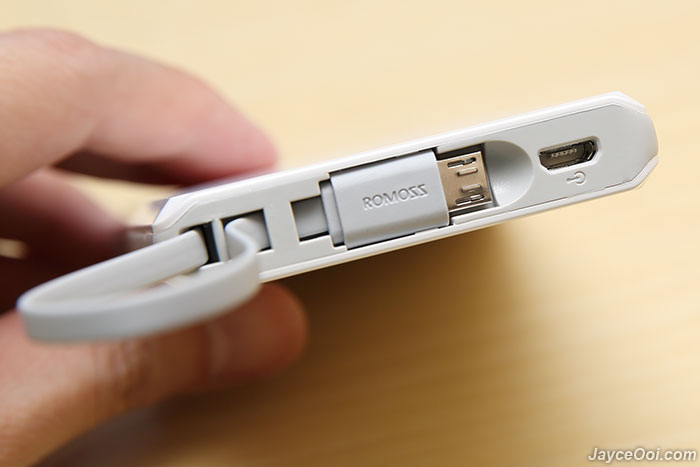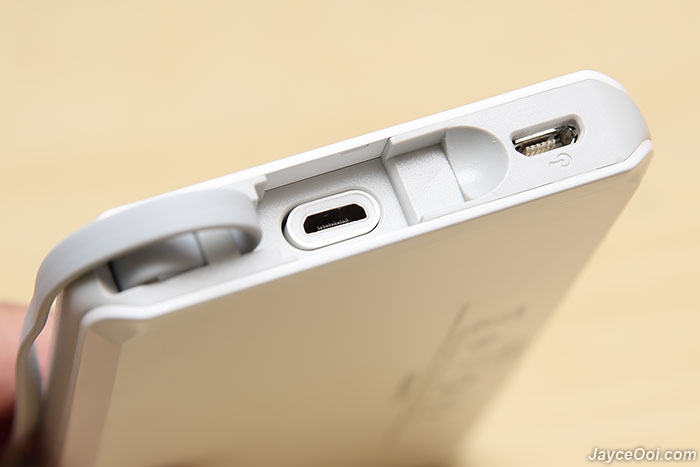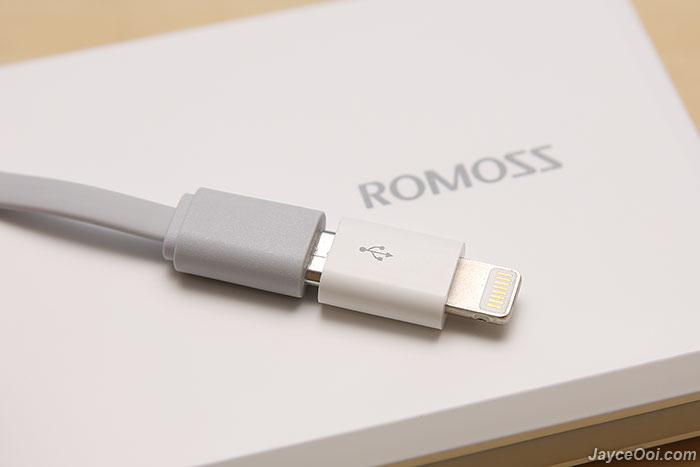 Specifications
Capacity: 5000 mAh
Input: 5V 1A
Output: 5V IA
Dimension: L110 x W66 x H13 mm
Weight: 123 g
Service Time: More than 500 times
Self-charging time: ~ 4-5 hours (using 2.1A adapter)
Service temperature: Charge: 0°C ~ 45°C; Discharge: -10°C ~ 60°C
Storage temperature: -20°C ~ 80°C
Performance Result
Yeah… It is super convenient to carry Romoss QS05 and use it to charge smartphone. It is pocketable and light in weight. You don't need to bring another extra cable along with you which is another plus. You can hang the cable on your thumb and hold it on your palm easily. And just pull the cable out when you want to charge your Android mobile device. Attach the Lightning connector for iOS devices like iPhone and iPad. Thanks to compactness, you can hold both of your smartphone and power bank together on your palm. And no long cable to messing around here too.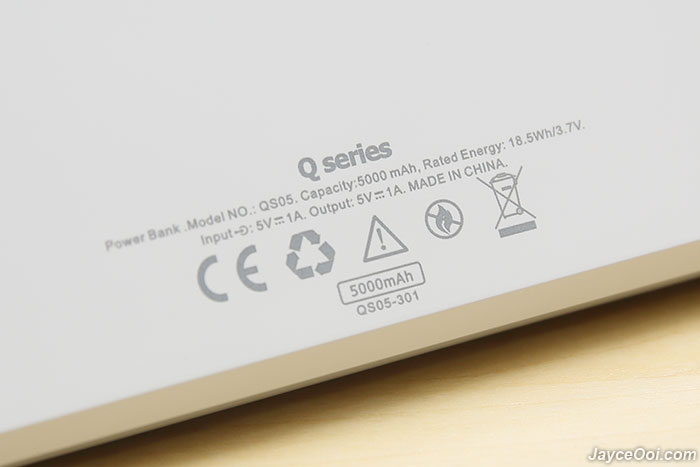 Romoss Q Series is loaded with lot of safety features. There are temperature, input overvoltage, over discharge, under-voltage, short circuit, output overvoltage and over current protections. Therefore, have a piece of mind and use it without any worry. Basically, it will start to charge when plug in the cable to your mobile device. And the LED indicator will light up all the time to show you the current battery life. Will turn off by itself after no charging activity.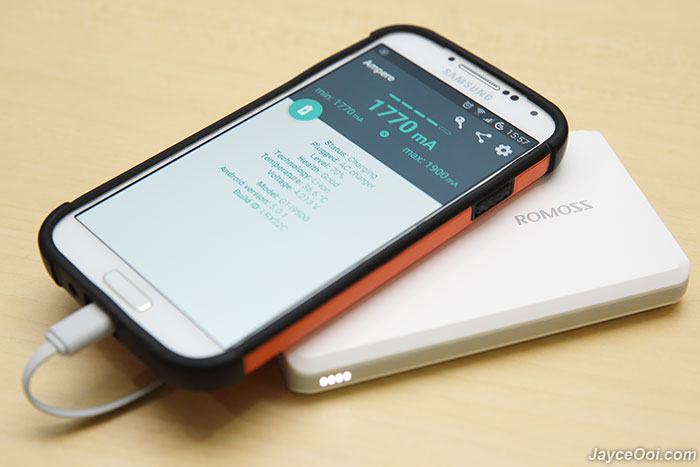 Wow… I was not expecting Romoss QS05 power bank can charge so fast with 1A output. Well, tests were done without USB voltmeter as it can't accept micro USB as input. So I did the old way – manual calculation on my devices like Onda V820w tablet and Galaxy S4 smartphone which can accept up to 2A input. Romoss QS05 is able to charge 60% of Galaxy S4 battery (2600 mAh) in an hour. This mean that it is output around 1.5A there. And it almost able to fully charge Onda V820w (with effective 3700 mAh battery size, calculated with USB voltmeter) in 3 hours (note – device charge much slower when battery level is near full). Seriously? Does it really have 1A output only? It performs just like 2A charger here. With 5000 mAh, it can fully charge most of the smartphones in the market and some small tablets as long as they are below 3600 mAh. As for self-charging, it takes around 5 and a half hour to do so.
Note – This power bank had been gone through 5 charge and discharge cycles to get accurate data and prove its stability. Yup, it passed flawlessly…
Advantages
Charge like 2A charger
Charge both Android & iOS devices
Built-in cable (& adaptor)
Lot of safety protections
Ultra portable
Limitations
Conclusion
Yeah… I like Romoss Q Series QS05 Power Bank due to compact size and ease to carry around. Able to charge as fast as 2A charger here. And no extra cable is required to charge both Android and iOS devices. It is my power bank on the go now. Interested? Head to Romoss Website to find out more. Buy yours at GearBest.