My 16GB Samsung Galaxy S4 GT-I9500 has only 8.82 GB of usable user storage compare to Galaxy S3 with 11.25 GB. That's 2.43 GB less. Can Samsung really increase user storage size for Galaxy S4? Yes, if Samsung decides to repartition Galaxy S4 storage structure. But will that affect overall performance. Let's find out.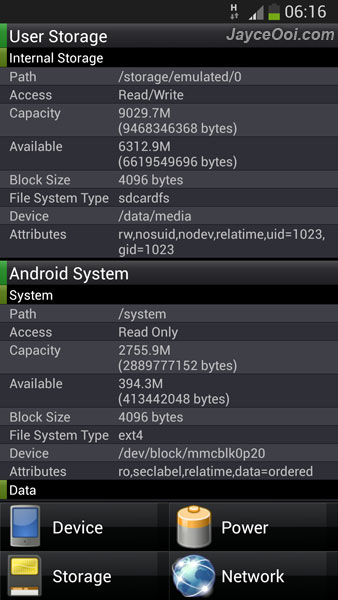 Galaxy S4 has bigger system storage at 2755 MB because the firmware is getting bigger due to more features and functions are added in. We can't reduce the system storage unless Samsung willing to remove some of the Galaxy S4 new attractive features. But I doubt it. So we can't get extra space from system partition.
Hmm… Galaxy S4 has twice cache partition size at 2 GB compare to Galaxy S3. Does we really need to such large cache size since most of the time it is not being used? We can get extra 1 GB of user storage if cache partition is reduced to 1 GB. Other partition size like dev had double up too to 930 MB. Seem like it is not being used much too. We can get 500 MB from here as well.
I am not sure what the impact is if both cache and dev partitions' disk space is reduced. But if Samsung can do so, we can get 1.5 GB more for user storage to make it more than 10 GB usable then. Anyway, this does not concern me much because I am going to root Galaxy S4. And move all big games files to external SD card. But this is useful for those who do not want to root Galaxy S4…